There's no pleasing some people.
A difficult game against a much improved Aberdeen at Pittodrie ended in a 3-1 win for the hoops, keeping intact a flying start for Brendan Rodgers on his return to Celtic.
Yet still there are those who seek to amplify what are admittedly fairly obvious, er, teething troubles.
But to put it into context, let's compare and contrast the Aberdeen goal with the third Celtic goal, and in doing so we can see that they are almost identical.
Yet how many of us, my self included during the game, saw their goal as an example of shocking defending, whilst Matt O'Reilly finished off a wonderful move with pinpoint accuracy and composure beyond his years ?
Frankly, though, at that point I'd have taken any kind of goal to ease the nerves, which had been jangling a little more than in previous Pittodrie clashes.
The Dons have one point from their opening two games, but they will improve. They are putting a side together and learning how to play to a system which will be new to them.
Celtic are putting a side together and are learning….oh, you get my drift.
Why are the support not fully behind Rodgers, who up until now, has done little wrong since taking the job ?
Joe Hart admitted post match there there were a few issues…
"We're not as free-flowing as we want to be at the moment. We have new management with clear ideas that we're trying to adhere to, and it's tough. 
Which might explain Brendan laying down the law with Bernabei. It seems unrelated but if you let players get away with trivial indiscretions…the player had slept in and missed a meeting, which cost him his place in the squad….then it won't be long before the whole structure collapses.
Brendan has let them know who is in charge, and that he'll be around for a while.
Who knows?
He might even mean it this time.
When Ange Postecoglou tok over a couple of years ago, he didn't have the best of starts. but it was clear what he was trying to do, and the support could see that.
Rogers, I would venture, is trying to make us a little bit more pragmatic at the back. We may even see three at the back in Europe, if he is serious about making a mark there.
There seems to be a little difficulty for some players to adopt the discipline needed, not deliberately, but simply because for two years they've played in the belief that they'll outscore the opposition no matter what…which doesn't always work….and so now we're going to try to stop them scoring as well.
Novel and refreshing for anyone who has watched Celtic since….well, forever.
The main point is that we are still winning games while adjusting.
Those in the media who like to pick fault, and those supporters who worry a little more than neccessary will blame whoever was the last person to misplace a pass, or shirk a tackle.
We need to look beyond that.
Joe Hart, for instance, is the bookies bet to be replaced, yet he was outstanding yesterday, dominating his area in a way he hasn;t had to for a while.
Maybe now he'll dominate it whether he needs to or not.
And others, such as Ralston and Welsh came in and did their bit.
Greg Taylor needs a little more time to adapt to yet another new system, and his confidence cannot be helped by those who should know better demanding the return, even if only on loan, of permacrock Keiran Tierney.
Tierney is not coming back to Celtic, we've been offered him and turned it down.
He's not one hundred per cent fit, nor wil he ever be, and Arsenal being prepared to offload him is further evidence of that.
So can we let Taylor get on with it ?
He was one of the players of the season last term, and can be this term, if we let him adjust.
There's a squad of players who will be used frequently this season, and they need to know we're behind them. some of them will never be first choices, and it's unfair to call for their heads every time they step in to cover for the first pick.
Good cover is difficult to find, and that's always going to be a problem given the wage structure at Celtic as it needs a few appearances and bonuses to bring it up to at least a competitive salary, whether we agree with that or not.
We do need cover, one alarming aspect of the new era is the rise in injury problems, which seem to be increasing on a daily basis.
With news of a £20m investment into training and B team facilities, perhaps we could spend a few quid in the sports science department, because there does seem to be a problem there somewhere.
But apart from that, things are going in the right direction, even if it may be a little difficult to see how .
Sometimes we just have to trust those in charge, and wait and see.
Over the river, they've unveiled a new way of making money ….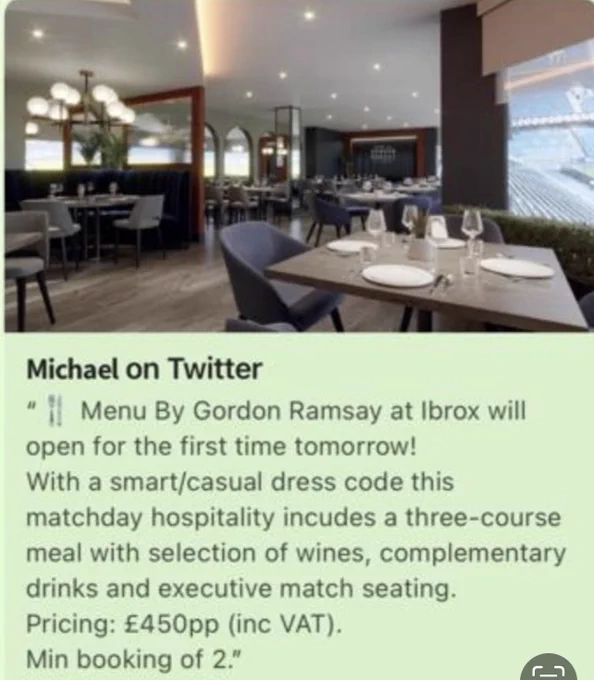 Nine hundred notes.
One imagines one would be pretty sure of getting a table if one were to ring up at short notice.
On Thursday we had this….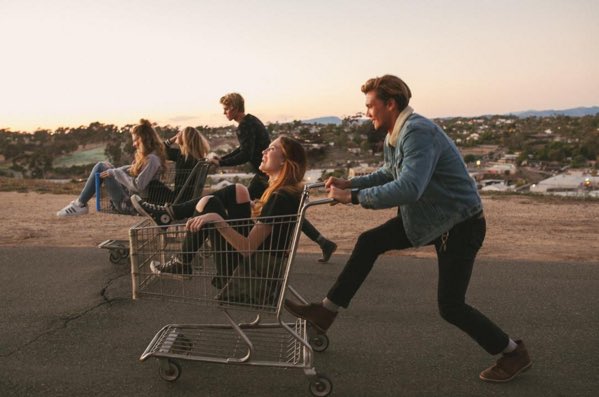 Caption:
Celtic's Recruitment Team race to sell good looking female players, to avoid another Carl Starfelt situation.
Today…. Scottish refereeing at it's best. You are the referee, explain your thinking.