Scotland's UCL campaign kicked off last night with "rangers " storming into a 2-1 lead over Swiss cracks Servette Geneva.
Whilst some might argue, and they'd usually be correct, this has nothing to do with Celtic,
I couldn't care less what happens to them in Europe, although the co-efficient is important, and so whether they win , lose or draw is irrlevant.
BBC Scotland, who covered the game live  as a favour to their pals, had seen it as a win win situation for their channel, because the viewing figures would have been high for their back up channel, and with their recent comedy output coming in for criticism, there were hopes of a series developing around the club/company.
What did concern me was the reaction of their players to the awarding of a penalty against them.
"I was 100% convinced that it wouldn't be a penalty."

Cyriel Dessers was surprised by the referee's decision to award Servette a penalty in tonight's UEFA Champions League qualifier at Ibrox.#Rangers #Servette #UCL pic.twitter.com/Dz7OBCx7dl

— PLZ Soccer (@PLZSoccer) August 9, 2023
We were surprised as well, and probably for the same reason.
In Scotland, they have gone 56 consecutive games without conceding a penalty.
In europe, it's a regular occurence.
Clearly the player above thought it was a universal decision not to disadvantage his team by applying the rules…
Not surprising was that it was a handball, not surprising was that it was Conor goldson who handled it, and not surprisingly wither, he chased the referee for a bit, wondering why the rules had suddenly changed and no one had told him.
for the rest of us, it was a reminder that there is a different rule book for them when it comes to penalties.
VAR was supposed to put a stop to that domestically, but what it has actually done has enabled two further referees, Greg Aitken and Andrew Dallas, to supervise and correct any decisions they feel are wrong, and given that both of these men are at the very least under suspicion of bias, we could be in for a long season.
The "get the ball into the box " tactic employed by Mickey Beale is not just to create chances for his players, but to create chances for the officials to award penalties and free kicks, which in fairness to Captain Disappointed is something he is quite adequate at converting,
With the implementation of the new added time rules, we're going to see a lot more decisions late on that will help to save them a point or two.
Recently, John Beaton, another not known for his impartiality, spoke about the "rangers " penalty statistics….
 "You are asking for an impossible question to be answered. Stats are stats and you can present stats on how x, y and z have happened. All we can do is show you things on an incident by incident basis.
"And if you show us something and say, 'how is that not a penalty kick' then we can talk about that incident. But when a club goes a period of time without conceding a penalty then we need to look at incidents individually. It's impossible to comment on a longer term statistical thing. It's an anomaly and stats will back up a story any way you want them to back up a story.   
 It is possible to comment on it.
 It's cheating. Pure and simple.
"All I can tell you is talk through decisions and say, 'here's what we did here….It's going to help this season if we can explain to people why something has happened and we can go out and tell clubs information which then filters its way through to the media and fans."   
 Beaton talks about transparency, and one way to achieve that would be to introduce a live microphone so that we can hear what he is saying when he is saying it during a match.
 In a recent Ladies World cup tie, england's Lauren James saw her yellow card upgraded to a red.
 The referee stood at the side of the pitch and explained why.
 for Scottish football a similar system would be indicative of a modern and progressive sport.
 Which, of course, is the exact opposite of what football is in Scotland.
 Transparency could also be achieved by independently of each other showing all of our referees the same incidents and asking them for a decision, and their reasons for that decision.
 That would highlight any flaws in their knowledge of the rules of the game, which in fairness seem to change on a week to week basis these days.
 What would also be interesting is if we showed referees an incident , from their own career, after digitally altering the players involved to achieve anonymity, and then when they , for instance, pointed out an obvious penalty, we could then ask them why they didn't award one at the time.
 what would also be interesting would be to discover if any particular team benefitted exceltionally from these honest mistakes.
 Honest mistakes happen, and VAR is supposed to eliminate them.
 One could argue it does, in that the mistakes are no longer honest.
 Remember, the media narrative is that these things even out over the course of a season.
 But one mistake is not cancelled out by another. It becomes two mistakes, and even that admission points to a complete overhaul of how football is officiated in Scotland.
 Which, in turn, means a complete overhaul of the SFA.
 We can but dream, I suppose…..
Yesterday, we had this….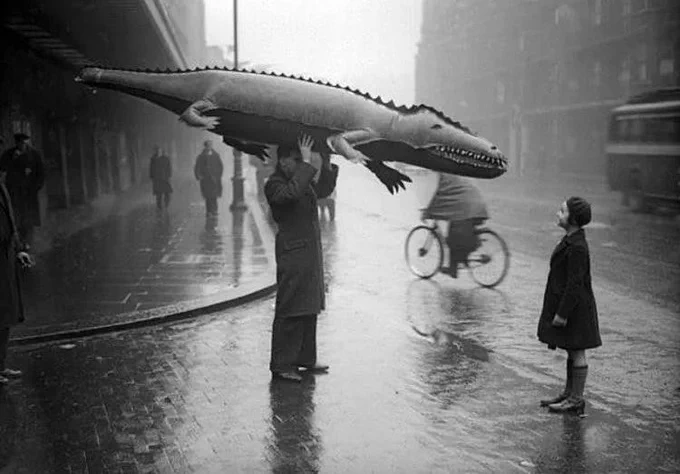 Caption
'Dae ye know the way tae Ibrox hen? Ah hear they're in the market fur fat auld crocs'    
Today…