Thats a picture for anyone who thought yesterdays picture was offensive. Trust me, I can do offensive.
Remember yesterdays Diary ? About how Ronny had a settled and preferred line up ?
It's a good job no-one takes me seriously.
Celtic won 2-0 in Paisley against what the pres would call a stubborn and resolute St. Mirren side. What actually happened was Ronny picked Anthony Stokes as the central striker, making me a small fortune in 0-0 half time correct score forecasts.
Theres no point in asking why. He must have had his reasons, and at the time they would have seemed perfectly sensible to him.
However, we hear that Lawwell has issued a written warning and told him that he must never, ever, speak to Chris Sutton again. Actually, thats not quite right. He's been told he can speak to him, but on no account is he to listen to him.
Well, I guess we all know the answer to yesterdays caption competition now.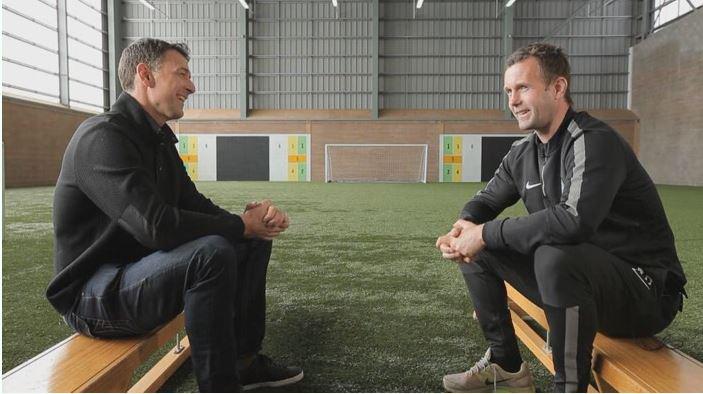 "Stokes is a natural finisher, trust me "
The Irishman cannot be faulted for his effort, thats beyond doubt. But last night I fear we may have seen the end of a Celtic career. He's a good player, but he will find himself as first reserve at best. Maybe Ronny was just seeing if he could save himself a few quid on a new striker.
Celtic did huff and puff a little last night, but its on occasions such as this that titles are won.
It's a cliche, but credit has to go to the players for digging in and getting a result, although the state of the pitch hinted that they weren't the only ones to have been digging there.
But, as they say, alls well that ends well, and the league table looks quite good this morning.
One thing I did take from Bt sports coverage of the game was how they talked up their next lie game, the crucial match between motherwell and St. Mirren.
Whoever does the next negotiation for a television deal should bear this in mind. BT talk our game up. Sky use it as a filler. Surely exclusivity for one channel should be our aim ?
Back to the game, and Ronny Deila was happy with how it turned out in the end;
"It was a tough game, St Mirren were well-organised and sat very deep. They fought really hard so they were hard to break down.
"We needed to be patient and we had some chances in the first-half but didn't get the goals.
"In the second-half we were still alive and we got bigger spaces and the first goal was like I want goals – opposite movement, angles and a very good goal.
"That opened the game up and they didn't have any goal chances during 90 minutes. A clean sheet and a 2-0 win is a good performance." 
Remember years ago when Brian O'Neill was made into a central defender, and Tommy Burns said he'd saved him millions ?
Well, a central defender of sorts, I suppose.
One thing I noticed in last nights game was that when we signed Gary Mackay Steven, we got another top class winger with pace as well.
James Forrest.
Wingers, as the Diary has pointed out before, get a lot more stick than other players, firstly because they are expected to have enough pace and trickery to beat any defender at will, which isn't going to happen, and secondly because they are closest to the crowd.
Forrest did well last night, and if the three behind a lone striker eventually settles as Forrest , Johansen and Mackay Steven, and they all perform to the best of their abilities, then Celtic will have one of the most fearsome forward lines in Europe.
I'll remind you I said it first when it happens.
Ronny is pleased with Jamesy.
"We have been very patient with James and we have been talking about him a lot this season
"Now we are seeing what we can get out of that. He was very sharp and had a hard fight against the full-back but he didn't give up.
"He kept going and in the end he won the game for us so he's a player who's very important for us."  
And I'm looking at a bigger picture here as well.
When Forrest broke into the first team, it was apparent he had talent. He was compared to that other prospect Aiden McGeady, who never quite became the fans favourite he should have. McGeady had his moments, but as was pointed out in earlier Diary replies, it's difficult to actually recall any great Aiden moments, save a couple of turns and the occasional cross.
Ronny won't know this, but he is making sure that the same thing doesn't happen to Forrest, who could yet still go on to attain a legendary status.
Unless he reads this, and falls backwards off his chair in surprise, damaging his spine.
And you know what, if you think thats being a little fanciful, then allow me to escort you into a land that even Tolkien would hesitate to describe, as he would feel no-one would believe him.
Have a look at this from a Nigerian website, discussing players abroad;
SCOTLAND
James Forrest's goal and a penalty from Stefan Johansen saw Celtic move eight points clear at the top of the Scottish Premiership, with St Mirren who lost 2-0 staying bottom. Efe Ambrose put in a solid performance in the final 25 minutes of the game as he replaced Adam Matthews.  
There is a need to invest in a couple of quality centre halfs for the champions League.
But what if we have a quality coach who can take a decent centre back and turn him into a quality one ?
Ambrose, like Forrest, gets a lot of stick, but he is a player with an African Nations Cup winner s medal in his pocket.
And they only award them to a dozen or so players every couple of years.
Ambrose and Mulgrew wouldn't be anyones first choice, and might even lead to placards on the car park, but it wouldn't be the end of the world.
 At Celtic, for the first time since a big  ex miner strolled in and decided he wanted to change a few things, Celtic actually have a coach who can coach.
 And I' d always rather see one of our own do well than just hoping for the best with one of those "swoops "  .
Theres a rumour mill in the offing this weekend, as the MSM are given a lesson in fair and accurate reportage by our own Hector Bandiido, who incidentally has never been seen in the same room as Keith Jackson, of the Daily Record….
Actually, its  down to a restraining order.
 Keep an eye out for it, it's a cracker.
Something else has been pointed out to me by none other than Desi Mond, who moonlights as a private detective trying to spot anyone on the Etims team who might be writing his stuff on other websites…..
I'm not sure, but perhaps there are similarities in the style.
( Style-what style ? -Ed )
By the way, did you see Nicola Sturgeon on the telly ? How did she not punch any of them ?
I'd have been flung out at half time.
The First Minister, as the article suggests, has put the fear into the Westminster establishment, and the smear campaign started today in the Telegraph, where a leaked memo of a conversation between Sturgeon and a French bloke suggests that Nicola would prefer David Cameron as PM, because Milliband isn't up tot he job.
 The story has been dismissed as bollocks by all concerned, but it shows she has them rattled.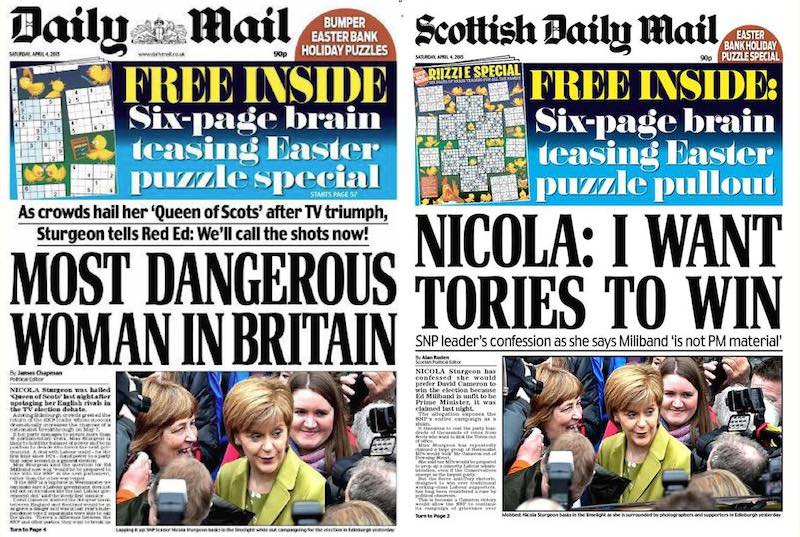 Hang on, the Telegraph ?
This Telegraph ? The one in this weeks Private Eye ?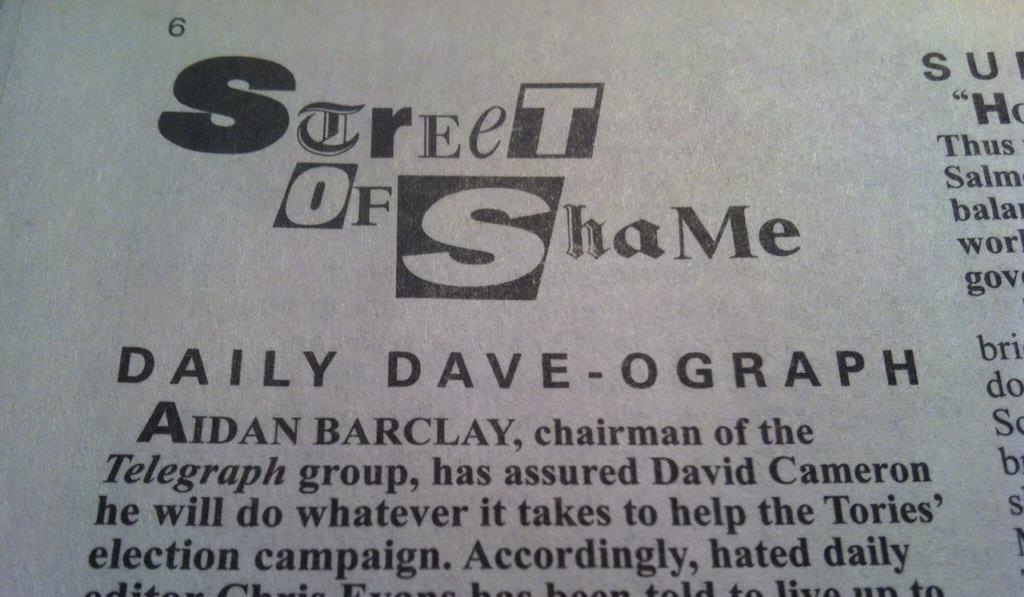 Politics, football.
All I need to do now is involve religion and I'll need police protection when I go out.
Oh, hang on, that was yesterday.
Heres a wee teaser.
Still on the papers, who said this, just this week ?
"I'd rather play for a big club like Celtic than downsize to a small club in England and get more money"-