The San Diego Times gives  us five observations from the round of Champions League games, and Brazilian thespian Neymar gets a wee mention.
" THE OSCAR GOES TO … NEYMAR: A propensity by some players at Barcelona to play-act and feign injury has at times been a blot on that club's otherwise fabulous brand of soccer. Unfortunately, new recruit Neymar showed against Celtic that he seems inclined to do it, too.
In 2011, Barcelona right-back Dani Alves made a meal of a coming together with Real Madrid's Pepe in the Champions League semifinals. Screaming, mouth agape, the Barcelona defender acrobatically spun to ground, clutching his right calf muscle. Referee Wolfgang Stark sent Pepe off.
Sergio Busquets dropped like a man shot when Thiago Motta slapped the Barcelona midfielder across the neck in the 2010 semifinals. Infamously, as he lay on the floor clutching his face, Busquets was caught on camera appearing to peek through his fingers to see referee Frank De Bleeckere send off his Inter Milan rival.
In Neymar's defense, Celtic captain Scott Brown did appear to kick the Brazil forward in the small of his back after bundling him over in the 59th minute at Celtic Park on Tuesday.
Still, Neymar perhaps didn't need to writhe on the turf quite so dramatically, clutching his back as though he'd just donated a kidney without anesthetic.
Referee Stephane Lannoy showed Brown a straight red card. Celtic succumbed to Cesc Fabregas' winner 16 minutes later.
"Neymar has a reputation in the game," Celtic manager Neil Lennon said. "Sometimes he exaggerates things a little bit."
As Robert Burns said, its good to see things as ithers see them. Well, he sort of said that.
Speaking of which, this made me laugh, a sort of "Barcelona Diary " talking about the game..
"  Playing at Celtic Park is a bit like chewing screws while the locals bite your ankles. But as the fans have a good song in them everyone loves Celtic, despite them having one of the most horrendous styles of football in Europe, based on putting 10 players in their own box and kicking everything that moves. And even when it's on the ground and isn't moving, kick it anyway for good measure. (See Brown on Neymar). In summary, Celtic at home is about the worst enemy Barcelona could face and exactly why the 0-1 triumph of the Catalans is a milestone for the newborn Tata era. It was a game of patience and courage in equal parts.
The Barcelona Orchestra played the expected music, in spite of the absence of their virtuoso soloist. Without Messi all the players were ready to step forward to face Celtic slamming and kicking the door shut on them. The kicking part was cheered to the rafters by these fans who sing so nicely.
From Valdés to Neymar, including Bartra – who made it clear someone needs to give an explanation as to why he was used so little last season – all of Barça's players put in a solid shift in a difficult ground and against a rival who stifle like few others. Winning at Celtic Park gives anyone's self confidence a boost.
From the start Barcelona controlled the match, showing oodles of patience and hoping that the Scottish bravehearts would eventually tire. Celtic, with Samaras as the only target man, looked to hit on the break and for dead ball situations, while Barcelona moved the ball from side to side looking for the white and green waters to part. The whole of the first half though saw the visitors come up against the Celtic wall.
Quarter of an hour after the restart the Celtic captain Brown lost the plot and having downed Neymar gave him a kick in the kidneys. It was a clear red that should probably also have an additional ban added on, to set an example. The nice singing fans applauded the kick, just like those in the middle ages applauded decapitations.
With one less Celtic had to reinforce their initial plan. To park the bus there's no real need to have 11. In fact they attacked better and Valdés had to pull out his usual miracle to save Barça with an outstanding stop in 73' from a Matthews shot. But that was Celtic's swansong. Two minutes later, Alexis, in his first touch since coming on, sent a cross over from a counter that Cesc headed home perfectly.
From there to the end the Scots increased their levels of violence and Forster augmented his status as a legend, preventing Neymar and Alexis from finishing off the game. The keeper was the last one to man the Celtic wall. He was also the only one not to hand out a kicking. "
I thought that was quite good.
Brown himself has issued an apology on the clubs official website;
"I realise that I made a mistake in getting sent off last night. It´s something that happened in the heat of the moment but I shouldn´t have acted in this way.
"I still think it was a harsh decision. However, I recognise that I made a mistake and put myself and my team-mates in a difficult position. I need to live with that and there is no-one more disappointed than me about losing the match.
"There wasn´t a huge amount of contact at all, to be honest, but I have to accept responsibility for my actions – and I do.
"The team deserved to get something out of the game after playing so brilliantly and putting in so much effort against one of the best sides in the world.
"I was also disappointed for the supporters after the incredible backing they gave us during the game. They were magnificent once again.
"It was another fantastic performance from the lads after the Milan game, and although we´ve still to pick up a point from this group, we´ve shown we can compete against some of the best sides in Europe.
"We have four games to go in this group and everyone in the squad firmly believe that we can still qualify, and we are determined to get our first points on the board against Ajax in two weeks´ time.
"For my part, I can´t wait to get back on the pitch against Motherwell at the weekend and try and help us extend our winning run in the league."
Well, thats better than blaming Neymar completely, and shows he has had a wee bit of a think about what he did. But sometimes sorry isn't enough. Actions speak louder than words, as they say, and Brown , based on his European performances so far this season, is getting more ticks in the liabilities column than in the one for assets.
Maybe he should sit down and have a chat with Bertie Auld, who could show him how to influence games properly. Without getting caught. As we see here…
" But Auld could be as nasty as any of the hard men in United's ranks, and after 42 minutes Jones was carried off with a deep gash on his right shin. For a time there were fears he would not return. Bremner: "It was a terrible, terrible tackle on Mick Jones by wee Bertie Auld that did it. His leg
was in a terrible state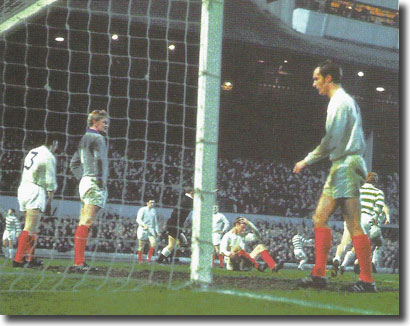 at half time. Well, I chased Bertie a few times that night. He knew I was after him. But no chance. He was too fly."
Jock Stein had warned Auld that the game would be fiercely competitive, and the Scottish schemer was determined not to hold back from any confrontation, saying later, "The Big Man was right. They didn't really think we could play and when we started to move the ball around they got very rough. I had a tussle with a big centre called Jones who thought he could kick and get away with it. He didn't. I gave as good as I got. At half time he came up to me and said, 'Hunter's going to sort you out.' Norman Hunter was a hard man for them. In my view he did more damage off the ball than on it. He just tried to terrify you. I think they were surprised at how we stood up to them. I think when you had the Big Man's presence about you, you fought your corner."
That wee piece is from the Definitive history of Leeds Utd, their take on the semi final clash in 1970. The whole page is well worth a cup of tea and a read. Todays players could learn a lot from how the team of 1970 went about facing the side who were dubbed the best in Europe at the time.
However, there might yet be a positive to come from all of this. Beram Kayal, who miraculously survived his brief appearance on Tuesday without geting injured again, says that Brown has nothing to apologise for;
"Scott did not need to apologise to anyone. He is our captain and leader and an important player for us. I didn't see exactly what happened at the time because I was substitute and it was far from me.
"I thought it was a yellow card at first, but then I heard all of the players say it was a red card.
"Scott is a great player and person and is one of the main reasons we are playing in the Champions League. In football, there are mistakes. But if he made one, he still does not need to say sorry."
Reading between the lines, the players have closed ranks and fully support their captain, and just maybe this will help fire them into the last sixteen.
Kayal himself is the ready made replacement, but only if he can recapture his early form, although alongside him Joe Ledley will be a welcome addition.
Time to move on, anyway, the points are gone and theres nothing that will bring them back, so we need to focus on the remaining twelve that are up for grabs, and we need to make sure that the next three available remain in Glasgow.
Ajax should not be underestimated, but neither should we sell ourselves short.
Last word on the game and its resultant "debates " for now, and Brian McNally on the social network-which increasingly is becoming more and more anti social-sent this direct to Neil Lennon;
Sadly,the old Liability Brown is back. @officialneil is right in that the red was a game changer but that was down to Brown.Address it,Neil.
And got this reply..
@McNallyMirror Brian dont come on a public forum and tell me how or what to do with my players
We can only hope he doesn't read yesterdays diary, unless he really has been sticking pencils in Browns eyes to get him to say sorry.
Moving away now from the Champions League, the law in Scotland over offensive and threatening behaviour continues to amaze those of us who live outwith the country.
This from the BBC website;
Celtic fan Paul Clark given football ban over gun gesture
A Celtic fan who made a gun gesture with a flag during a game against Rangers has been given a 12-month football banning order.
Paul Clark was captured on CCTV pointing the object and making a motion towards Rangers fans during the game at Celtic Park on 29 April 2012.
The 30-year-old, from Cambuslang, South Lanarkshire, denied gesturing in a manner "suggestive of a firearm".
He was found guilty following a trial at Glasgow Sheriff Court.
The court was shown footage of Clark at the football match.
'Inflammatory behaviour'
Sheriff Bill Totten accepted the Crown case that Clark was seen holding a flag and making a movement with the pole towards Rangers fans as though it was a rifle.
The court heard that after being captured on the footage, season ticket holder Clark was arrested at a later date for the offence.
Speaking following sentencing, Stephen Ferguson, football liaison prosecutor for the West of Scotland, said: "Paul Clark behaved in an unacceptable and offensive manner and will now have to face the consequences of his actions.
"Attending football matches should be about enjoying the match event and most certainly should not somewhere you are subjected to offensive and inflammatory behaviour."
So, he pointed a flag at someone and pretended it was a gun….
Someone might be in a bit of trouble of he scores on Saturday…
Charlotte Fakes is back, sending these out into cyberspace…
@CharlotteFakes: Suspension lifted. Let's get to the bottom of who has most to hide. No punches pulled.
@CharlotteFakes: Despite Charles having ownership of over 5 million shares at 1p each, not 1 had been paid for until a forced deduction from final salary.
@CharlotteFakes: Why did the board sanction a £600k pay off and not go down the misconduct route despite privately sharing so many reasons to do so?
Hot on the heels of the release of some accounts-well, not really proper accounts, more the bare minimum they can get away with, it all begins to point more and more towards the beginning of the end for Scotlands newest club, Second Rangers, who burst onto the scene a little over twelve months ago in a blaze of publicity , telling everyone how well they were going to do, and how much money they were going to have.
Somewhere, that particular train slipped off the rails, but there is talk of getting some more money in. Which we believe also involves a train.
Incidentally, for those of you who miss Charles Green, the outspoken former Second Rangers chief, he's turned up in France, and has given an interview to France Quest, where, true to form , he continues to talk merde…
Des-Glasgow-Rangers-au-chateau-de-Marcei–65218311
Nice. Thats nice as in "pleasant", not the name of the French town.
Yesterday, a picture of a little birdie, somehow made you think of Scott Brown, as a few of you identified the avian example as a tit of some sort.
Actually , you'd have been right, which just goes to show we are all guilty of knee jerk reactions, which coincidentally, was exactly what started all this malarkey in the first place, as we see here in todays spot the ball competition,
Something different to think about today, whats the connection between these former and present Celtic players…