Celtics opponents tomorrow, Shakter Karagandy, rested their entire first team for the weekend game against Astana, and still won 2-1. Their manager, a chap called Victor Kumyov, explained;
"We won the game, but we have to say we had more than an element of luck to it because they missed a penalty too.
"Perhaps they underestimated us because of the team we put out. We decided to divide our squad into two groups because we have a lot of games coming up. So the players who will meet Celtic were all rested."
They are taking it very seriously, and the manager has slapped a ban on them talking to the press;
"I would prefer if my players didn't talk to the media before playing this game. It would only serve as a distraction and could be used against them."
Meanwhile, with an important game coming up, the Scottish press get right behind the only club the country has left in European competition. Which is some mean feat considering its still only August.
The article begins somewhat dramatically, hinting at unrest and frustration amongst the players;
" KRIS COMMONS says Celtic's current stars want top signings brought in now to assist their dreams of more Champions League glory.
The Parkhead ace, left, is desperate for ready-made replacements for the likes of Victor Wanyama and Gary Hooper to arrive and boost the group.
Celtic are trying to make a signing before tonight's Euro play-off deadline and Commons says they need first-picks not just squad players. "
What he actually says is;
" We need to add more quality. "
"If we pick up injuries in certain areas we will be down to the bare bones. I know the manager and everyone behind the scenes are doing all they can. "
Which no-one could disagree with, but its nowhere near as dramatic as the headline suggests. Must be a big game coming up.
Manager Neil Lennon admits to being a little frustrated over his attempts to bring in the players he wants, but hasn't given up yet. He wants four or five in, to add to the ones he has already secured, and claims he is "working hard " on it.
Teemu Pukki is interested in a move to Celtic, Alfred Finnbogasson is also keen, so its down to the clubs to agree a fee. These clubs know that Celtic have money in the bank, so they will try to squeeze every extra penny they can, like Celtic did with Wanyama and Hooper, so you can't blame them really.
Although Karagandy are a bit of an unknown quantity, there should be enough in the current squad to see us through. The spectre of Artmedia Bratislava hangs over this game, but the lessons of that dreadful night will have been learned, and the tie will be kept alive tomorrow, indeed, there is every chance that Celtics exceptional away form in the qualifiers will see it settled over there.
Alright, I'll take them off now.
ITV4 will show the game, and its fortunate that the tie has coincided with the current influenza outbreak, which threatens to bring the western world to a standstill. This particularly nasty little bug strikes its victims immobile for up to twenty four hours, and is exceedingly contagious, so if you think you have it, call in sick immediately when you get up tomorrow.
And even if you don't think you have it, call in sick in case you bump into someone who has.
Send this picture to your boss, and tell them its the scene outside your house;
The game will take place in the Astana Arena, instead of Shakters home ground.
Its not hard to see why they have made this decision.
Thats the arena,and  this is where they usually play,
This is the city of Astana, which looks as modern and clean as any
European city.
This is Karagandy, which looks like it is in Indiana or Kentucky.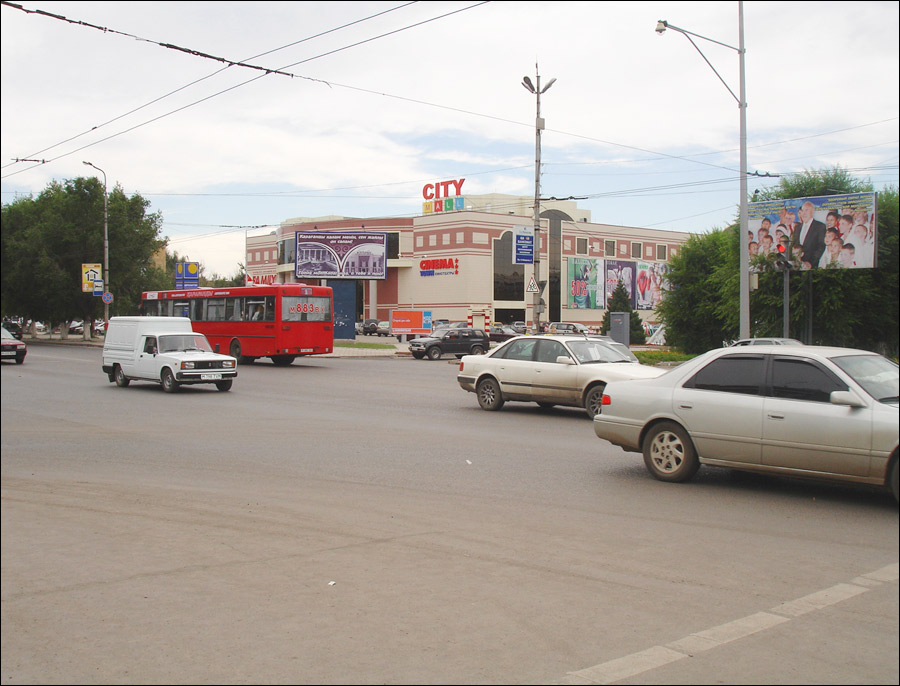 Kris Commons, who seems to have drawn the short straw and ended up sitting next to the Records Craig swan on the plane, spoke of his new surroundings;
"I've never been anywhere like this to play football.
"A holiday in Dubai is probably the closest I got, but not for qualification for the Champions League. It's a bit different, but that's the draw we have been given.
"What's the weirdest place I have been? Well there has been nothing like this. This is the strangest one country-wise.
"We are based in quite a nice part of Kazakhstan, although there might be a pitch issue again with the artificial surface. But I'm hoping if it's not too hot we can get the ball down and play some good football.
"It doesn't really matter how many shots on target you get or how much possession you have. We just have to get out of the place and back home with something to play for at Celtic Park."
He then asked Swan to "give him peace " and ran for the exit door.
Swan then had a walk around town and asked a local to take a picture of him, so he could prove he was there when it comes to claiming his expenses;
The tourist then scarpered with his camera, which caused a huge wave of disappointment amongst the rest of the travelling party, as the thief left him with his laptop, meaning he could come up with this drivel;
A number of newspapers refused to pay Celtics asking price of £5000 to travel with the official party. The Record must feel they are getting their moneys worth with Swan.
However, it gives me great delight to inform him that the £5000 only covered outward travel, and Etims have arranged his return journey with a  local travel agent, who he should be able to identify with-well his paper will anyway;
Central Asia is of course the home of the man who did most to unite the peoples of Europe and Asia in its long and bloody history. Attila the Hun led the way for other visionaries such as Napoleon Bonaparte and Adolf Hitler, before the United Nations was formed, when  people decided it was probably better to talk about disputes and settle them that way. If you don't count Israel.
Curiously, Attila was also the nickname of perma tanned tv pundit Mark Hateley, due to his rampaging, all action style.
Except, it wasn't for that reason at all, although the player himself did little to discourage it. During his time with Milan, in Italy , the locals pronounced his name A-te -li , and it sort of grew from there. There, one of lifes little mysteries solved, although I've got no idea what one of the worlds biggest clubs saw in that clown. Thats one for Arthur C. Clarke to work out.
Jaw, Josh Brolin , A surface to air missile and the ARAS response team all led to Georgios Samaras being named as the mystery man in the picture clues.
Some players don't get capital letters. This guy gets his full name. Who is he ?