Celtic moved up into third place in the league with a 2-0 win at Aberdeen. The side currently sit three points adrift of Inverness who maintained their 100% record from three games with a 2-0 win over Motherwell, which left last years runner-up down in sixth place with just three points from three games.
And there was much rejoicing.
Celtic face Inverness at Celtic Park next week, and it looks like being a cracker. Best get the old motor cranked up again.
The record books may show that Celtic win the league convincingly this season, but Aberdeen were no pushovers yesterday. If anything, they looked more likely to open the scoring with Peter Pawlett and Niall McGinn  stretching this weeks centre half partnership of Charlie Mulgrew and Steven Mouyokolo, with Efe Ambrose in the holding position just in front.
This may have been a practice run for the Shakhter game on Tuesday, with a holding midfielder alongside Kayal, Brown and Ledley , -formation wise, if not personnel wise, so it was interesting to see how ambrose did in the wanyama role.
He did so well that Mulgrew swapped places with him.
A goal at the end of each half, a Commons penalty in the first, and a Forrest wonder goal in the second, secured the points and sent the team off to Khazakstan happy.
Well, I thought it was a wonder goal, a sublime chip over the keeper from a difficult angle, but in fact it was a deflection. No such confusion over the first. Russel anderson and Jamie Langfield  held off Georgios Samaras by three falls and a submission, before the referee decided that was not allowed.
Langfield took an early bath, and many may say that the game turned at that point, but that would be harsh on Aberdeen, who didn't give up until Forrest made the points safe.
BT Sports covered the game, and I have to admit to being impressed with Gary McAllistair and Derek Rae, who sounded enthusiastic-though Rae did let slip who he wanted to win-and knowledgeable,  MacAllistair especially, but he's normally okay as long as he's not asked to take a penalty against England at Wembley when I'm in my house with a load of Englishmen watching the game with a lot of money riding on 1-1. Some things are not easy to forgive.
Still, I got over it eventually.
After the game, the team darted over to  Dyce airport and boarded a  chartered plane to the far east to allow time for the squad to acclimatise ahead of Tuesdays qualifier. Gives an entirely new meaning to popping out for a chinese on a Saturday . The journey is expected to take several days at Warp Factor Eight, but the players seem okay with that.
After all, the plane seems okay from the inside.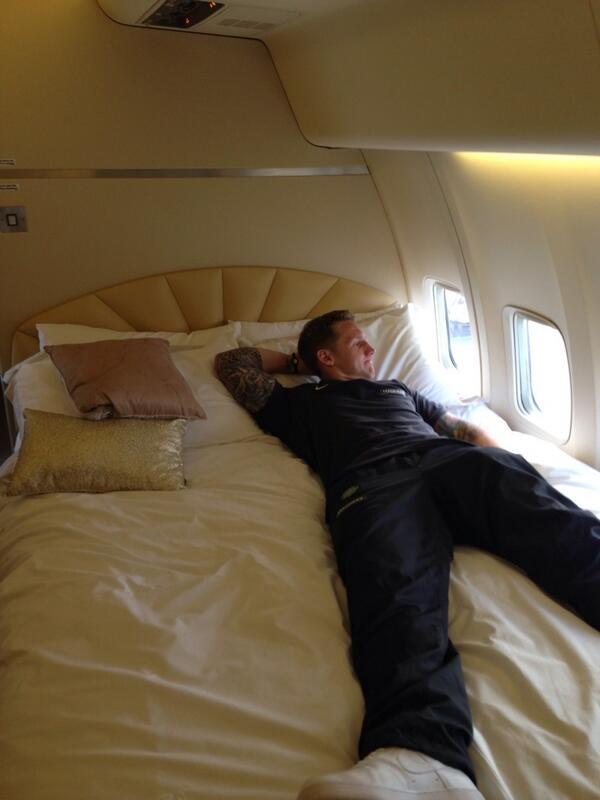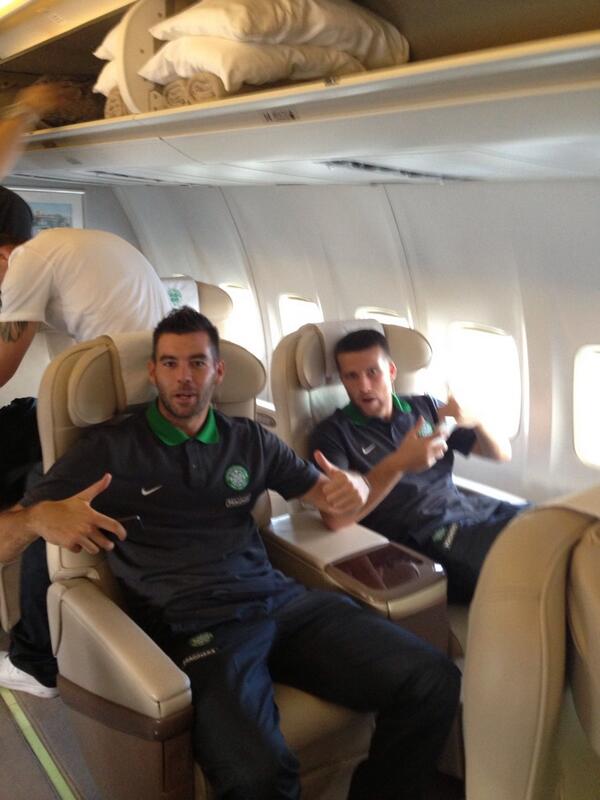 There was a wee bit of drama when someone nicked big Virgils cigarette..
Thats the inside of the plane , the outside is less impressive. As drawn by wee James Forrest
The players will no doubt appreciate the chance to relax, especially after the drama at the hotel in the early hours of Saturday morning, when someone set the fire alarm off. Neil Lennon was less than impressed;
"It went off between 1.30 and 1.45 in the morning and it's becoming a bit of a regular occurrence when we come here," he said.
"It was freezing. There were a couple of elderly people out in the cold and some in wheelchairs and they were a little distraught."
Asked if it interfered with his team's preparation, Lennon said no. "It took some of the boys a wee bit of time to get over [to sleep], but it fires you up." 
Could have picked his words a little better.
Lennon also spoke of  transfer speculation, but gave the impression he didn't really know what was going on, in fact creating a bit of a smokescreen, which explains the fire alarm. He told the Herald;
"We are interested in the player [Arnautovic] but whether we have put a bid in or not I am not sure, I wouldn't have thought so for that money," said Lennon. "They are different types of players, but they are both players that we like … we did go in with another offer [for Pukki] yesterday. They [Schalke] weren't prepared to sell but there might be a bit of give and take on that. We have expressed an interest [in Finnbogasson], but we have made confirmed bids, particularly for Pukki."
Either he'd had a beer or the reporter had.
From that garbled quote all we can deduce is that we might sign someone, if someone wants to sell someone.
The Express is more blunt. Everyone is snubbing Celtic, and we might as well not bother trying to sign anyone. With their track record in this field, we can expect three or four in by the end of next week.
Quick word on Scotlands newest club, Second Rangers. They, coincidentally on the day the USA announced that Area 51, where they keep the flying saucers , does actually exist, released a statement about , well, something or other has upset them.
RANGERS Football Club is aware of wildly inaccurate stories circulating on various websites and would like fans to know that these flights of fantasy will be monitored by our lawyers.
In particular, they are examining a malicious piece which seems to suggest that the Club does not own its facilities.
We urge Rangers fans to treat these idiotic and lumbering articles with the contempt they deserve. Better still, ignore them completely.
But we must also stress we cannot waste time responding publicly to every blog or ridiculous claim against this Club. Also, there is a dangerous proliferation of anonymous obsessives on various social media sites and we will not give them any credence.
Nor can we react to every journalist and publication who appear to pursue an anti-Rangers agenda, publications such as the Daily Record which today boasts yet another headline which does not accurately reflect what manager Ally McCoist said in his press conference yesterday.
This paper's intent is clear and we urge our fans to see it for what it is. If Rangers fans want the truth they will find it only on the Club's official platforms.
Finally, Jack Irvine of Media House does not speak for this Club.
So there.
So, they've banned the BBC, fell out with the Record, in fact, they've  thrown their toys out the pram every time someone criticises them.  Its like the school bully still shouting his mouth off after the new kid has battered him.
No-one cares anymore, the club are just a comic aside in the annals of Scottish football. Except sometimes they just aren't funny. ( Though that hastily written statement is ).
Diana from V-the eighties cult sci fi show, the declaration from DAR-the Daughters of the Revolution, Rhys Iffans and the ETT gave us Vidar Riseth.
Now, struggle away with this one…