The dramatic events at Fir Park on Saturday, which at times seemed almost scripted for the Motherwell pay tv audience, showed that the message from Brendan Rodgers to the players is finally getting through.
The Irishman didn't want to change the way Celtic played, he just wanted to make everyone better at it.
We never stop is fine, but sometimes we need to think a bit about what we're going to do before we start.
The late winner , when most sides would have crumbled and settled for a draw, showed that the old spirit and confidence has returned, and events elsewhere have meant the players have been largely ignored in the build up to tonights visit of Lazio, the cuddly, continental family club equivalent of our own neighbours over the river.
Cameron Carter Vickers has been in training, and not only could make the squad, but might even make the team.
Luis Palma, who was a target for the booboys after he failed to bag a hat trick with his first two touches, has sort of redeemed himself at Fir Park with the opening goal, and should start , along with Daezen Maeda amd Kyogo Fuhruhashi.
With players returning from injury and keen to be involved, there will be support from the bench in Oh, Yang and the experienced James Forrest…another who has been castigated by an impatient support, but watch his run for Matt O'Riley's winner on Saturday….
That sort of experience and selflessness always has a place in any team.
Reo Hatate is getting closer to full fitness and should be alongside Calum MacGregor and O'Riley, and the captain might now feel that with the return of the Japanese playmaker, he can relax and get on with his own job, a feeling that is stronger given that O'riley has begun to shine under the new boss.
If Carter Vickers does return, three out of four first picks at the back will be in place, and with Joe Hart returning, maybe we will be a little more secure at the back.
Home European fixtures might be a great night out, but don;t seem to be the banker bet they were under O'Neill and even Gordon Strachan.
We're too nice, and opposition players relish the experience rather than fear it.
I've harped on enough about making life uncomfortable for them from the minute they land in Glasgow until the full time whistle goes, but we still seem to favour popularity over results.
This is a results business, and it's time to swap likes on You Tube for points on the board.
Whatever it takes.
By all accounts, Lazio have had a poor start to the season, languishing 16th in Serie A after seven games, which suggests they might be looking forward to a break from league football, and that is something the players will need to be aware of.
Of course, no hot water in the dressing rooms and arranging for their bus to be stuck in traffic so they don;t get to the ground until about ten to eight would help as well, but an early goal would probably be better, and not result in a UEFA investigation.
Rodgers will have stressed the importance of discipline for the team, and whilst the natural urge to be a little enthusiastic is appreciated by the support, the referees don;t seem keen on it, as we saw against Feyenoord where a couple of mistakes out paid to what had been as mature an away performance as any in recent years.
However if we do what we can do well, and everyone keeps the heid, so to speak, the campaign can be put right back on track tonight, and that's all we want.
Now, those events elsewhere that have proved to be a welcome distraction to allow our club to prepare undisturbed, and before we go into any detail, or any speculation, I'd like to echo the thoughts of this clearly intelligent and witty twitterer….
Back in 2012, when they went into liqiidation, I was firmly against the Scottish football needs Rangers mantra. However, given the events of the last decade or so, I've changed my mind. I'd like to thank them for the laughter and fun they have provided over the years .  
 He's got a point, because without them the world might have been a cleaner place, but it wouldn't have been so much fun.
  From the moment we heard the letters EBT for the first time, right through until the appointment of Steven Davis and Alex Rae as interim managers to replace Mickey Beale and his Backroom Boys, it's been one long round of fun and laughter.
 Incredibly, their support, granted one which will never be admired or respected for it's collective intelligence, hailed the arrival of the inexperienced Davis and the incompetent Rae whilst slamming the club for hiring the inexperienced and incompetent Beale in the first place.
 Is Davis the new Messiah…?
We asked a fan….
 All sorts of names have been mentioned as a replacement for Beale, though it seems no one wants to ask why they hadn't been approached by the club/company when it became clear Beale wasn't up to the job, which was about an hour after he took it.
 This leads one to suspect that they had already been asked, and turned it down, as one or two have made clear anyway.
 Davis and Rae are two games away from winning a trophy, which would mean they would be acceptable to the success starved hordes for at least the rest of the season, which would suit everyone at Ibrox.
 The support have welcomed two true Rangers men, and they have a point in Davis, who walked away when he was asked to sign for the new club, because, as he pointed out at the time, it was a new club.
  No one in the media will remind him of this, and no one at the club seems to bear a grudge against him, so one can only conclude that the so called Banter Years, the most consistently funny comedy show in history, has had a reboot with a whole new team of writers and performers, and not lost any of it's quality.
 Even the audience provide us with much mirth, as anyone who follows any of their social media, or, come to think of it, mainstream media, and one day, hopefully, someone will put together a docu series, one which would warn of the perils of breaking the rules in sport, one that exposes the corruption at the heart of the Scottish game, but most importantly, spreads the laughter and the joy, the fun and the frolics, and the side splitting hilarity of the story of the two clubs.
 After all, when something is this good, something that could shine the light of laughter into houses around the world, it would be rude not to share it,
 Last time out we had this….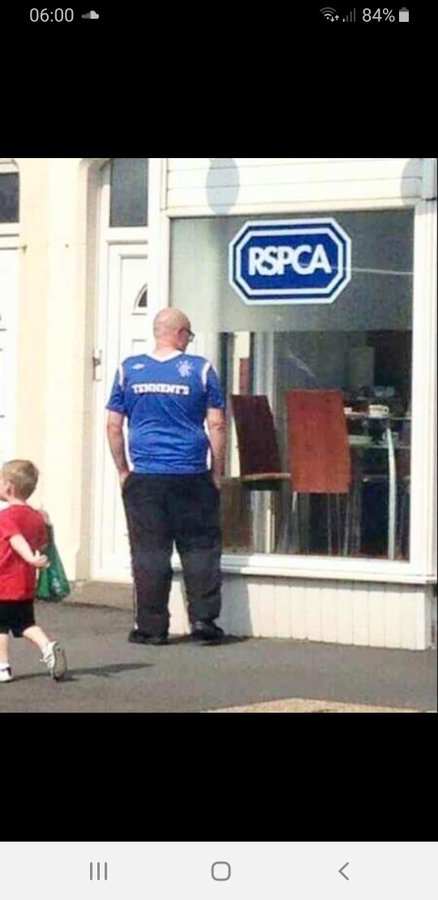 Caption: Like most of them his head isn't screwed on right.   
Today….