Luis Palma has joined Celtic for the sum of £3,5m.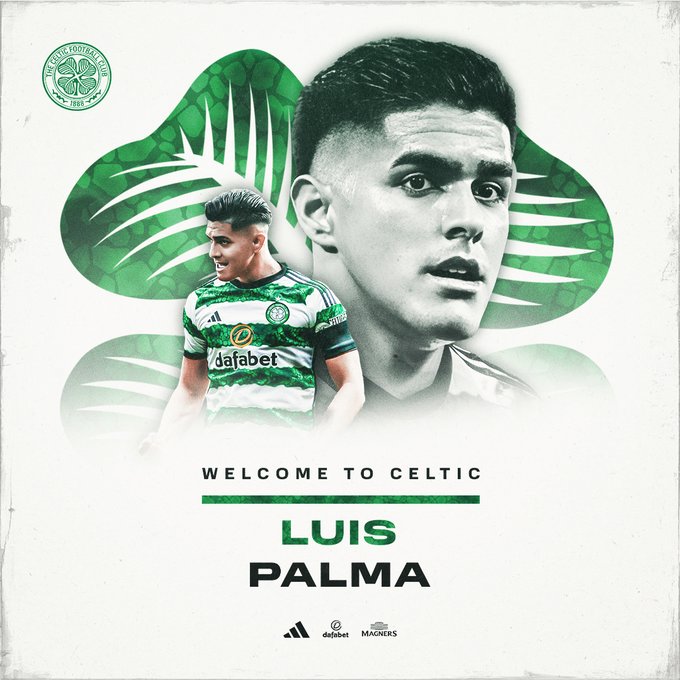 Looks like he can play a bit as well. Have we got our replacement for Jota ?
https://twitter.com/i/status/1696961364013482236
Any suspicions that the board have cunningly re-signed Tom Rogic are completely without foundation. He looks nothing like him.
The deal seems to have been financed in a novel and refreshing way…..

So let me get this right. Celtic get about an extra £4m from tv rights because they got horsed out? So
have just paid for
to sign Luis Palma? After being unable to afford him themselves. Would that be correct? 
 It's certainly a different way of looking at it, and not a bad one at that.
With stories flying around that Liel Abada is more or less certain to sign a new deal, it looks like we are well covered on the flanks.
It doesn't matter how long something takes, as long as it's done well.
Reo Hatate next ?
Nat Phillips is being lined up from Liverpool to fill in at centre half while our own take some paracetamol and hope for the best,
Just to clarify, Nat is short for Nathan, and not Natalie. He's joining the mens team,
In a rare move, the board have actually used the loan system for it's original intended purpose, to help out in an unforeseen crisis.
Could they be getting the hang of this running a club malarkey ?
There is also talk of another loannee from Benfica, but since that always ends in tears we'll wait and see what happens there.
As another roller coaster ride in the UCL approaches, there was something else that caught my eye yesterday….

Galatasaray qualify for the CL. Celtic are 3pts above them in the 10 year rankings used to set the coefficient payment we get – that's worth €1.137M to us. What puts us above them? The 4 bonus points we get for winning the European Cup. The Lisbon Lions. Still contributing.
I'm sure our board are already divvying up that money between the surviving lions and their families, in what would be a wonderful gesture by a club like no other.
If ever a social media platform could be used to mount a campaign this would be the one for me.
One biographer told me that one of our legends from around that time worked in a poly bag factory after leaving Celtic.
The club owes them a huge debt, they lifted us to what we are today.
Sharing out a bonus they earned is the right thing to do.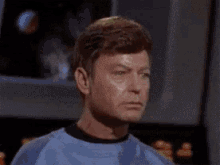 I had an early night last night, as one does when one approaches his seventh decade, so I had to have a wee look at the news this morning to see if I'd missed anything.
It appears I did.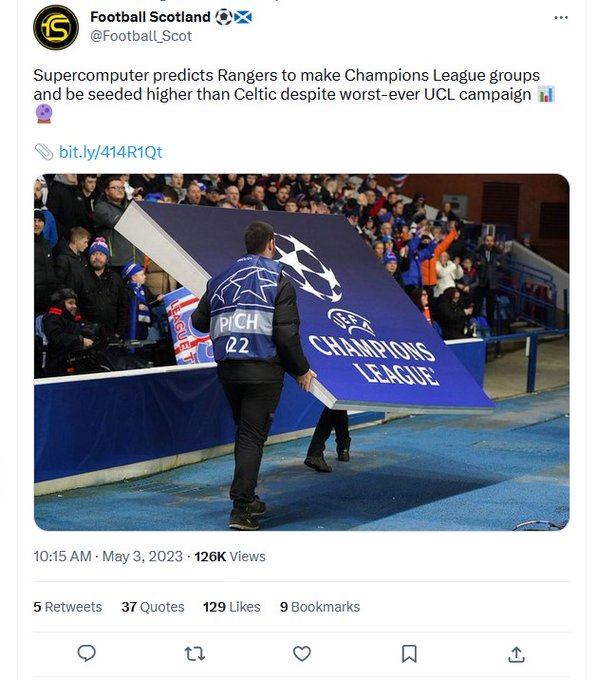 there's a supercomputer for sale, presumably it needs a bit of attention.
It seems I missed one of those goals, one of those great moments in sport….
https://twitter.com/i/status/1696987106747256988
If you look closely, you'll see the new interactive tv audience feature gave it's opinion on the advetising boards behind the goal.
As regular readers know, I'm not one to laugh at others misfortunes. However, if you'll pardon me for smiling this morning, it appears they are waving goodbye to the Champions League and saying Hello hello to the Europa League, which is an enormous financial hit for the plucky, cash strapped newcomers.
The pressure is now on rookie manager Mickey Beale and his captain fantastic James "Where the fuck's the right back ?" Tavernier for Sunday, when they host another Champions League club , Celtic.
Fortunately for Stan and Ollie, they can call on Alan Muir and Don Robertson for this one.
The huge influence those two hold over any game they participate in cannot be understated, as Celtic know from their handling of the Kilmarnock game a couple of weeks ago.
Our intrepid media will be all over this, I reckon….
When they finally come out of mourning, that is.
And now, a caption competition…