Are you sitting comfortably ?
Or are you running around the room with the heebie jeebies screaming and blaming everyone and anyone for the mess Celtic are in just now?
Yet, if we turn down the noise for a minute, we might just see that we're throwing our wobblies in the wrong direction.
We haven't started the season as well as we'd expect.
Being bumped out of the League Cup at the first hurdle and a draw with St Johnstone has set the alarm bells ringing and it's fair to say the merchants of doom are doing a roaring trade in their merchandise.
It almost seems like we're enjoying what threatens to become a bit of a meltdown.
After all, we can vent our anger at the board for not spending that chunk of cash they're sitting on…though heaven help them should they spend it on the wrong player, one who doesn't score four on his debut at Ibrox and save a couple of penalties…all before even unpacking his suitcase or being introduced to his team mates.
Or even the manager, come to think of it.
Speaking of the manager, it's all his fault and none of us wanted him anyway .
Right ?
He's taken a swashbuckling team and told them he doesn't want them to swashbuckle any more.  He hasn;t told them what he does want them to do, or at least in a way they understand, and so they just pass it to each other and hope someone can think of something before someone else takes it off them .
Right ?
And as for signing…well, we'll come to that later.
Hart, Johnston, Carter Vickers, Starfelt, Taylor, Hatate, Mooy, McGregor, Kyogo. Maeda, Jota.
That was pretty much the line up every week for the second half of last season. The part where things were won.
Not just trophies, but praise and admiration.
That's if we don't count the slide after Carter Vickers went to get his operation.
Or if we don't count the fact that the players knew the manager was leaving, and there wasn't really a replacement in place.
Of that regular eleven, Rodgers has only had Hart…who has stepped up to be fair and looked a lot more comfortable in the last few games,and Taylor in his back line.
Taylor is adjusting to a new style and a new set of defensive colleagues.
Thankfully, the support have been right behind him and given him all the encouragement he needs as at the moment he is our most experienced defender and has to help the others settle in, as well as do his own , new, unfamiliar role.
Little wonder he looks bewildered, and little wonder he's a shadow of the player he was last season.
He's the last man standing.
Then there's midfield, and guess what ?
Brendan is down to one man there as well, and even Calum McGregor is showing the strain of his role on the pitch.
Still, at least the support are right there behind him etc……
Up front, Dazen Maeda and Kyogo remain, and any other support would see this as a major triumph, especially as they have both signed new deals.
Jota has gone, but for the money he was offered, there isn;t a player in the world who would turn it down, unless he already had the sort of money that small nations envy.
The injury list is horrendous.
It might be worth looking into why it's like that, but speculation about training methods doesn't help.
Other factors could be equally responsible, such as players carrying injuries and not reporting them, or simply just trying too hard to impress the new boss.
We don't know, so we should reserve judgement until we do.
As , indeed, we should reserve judgement on anything we're not sure about.
As it stands, we're at the top of the league, and even if no more players are added to the squad, it should be strong enough to cope domestically.
If you turn the heebie jeebies down for a moment, you'll hear that.
Of course, Europe is a different kettle of fish, as anything would be where they put fish in a kettle, but again, it does seem the manager was trying to build a squad to cope…within our wage and transfer fee bracket, and that is a model that seems to work, even if it is a little too early overall to be certain.
Last season was all about fine margins. The results were poor, and suggest otherwise, but the failings, such as being perhaps too swashbuckling, looked to have been addressed.
Two more centre halves, both of whom look like they can play, added to Carter Vickers, who can, hints at a three man defence and a plethora of wingers suggests a more reserved approach, hitting on the break with pace away from home at least, or maybe at home as well….
So there does seem to have been a plan in place, so why now are the support screaming for more signings ?
I'm no board apologist, but they have sanctioned seven or eight new players, and yet still are being accused of doing their business at the last minute.
And we're not done yet.
Over the last couple of years we have had a model that works, on and off the field.
Either we believe in it or we don't.
What we certainly don't do is throw all the money in the bank on last minute deals to appease a section…and not a small section..of the support who just can't control their heebies or their jeebies.
Whilst it may not look it at the moment, we'll be fine.
Unlike our neighbours over the river, that is, and that might explain the hype around their "resurgence " and the way in which we, as a support, have been manipulated into thinking that the end of the world is even closer than the legendary nigh.
How do I know that ?
Simple , really.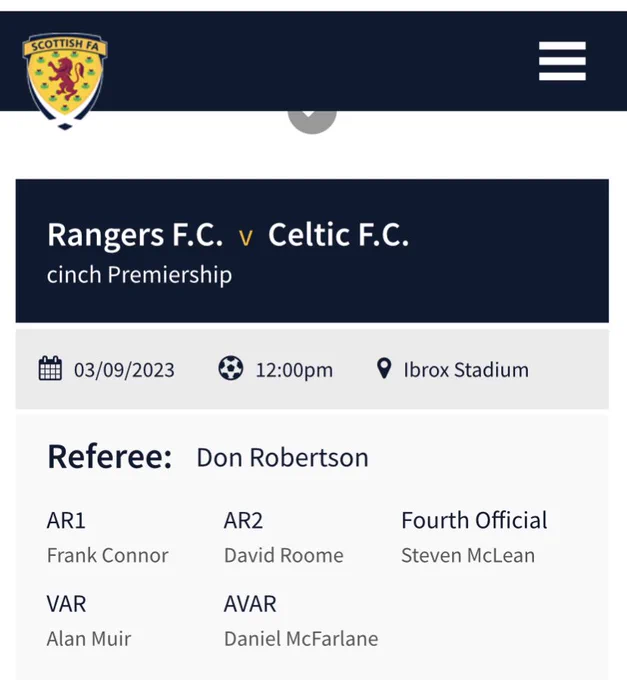 Don Robertson has been appointed referee for the visit to Ibrox on Sunday. To help him on the VAR is Alan Muir.
That tells me that the powers that be are aware that "rangers " cannot afford to lose this game.
In fact, even a draw could be the beginning of the end, so while we are all moaning about our own club, and our attention is elsewhere, they've used our heebie jeebies to drown out a move that if not actual match fixing, is certainly match assisting.
First, let's look at Don Robertson, courtesy of Lint on Twitter….
Don Robertson is one of Scotlands top refs.

1)
Rangers 4-0 Ross County
(Sands on a yellow – no foul, card, or red)

2)
Livi 1-2 Rangers
(No goal)

3)
Rangers 2-0 Hibs
(No goal)

4)
Rangers 2-0 Aberdeen
(Defoe & the pens & red)

5)
Ross County 2-2 Celtic
(Pen given) https://t.co/49IXybzVEP pic.twitter.com/gZQA3qukwG

— Lint (@Zeshankenzo) April 12, 2023
I've deliberately kept it brief, there are several more instances when either his competency or impartiality could reasonably be questioned.
Or both.
then there's the other half of Bodgit and Scarper…Alan Muir.
That's him on the bye line not seeing a handball by the Inverness player.
Also not seeing it is the referee Steven McLean, the fourth official on Sunday.
I think there's enough there to at the very least raise the issue with the League.
And UEFA, and anyone else who would listen.
Yet somehow the board have found themselves in the position that pointing out an obvious attempt to manipulate a result will be seen as deflecting from our own problems.
But not by me.
Or you.
The establishment is at it again. To protect their club.
So it's time to circle the wagons.
Because if we  let them get away with it again, then we might as well just chuck it.
And I'm not ready to chuck it.
I suggest the club gets off it's arse and starts telling it like it is.
If not, may I be the first to wish them good luck in selling those Champions League tickets…