There's more evidence that the difference, or gap, as some refer to it as, between Glasgow's premier club and the young pretenders is widening by the day.
Celtic manager Ange Postevoglou is focused on the next game, the one against Kilmarnock, and when summing up the possibility of players returning from injury , he said:
"From the medical report and thinking about the venue and the pitch, we're going to probably be a bit conservative with the boys. So unlikely to be anyone coming back that missed last weekend. 
Which makes sense, and the quality and depth of the squad means he doesn't have to rush anyone back, and given the relatively poor performance from Aaron Mooy last week, he's maybe decided that will be his policy from now on in. Players will always say they feel fine ahead of a big game, and maybe from now on he'll take that decision out of their hands,
Over the river, however, they seem to forget there are other games outside the derby….
(Glasgow Live )
Connor Goldson Rangers injury update from Michael Beale as Celtic Scottish Cup clash looms
Mickey Beale said:
"In terms of last week, Connor won't return, it will more likely to be back for Aberdeen or certainly for the semi-final at the end of the month. We have one or two other bumps and bruises.
"There was a game on Tuesday against Chelsea reserves where Leon King, Ianis Hagi, Rabbi Matondo and Scott Wright got valuable minutes. We will assess tomorrow (Friday) and pick the squad for the weekend."  
He's already talking about the semi final
What's interesting is that somehow having Conor goldson in their line up will make them better…..although having two goalkeepers would probably be an advantage.
Three points for Celtic at Kilmarnock on Sunday will move Celtic closer to the title. That's all that matters really.
There's talk of world record points totals, and goals scored, but that's sort of a bonus.
What matters is the side keeps improving and the performances remain a joy to watch.
In other news, Craig MacPherson received a six match ban for butting Fran Alonso, the Celtic ladies coach. The Rangers Ladies….aparently there are some….coach lost his rag and went for alonso after a recent derby, and a six match ban seems rather light for an assault,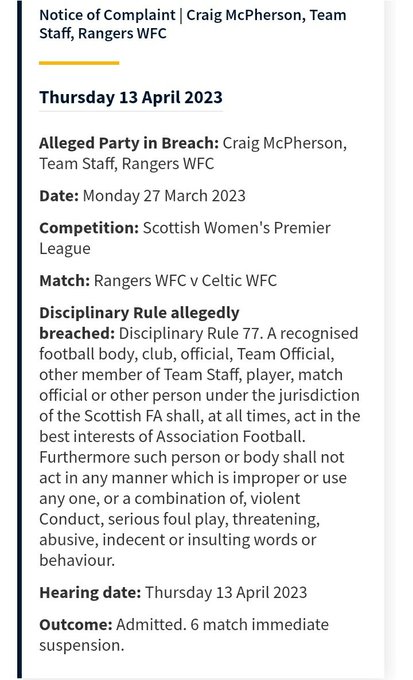 Duncan Ferguson, the gentle giant who played for the old club and Everton, went to prison for a similar offence back in the day, and whilst a police investigation is still pending, one would be surprised if MacPherson was to be handed a prison sentence.
His defence is that his actions were out of character, as opposed to Ferguson, who could be said to be a bit of a ruffian, although surely the prosecution will counter with an incident from back in the files…(Record, April 2017)
Neil Lennon, Jim Duffy, Hibs, Morton and Craig McPherson all hit with SFA charges after astonishing Easter Road bust-up
SFA compliance officer Tony McGlennan has issued notices of complaint to both managers and their clubs plus Morton assistant McPherson after the scenes in last week's draw in Leith.
 MacPherson was charged with "adopting an agressive attitude " towards Lennon, which was pretty much what everyone did back then.
 So out of character might not be entirely accurate.
 Speaking of court cases, it's another busy time for the new club…..
All of this adds up to more bills, and the money to pay them is drying up rapidly….
 Which explains the deflections in the media, the usual nonsense about players being linked, and lately the candidates to replace Ross Wilson as Director of whatever it was he directed.
 Several names have been mentioned but it's likely Mickey Beale will take on the role, as for the moment he's still in the fans good books and he won;t cost any more money.
 Still, he does seem to be confused…
Michael Beale breaks Rangers silence on Ross Wilson exit as he loses 'big ally'
 He went years ago, mate, and we usually call him "fat Ally "
 Stewart Robertson is rumoured to be the next director to be leaving, and if he does go it will be soon. Season book renewals depend on their board offering hope for next season, which in turn depends on winning the cup semi final . The Ibrox league encounter is irrelevant.
 Exit from the cup will mean they will have to sell away tickets, as the home crowd will stay away.
 I suppose that's why the focus is on the Cup, it's all they have left.
Andy Walker, the former Celt turned pain in the arse, had a chance to be a hero recently when he claimed he had heard the refs in the VAR room say they would take the easy way out and award a decision based on that idea.
 He could have named them, he could have demanded an inquiry, but instead he buckled after the SFA threatened to withdraw access to the room for Sky TV.
 Whilst the SFA need to be challenged on their action, as any normal organisation would be horrified by the possibility of rule breaking by it's employees, Walker should have had the courage of his convictions.
 Instead, he's firing off in a different direction….. which is a euphemism for talking shite, as I don;t care for language of the gutter.
 He told Go Radio…presumably in between mouthfuls of soup,
"If anyone thinks referees favour one team over the other, I think we've got a strong group of referees. In all honesty, over the course of the season, I don't think VAR has helped them.
"I think we're seeing referees make poor decision in the middle of the park with the knowledge that VAR can get them out of trouble. But no one deserves that type of treatment and the truth is, that there is far too much hatred out there.
"You need to make some sort of stance. We have another game in a couple of weeks at Hampden and another game a week, maybe two weeks, after that at Ibrox, and there is far too much hatred out there and we have to do better.
"I don't think we have enough referees of top quality. These guys are lawyers, accountants – they wouldn't want to give up their main job. This is their second job to do games at the weekend, to do the European games.
"We just have to look at what VAR has done for us and I don't think it has been helpful. I think it can be much better and I'm convinced. I go to as many games south of the border, games are managed differently down there, because there are higher thresholds – even for fouls.
"I think supporters enjoy it, they enjoy seeing each other coming together, and we are far too forensic in our examination of every hand that might be raised, every tug on a jersey that may be too strong, and I don't think we are using VAR in the way that we should."
 Shortly after, he texted his bosses at Sky….
 "done that, can I keep my job lol "  
 In the meantime, the accusations have been forgotten and the referees are grand. Except Clancy , of course, who will be semi retired for a bit until the fuss dies down.
 John Beaton and Andrew Dallas have offered to take the heat for the semi final, Beaton in the middle and Dallas on VAR.
 Nick Walsh and Don robertson are on standby as they may yet be called to fill in at centre half.
 Meanwhile, it's nice to know that the art of political cartoons is still entrenched in the Victorian era…..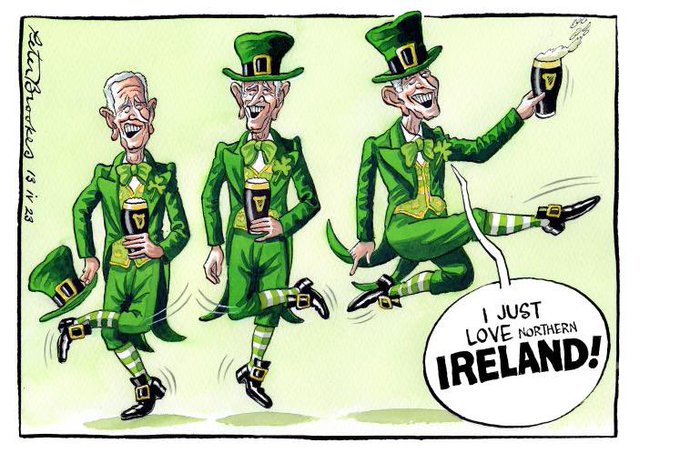 That's the Times, would you believe ?
Yes.
 You would.