Halfway through what promised to be a lamdmark weekend on and off the pitch in Scottish football, it's time to pause and reflect.
Celtic visit Paisley today, the scene of their only domestic defeat this season. with a week to work on it, we'll see if the players have got the hang of dealing with the St Mirren approach to home games against the hoops, bearing in mind that it worked the last time, and at the minimum, caught Celtic by surprise.
Far superior players than those on show today will adopt the same tactics against Celtic next season in the Champions League, so it would be re-assuring to know we're at least working on the problem.
Manager Ange Postecoglou summed his opponents up, and sort of dismissed them as well, showing that he either hasn't given the problem any thought, or he has.
"Yeah, they are a difficult team to play against," 
"If you look at their position in the table you can see they are very consistent. Particularly at home, they have got some great results so yes they are always a challenging opposition. But for us nothing really changes. We just have to play our football and when we do that, when we successfully impose our style upon games we are hard to stop." 
However, there is one thing that is a little puzzling…and perhaps even a little sinister.
"I think we are going to play in grey again,"
"I don't like it either but it is what it is, mate. I think what people said on the day and what I thought on the day was it is harder to distinguish between players then it would be if there was a clearer distinction between the strips. But it is the referee's decision and we abide by the referee's decision."  
He's got a point.
Is this , or could it least be asked if this is,  direct interference from an official to alter the outcome of a game ?
Like most of us, I was unaware that the referee could actually order a team to wear whichever strip he feels , er, suits the conditions. As is the norm with Scottish football, you'll note no explanation is forthcoming, especially in light of the controversy the  last time the Celts wore grey… back in September, Robbie Copland in the Record said;
Viewers were left perplexed by a clash of kits as St Mirren take on Celtic with the Hoops' light grey shirt difficult to distinguish between Saints' black and white. Ange Postecoglou 's team are in Paisley looking to maintain their 100 per cent Premiership start after last week's games were postponed following the Queen's death. As the early Sunday kick-off, it was shown live on Sky Sports and thousands tuned in to watch the penultimate SPFL game before the international break.
A curious kit decision though saw Celtic ditch both their green and white home kit and their black pinstriped away kit for a light grey third kit with black shorts. On TV screens, that clashed with Saints, who wore their usual black and white stripes and black shorts which were indistinguishable from the visitors. 
One viewer branded the game "unwatchable" as a result, saying: "The St Mirren v Celtic game is almighty unwatchable due to the clash in strips. Who sanctioned this?"
Sky Sports' Allison Conroy tweeted: "This strip combo is hurting my head."
One fan added: "These strips are too similar. Do Celtic not have an all green one or a yellow one? Actually can't believe the ref is happy with this. Ridiculous." And another tweeted: "Who decided these strips would be a good idea?" 
Well, it would have been referee Don Robertson, it seems.
Of course, there is no suggestion Robertson rang today's referee and suggested he made the same decision. However, if the outcome is the same, expect more of the same.
All of this must seem petty to Postecoglou, still a relative newcomer to the quirks of our game, but as he would say, it is what it is.
He deals with the on pitch stuff, and others get involved with the politics.
Which makes me wonder just who did invite a UEFA delegation to the League Cup final, prompting one of the best refereeing displays by anyone in black in this country since  a late Juventus equaliser was ruled out in the champions League at the turn of the century, accompanied by a thumbs up from the linesman to the crowd, and a smile from the ref.
That's if a UEFA delegation was present, it's been hard to verify, but the claim has certainly been doing the rounds, and equally certainly, it's neither been denied or confirmed in the media, as it would open up a can of worms that they'd really rather leave untouched.
Celtic should prove too strong for the buddies, but it is certainly a banana skin, and the referee interference on kits may well be behind the decision to bring out a fourth kit, to prevent a repetition.
Or at least quietly highlight the issue.
Then again, it could just be greed from our board, and even if it isn't, the media will adopt that angle anyway.
Meanwhile, and happily for thiose who wish to preserve the status quo in Scottish football, "rangers " swept aside Kilmarnock yesterday, with another influential performance from Willie Collum, who gave the plucky, cash strapped club a leg up with a penalty when a Kilmarnock player was pushed aside…..
Rangers penalty v Kilmarnock.
Referee Willie Collum. pic.twitter.com/EF1QQfIarb

— Lint (@Zeshankenzo) March 4, 2023
Presumably there was no UEFA delegation at Ibrox.
As soon as night follows day, the praise rolled in for Beale and his players, although that might be interpreted as relief, given that many expected them to down tools with the manager, and I use that word in the loosest possible sense, admitting no one had been offered a new contract yet, as he was still assessing his squad.
Which actually means he is more like most of us anyway….in that he's going to have to check the bank before spending anything……
A scenario which the media likes to ignore is unfolding.
The natives are restless on the other side of the river. Despite a reluctance to face reality, they seem a little more aware of the consequences than they'd like to admit, with cracks appearing in what used to be a staunch defence of their club/company, thise moonbeams are beginning to dim as there seems to be a limit to the amount of shite even they'll swallow.
In short, they can see what's coming down the line, and it is gathering speed.
What they don't know…or refuse to accept,  is why that particular train is hurtling down the tracks, or why it's already passed the point of no return….you know, the bit in the movies where it finally leaves the track and plummets into the ravine because it's too late to stop it.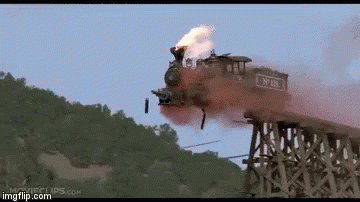 As in the clip above, if you don't put in the right foundations, the whole lot will come down sooner or later.
And they don't seem to have put in much thought to sustainability, as explained by Rangers Tax Case on twitter….in such a way even they'll understand.
Which. of course, is why you won't see this in the media……
A lot of bleating in Sevconia about the "unfair" financial advantage enjoyed by Celtic. Some numbers might help put this in context. For a start, Sevco's revenue was almost exactly the same as Celtic's last season.

But the Sevco story cannot be told in a 1-2 year snapshot. Sevco is all about a reckless financial gamble to stop Celtic's 10IAR. Yet even the rewards of succeeding were not enough to change the precarious position in which years of profligate spending have placed the young club 
A Free Cash Flow comparison between both clubs tells the story a little better. Celtic brought in £35m more than it spent over the last 6 full seasons. Sevco spent £67m more than it took in. 

Since Sevco was formed in 2012, it has spent over £180m more than it has received. You might say- so what? That was necessary to rebuild. Yet David Murray's Rangers also spent £180m more than it took in 1988-2011. That's before unpaid taxes & debts only discovered during admin. 
A review of the available accounts for Rangers pre-Murray show it also operated at a loss most years. The point? There is a structural financial disparity between Celtic & any Rangers-type club. It's not going away. 
When you add financial mismanagement, poor use of capital, and decades of just plain gambling into the mix, either Sevco downsize ambitions and accept 2nd place of a repeat of the Rangers fiasco of 2012 is inevitable eventually. 
That wealthier Sevco fans have dug so deep to keep this unstable mess going is admirable but just as Murray discovered, it won't go on forever. Then the temptation to turn to fraud and cheating becomes overpowering. 
The SPFL/SFA allowed Sevco to be created as a copy of Rangers. The same financial disadvantages and pressures to compete with Celtic exist now as under Murray. It may take some years more for this play out, but don't be surprised when history repeats itself.
This time, although they won't say it out loud, the gullibillies are worried. This time, and you can reference that wonderful forum of razor sharp informed debate known as " follow follow " for evidence.
They're not quite sure who to blame yet, but that's because, according to legend,  their reflections don't appear in the mirror……..
(that's vampires…..these peepil are zombies . different genre-Ed )
Last time out we had this…..
A horrified Ange Postecoglou notices that mickey  is excited to be in his company  
Today