With television offering poor fare last night, I decided to watch BBC sportscene, if only to catch up on some impartial and informative opinion on how things are being seen in the world of Scottish football.
With a Glasgow derby just a few days away, it's no surprise that the two clubs were top of the agenda, but it was a surprise to see the headline event on the show was the "rangers " motherwell game, which for the  impartial viewer, the one you want to stay until the end, was hardly likely to be what used to be called appointment tv.
Or did they just want to get the dross out of the way ?
In which case the Celtic game, and even a neutral would admit they are the best team to watch these days, would be either first or last, depending on how much the producer trusts the presenters to keep the viewers entertained.
Which clearly isn't much.
So Celtic were on second, and after that it's doubtful that anyone kept watching. I didn't.
Presumably the producers put the Ibrox side on first so that at least they'd stay for a bit, even trying to cheer them up by telling them all about the bright young thing that is Alex Lowry, although he had hardly featured in the highlights package, but nonetheless we were assured this boy has everything.
After the Celtic game had been featured, Daezen Maeda, would have been surprised to learn that his goal, a thing of beauty, was down to poor defending and even then , despite mentioning it when featuring the "rangers " match, the presenters were loathe to make the connection that "rangers " under Mick Beale are less than impressive at the back.
In fact, whilst they all agreed that Celtic would start the derby as favourites, they trotted out the old cliche about anything can happen in these games just in case any of the hordes were still watching.
And anyway, they seemed to be at pains to point out that "rangers " are a work in progress, if that's the right word, though they stopped short of saying "rangers " aren't ready and the game should be postponed until they are.
By the way, if you look at the form going into Glasgow derbies, and even the Old Firm before that, the form team usually wins.
If BBC Sportsound is in need of a makeover, then Sportscene is in need of surgery.
Meanwhile, back at the ranch, Aron Mooy, or Moo-ee if you listen to Radio Scotland, has finally settled at Celtic, it seems…..probably because he's got a song from the fans. even if it's just his name chanted to the tune of Daddy Cool by Boney M, a successful song and dance  act from the late seventies.
All the boys were singing it on the bus afterwards," 
"It's always nice when the supporters get behind you. That's what you want.
"I just try and improve and work hard and do my best and hopefully they like what they see.
"The intensity of it all was a little bit of a shock at the start, but I am enjoying it. It's an amazing club.
"It's a big, big club, there are 60,000 people every home game demanding a win. It's a different sort of pressure. I am enjoying it and hopefully it makes me a better player."
We sometimes forget that for most players who join Celtic, just playing in front of a crowd that size takes some getting used to.
Having made his mark in Wednesday's game, it'll be interesting to see if he breaks into the midfield when one of our three international right backs is ready, and Reo Hatate moves back into his customary role.
Then again, that's the sort of problem a manager likes.
Meanwhile, the print media offered hope to our friends over the river, which is what they do.
Malik Tillman claims Rangers are as good as Celtic or even
BETTER when they're firing as he targets defining derby win
Tillman reckons his team might be Scotland's best when they are hitting their top level and wants to prove it on Monday. 
If that name is unfamiliar to you, google is your friend.  they are a new club who take the place of Rangers when they went into liquidation.
As for Malik Tillman, even google might struggle.
But I gave it a go anyway, and was delighted to find he has a brother who is a Tim.
Well, he's called Tim.
Perhaps his own real name is actually Malachy but he's been told not to use it.
Anyway, Andy Newport, John Beaton's pal, is behind this nonsense in the Record;
"We wanted to end the year positively with a win and we did that on Wednesday. We try to win every game and doing that in the last four after the break has been a good job. We have to keep looking forward and do the best we can.
"If we reach our level we are one of the best teams in the league, or even the best team. Obviously, we'll try to win that game and turn around things in the Old Firm and bring back three points.
Hurrah for the InvinciBeales !
"Every game is important but this game is the biggest of the whole year. We are nine points behind and will try to close the gap. That's why we need to win the game on Monday."
He's clearly not listening to his manager, who said just the other day it was really three points.
"It's a big game in Glasgow," 
"As I said, we unfortunately lost the first game and we have to do a way better job than we did. If we reach our level, we can beat them.
"Also, in front of our fans, we need them as well. If they do a good job, we will do a great job as well. What did I learn from the first game? We just need to reach our level. If we play the way we can play, we can beat anyone." 
Cleverly, he ropes in the fans , which the stewards will have to do on Monday, otherwise they'll have all fucked off by half time.
It's worth contrasting the narrative from Ibrox, which is a sort of optimistic if we play as well as we can we might win….with this, from Ange Postecoglou…..
"I still think there is improvement in this team. A lot of these guys are at an age where their best football is ahead of them. My role and the coaches and everyone around them is to give them that platform to continually improve.
"We worked hard during the break. I think we've come back stronger than we finished. We've had four games and I think in all four we've got stronger in each game.
"From our perspective it's all about the main target and the main aim which is to keep pushing how good we can be on a daily basis, pushing the guys and making sure they are well prepared for what's ahead. And they are buying into that.  
What's more, he's right.
It's Friday, which means it's time for the Etims
Andrew Tate, the former cagefighter who lost a battle of wits to eco warrior Greta Thunberg made a great late bid for the title, managing to get himself arrested by Romanian police when he gave away his location to get back at her when she had made him look a fool, something he really didn;t need any help with.
But he was up against a far superior opponent this week…. an anonymous opponent who deserves far more recognition than he's getting for what can only be described as the ultimate in supporting your club.
Or company.
This week's Etims
is the Unknown Supporter, a man who went beyond the barrier to declare his love for his club.
And a somewhat unnerving appreciation of footwear.
Yesterday, we had this…..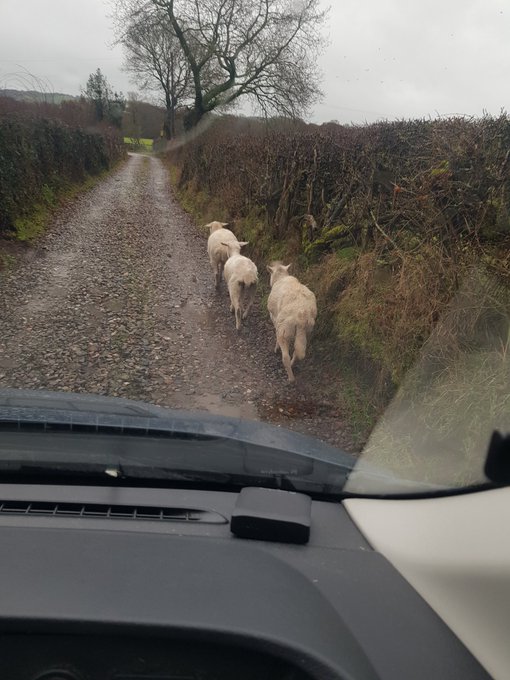 Cartvale88
A gaggle of BBC anchors make their way to Ibrox   
Today…