It's still taking some getting used to, but it's the way things are now..

#WelcomeKobayashi
We are delighted to announce the signing of Japanese defender Yuki Kobayashi on a 5-year deal, subject to international clearance. Yuki will officially join the Club on January 1, 2023!
 Welcome to
#CelticFC
, Yuki!  
In the old days, we'd be scrambling around trying to find excuses or players before midnight on deadline day, usually ending up with excuses for players, and now our signings are identified, approached and the deal done before anyone has even gone into the room to open the transfer window.
That's the first one in, and the clocks have only just gone back.
As the manager says…
 "It's fair to say there's a couple lined up. It's how we've done things & how I believe we need to be. It's how I'm built. I don't like rushing around last minute. If we can get guys early, once Jan 1 hits they are already part of this club."
 There will be more to come, and we should brace ourselves for bids for our own players, and they will come, but we need to remember that the ultimate decision to leave is down to the player, and most of them are happy enough where they are.
 Those in the squad not at the World cup will get a wee break after their Australian break before resuming training, and with that being upgraded from a couple of half arsed jogs around the car park and some diet crisps, each layer will have his own training schedule designed by specialists to get the best out of them.
 The speed of change at the ranch is frightening, and whilst it's not always successful, at the very least we can believe something big is happening.
 Whether or not that something big will include Peter Lawwell is not certain. The musings in the last Diary have. as usual prompted a few people to get in touch with their own versions of events and their own speculation.
 And of course, the usual accusations of the Diary and it's author being little more than board/Lawwell lapdogs.
 Anyone who has any doubts about exactly how anyone on the board feels about this Diary or it's author, I can assure you they will not describe me as that playful, boyish looking chap with a cheeky sense of humour who likes a laugh.
 That's usually how we find things out, by saying something and waiting for someone to put us right. A bit like proper journalists, but without the bit about getting it right in the end.
 It does seem like there is a campaign to assure us Peter isn't a wolf, and there obviously has been something going on.
 but I'lkl do a bit more listening and digging before I draw my conclusions.
 Elsewhere, and while Celtic are living in the 21st century , one club.or company , stuck around the 17th, are in a bit of doo doo again.
 Hummel, who thought they had struck a deal to manufacture , sell and plant their name around Ibrox  are suing "rangers " as the Ibrox club concluded a kit deal with them.
 This was always a certainty once Ashley got his pound of flesh, and should come as no surprise to anyone.
 They really don;t have their troubles to seek, do they ?
 Word is that Mick Beale, his name not his nationality, is first choice, and not only are his current club, QPR, not standing in his way, their current form under him, one win in months, means that the directors have left a couple of Euston-Glasgow train tickets on his desk.
 Graeme sounness, not surprisingly for a man of his age, has distanced himself from the club/comapny after he thought it was a good idea to get the fans on his side with his recent rants,
 Instead, he now adopts a British Empire bad line when on television, and won;t be considered for the staunchest job of all.
And who would not want to join this list of legends….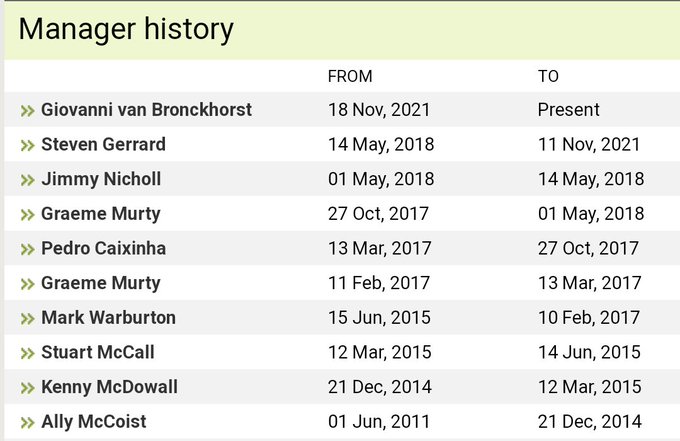 shame, as that would have been a laugh.
 Anyhoo, time to fly, and I'll leave you with this thought….