A second defender looks set to join Celtic in the January window as Ange Postecoglou continues his relentless drive for world domination from deep inside his Lennoxtwon base.
Alastair Johnson, a Canadian right back , has agreed to come to Glasgow for a fee of around £3m, which will be wired to his club as soon as Josip Juranovic is away.
The plan is to bring players in, make them better, and then sell them on for a profit. With each sale the quality of import increases, and the profits get higher, but under Ange the team improves as well.
Why we never thought of that before is puzzling, the bit about re-investing in higher quality at least, though perhaps the increased outlay and sense of purpose frightened our more conservative board members, who were pretty happy with things the way they were.
If Lawwell is to come back as chairman, and there certainly seems to be an attempt to paint him as a good guy in difficult circumstances, he'd better go with the flow and just chair the odd meeting.  Any interference, such as changing the PIN on the club's debit card, won't go down well with the support…or the manager.
I almost watched the vacuuous I'm A Celebrity tv show, half expecting him to be parachuted in , as that's where people go to have the public's perception of them changed, as we have seen with mass murderer Matt Hancock, who realised that even he would look more acceptable alongside talentless Geordie double act Ant and Dec, who somehow still force their way into the nations living rooms, although that's probably preferable to watching Michael McIntyre.
With club football suspended so that FIFA can offset their three year losses with the World Cup, the focus has been on trying to get people to ignore the various political issues in Qatar, and just to concentrate on the game.
That's because if people don't watch it, sponsors and tv companies won't pay the huge fees that FIFA needs to stay in the black, which is bad news for anyone drawn in a group where opponents have a large tv audience.
If England, Spain or Germany were to exit early on, for instance, the accountants would panic, as this , from football finace guru Swiss Ramble shows….
Loss 2021
In 2021 FIFA posted a $312m net loss, though this was less than half of the previous year's $683m deficit. The organisation generated $766m revenue, but this was offset by $1.1 bln expenses, including $45m from the COVID-19 Relief Plan, partly offset by $45m net financial income.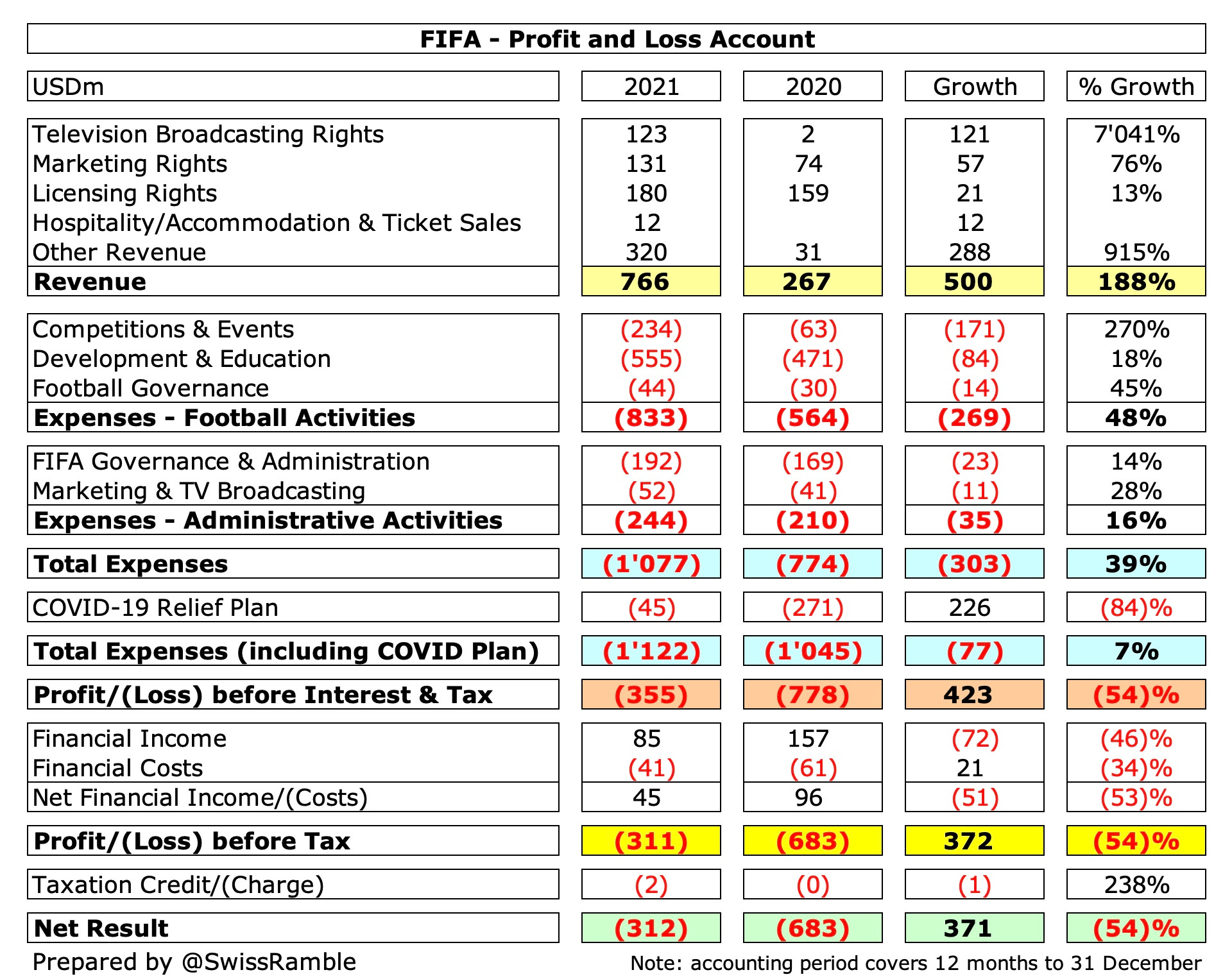 4-year Cycle
However, it is important to note that FIFA operates in a 4-year cycle with the World Cup being the main driver of its revenue. In this way, the majority of its revenue is shown in the 4th year of the cycle, whereas football development expenditure is spread over all 4 years of the cycle.
As a result, FIFA has reported losses in each of the last 3 years, while 2022 is budgeted to generate a $1.2 bln profit to achieve the $100m target for the 4-year cycle in 2019-22. That would imply $4.6 bln revenue and $3.4 bln expenses in 2022 to produce the $1.2 bln profit.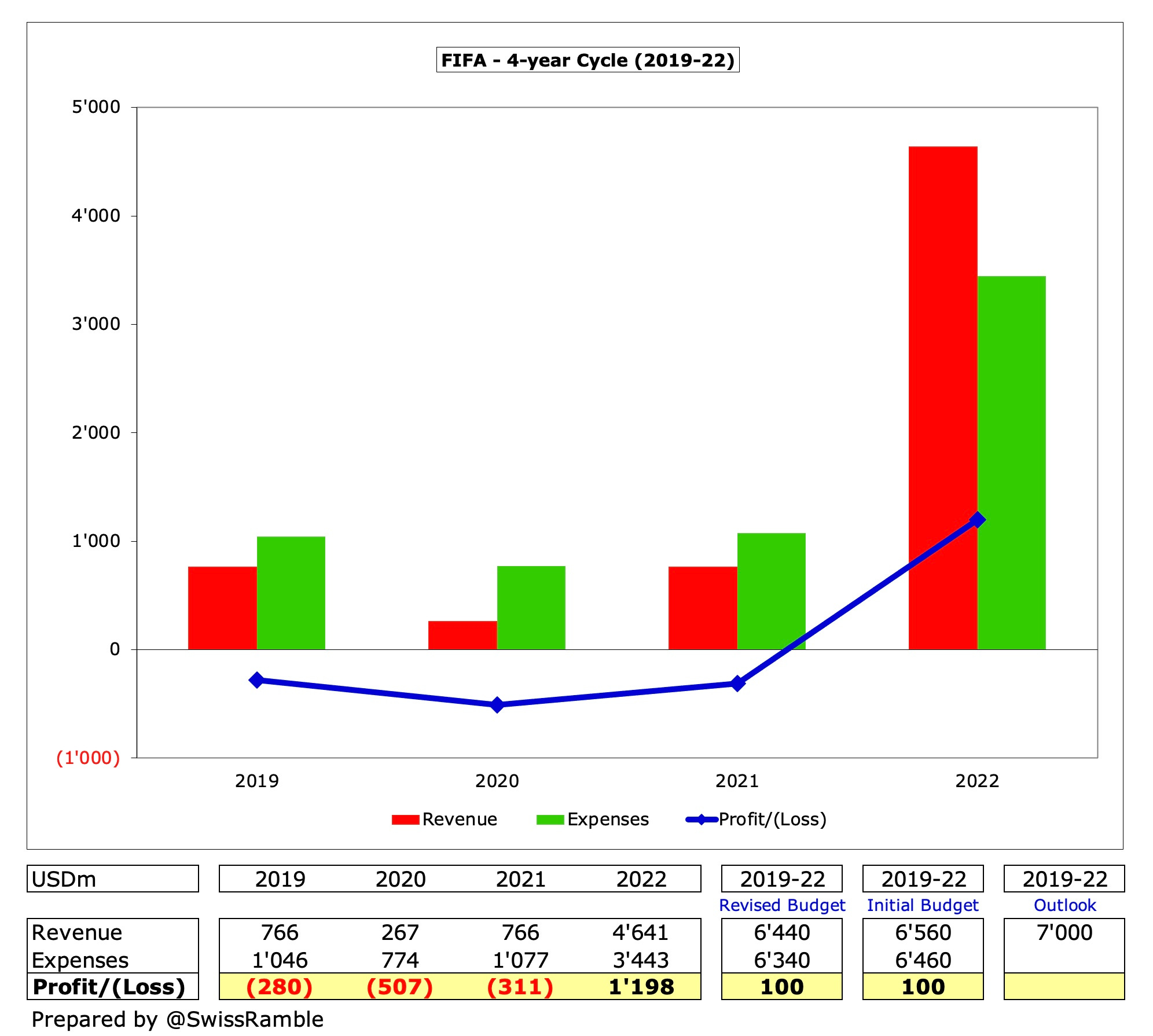 Importance of the World Cup
To give an idea of the World Cup's importance to FIFA, the last few editions have all delivered substantial profits: Germany $1.6 bln, South Africa $2.4 bln, Brazil $2.6 bln and a record $3.5 bln from Russia.
Qatar's profit was budgeted at $3.7 bln, but this could be as high as $4.5 bln (partly due to lower costs for hosting the event in a small location).   
Which is why they don;t give a toss about any political issues, as they need the money.
It's the way the world is these days…….
I did catch a bit of the Spain Germany game last night, and it was interesting to see little bits of the way Ange Postecoglou sets up Celtic, which was interesting, though there was a distinct lack of the signature Celtic style of passion and pace. and if I were to be interested in how the tournament progresses, that's what I'd be looking at, although the competition is bloated by greed on and off the pitch, and that kind of spoils it.
Elsewhere, while we're talking about greed, it looks very much like Michael Beale will replace Giovanni van Bronckhurst as manager of "rangers ".
Negotiations are well under way, with the sticking point apparently being that Beale prefers to be known as Mick, which may offend a section of the Ibrox support , which is generally not noted for it's respect towards other cultures .
It's believed the board may risk having "mick " on the managers door to get their man, but have told him to tell his assistants Sean, Declan and Timmy to fuck off.
Neil McCann has told the Record he's the man for the job, fenian name or not, in a desperate plea for a job at the revamped club/company, and Barry Ferguson has chipped in his tax free tuppence as well.
McCann seems to think telling the Ibrox players that they need to buck up should do the trick…..
"You've got to think about how quickly things can change.
"Nobody would have seen St Mirren beating Celtic, nobody. You just don't know how someone is going to come back from a break and what the change in their mindset is going to be. I think the change in manager; the board have looked at it and said we need to do something. There was a body language issue with the Rangers players. I still don't believe they have become bad players, and it's shocking that you can write a league in November.
"I think there is a group of players in there that their application is not what it should be, and that group needs a shake up. Whether that comes from a a good guy walking in the building that they can relate to or someone goes in there and shakes a few trees and says this isn't good enough.
The buck has been passed before Beale even walks in the door, which sets the narrative for the January clear out and the opportunities given to the conveyer belt of youth talent which previous managers have neglected….and they'll cite Nathan Paterson as an example of what's in that youth team….and Barrie Mackay and anyone else they flogged to England to balance the books.
Which means everyone knows Beale is clueless but he's the only one daft enough to take the job….even Kenny miller has fucked off to Huddersfield in case they ask him.
Van Bronckhurst released a statement thanking the club in the usual way , but within it seemed to be a few lines that suggest he would like to say a lot more, but would find his wages would get lost in the world wide banking system..
I understand the hurt when wins become draws, and worse, when we experience defeat. That isn't acceptable at a club of Rangers standing, no one understood that and felt that more than I did. I faced unique challenges and some very difficult circumstances to operate in
He must have found it difficult to work with a board that ingested vast quantities of laxative and stood over him with legs wide open, and that serves as a warning to any potential candidate for his job, unless you are Mick Beale and about to be sacked from QPR anyway, your stock having fallen so low it looks like Liz Truss and Kwasi Kwarteng have been managing it for you.
The return of proper football seems a long, long way off, but happily for us there are various pundits around to make us forget the dark nights and the cold weather.
Like this idiot….
Frank McAvennie has insisted Ange Postecoglou's Celtic departure is "inevitable".
Speaking exclusively to Football Insider,   
He speaks exclusively to Football Insider because no one else is daft enough to publish his ramblings….and they are ramblings.
Stating that Ange will leave one day is hardly something anyone needs to insist…of course he will, but it's what he's doing while he's here that should be of interest.
For the last twelve months or so, the former Celt has been vocal in his opinions on everything Celtic, players , management and club, and none of it has been constructive or encouraging.
A lot of it goes under the radar as most of us reckon it's just Mad Frank and he shouldn't be taken seriously, which is fair enough, but once or twice recently you get the feeling he's not getting the attention he craves, and cranks it up a notch to get whatever it is he is missing from his life at the moment.
One to keep an eye on, and I wouldn't be surprised to see him get a mainstream gig in the near future to balance out the resident experts currently on view at the BBC and other places.
It's been a while since we had a picture to ponder, so have a look at this, and tell me what you see