A warm welcome back to one of the most regular features on the Celtic web, if not exactly the most reliable or informative, as the writer finally gets his shit organised.
At least, he thinks he's finally got his shit organised.  Which inevitably means he's nowhere near getting it organised, but has finally realised it does need organising.
Just not by him.
It's been a strange couple of weeks, with one Liz finishing and another one starting, and woe betide anyone, anywhere, who hasn't got a good word to say about the former or her family.
Even the one she bailed out to save him from going to prison,
The internment took place yesterday, with blanket television and media coverage, although I waited until the BBC highlights programme-Maj of the Day-to see if anything interesting happened, but nothing did.
For anyone who hasn't seen it, she goes into a vault at the end.
No, not that sort.
But it would have made great tv.
As did the spectral vision that was ignored as it rose alongside her final resting place…….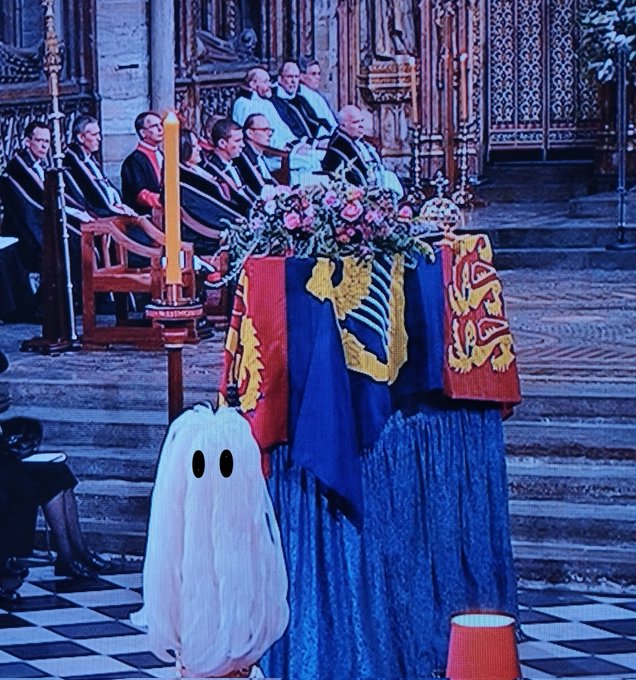 The Celtic support, like many, many other supports around the country, has little or nothing in common with the privilege and wealth associated with the Royal household, and immediately became the whipping boys for a right wing media looking to take focus away from the fact there wasn't the outpouring of grief they were hoping for, by decalring what a bunch of ruffians we all are after a banner in Poland at the Donestk game read….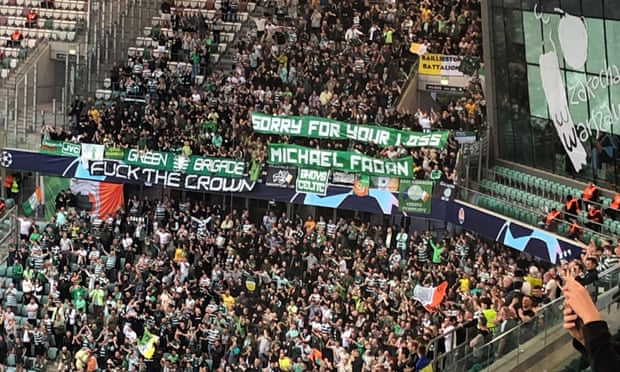 …although another did pass on condolences to an old friend of hers, you can guess which one grabbed the headlines.
Piss poor outlets such as TalkShite Radio joined GB News and luminaries such as Nigel Farage, Penis Morgan and James the Whale in condemning the lack of respect, and when Jeremy Kyle, who used to get paid thousands to abuse those who haven;t had the easiest of lives joined in the fury, you got that little bit of a warm glow inside that tells you that this club still has people around it that know what's right and what's wrong.
When the authorities then decided that a minutes applause was a better idea than a minutes silence for the trip to St mirren last Sunday, a giggling Celtic support held up a banner that, if i may say somewhat childishly, asked those present to express their opinions on the Royal Family…
Fortunately, Celtic lost 2-0, a brave and noble sacrifice by the players to avoid the gaffer being asked about the fans.
It didn't matter, he was still asked, and gave the question short shrift…
"I addressed all that in two press conferences, I'm not going to do it in three," 
Though like the rest of us, he's probably hoping that Charles the Turd is in fine fettle, as with a coronation already set to get the kow towers kowtowing, we could do without him leaving the funeral directors on speed dial.
Although it does seem our own SFA haven't quite got over the last one yet….
SFA 'ask UEFA' for Queen tribute permission ahead of Scotland vs Ukraine Hampden clash
Steve Clarke's men are in Nations League action in the first time since Her Majesty's passing. 
Laughable.
How on earth can anyone reallistically say that Steve Clarke's men will be " in action " ?
Instead, post match, after Celtic seemed to take things a little less seriously than usual, the manager came out and told us what he thought of the game….
"The performance today wasn't up to our levels and nowhere near where it needs to be," 
"We didn't perform in any of the areas we like to perform in and have been performing in. There isn't anything hugely positive we can take from today, including the team selection which probably wasn't right.
"There are always reminders we still have work to do. Every team is a potential hurdle."
Everyone has an opinion on what went wrong, and it's possible everyone is right.
Although some are just attention seeking morons…..like Bill Leckie, the man who once reported on the  synchronised coughing  of boys of the Old Brigade …….
CALLUM McGREGOR looked dismayed while Ange Postecoglou must have felt betrayed.
The rest of the watching world? We couldn't have been any less surprised.
Or delighted, it seems, as he continued to scribble, probably breaking his crayon in the process…..
Because you could have set your watch for Celtic supporters trying to wreck a tribute to The Queen yesterday.
It was as inevitable as it was infuriating.
Their manager might as well have been talking to the wall when he asked them to show a bit of respect.
They clearly have as little of it for the guy who turned their team around as they do for a monarch lying in state. 
Yeah. Clearly.
I'm sure they thought they were ever so clever, singing If You Hate The Royal Family Clap You Hands during a pre-match minute's applause.
See what we did there — we got everyone in the stadium to agree with us. But they're not clever. They're just a shower of attention-seeking morons.
Presumably the Sun will offer each and every one of us the opportunity to write a column in their esteemed newspaper , as it appears we all have the necessary basic qualification…..
I've even thought of my first article for them…
Rangers fans fury as airport shop forced to open during
funeral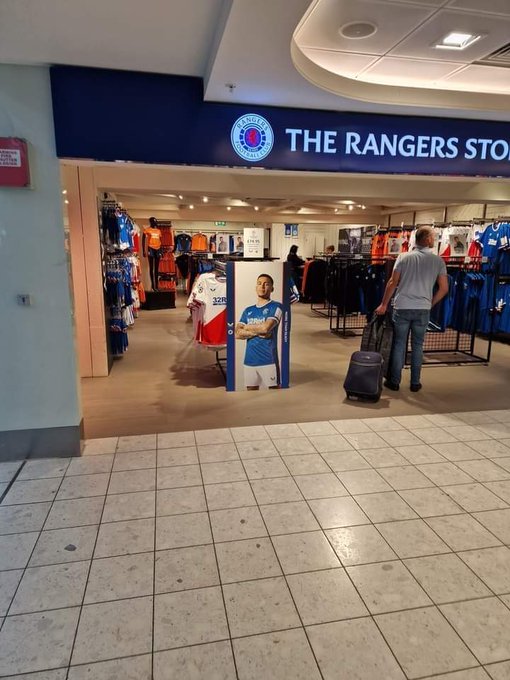 So furious, in fact, they've been privately seething……
Anyway, back to the real problems, away from those minor irritants that should just be flushed away….
Sunday's problems included  the grey strip that made it difficult to distinguish between players on the park….ask Alex Ferguson about grey strips….to the reshuffled defence…a constant issue early last season….and everything in between, though there's probably a little bit of all of it in there somewhere.
If you think the grey strip wasn't an issue, I'd like to wager a shiny shilling that we won;t see it again this season, which would tell us everything.
Other changes, such as starting Mooy, for instance, when he usually comes on after an hour or so to solidify the midfield and slow things down altered the style perhaps a little too much, and with Joe Hart only venturing off his line when the ball is in the other half of the field, and not when it's in the air in his box could be a couple of things to look at, but it may just be that the team was a little biut more tired than they should have been, and in a more relaxed frame of mind after two visits to higher echelons, and paid the price for complacency.
Meanwhile, back at the ranch, they'll be sitting around the campfire and having a pow wow about how the trail is looking so far.
Celtic played their game of the season against Shakhtar Donetsk in Poland , and were unlucky not to record a victory, but since most of us would have taken a draw anyway, it didn't seem so bad once the dust had settled.
Two home wins coupled with Real Madrid winning their next two would almost certainly guarantee qualification, which isn't a bad position to be in.
Looking back at the game, Celtic , as against Real Madrid the week before, had their chances, and perhaps the players inexperience led to them losing that little bit of composure in front of goal, composure that should return as they become accustomed to that level of football.
There's a lot to learn, but these guys have shown they can adapt, and so this campaign should be judged a success if we have European football after christmas.
It's far too soon to think about doing some damage in the latter stages of the champions League, but a run in the Europa might not be a bad thing to practice knock out ties.
Although having said that, the UCL is where we want to be, even if it means waiting until next year to shake up the establishment,,,,
Domestically, eight games have delivered seven wins.
Although we may have thought another invincible season was on the cards, it was never realy likely….sometimes things just don't go the way you expect, and although the defeat was not what we wanted, any resultant waves can be ridden out fairly comfortably, with the hoops still two points clear going into the break.
But it does emphasise the need to turn up and be your best every week.
We've a lot more to be happy about than most.