Later this morning, I'll be popping into the old tarrier carrier and heading north for the opening episode of that difficult second season for Ange Postecoglou.
It's been a long time since I was at Celtic Park, Third Lanark were the opponents last time, and the game was played in black and white, so as you can imagine I'm looking forward to it. I hear the ground is all seated these days.
Celts face Aberdeen which is one of those ties that can go either way. Either we'll win 7-0 or we could really get into the groove and give them a damn good thrashing.
Whichever, it's important to put down a marker and strike fear into the other sides in this years SPFL, or whatever it's called these days.
I'm even staying off the drink in order to fully appreciate the occasion, which will allow me to see first hand the all singing all dancing style of play introduced by the wonder from down under, and although that may be subject to change I'm determined that not a drop will touch my lips. There are many benefits to abstination, such as remembering the score and or not falling asleep in one's seat.
And I believe it also makes you more attractive to the opposite sex…..
Can;t think why it never caught on.
Ange has a full squad to choose from, although new bhoy Moritz Lenz has picked up a knock and is unlikely to start, but we shouldn;t be too worried, that's normal for German defenders….
Celtic fans can be reasonably confident that this season will eclipse last season as the manager now has more or less the players he wants who have, in turn, found the manager they want who can bring out the best in them.
We can expect not only to win another treble, but can be more than optimistic that the side can make a mark in Europe, as although some of us may have doubts about the quality of the side compared to those at the highest ;evel, this extract from a piece in the Times by a former number two of Postecoglou, Peter Cklamovski,  more than suggests a level of pragmatism that many suspected was absent in the manager's make up….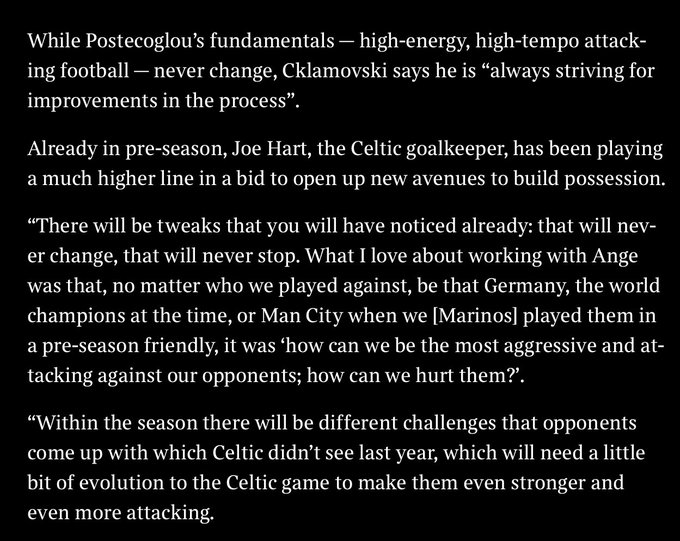 Seems simple enough, if opponents shift to counter our style, we'll shift again.
Jock Stein had a similar outlook, to paraphrase, when he said that while our opponents work out what we're doing, we'll be doing something else.
Let's face it, that sort of fluidity was absent in quite a few previous managers….
Another thing to bear in mind is that whilst Celtic will obviously play whoever is on the pitch in front of them on any given day, there's another "game " going on as the players and manager test themselves against a benchmark they have set themselves, that of constant evolution or improvement, a sure sign that the manager is here to stay for a while yet.
Probably even if Peter Lawwell becomes chairman when Iain Bankier finally takes the hint in January and hits the road out of Celtic.
Bankier, who once famously called the support racist for criticising fellow director Lord Livingston of Parkhead, when in fact we were just pointing out he was a tosser.
Michael Nicholson is the new CEO, and he has done exceptionally well since he arrived, proving many of us wrong. Should he have to work with Lawwell again, one hopes that he will stand up for himself and continue the good work.
That may be a little unfaor on Lawwell, who did do plenty of good things during his tenure, and certainly had a passion for Celtic, but lying to shareholders, as he did when he denied having seen the infamous five way agreement, is unacceptable, and that kind of usurps anything else he did.
Whilst Celtic, and the support, can expect great things this season, it seems the Angera has left a few experts nonplussed, with the Daily Record experts predicting , on the whole, that spunky new club "rangers " will finally win their first league title that fans can bear witness to…. with this esteemed line up of wise old sages backing the boys in blue…
Keith Jackson
 David McCarthy  
Andy Newport
 Gavin Berry  
Kris Boyd  
Hugh Keevins  
Gordon Dalziel  
Roger Hannah
 Andy Halliday  
Of course, none of them can offer any valid reason for that, other than their editor would have sacked them if they'd tried any independent analysis and came up with perhaps inside knowledge on the real abilities of the half dozen or so bargain basement signings that have so far replaced two genuinely decent players in Joe Aribo, who scored a wonder goal for Southampton yesterday, and Calvin Bassey, who perhaps had a less auspicious start for Ajax….

 It may take Bassey a while to fully comprehend the major differences between playing for "rangers " and playing for a big club, one of which is that the man with the whistle is not a team mate who chuckles when you kick an opponent.
 Still , they do have John Soutar from Hearts to strengthen their defence….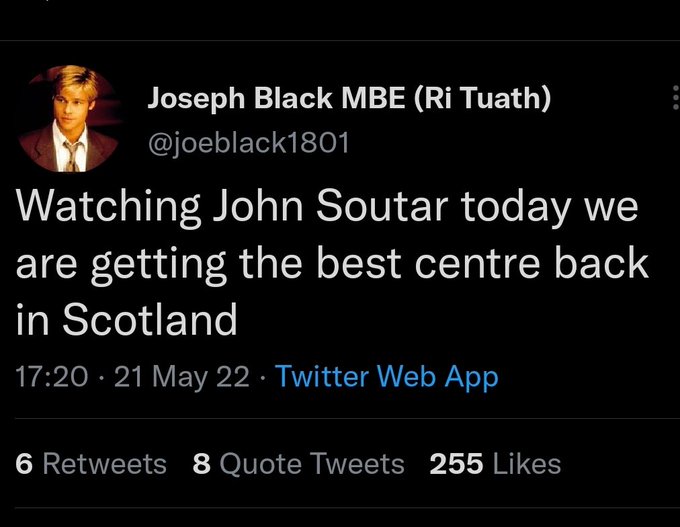 As usual, Joe Black, who gets a bit carried away when he tweets, was prone to second thoughts….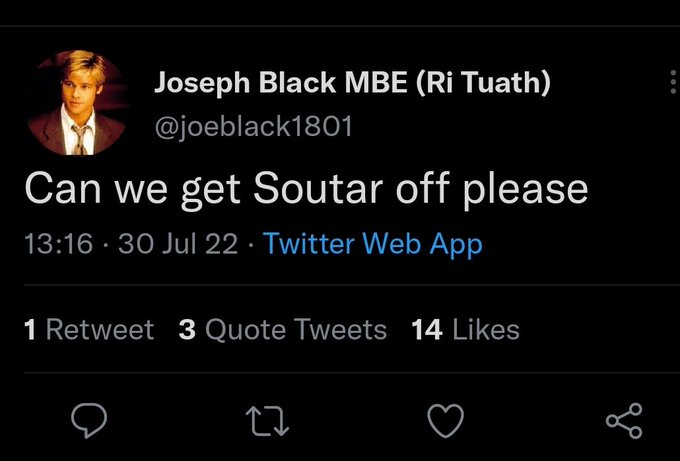 Champions elect "rangers " got off to a winning start with a 2-1 win over Livingston, which will keep their hopes up until their European qualifier in the week, and Hearts won their opener 2-1 as well, beating Ross County, so the best Celtic can hope for at this early stage is to share top spot……
 The Diary likes to keep a smile on your face, so here's a comedian talking about the old firm..
https://twitter.com/i/status/1553417304012193795
 Well, when I say comedian , and when I say old firm…..
 On a more serious note, John Hughes, the original Yogi Bear, isn't very well.

 Perhaps you could add a story or two about the great man that may put a smile on his face.