And so, we mark the passing of another from our greatest era...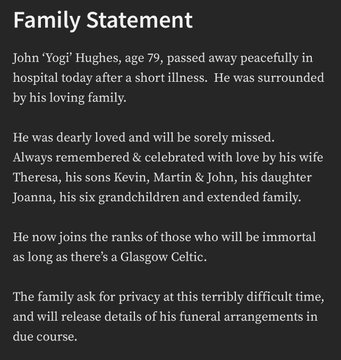 They never die, those who live on in the hearts of those they leave behind, God bless, and sleep well. 
Celtic beat Aberdeen on Sunday, a clear improvement on the start to last season when the hoops faltered away to Hearts. Interestingly, only Calum MacGregor and Greg Taylor started both games, which gives an idea of the changes the side has undergone during the first year of Ange Postecoglou's reign.
Stephen Welsh opening the scoring early on when he headed home a corner, which also shows how far we've come, and Jots curled one in towards the end after things were changed around a bit when Aberdeen had began to frustrate with their somewhat less than adventurous approach.
Although they had forced Joe Hart into a save as early as the 82nd minute.
Something Celtic will have to deal with this season is the tactic of cramming as many players into the box as possible to counter the pull back from the wings. Aberdeen often had four or five in the penalty area, restricting space as well as cutting out the cross.
so it is surprising it took so long for the players to realise that, which is perhaps what the manager meant when he said that his charges were wasteful in front of goal.
when Giakoumakis and Abada entered the fray, the ball was played in front of the defenders when cut back, which seemed to work better, with the forward running across them, and Giakoumakis was unlucky not to open his account with this tactic.
For the first time in quite a while i got to see the action from the stands and not from a camera mans point of view, and it was certainly enlightening.
The work rate of all of the players is astonishing, off the ball , regardless of whether or not we are in possession. We're maybe not appreciating that but next time you get a chance, try to watch what is going on off the ball. You'll see what I mean.
The pace of one or two players is frightening, Kyogo and Maeda especially, but the biggest difference for me, and perhaps something that is a sign of things to come, or maybe even things that are already here, is the speed of thought.
That still has room for improvement, but sometimes we need to appreciate how far we've come instead of how far we think we have to go.
One move, a swift interchange that ended with the ball at the feet of David Turnbull was so quick and precise that when Turnbull found the ball at his feet his face said "How the fuck did that get here ? " and the chance was lost……
So, room for improvement but signs of real quality.
Stephen Welsh caught the eye with a solid display, though to fit in he does need to speed up a wee bit and stop wandering forward with the ball, as the americans would say he needs to get with the programme, but any criticism is churlish as he was certainly a contender for man of the match, as was his partner at the back Cameron Carter Vickers, who personified the attitude of the team with a late saving tackle reminiscent to an extent of the great Paul Elliot on Mark Hateley.
Other than that, it was business as usual really, a few hefty challenges on Celtic players unpunished, a more than decent shout for a penalty turned down and a decisive change by the manager when he thought it was necessary.
And of course, the media sniping.
Here's how the manager handled a bit of sniping about his task in keeping a large squad , which is surely turning the bluest of non Celtic fan a little green with envy…..
"They are at Celtic Football Club. If that is not happiness for them, I don't know what is, they can find it somewhere else. It is not my job to keep them happy. My job is to make sure that we get the best out of them and give them every opportunity. And they will all get opportunities. They know that.
"If you want to play at a big club, and this is a big club, the reality of it is that part of that is you will have competition for places. It keeps you at your best and also you know you will require a big squad of players.
"This group of players understands that and they work hard every day. The game is a by-product of how we train every day and training levels are high because we have a strong squad.
"If you just have a strong eleven, then your training levels are not great, which means even the first eleven are not improving at a rate. My job is not to keep them happy. My job is to make sure we keep them ready and able to take their opportunity when it comes along
Celtic have a free midweek now until the trip to Dingwall at the weekend, and there will be more work put in at Lennoxtown.
Some were making the point on Sunday about it being the first competeitive game and not having had any qualifiers, but to paraphrase the manager, the season has started and we had to be ready…..
The occasion itself was well worth the trip, with singer Liam McGrandles now over the shock of a Lennon CSC member unplugging his amp mid song in the Kerrydale Bar ….he wanted to charge his phone….and leading the crowd in excellent renditions of "Grace " and "Let the People Sing " , although I thought actor James McAvoy could have been a little more honest when he did the Windfall draw and was asked why he was in Glasgow. All he had to do was say he was here to do  the Windfall draw.
Traffic leaving the ground was again a nightmare, so nothing really changes, and you have to tip your hat to the council for narrowing the road and adding a cycle lane to allow the four cyclists who use the lock up at the ground an easy and safe getaway.
Have a look, seriously, there are four spaces for those who go to the game on their bicycles to lock their ..I hesitate to say vehicle…safely away during the game.
Four, so whlst the council thought a cycle lane would be just the ticket, the club were more realsitic about the demand for cycling facilities.
For me, anyone who wants to spend time and money on that ridiculous hobby should get an indoor one with no wheels where they can pedal away to their hearts content and watch the telly at the same time.
And we can have another lane back on London road …..?
In the meantime, let's talk about Yogi……