As expected, Portuguese winger Jota duly signed on the dotted line to become a Celtic player once he'd unpacked his bags and had a shower after his recent round the world trip.
Celtic fans love a player who takes other players on, and applaud him even when he fails and just picks himslef up and has another go. Jota, it seems, has fallen in love with Celtic, and you do have to admire someone who has been around a bit over the last few weeks and still decides to live in the rain.
The club speaks for itself," 
"The experience I had last year was amazing to it was an easy choice to make.
"I'm really happy to be standing here. I can't wait to develop more and for the team to conquer more things.
"There wasn't a single moment where I thought 'I wanted to stay'. It was all in one. It was just natural during the weeks and months.
"I had some experiences in the past that were not so good. When I first came on loan, it was just another experience. So I never thought I'd definitely stay here because you cannot guess what's in the future.
"But throughout the season I just thought 'Okay, I'm feeling good, I feel at home, this is the right place to develop. So let's do it.'
"I can promise that I will fight every day to honours the colours of the club. Every day I will fight to be a better person and a better player because I want to achieve a lot of things.
"Imagine for a footballer player to not develop? That's not the right mentality. You must go to the training pitch every day like 'Okay – today I will be better than yesterday.'
"This is my mentality. I know I can get better in many aspects of the game. I'm excited to see what I can achieve."  
Things are beginning to fall into place for that difficult second season, and there's still room for a few surprises, as Twitters go to guy on European football, Moravcik 67,  explains….
With the signings of Bernabei and Jota, here's some tweets about where are with our European Squad for next season. Because of our automatic group place, we have until 2nd September to register our squad. So still plenty of time to add to what we have. 
First up, how it all works. We can Register two squads of players with UEFA – List A and List B. List B is pretty straightforward. We can use if for any player born after 1/1/2001, who has been with us for 2 years since their 15th birthday. So it's for the youngsters. 
If a player can go on List B, he goes there. It frees up a space in the main squad. In the past we've been able to include guys like Edouard, Ajer, Welsh, Johnston, etc, on List B. But we don't seem to have many 1st team ready youngsters who qualify this year. 
List A is the main squad. We can register 25 players on it, but there are restrictions. It's easier to look at it this way. There are 3 types of player that we can have in List A – club trained – association trained – Anyone who isn't either club/association trained 
Simplified definitions… For Celtic, a club trained player is one who was at Celtic for 3 years between ages 15-21 An association trained player is one who was at any other Scottish club for 3 of those years The rules are a bit more complicated, but that's the jist of it. 
Of the 25 player squad – 4 places are reserved purely for club trained players – 4 are reserved for any combination of club or association trained players – the other 17 can be filled by anyone, including either club or association trained players. Crap picture attached.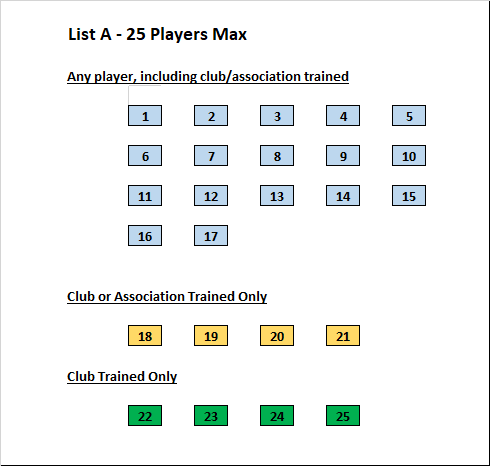 We lose any places reserved for club/association trained players that we can't fill. So, for example, if we only had 2 club trained and 3 association trained players we could only register 22 players – as we'd be 3 club/association trained players short.  
Just now we have the following Club trained (6) – Forrest, McGregor, Ralston, Welsh, Hazard and Johnston Association trained (4) – Bain, Turnbull, Taylor and McCarthy. So we have enough for the full 25 man squad. How much some of them would contribute is up for debate. 
 Hazard is also on loan, so wouldn't be in consideration unless recalled. Doohan may also be club trained. It was difficult finding details about him. As well as the club/association trained players mentioned above, currently we might have another 14 players on List A 
The 14 are Hart, Siegrist, Starfelt, CCV, Bernabei, Juranovic, Jota, Ideguchi, Hatate, O'Riley, GG, Kyogo, Abada, Maeda. If we use only 4 of club trained players above, it means we could sign 3 more players before we have a full squad and have to leave players out. 
This ignores guys like Jullien, Ajeti, Boli and Soro – who don't seem to be part of any plans – and youngsters like Shaw and Urhoghide. It also depends on us keeping all the players mentioned. With talk of clubs being interested in Juranovic, that might not be the case. 
For as long as these rules are in place, we need to consider the club/association trained player thing. It means there might be a reason why we don't let guys like Johnston and Welsh go on loan, regardless of what you might think of them as players. 
Summary. Currently, our squad could be this, leaving 2 places for new players. Hart, Siegrist, Bain, Starfelt, CCV, Bernabei, Taylor, Juranovic, Ralston, Welsh Jota, Ideguchi, Hatate, O'Riley, Abada, Forrest, McGregor, McCarthy, Turnbull, Johnston GG, Kyogo, Maeda 
Still, when you consider the state our squad has been in at this time of the year in other seasons it's reassuring that we're on the right lines. Just as a reminder, here's what it looked like vs Midtjylland last year. Just a wee bit of a difference.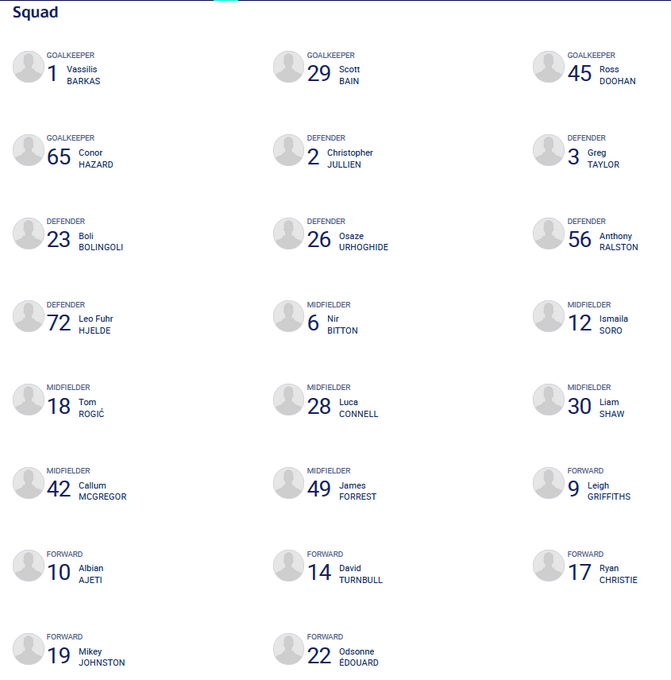 Anyone else get a cold shiver running down their spine looking at last years squad ?
 We should all get down on our knees and praise the Heavenly host for sending us our Wonder from Down Under, our Beast from the East.
 The difference in depth and quality is noticeable immediately, but more importantly, the planning that is going in to this season is almost unheard of in previous seasons.
 It's almost as though we have someone who not only knows what he wants, but why he has to have it and how to go and get it.
 There's been a fundamental shift in how Celtic do things. History will eventually record what happened, but for now, let's just enjoy it.
 Even though some won't admit it.
 Kenny Miller, who has played for Celtic and both Rangers clubs, reckons Carter Vickers and Joya aren;t really new players, so it's not that impressive, which is exactly the opposite of how he described the extensions to the contracts of Alan MacGregor and Steven Davis, who are both at best in the autumn of their careers.
 Apparently that's all about continuity…..
 That other wise old sage Kris Boyd says his former club don;t need to sign anyone yet as there's no football and they'd just be wasting money on wages, which makes Miller look like he knows his stuff, and to be fair to both, they are rocket scientists compared to this rocket….
Barry Ferguson predicts FOUR Rangers transfer exits can land
£55m windfall in ominous 'money talks' warning
The former Ibrox captain reckons that if the club are forced to sell there could be huge money arriving at Ibrox.
 Gio van Bronckhurst isn't exactly standing at the bottom of the marble staircase batting away bids, so quite how Ferguson has come to this conclusion is baffling.
 But we'll hear him out.
"For me when he (Morelos) is fit, and he is at it, he is a top striker. For me, don't be surprised if he signs an extension, because he is loved at Rangers. 
When you have got him in the right of mind he is a top striker. I think if you ask any team in the Scottish league, or in Europe that Rangers played, they wouldn't have wanted to face him.
"I wouldn't be surprised if Morelos signs, but you just see he is enjoying his football. 
All the guys that are coming into the final year Gio will be wanting to sit them down and get a vibe off of them, if they want to commit or if they want to play their football elsewhere.
'With Raphinha moving on, it's always been an open secret that Leeds like Ryan Kent. That is one that I'm sure fans will be watching with interest. Also you have Joe Aribo, with Crystal Palace and Nottingham Forest. He is another I would like to stay, but money talks. Rangers have been open about it, if someone meets the valuation.
"I don't think they will let them go cheap. Rangers bought Ryan for £7million and he is going into the final year, but Rangers have got to be looking for £10m for him and the same for Aribo in my opinion, and the same for Morelos." 
"He ( Cafu Bassey ) has everything you want in a modern day defender. His engine is frightening, and he's just getting better and better. If I was able to give him a bit of advice, it would be to stay and keep playing week in week out.
"His chance will come if he wants to come and go to the English Premier League. This season you can't let him go, unless something ridiculous comes in.
"You have got to be looking at Kieran Tierney money. £25million, you have got to be looking at that."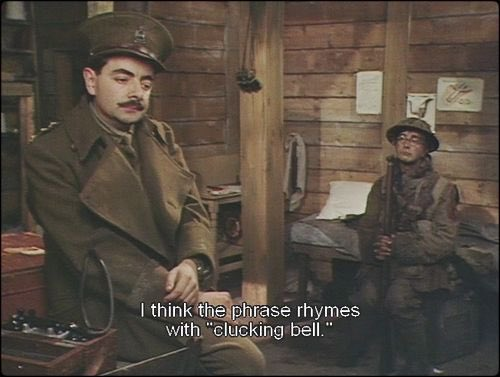 We've seen this film before, when things are bad over there, the media pretends it isn't and fills it's pages and airwaves with complete drivel, which is lapped up as quick as the laptops can spew it.
 Now, if only I can remember how it ended……