Celtic added Argentinian left back Alexander Bernebei to the squad yesterday, providing much need competition for the much maligned Greg Taylor.
Immediately there was much debate about how to pronounce his name amongst the support, but we can clear that up…it's Ah leks ander.
When Ange Postecolglou first took over, it was clear that defence was a bit of a weakness, and it's fair to say he's more than on the way to fixing it. All that's needed now is a centre half of similar quality, and we should be good to go.
Chris Jullien isn't good to go. His move to Schalke fell through when the Germans got a quote from their insurance company to cover him for injury. Other teams are interested, but only if they can't think of someone else.
Today is the first day of the new financial year, and it looks like Jota has finally put pen to paper and his deal will go onto next years outgoings, and therefore be balanced out a wee bit by champions League money.
A small point, but the guys who do the books like things to even up a bit, and thats why his extended break suited everyone.
That's five new players, and around £20m spent.
And we're not done yet, with at least a couple more on the radar.
As to who they are, even the mainstream media would give all they have to get a clue, even though that's not really a lot, and although they have mentioned quite a few names, there's no certainty any of them are even on the list.
For the first time in living memory, and that doesn't depend on how old you are, Celtic are strengthening from a position of strength, and most of us would say that we are looking forward to this season with a degree of anticipation not seen for many, many years.
One player exiting who might well disappoint fans is Karamoke Dembele, who it seems will join up with French Ligue 1 side Stade Brestois 29.  Dembele never actually started for Celtic, for whatever reason he only played bit parts, and as he is getting on a bit now , in wonderkid terms, it looks like both Celtic and the player have finally decided it just isn;t going to happen for him in Glasgow.
Rumours about his attitude had begun to surface, and perhaps that lack of application comes from the frustration within the player who maybe realised he wasn;t going to live up to the hype, and so a fresh start will probably suit everyone,
We wish him well.
Wonderkids seldom go on to realise their potential, largely because their body grows and it affects things like balance and strength, that twist and turn doesn't come off any more, or that inch perfect pass suddenly keeps over shooting. That affects confidence, and the end result is that the player just isn't the same any more.
Which means, at least in my mind, we should scrap the Academy system and make all boys aged between four and fourteen play heidie fitba, which develops all sorts of skills and would see Scotland win the World cup the next time it's held.
Or the time after that.
Whilst it's all sugar in the mornibg at Celtic, things are going a wee bit sour over at Ibrox, just weeks after their near trimuph in Europe.
With the old guard more or less set to stay, the ones they thought would bring in a few quid to help in the rebuild have attracted zero interest, and the hordes are getting a bit worried.
They have managed to bring in someone called Bailey Rice from Motherwell, a chap the media claim Celtic were also after, in the hope the fans will see his acquisition as some sort of triumph, but even the dumbest gullibillie will be aware that Rice would not be near the Celtic first team , even if it were true.
With American midfielder James ( I think thats his name ) Sands commanding a fee way beyond their reach..about £6m….reality is biting over there.
And then the ultimate embarassment……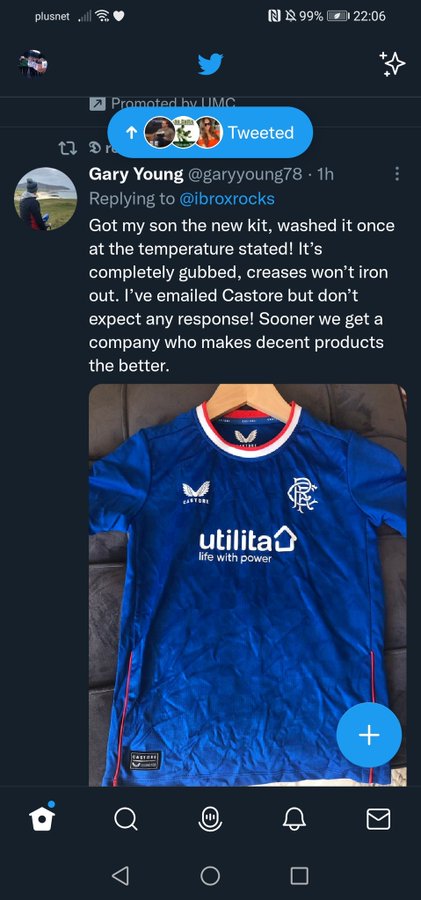 One other thing of note, it seems their European adventure has drawn attention to their five stars logo, and someone has very quietly pointed out to them that only European champions can wear the stars…..although no one in the media seems to want to ask if that is the reason for it's removal from their kit.
The draw for the Second qualifying rounds in Europe is today, Motherwell are the Scottish representative, and we wish them luck.
We know what it feels like to play season defining games before the players have been properly introduced to each other.
Which reminds me, the Ibrox bunch have it tough in their bid to join Celtic and the other big boys in the UCL group stages, with their first opponents including Monaco and a likely tie against PSV Eindhoven to follow in the play off.
And they haven't strengthened their team, and nor do they look likely to. Oh, wait, they have.
Aaron Ramsay has gone,
Last time out we had this….
Tim Buffy 
I said park the bus, not spark the bus  
today…..