The squad flew out to Austria yesterday to get ready for the new season, which all of a sudden doesn't seem too far away.. July 31 against Aberdeen, which , incidentally, will be my first game since people in China took a raincheck on bat soup,
It seems an awful long time since I've been to a game, and it's also a return to the non alcoholic period of the early 21st century, which means I'll be able to remember what happened,
It's important to be able to remember everything, as at least one Celtic player discovered as he got on the plane….
https://twitter.com/i/status/1543951567484755970
Success never rests, not quite the catchy tagline after the players have just had a couple of months off….
Expect to see youngsters such as Bosun Lawal….no relation…. and Rocco Vata get a bit of game time, it's likely they will be introduced to the first team over the next twelve months, and don't forget the one or two who made their debuts last season who haven;t gone out on loan,
Part of developing players pinched from other academies means they have to be given a shot, which will encourage others to come, When it works, its an extraordinarily profitable scheme, so we can safely expect it to continue.
Wiener Viktoria are the first opponents on the tour , tomorrow, in fact, which again adds to the sense of urgency that the manager will be installing into the players.
the sort of urgency that would have been of immense benefit in years gone by with qualifiers to play, now not needed for a week or two instead of a day or two.
Can the club use this as a period on which to aim for a higher level, a greater degree of consistency in Europe , and with it regular automatic group stage placing ?
If they do have a plan, you'd like to think this was right there at the top of the page.
Meanwhile, the media, and quite a few fans, are still discussing a possible move for Jordan Larsson, without even considering whether or not the player would be up for such a move.
Or that he would fancy competing for a starting slot alongside the most potent strikeforce since his dad graced the turf in Glasgow,
Or, perhaps most importantly, whether or not the club would ay the sort of wages Larsson would command , and then have him pretty much sit on the bench…unless each striker got thirty minutes each or was dropped if they failed to score with two out of three attempts.
Celtic are very well off up front, with six established forwards, all of whom are capable of interchanging positions.
And that's without any youngsters on the periphary.
Other positions are probably more of a priority, and whilst the media like to trumpet about warchests, you'll notice there is no mention of any budget or even estimated budget for the hoops this summer.
it's also worth noting that no one has said business is now complete….in fact, no one is saying anything.
Looks like the manager has decided those in the media really aren't his friends,
Let's just hope he's not telling Harry Kewell what shape he wants the players in by the start of the season…that would be enough to be going on with for me.
A few years ago, we heard tell of a story that may or may not be true, but was too good not to share.
A club, or company, we were told, had hooked up it's pipes to a nearby church and were pinchng their water, which was more or less free to the church.
There was no evidence whatsoever to support the "leak "…( I'm here all week etc ) but this note made me think, when it appeared yesterday…..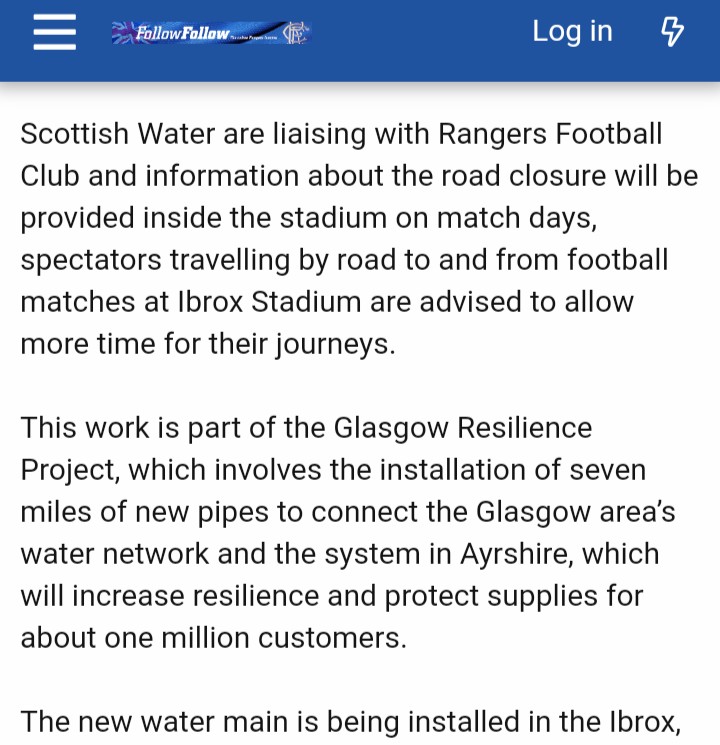 If any priests nearby fancy blessing the new installations, we would see panic amongst Ibrox supporters once more, as they would deem the water undrinkable….especially as it would make them scream and their faces fall off.
Which reminds me, Neil Warnock, who managed in England for forty years without making much of an impact, has fallen in love with "rangers "…mot enough to ever manage them, but enough to get him a few quid from the Sun…. and maybe a job with Rangers TV or another part of the Scottish media…..he spoke about discussing the managers job….
"I had a couple of chats with one or two people at Rangers over the years about being manager. But it was just never the right time. 
Well, obviously not…ever since hugh Adam told the papers their business model wasn;t working, it was only ever going to be a temporary job.
"People always connect me to Rangers but I wasn't born a fan. When Gordon was at Celtic I used to come up to a few of their games as well.
"But I just loved Ibrox. My mate Stuart is a season-ticket holder at Rangers and he took me to my first game. From the car park outside, looking at that stadium, I was absolutely gobsmacked. I loved it. 
"Then when I got inside, someone showed me around the Trophy Room. Oh my God, seeing all those cups. 
And that bike.
I was completely gone, I was a Rangers man then. Stuart McCall was an influence on me as well because he always used to rabbit on about the club and how good it was. 
Right up until it went bust, presumably.
"When he was manager there for a short spell, I actually thought he might have got me in with him. I felt he needed a bit of experience beside him at that time but it didn't happen. 
"When I look back, I suppose it is a regret that I didn't manage up in Scotland. 
I'm in complete agreement, would have been a laugh.
Not that there was any shortage of things to laugh about around that time…