Business resumes at Celtic Park today with the non-international players reporting for training.
That means the manager and his backroom staff are in as well, which means we can finally put all the media nonsense to one side and start talking about things that will or won't happen, instead of things that those who depend on an income from their nonsense hope we'll talk about
It had got that bad I was seriously considering ringing the Daily Record hotline and asking Andy Newport if it was true that his story about threats to John Beaton was actually just him helping an old pal who had flown his colours above the parapet durjng a glasgow derby.
First, to annoy him, and second, to at least bring a serious topic to the tabloids tittle tattle.
But I resisted the urge, because if the police checked my phone records and found i'd rang that place they'd automatically assume there was something wrong with me and offer me a job in the constabulary,
With the return of the real stuff, there's also a distinct possibility now that there will actually be something to talk about, the Diary will resume it's normal every day shaft of light into the darkness of the mainstream media, but seeing as how the author is a fat , lazy bastard with a drinking problem….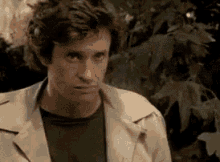 ….that's deemed somewhat unlikely.
the hot topic for the last couple of weeks has been the will he/won;t he Jota saga.
jota himself has been on a world tour, stopping off only to display his Celtic tops, the equivalent of a council worker wearing his hi -viz on the beach, which seems to have done nothing to ease the fears of some supporters, who think that the delay means he isn't going to stay.
That's despite him taking part in a photo shoot before he shot off to the airport to promote the new , imaginative green and white hooped home shirt, shortly to hit the shops, the stalls and finally get left on the bus after a particularly hot day at one of the friendlies lined up to get Celtic in the mood for the coming campaign.
There is one worry, however, as Jota has now clocked up quite a few miles in the air and has been offered a pilots job by several airlines, and might just take up one of those options.
We said six permanent signings before the break, and with Maeda, Carter Vickers and Seigrist already done, the next three will probably be Jota, a defensive midfielder, and you can pick any one from several touted, and you'll probably be wrong, and the Argentinian left back who has been spotted in several places around Scotland, desperately trying to elude a pursuing Greg Taylor , who is trying to convince him to eat chips, smoke fags and drink beer as it's part of his new training regime.
Alexandro Bernebei will become the first Argentinian to sign for Celtic some time this week, probably as soon as Jota has washed his work gear, had a shit and a shave and reported back for duty.
There is a report in the Record , by Scott Burns, that Celtic will move for an "un-named " striker, showing that he can;t even be arsed to make someone up any more, although to be fair an un-named striker would be ideal for tight arses like me who don;t want to shell out the extra to have a name put on the back of our tops.
The truth is , the media have no idea what's going on, noine more so than Sky sports with their Juranovic to Atletico Madrid exclusive.
Is he "interesting " the Spanish side..and others ?
Probably, as all clubs have a list of players they keep an eye on.
Is he likely to leave Celtic ?
No, and you'll notice the Sky exclusive had the effect of supporters discussing how much Celtic will get for him, rather than if he's unhappy or hankering for a better wage elsewhere.
That's how they work, but we already knew that, didn't we ?
So why all the brouhaha ?
You'll notice that none of the usual outlets mentioned this…..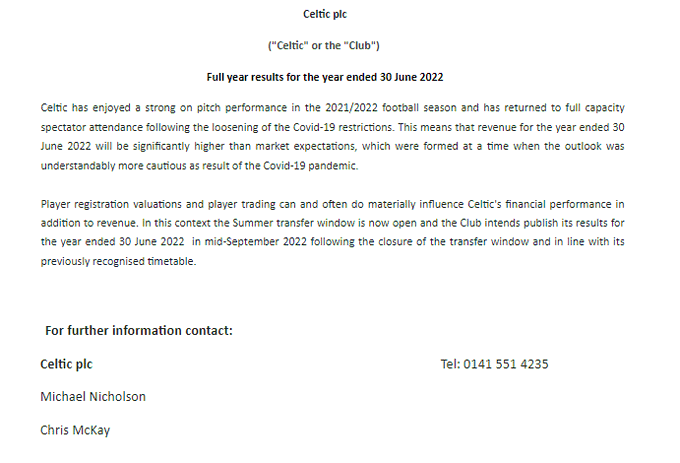 Although "better than expected " means very little, if you expected a quid and got two quid instead, you still can;t get yourself a pint, even though you have doubled your expectations, it's an optimistic statement meaning that shareholders and supporters should rest easy about any worries they had about the club not getting the finances back on track after lockdowns, losing the ten in a row,  and Lennon getting his hands on the chequebook.
Had the news eminated from another part of glasgow it would have been all over the front pages….yet there was something in ine magazine worth mentioning that the mainstream in Scotland would really rather we didn't see…..from Car Dealer Monthly on June 23….
Car dealer loses court appeal over buyer's claim £140k Bentley
couldn't tow caravan
Buyer sought to exercise right to reject Bentley SUV, saying it was unfit for purpose
Latest twist in long-running legal saga sees dealership fail in appeal bid
Sheriff criticises dealership for 'disorganised and simply bewildering court pleadings'
Case will now go to trial later in the year
A dealership has lost an appeal in a landmark ruling over a £142,000 Bentley that had been bought to tow a caravan – but was unable to do so.
Park's of Hamilton Townhead Garage – the Bentley main dealer for Glasgow – sold the Bentayga SUV to Elizabeth Deas, of Airdrie, in February 2020 for £141,758.
She asked for a £3,000 towbar to be fitted to pull her caravan but the unit that was fitted was at an incorrect height – 500mm instead of 420mm.
Mrs Deas said that led to the rear of the caravan striking the ground as soon as she tried to use it.
She therefore had sought to exercise her right to reject the vehicle, claiming it wasn't fit for purpose and that Park's had acted in breach of contract.
A Sheriff Court action was started by Mrs Deas, which Park's tried to strike out. That was refused and further procedure was allowed, so Park's appealed against that decision, taking it to the Sheriff Appeal Court.
However, in a judgment reported yesterday, Sheriff Principal Aisha Anwar threw out the appeal, criticising Park's for what were referred to as 'overcomplicated and bewildering' pleadings to the court.
The case will now go to trial later this year, probably in the autumn.
The Scottish Daily Mail quoted Mrs Deas as saying: 'It's been going on for two years now. I still have the car and used the car every day.  
It is a lovely car, there is no doubt in that. It just doesn't do what we wanted it to do, and they told us it would.'
Ian Ferguson, founder of consumer advocacy firm Rejectmycar.com, which specialises in automotive disputes resolution and helped Mrs Deas with her case, told Car Dealer that Park's had said it could repair the Bentayga and made several attempts to do so.
However, it was unable to as it is believed the 'tow mode' software referred to in the vehicle handbook couldn't be retrofitted.
Park's told Mrs Deas it couldn't remedy the situation and she was offered a replacement Range Rover if she gave the dealership the Bentayga plus a further cash sum.
As a result, she would have been substantially out of pocket, said Ferguson, so she refused.
A lengthy legal wrangle then followed, culminating in the appeal hearing. That took place in April, but the outcome has only now been made public.  
'What it boiled down to was could the car tow a caravan or could it not?' said Ferguson.
'They'd sold it with a towbar for the purpose of pulling a caravan and it wasn't able to do it and that couldn't be changed.
'They admit they cannot modify the vehicle to make it the correct height, and the car was basically never capable of towing a caravan in the position it was in.'
Ferguson hailed the outcome of the appeal as a milestone, saying: 'This really does set the tone for how car dealers, manufacturers and finance providers should and must approach these types of cases.  
'It reinforces the importance of clarity between the parties, and it signposts the car dealers, manufacturers and finance providers involved to take a fair, even-handed approach to consumer disputes and embrace them more openly and with a view to resolution rather than with a view to forcing consumers into unnecessary, costly, over-complicated litigation, which just makes the problem worse.'
Car Dealer has contacted Park's of Hamilton (Townhead Garage) for a comment.
What's interesting about that case is that you could substitute the new club/company for the Bentley in the case, and ask pretty much the same questions….
Especially the summation at the end….
It reinforces the importance of clarity between the parties, and it signposts the car dealers, manufacturers and finance providers involved to take a fair, even-handed approach to consumer disputes and embrace them more openly and with a view to resolution rather than with a view to forcing consumers into unnecessary, costly, over-complicated litigation, which just makes the problem worse.'  
But no one wants the raise the awkward point that a Scottish club is pretending to be something it isn;t and selling itself on a lie….which is a breach of contract, is it not ?
Similar to telling someone their new car will tow a caravan, when as you can see, it can't….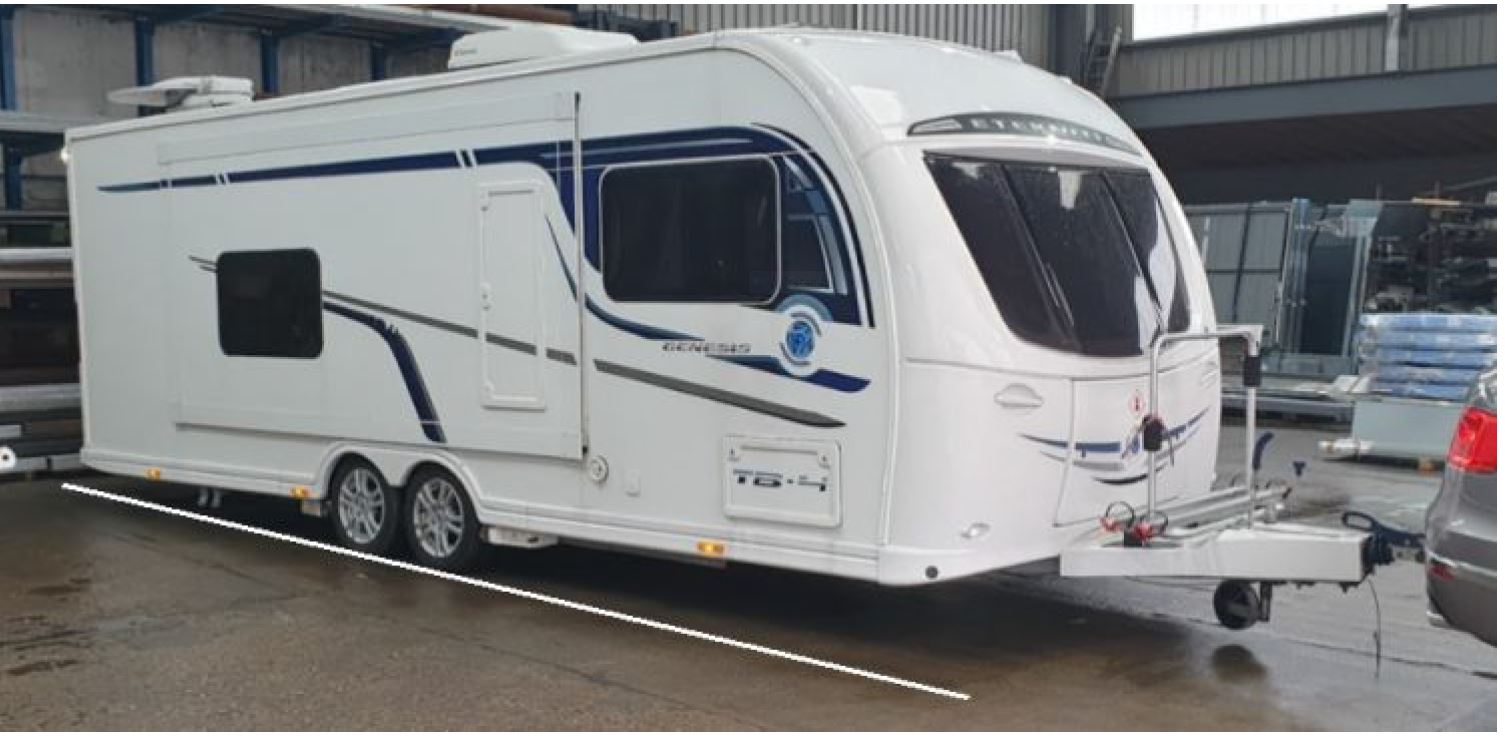 Back at the ranch, and a few things have reached me since I started putting this nonsense together…
Ange Postecoglou likes Celtic, in the same way that Jock Stein said Celtic wasn't his first love, but it will be his last.
Stein went on to say he likes the people who support the club, and he became a legend , revered and remembered with affection.
Henrik Larsson still talks of Celtic as where he made his name, and speaks with affection of his time here.
Postecoglou has already developed a similar affection for the club and the people connected with the club, and in that sense, he may be around for a while yet.
What we also hear, however, is that the headlines attracted by the Martin Compston so called singalong will no longer be tolerated.
Expect a backlash after the first renditions of the Republican playlist at away grounds.
Let's face it, no player will run faster, tackle harder or go that extra mile because he can hear the Broad Black Brimmer or even the boys of the Old Brigade in the background, and let's be real here…the British soldiers have gone home….
We've a part to play, and that part can be amongst the best in the world when it's in full flow.
As, indeed, a Spanish survey confirmed….which was reported in the Sun…
BEST BHOYS 
'Everyone sings, everyone dances' – Celtic chant named best in
the world as atmosphere rated above every other stadium
For this one…
We've plenty of other chants and songs that are ideal for match days….let's stick with them.
Last time out , we had this…
Latest attempt to replicate the Titanic dance scene grinds to a halt as the keepers argue over who gets to be Kate Winslett
Today…. Kyogo Fuhruhashi enjoued a bit of extra training with Andres Iniesta, whilst revisiting his old club. what could they have talked about ?