It's been nearly a week since the last diary, for which I would like to apologise.
I'm not going to, but I'd like to.
Since then, a lot has happened in the world of Timdon, or at least , you'd think so, given the amount of column inches that have been written…
In actual fact, very little has happened, and the hacks have been reduced to idle speculation for the most part.
One or two headlines caught the eye, with actor Martin Compston, from tv's piss poor Lions of Duty, a cop show where a detective roams around solving crime with his pet Lion, or at least it should have been.
I watched a couple of episodes and there weren't any lions in it at all.  Would have been far better if there were. Especially if they ate policemen.
It's about police corruption, which means it's got plenty of material to work with.
Anyhoo, it's quite popular and has made Compston a household name, and this week he learned why Billy Connolly kept his favourite football team to himself when he became a household name.
And probably why Rod Stewart, the singer with a sore throat, swapped his allegiances almost weekly…..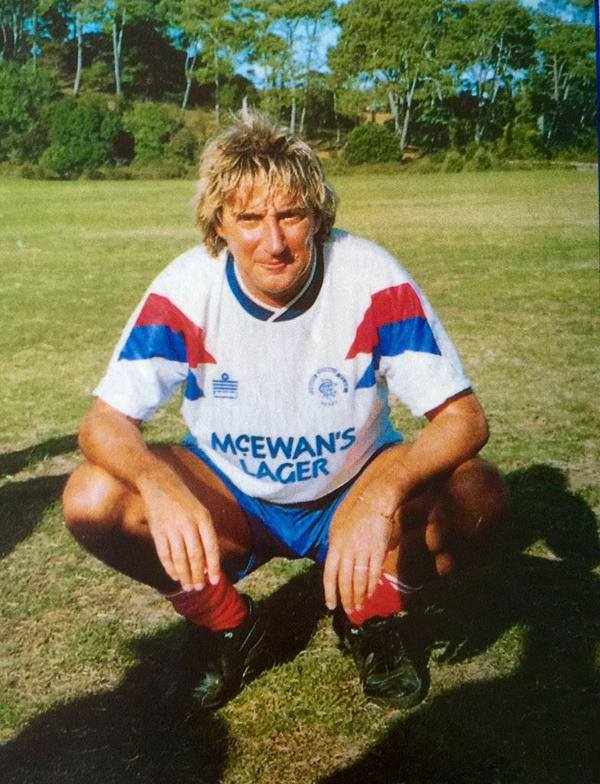 Compston was over at the Las Vegas Celtic supporters convention, and got caught up in a sing song featuring the old classic "Beautiful Sunday ", which has one or two add ons that have attracted the attention of those who don't like add ons.
Given that there's another club in Glasgow who attract a lot of unwanted attention for one or two of their tunes, an enthusuastic media pounced on Compston, and he was well and truly slaughtered for his action.
Amidst all the fuss, it's not known if the actor can carry a tune, as they say, but he's certainly carrying the can for his actions.
We've all done it, and whilst I'm more in the time and place for everything corner, it's difficult to see why anyone would be surprised that these add ons are added on during renditions of this tune at a supporters convention.
Though I still think that the whole IRA thing should be dropped from the matchday experience, dropping it from a supporters night may well prove a little more difficult, but you do have to ask if it's entirely necessary to improve a decent singalong by adding IRA to it….
Compston , presumably having had a refreshment or two, woke up the morning after, and as we all do, hoped he hadn't done anything daft while he was out the previous evening.
Right up until he checked his Twitter account…..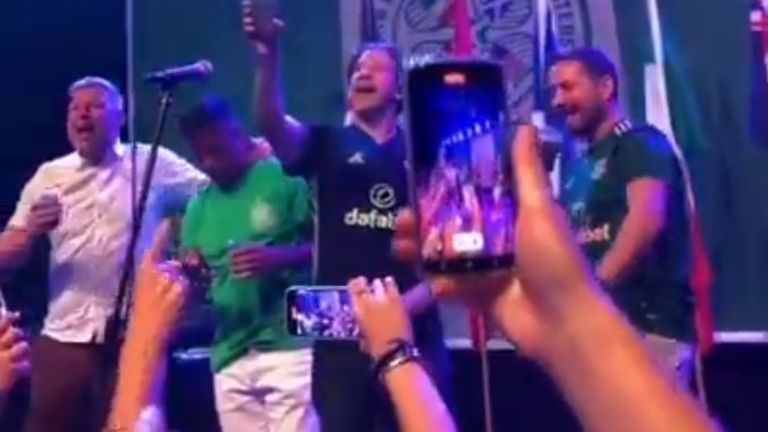 He decided to try to limit the damage…the story had even appeared on Radio 4's highbrow Today programme….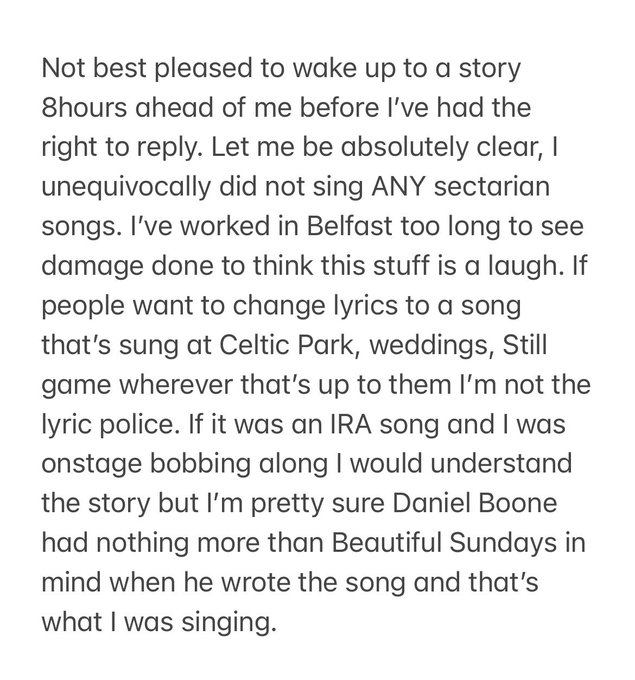 Daniel Boone was not available for comment.
And if Compston had any sense, he would remain unavailable for comment as well…..
The fixture lists came out on Friday, and Celtic open their campaign at home to Aberdeen, on Sunday , July 31.
At 4.30 in the afternoon, so that it can be shown on Sky TV.
After that, the rest of the fixture list is subject to change, largely down to Sky TV, so if you want to go ahead and book flights, ferries , trains , hotels and  days off work , knock yourself out….
One person who won't be around next season is referee Bobby Madden, who is out of contract at "rangers " and will move to officiate in England's lower leagues.
To go from the top in Scotland to a much less prestigious job in England is a strange move, and one can only wonder at his thinking.
In a statement , Madden included this bit…
"It's been some journey in that time, from Scottish Cup finals to refereeing and training during a pandemic, but the time is right for me for a number of reasons to relocate and as a result I'm grateful for the opportunity with the FA."
Curiously, no one has asked him what those reasons are.
I'm sure there's a story there somewhere, even if it's just that he fancied a move away from the pressure.
Madden will be missed, but not by anyone who likes football played on a level playing field.
Here's hoping it's the start of a new broom sweeping through the corridors of power, one that doesn't head towards a carpet to hide what it finds.
Neil Doncaster, still in charge over at the SPFL, showed that he is still on the NHS waiting list for a spinal transfusion…..
He's revised the contract with second hand car company Cinch, largely for the benefit if one club/company.
"Under the terms of the revised cinch contract, Rangers are no longer required to participate by providing the sponsorship inventory that they have so far not provided, whilst, crucially, the overall income to Scottish football is expected to remain materially unchanged over the original five-year term of the sponsorship.
"This revised package has now been approved by cinch Premiership Clubs.
"It's extremely good news that we have been able to work with our partners at cinch to develop an updated sponsorship package which delivers the same level of financial support to Scottish football, whilst providing additional SPFL media assets to cinch to compensate for loss of Rangers related rights.
And, it seems, they will still get paid.
Murdoch MacLennan, the SPFL chairman, (remember him ? ) added…
"This is a great outcome for the entire game in Scotland. Our friends at cinch have been brilliant to deal with throughout this whole process. 
We rang the SPFL , hoping to speak to MacLennan to ask him to clarify what he meant by "great outcome ", but the girl who answered said she didn't know where he was.
She put us through to a colleague, who said she didn't even know who he was….
With Celtic clearly trying to leave them behind on the field, deals like this , which Doncaster says have the support of all clubs, can only strengthen suspicion that there is a behind closed door campaign to avoid losing another Ibrox based club.
If Celtic truly want to move away from them in a business sense, they should propose a change to the system that allows clubs to keep some , or all of, their home gates.
Suggest a sixty forty split at the next SPFL meeting, say for two years.
Only one club/company would oppose it, though you wouldn't hear them say it because of the sound their bottoms would be making.
Sometimes, you have to take a step back before taking a couple forward, and this would be beneficial in the long run for everyone.
Except, of course, the Ibrox basket of assets, which makes it all the better.
Looking ahead, there's a fairly full schedule of pre season friendlies, with Banik Ostrava and Legia Warsaw hosting the hoops, and Blackburn and Norwich visiting Celtic Park, to give us a taste of what the atmosphere would have been like had the club ever been accepted into the EPL.
You know, I'm sort of missing the tension of the UCL qualifiers……
Tom English, the Irishman working in the Scottish media missed the point entirely when he tweeted…
So the torturous SPFL vs Rangers legal saga over Cinch ends. Rangers don't have to carry Cinch branding. That was their point from day one. How much is this going to cost the SPFL in legal fees? No mention of that in the SPFL statement. All of this could have been avoided
The clear implication that when anyone disagrees with any contractual obligation they can just drop out, and that's that, because of potential legal fees.
If one party to a contract objects, then that's fine.
They don't have to be a part of it, but they should not be allowed to play in the Cinch league, and certainly not get paid for doing nothing , especially if everyone else has to do it.
Scottish football once more leading the way in ineptitude.
Then again, there's a lot of it about…..
Before we turn to the caption competition, can I just send my best wishes to Prince Andrew, who is suffering from Covid 19 ?
Well, he says it's 19….
Last time out we had this…..
Woof Charlie 
 Loyalist News Spot The Ball competition  
Today……