The media are making quite a big thing over what they have dubbed the will he won;t he Jota saga.
The Portuguese winger has been clocking up the air miles, having been seen in various parts of the world, and the last we heard he was in Mexico City, which , perhaps not surprisingly, is in Mexico.
He's not due back at Celtic until the 27th, next monday, and that's the same for all the non international players.
But we can have some fun with it, I suppose. Those of you who can do photoshop can , I'm sure, put him anywhere in the world you want. In fact, you could put him anywhere in history .
Simply go to @etims.net on Twitter and tell us where you've seen him.
There have been several leaks of the new Celtic home kit, which is green and white hoops and a different collar.
The official unveiling will have to wait, probably until the 27th, when at least one player , who has already done the photoshoot for the new kit…whichever one it is… is back at his work.
One suspects he'll probably have quite the tan by the time he gets back…..
Elsewhere, and there's another name added to the supposed Postecoglou shopping list. This creation of our intrepid sports hacks is to fill the void created by the longer than usual summer break at Celtic Park, and usually consists of players that have had their name punted by their agents in the hope of attracting the attention of , well, anyone.
Alfa Semedo , a defensive midfielder in the Victor Wanyama mould has been mentioned in a few places, and having not really made the grade at Benfica, which is irrelevant, has been farmed out to Nottingham forest and Reading in the past on loan, presumably as a punishment, before being off loaded to Vitoria Guimares.
He's progressed a bit while there, and looks like he has the attributes we need, and with proper coaching could progress even further ability wise.
Oh, and he'll be within our budget, if we have one.
At 24, it's now or never for him if he wants to be a success, and I'm fairly sure a phone call to his old team mate Jota will help him decide his future…in fact, he may even be ringing him now….
There's still quite a few names floating around, and one by one they appear to be leaving the list as they take their turn in "snubbing " Celtic.
Ko Itakura looks like he's off to Germany, and Alexandra Berneboi , of Lanus in Argentina did what hardly any Argentinians do and butted an opponent at the weekend, earning a red card.
Whilst we'd all like to see a bit of fire in the side, Postecoglou sides are first and foremost footballing sides, and that incident won;t have done him any favours.
Then again, one or two of our players seem to be able to look after themselves when they have to, with Kyogo Fuhruhashi living yet another dream of many Celtic fans in a recent international, when he floored that petulant little shit Neymar….
…which pleased at least one of his teammates….
On a more serious note, yesterday's diary prompted a reply on Twitter which deserves further comment and discussion…
Rod McKenzie, once gave evidence and famously said that the Law of Scotland had never caught up with Scottish Football. Never a truer word said. Scottish football defies all contractual and delictual law. It is a charabanc of adhoc decisions driven by opportunistic charabangers!
Loosely translated, this means that the beaks in Scottish football are making it up as they go along, and similar to the policy adopted by those currently in Westminster, adapt the rules to suit their ideas, rather than come up with ideas within the rules.
In a nutshell, that's kind of what Resolution 12 was all about.
Many in the media used another Westminster tactic to divide any possible support for the motion by framing it as a Celtic -Rangers issue, when in fact supporters of both clubs should have been behind the demands for clarity and legality.
Celtic may well have lost a shot at the Champions League, but Rangers lost a whole club.
And the other clubs in Scotland all lost out as well, but with the media framing it as an ugly sisters conflict attention managed to be defected from the real problem, and that was a corrupt SFA.
We still have the same cabal in charge there, which is why the new Rangers can pretend to be the old one. Again with media complicity and indeed, encouragement.
UEFA, and FIFA will accept whatever the SFA tell them about the game in Scotland, and as long as those who pay to support the game in Scotland accept that, nothing will change.
And we seem to have accepted it, so when it all goes tits again, and it will, we have only ourselves to blame.
The Cinch deal is a case in point.
The boys at the SFA are looking after the boys at Ibrox any which way they can, and it will end in tears sooner rather than later.
Cinch aren;t too bothered, they got to renegotiate a deal that gave them quite a bit of publicity, and with their PR people persuding them that's a good thing, they may not be too pleased, especially if one set of supporters starts to ignore them when it's time to change their wheels.
What they need to be wary of at the second hand car company is that the greatest achievement of the PR and advertising industry is to convince the market there is a need for them……
One of the unfortunate trickle down effects of the extended breaks is that there is actually very little to talk about on pages such as this one around the interweb. I genuinely feel for some blogs who appear to feel the need to say something outweighs the need to say something interesting or original.
Says the bloke who is still harping on about Resolution 12…
Come to think of it, there was another reply that deserves noting, re bobby Madden…. which is sort of along the same lines….
Charlie 
 Hawf a season in England and the laptop loyal will be saying with his experience in England and Scotland is the prime candidate to run VAR in Scotland…
Suddenly it all makes sense….
There's the usually flurry of favourite player, least favourite player and so on, so i thought that instead of doing a caption competition, we'd do a similar thing.
For every jock Stein there's a Sean Fallon, for every Dalglish a Deans , and so on.
Who would be your unsung water carrier, your favourite player who played a supporting role ?
Then I though, fuck that, and went with the caption competition anyway. but feel free to add your unsung hero if you want. It might give us something else to talk about other than Jota…and don;t forget to add your picture of him in an unlikely place to the Twitter feed.
Yesterday we had this….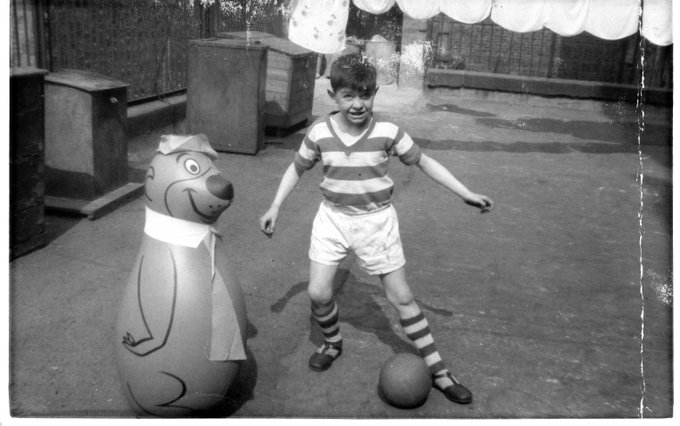 John Cowan 
 That wee boy is my wee brother around 1960 . I took the picture with my Kodak Brownie camera in our upstairs back close at 116 Crown Street Gorbals. 
 Actually, we jumped over the railings to our neighbours almost certainly because our mum or neighbours had hung sheets out to dry,
 Not the open trash cans , a favourite haunt for rats at dusk. 
 My brother took that Yogi to the Scottish Cup semi final, where we lost to St Mirren, the game was stopped because of fighting on the terracing. 
 I was at the Celtic end and that was probably the most bottle throwing at a football match, and there was quite a lot of that in the 1950s and 60s. 
Suddenly, the idea of talking about our unsing heroes of the past doesnlt seem such a bad idea, espeically if there are tales to tell about them…
Or, of course, there is this….