In seasons gone by, we'd be panicking about upcoming UCL qualifiers and being ready for them, which inevitably would come too soon and end in abject misery . which meant that the siginings we wanted wouldn't come and we'd end up with players that were the managers third or even lower choices.
And if they found somewhere that paid more we'd get a few loans sorted.
These days, all we have to moan about is international football.
Even that raises a smile now and again , with Georgios Giakoumakis, Daezen Maeda and Liel Abada all scoring for their respective countries, interestingly at the beginning of their international careers.
The latter being brought to media attention and having a £17m valuation put on his talents, which in the past would have had him for sale at the first opportunity.
In fact, given the wealth of talent in the forward positions just now, a previous CEO would almost certainly have been leaving post it notes on the managers desk asking if we really needed all these players…
Even the unthinkable and unlikely event of Jota not signing a permanent deal won't be a tragedy, just a major disappointment.
When he is secured, that will take the Celtic spend to £12m in the first few days of the transfer window, and there's more to come.
No wonder we don't see or hear much of Peter Lawwell these days. He's probably in therapy.
Just the thought of building from a position of strength was completely alien to the previous regime, and the period of relaxation that we as a club seem to be undergoing is such a change from the usual summer that they must be wondering why they never thought of it before.
The Record has a feature called the " Jury  ", which comprises of their leading ( relatively speaking ) football reporters, and the format involves asking them key questions and noting their opinions. Which are always good for a laugh.
Today's jury is Keith Jackson, Craig Swan, Gordon Waddell and Andy Newport.
Do Celtic need to find a partner for Cameron Carter-Vickers?
KEITH : Carl Starfelt came onto a game in the second half of last season and deserves to stay in the team. But there's a mistake in the big Swede all the same and he could benefit from being challenged for his position.
CRAIG : Ange Postecoglou needs another centre-half. Nir Bitton has gone and Christopher Jullien didn't get a shot at it. Once he's signed, it'll be up to the individual to oust the Swede.
GORDON : The need for a bit of height in the Celtic defence was an issue all last season and it's something which must be on their recruitment list.
ANDY : Starfelt has certainly improved since his early Parkhead days but there's no doubt he's still capable of the odd lapse in concentration. Finding someone with the full package won't come cheap and that may mean they have to stick with the Swede having splashed out £6m on CCV, with a similar amount needed to nail down Jota too.   
Celtic conceded just 22 goals in 38 league games last season, which suggests the defence isn't as bad as they would like you to think.
Which means the headline accompanying the article is a little bit of exaggeration….
Celtic transfer priorities could force signing compromise in key area
Celtic have three centre halves more than capable of performing at SPFL level, Welsh, Carter Vickers and Starfelt. Another one is needed if a serious challenge is to be mounted in Europe,  and what terrifies the pundits is that Celtic will get one.
Between the lines in that piece is a reluctance to accept that Celtic are already far too strong for the rest of Scotland, and they don;t even want to think about the side being strengthened, whilst where their own favourites are concerned, the only issue is….
Should Allan McGregor quit Rangers if he's not going to be number one?
KEITH : That's entirely a matter for McGregor. If he's content to play second fiddle then why not? But the chances are he'l still be first choice if he does decide to sign a new deal.
CRAIG : No-one has the right to be No.1. McGregor would surely only stay if he can fight to stay as top pick and, given his ability, you wouldn't bet against him.
GORDON : No. A coaching role and the challenge of continuing as number one is more than enough for a keeper who can still be a key player for the club in the campaign ahead.
ANDY : Only if regular action is still his main priority. Otherwise he'd be as well staying at a club where he has achieved legendary status.
Curiously, there are no calls to replace a man who seems to be on a downward spiral, or indeed to replace any of the Ibrox players who have already gone, or are being touted around the lower English clubs for millions…
In fact, when you consider the campaign to raise a few quid for the financially stricken new club/company, then that alone should raise alarm bells amongst their support.
But it won't.
That's because they are thicker than the proverbial Boxing Day jobby.
They are too busy harping on about the Westminster government, who hardly ever tell lies, and UEFA, who are hardly ever suspected of corruption, recognising their 150 years of existence.
Yet they refuse to examine the facts, such as these…. the timeline of Rangers at company house, for instance…
Rangers FC Ltd Reg 1899 SC004276 
Rangers FC PLC Name change March 1982 SC004276
RFC 2012 PLC Name Change July 2012 SC004276
Sevco Reg 29 May 2012 SCO 425159
Sevco name Change 31 Jul 12 The Rangers Football Club Ltd SCO 425159
Rangers Football PLC 16 Nov 2012 SCO437060 who became wait for it
Rangers International Football Club PLC on   26 Nov 2012 with SCO 437060 .  
which was summed up by Auldheid, who understands these things, as
… one SCO to cover old Rangers and two SCOs to cover the current club/company – hardly supports the idea of continuity of a same legal entity or same corporate structure pre and post 2012.
Here's a picture you can show the ones who struggle with just words….
Here's another picture that will annoy them….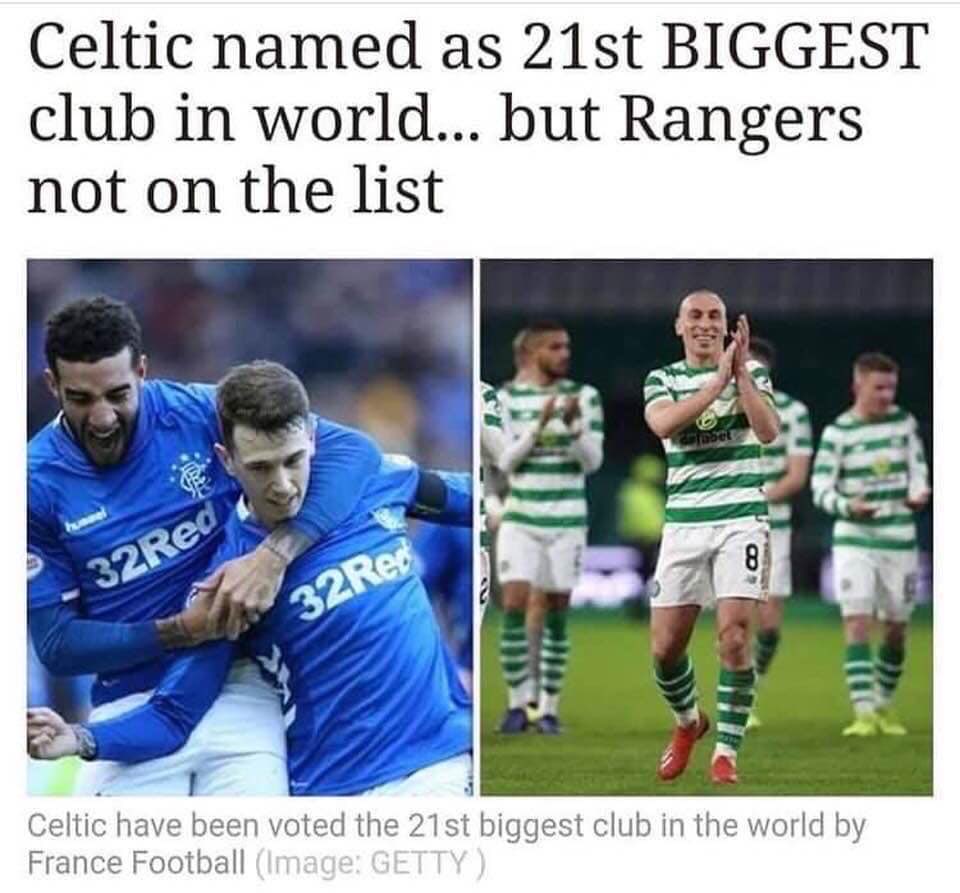 Whilst what they do and how they do it is of no concern to our club, to us supporters it's a long and lovely line of laughter that keeps the sun shining even when the rain falls down.
Speaking of pictures….we had this one yesterday…
Tim Buffy
Scotland defence put set piece expert Austin MacPhee's tactics into action.
Today, with Love Island back on the telly, we remember why Love Larkhall failed to impress the commissioning editors….but what are they talking about ?