There's not a single one of us who wouldn't swap places with "rangers " right now and be heading into Seville for a Europa League final.
But , as they say, what is, is what is.
However, there is the second prize, and that's being able to watch them make complete arses of themselves, as a football team, as a support and as a club. (Or company. )
And until we get our own act in place to mount a serious challenge at that level, it's not a bad second prize.
It's certainly amusing.
As far as the actual game goes, I'm looking at it the same way as I look at England in major tournaments.
Let them get as far as they can and then watch them cascade from a great height, cushioned only by their own tears.
Because when it comes down to it, neither England or "rangers " are good enough to win anything at that level.
Both benefited recently from the luck of the draw, and whilst you still have to win these games, neither did it with enough panache to suggest that when they come up against a decent side, they will be able to handle it.
So we can amuse ourselves , safe in the knowledge that a win is unlikely.
We can also amuse ourselves safe in the knowledge that even if they do win, their supporters will ensure that the club (or company ) will be banned from participating in Europe next season.
They just can't help themselves.
Already there have been incidents, and already there have been arrests, and the game is still a couple of days away. The majority of their support haven't even left Scotland yet.
Fully aware of this, former Rangers former players and managers have released vidoe messages imploring the fans to behave.
Never before has such a campaigin been launched, and it does raise the question about UEFA maybe warning them that they will be banned.
The media have, predictably, downplayed the significance of this move by the club (or company ) when it fact it is highlighting a clear and present danger to the city of Seville, thousands of European travellers and anyone else who happens to be unfotunate enough to be in the vicinity of a group of football fans enjoying a major final of a European tournament.
It's got disaster written all over it, and whilst the Scottish media are portraying their behaviour as a form of enthusiastic banter, the Spanish civil Guard will be looking at it as a potential riot.
Unfortunately, they're not hiring at the moment, as my own letter of application was returned saying that they are looking for someone with ambitions beyond hitting people with a big stick.
On Thursday night.
Although that does mean they're not exactly short of numbers, and whilst there are many Celtic supporters with fond memories of drinking and singing with the Civil Guard, the Spanish law enforcement agency are unlikely to feel as well disposed to singing songs about being up to their knees in blood, or indeed, the charming little "We Hate Catholics " ditty.
We shouldn't laugh, but we;re going to.
Anyhoo, some serious stuff now.
Remember this ?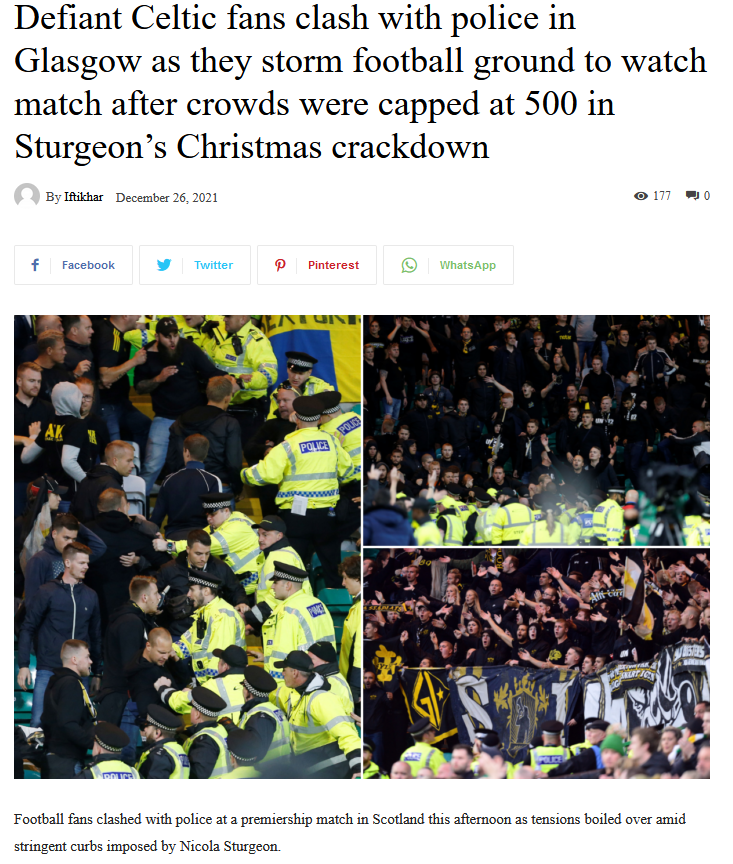 There were a number of complaints about the accuracy of this article, largely becuase it was bollocks, and after being taken to task by the Press complaints people, the Mail said;
"An article published on 26th December suggested that fans stormed the football grounds at a match in Glasgow. We are happy to clarify that fans did not storm the football grounds and that the match took place in Perth. We have amended the article to reflect this.  
Their statement should have said
"We were talking shite again but fuck it, it's not like the Celtic board give a shit about what anyone says about their club or their fans " 
Which at least would have been accurate.
For all the good they are doing on the pitch at the moment, and the head of steam being built up with the Angera, here we have a reminder that we still have the same people running our club, and they have never done anything, on or off the park, that gives any of us any confidence that they have the club;s best interests at heart.
Indeed, by allowing the media to write such reports as the one above, they are in fact allowing open season on our club, it;s support and staff.
So what happens when one of them oversteps the mark with the manager, who until now has more than held his own against them ?
What when they start to send their grubby little hacks to check out his kids school behaviour, or his wife's shopping list.
As he takes the club to a higher level on the pitch, the media will look to more, er, unconventional ways of removing him from the picture.
Once they spot a weakness, they will go for it.
That's why it;s disappointing that fans had to hold the Mail to account, and the silence, yet again, from the club is deafening.
The Celtic Trust could take up the battle, but they are having a little bit of a battle themselves.
Their AGM is today, and the panel, or board, or whatever they call their executive, is facing a vote of no confidence….
Celtic Trust motion for discussion at Annual General Meeting on 17 May 2022
Motion
This meeting agrees to a vote of no confidence in the current Trustees and Officers of the Celtic Trust.
The failure of the PLC board to deliver any meaningful European progression despite a decade of domestic dominance has been mirrored by the Trustees and Officers of the Celtic Trust. 
Despite a traumatic league loss in season 2020-2021, the Trust leadership has overseen a reduction in Trust membership and no significant percentage increase in share ownership, least of all to 5%.
And in spite the formation of specialist sub-committees in early 2021, the Trust activities have seen no sustained campaigning against the PLC board or to attract either new members or to trace existing shareholders and increase its visibility as a shareholding organisation that fans can rally around. 
Trust membership delivers around £60,000 per year in subscriptions. This meeting agrees that Trust activities do not represent value for money.
This meeting calls on incoming Trustees and Officers to produce a meaningful strategy document within three months of this AGM. This should include an activity plan to show with 6, 9 and 12-month objectives to show how the Trustees plan to increase both membership and percentage shareholding within the PLC club.   
A kick up their comfort zone ?
We'll see.
Yesterday, we had this….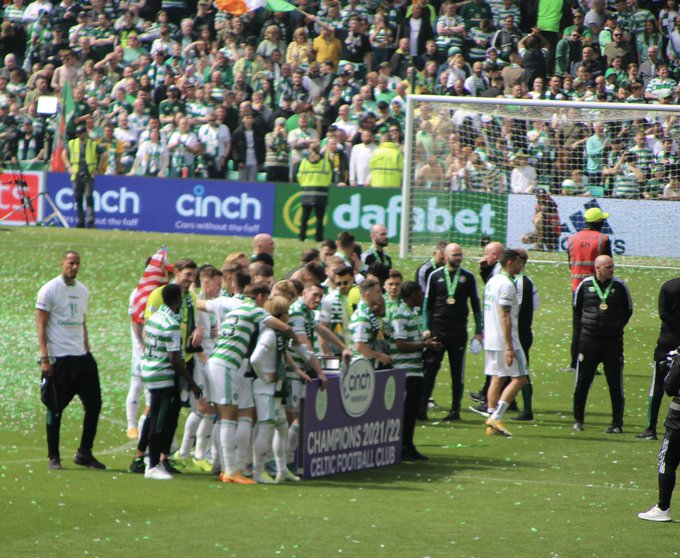 Owen mullions 
 This years " Baldies in black Tracksuits " convention was disrupted by celebrating Celtic players, reports the Evening Times  
Today…