The Angera maiden season might not have been perfect, but the results on the pitch are now enschrined in history.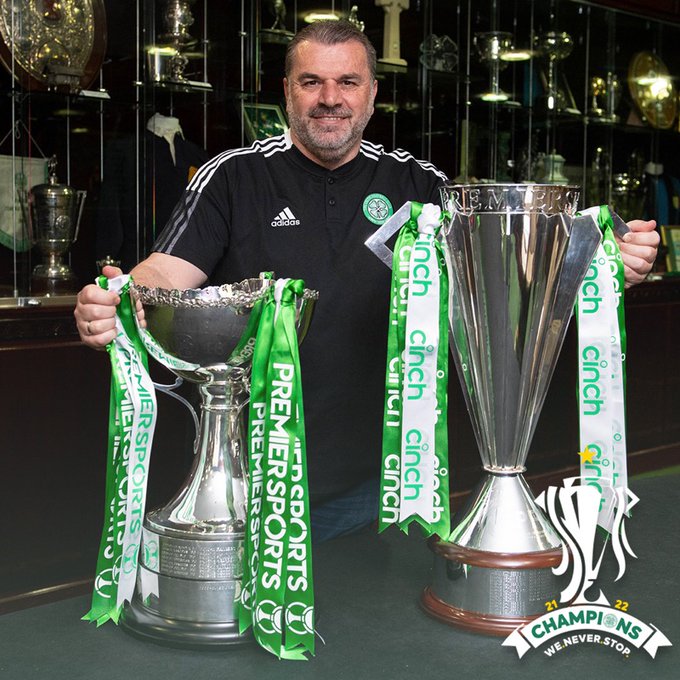 Our season finishing a week earlier than that of other clubs (or companies ) has taken the achievements out of the spotlight, although it has to be said that he was never going to get the praise he deserved because he's flung a lot of criticism right back at those who doubted him.
There is also a real fear that the collapse of 20/21 will be seen exactly for what it was.
A glitch.
Using the domestic competition to build a side for Europe hasn't been done since the days of Stein, the idea being that any team built for continental success would be far too strong for Scottish football.
Martin O'Neill did a similar thing, but relied too heavily on certain key players, whereas Ange seems to want a couple of teams all of a higher level than we've been used to.
As long as the board continue to back him then he'll get what he wants.
Ben Crompton, A six foot one midfielder who can also operate at centre back could be the next young English talent to seek fame ad fortune in Glasgow. He's turned down a short term deal at Shrewsbury, and anyone who has ever tried to drive around the one way system there will understand why.
The Shropshire Star notes;
Talented Crompton attracting interest from clubs including newly-crowned Scottish champions Celtic who have tracked his progress.
The rangy Crompton, who is also from Telford, arrived at the club a midfield player but has mostly operated at centre-half for Town's youth side. He earned a reputation as one of the top performers in the age group and also trained with the first team, although did not make a senior matchday squad.  
Not exactly first team material, but it's a sign the club are still operating on a couple of levels, and although MattO'Riley was a few years ahead in his development, there's no doubt that this is a potentially lucrative and rewarding avenue to go down.
O'Riley was fully aware that EPL chances are fewer than ever as teams prefer to buy in ready made stars, with the money easily available to do so that blocks a path for thoise who would, in years gone by, have worked their way to the top.
Crompton, it seems , has a similar mindset, and if he is willing to move north to further his career, then the attitude is already there, and if that can be supplemented with quality coaching, then everyone's a winner.
And he can learn his trade while Ko Itakura, who played for Schalke last season at centre back, joins his compatriots in Glasgow.
On loan from Manchester City, a fresh start at Celtic with a permanent move costing around £5-6m would suit Itakura, Celtic and Chris Jullien, who might then be allowed to leave.
There's little doubt both Mark Lawwell and Ange Postecoglou have discussed moving for Itakura, and such a signing would be more or less enough to convince doubters that Celtic made the right move in bringing in Lawwell.
As long as he changes his phone number and doesn't tell his dad.
Speaking of the coaching department, Gordon Strachan has run out of friends and looks set to turn to family to fill the vacant managers position at Dundee, which was held by the vacant Mark McGhee.
Strachan once touted McGhee for the Celtic job, and let's face it, we were lucky common sense prevailed.
Now, after inflicting McGhee on the Taysiders, he wants to hire his son, Gavin, which Celtic will accept given that the hoops have already reached the UEFA Strachan quota, which forbids any more than four of his offspring working at any one club at any one time.
Don't be surprised if Sean Maloney ends up on our staff……
A lot of media outlets have pointed to Chris Julliens body language as a sign that the French defender wants to leave Celtic.
There have been other signs as well, such as his breaking down in tears at the end of each of the last few transfer windows when he realised no one wanted him, but somehow everyone failed to spot that his poorly leg , which has been poorly for nearly two years, has very little to do with his lack of game time.
He hasn't wanted to be here for a long time, and the only reason he hasn;t gone yet is that he has developed a reputation for having a questionable attitude.
Which apparently has spread to others, such as Karamoke Dembele, who is no longer quite as enthusiastic about being booted up and down Celtic Park every time he plays.
That little bit of fire he once had has been extinguished, whether thats down to a lack of progression through the ranks or believing his own hype is not clear, but no matter where if he goes or if he stays the word is he needs to find the eye of the tiger again.
Next season can't come quickly enough for some of our players, such as Daezen Maeda, who it seems has bought a greyhound, a horse and a motorbike to burn off some if his excess energy, and some headphones as all he can hear just now is his wife telling him to "sit fucking down "
Another who can't wait for the restart is Georgios Giakoumakis…. and he too, it seems, would like to form what could be a devastating partnership with Kyogo Fuhruhashi..
We haven't played a lot together this year for different reasons but it would be really nice and it could work," 
"We are so different in our styles of playing. He's a little guy with great movement, doing a lot of running down the sides. Perhaps we could have a good partnership.
Although he had words of praise for Daezen Maeda, who could turn out to be equally lethal after a summer break…
"He can run two 90 minutes in a row!" 
"His fitness is really good and it really helps us. You see him attacking and then he is back running helping the defence.
"It really suits our game and the way we play. He's a big player for us. 
And , modestly, he mentioned himself…
Of course I will be better next season. Right now I feel I've maybe shown 70 percent as I didn't feel fully fit or healthy in the first six months.
"It will be totally different when I get a full pre-season. I hope next season is going to be amazing.
"I am confident about next season because of the players around me. You need the players around you to be the top goalscorer – because someone has to give you it!
"I have a lot of confidence in my teammates as you know you will have a lot of chances.
"It's about making sure you are clinical."  
One of the things that made Steins sides so succesful was that they had goals everywhere in the team.
With O'Neills set up, there was Henrik Larsson, ably supported by Sutton, Hartson, Thompson et al.
Is Ange Postecoglou planning to combine the best of both worlds ?
As Giakoumakis says…
"There are exciting times to come."  
All of this is going largely under the radar , mainly because "rangers " play in a Europa League final tonight.
One particular exclusive from there caught the eye…
1/2 EXCLUSIVE
 Reports emanating from Sevilla indicate that Celtic fans have disguised themselves as Eintracht Frankfurt fans in an effort to disrupt the Europa League Final. Spanish authorities have had several run ins with the Hoops: the most recent violence in Valencia 2019
As ludicrous as that sounds, I think I've spotted one…. third video down, watch until the end.
https://twitter.com/i/status/1526691870507663367
Back in the dear green place, the council have moved the benches in George Square, a brutal reminder that the forces of darkness haven't all gone away for a few days.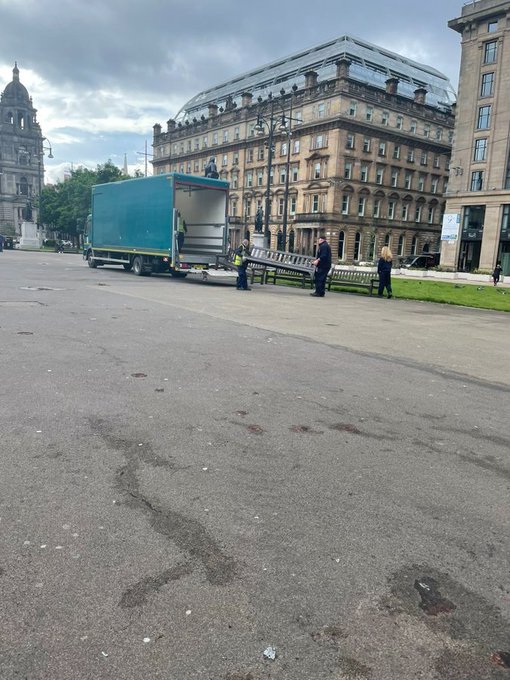 Be careful tonight….
Yesterday, we had this…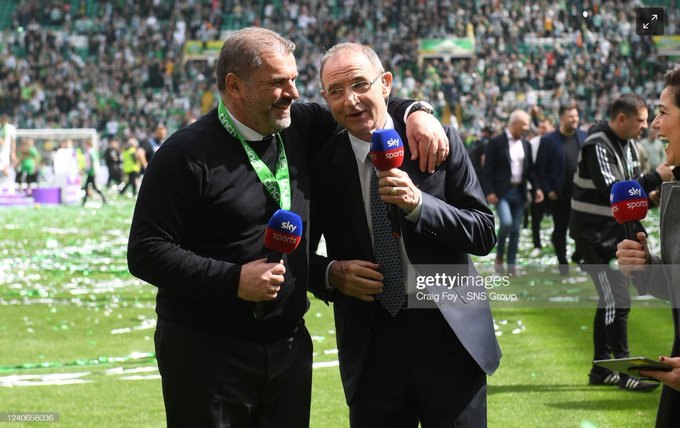 Today….