Football can be a pretty confusing game sometimes.
Sometimes it can make you happy, other times it makes you sad. Sometimes it can do both at once.
Most of us have got a soft spot for Villareal, and most of us have a dislike for the EPL .
All of us have a dislike for UEFA and it's bastardised Champions League, which has become more and more of a closed shop, yet we still want to be a part of it.
Villareal , a relatively small club with whom Celtic have had good relations in the past, could win the champions League.
I'd like to see that happen, especially if they were to beat two English sides in doing that.
If they do, however, Celtic will probably lose their guaranteed Champions League group spot next season.
"rangers ", a club only formed a decade ago, have made it to the Europa semi finals. That's good for Scottish football, and that means they are only three games away from a guaranteed UCL group spot of their own.
That sort of thing increases the national co-efficient , which in turn makes it easier for other clubs to access group stage football, and more importantly, avoid qualifiers against teams from the bigger leagues.
There is a wee bit of jealousy here, but they do deserve credit for what they've done. Knowing how bloody awful they are gives a wee bit of confidence to the rest of us for next season.
Though we should clear up how things work for next season, as it's getting a bit confusing….Moravcik 67 on Twitter explains it…
The champions of the top 10 ranked nations qualifying for the CL groups automatically, along with another 14 non-champions. Also given an automatic spot is the Champions League title holder, and the Europa League title holder. 
That means if a team wins the CL or EL, and also qualifies for next seasons CL groups via their league they'll have qualified twice – once as title holder, once the normal way via the league. As they can only take up one spot, it means there is a spare place available. 
UEFA regulations attached. If the CL winner qualifies twice then the spare place goes to the champion of the 11th ranked nation (here Scotland) If the EL winner qualifies twice then the spare place goes to the team finishing 3rd in the 5th ranked nation (here France). 

How does this affect Scotland? We're ranked 11th for next season (based on ranking to 20/21 – there's a 1 year lag in the national coefficient being used). So our champion get an automatic CL place if this seasons CL winner also qualifies for next seasons CL via their league. 
That's normally incredibly likely, which is probably why we've been hearing for most of the last year that an automatic CL place is 'guaranteed'. It's not, and never has been. Villarreal reaching the CL SF has highlighted this point. They threaten Scotland's chances. 
Even in the SF, Villarreal won't be favourites to win the CL. But strange things sometimes happen. If they did win it, and then finish outside the top 4 in Spain, Scotland would miss out on getting that spare group place. Things are complicated by Russia. More on that later. 
As said, there's a similar thing with the EL. If the EL winner qualifies twice it means the 3rd place team in France gets a CL group place. Although it wouldn't affect what happens to the Scottish champion, it could affect how many qualifying rounds our runner-up has to play. 
The other factor that can affect whether the scottish champ gets a group place is what happens to Russian clubs. If they're barred from european competition next season then the spot that would have been taken by the Russian champion is vacant. 
If so, the likelihood is that the Scottish champion would get that place, making what happens in the CL this season irrelevant. It would also likely mean that the Scottish runner-up whould start in QR3 of CL qualifying, guaranteeing them an EL group place at minimum. 
f Russian clubs were reinstated before next season then we're back to the 'who wins the CL' thing again. So, still some moving parts. It's more likely than not that the Scottish champion will be in the CL groups next season, but it's still not guaranteed.  
We could do with Putin stepping things up a bit just to make sure Russia stays banned….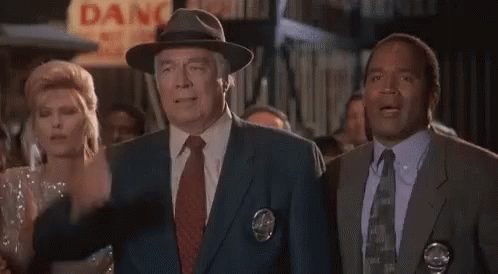 Incidentally, Moravcik 67 also explains just who has earned the points that have elevated Scottish football to such dizzy heights….
The other topic that has come up this week is the discussion over who has contributed most to Scotland being in a position to get an automatic CL place next season. The short answer is that it's Celtic. But the evidence used to support the argument is wrong. 
Scotland finished on 33.375pts last season, good enough for that 11th place ranking. The evidence doing the rounds used to show that Celtic has contributed more points is attached. It does show that Celtic have gained more points than Rangers over the relevant 5 seasons.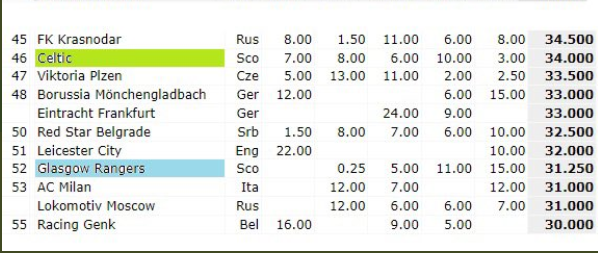 Unfortunately, it's also the wrong coefficient. UEFA uses two completely different coefficients systems. – Club coefficient – determines ranking for seeding and pots in group draws. – Country coefficient – determines the number of club entered, and their starting round 
The two coefficients are not the same, and you don't always gain the same points for the national coefficient as you do for your own club coefficient. The picture above is for Celtic's own club coefficient. It is completely irrelevant to Scotland being ranked 11th 
The attached table shows the contribution by each club over the 5 relevant seasons to our national coefficient. The actual coefficient is an average of pts contributed by each club. We had 4 clubs each of the 5 years, so the total points gained is divided by 4. 

As you can see, Celtic have contributed most points. It shows that the whole "Rangers got that CL place single handedly" argument is about as real as their claim to be the same club. That's not to say they haven't contributed a hell of a lot. They clearly have. 
And when it comes to next season, they'll be the main provider of points for Scotland. All a bit silly anyway. The point should be that the more clubs you have contributing regular, decent points, the higher up the rankings you go. Having 2 again has made a huge difference. 
Hearts will finish 3rd in the league and, unless Hibs win the Scottish Cup, are guaranteed European group stage football next season – the first Scottish club outside of Celtic and the Old Firm to appear in the groups since Aberdeen in 07/08. 
They'll start in the EL playoff. Win that, they'll be in the EL groups. Lose, and they'll drop in the ECL groups. Of course, Hibs would be in the same boat if they won the cup. It can only be seen as a positive for Scottish football.  
Here at Etims, we might not be the cleverest team on Celtic social media, but we can spot those who are.
Which is sort of the same thing.
It's cup semi final weekend, and you might have noticed that social media isn't full of fans from the other side of the river claiming they are going to emerge triumphant,
In fact, the silence is rather eerie.
They've been all caught up in their European adventures, which has distracted their fans from what has been a disaster domestically as they have fell apart in the face of a determined challenge from Celtic.
And that misery has yet to be fully driven into them.
Defeat on Sunday at Hampden will all but finish their domestic season, and whilst they will take a little bit of hope in that it will free them up for a continental challenge, they simply haven't the strength in depth even for that.
They have surprised many of us by getting this far, and it has been attributed to luck and so on, one commentator on social media thinks it's because the refs in Europe haven;t got it in for them, but he's clearly a bit doo lally, ad it would be churlish not to recognise their success,,,but let's face it, it will make sunday even sweeter if a sound thrashing can be handed out.
Celtic are getting stronger and stronger, which is great, and if we do have to play any qualifiers, the players should be ready for them.
Kind of ironic that the one time we have a settled squad in the summer is the one time we probably won't need it.
The manager is keeping things close to his chest ahead of Sunday's game, and whatever he's been doing on the training ground will become apparent when the match starts,
I'd be very surprised if he isn't working on cutting out the threat from crosses and set pieces, especially given that the last time the two met Celtic were disciplined enough not to concede a penalty, which must have been worked on pre match.
Celtic will probably play quite high, and with fitness a factor , combined with their midweek exertions, another 7-0 could well be on the cards,
That'll put their gas at a peep.
There's been a bit of controversy around what can be taken into the ground and what can't on Sunday.
The usual Tifo displays are banned, and the North Curve Celtic fans have asked that everyone brings a tricolour, although this nonsense about hanging out the flag of war should be dropped immediately.
The flag represents peace, as you well know, and peace in Ireland is the single most important thing for the island, and there is no need to ramp up tensions with any reference to anything apart from the football.
By all means turn Hampden into a sea of green , white and orange,
But not for any other reasons than celebrating our heritage.
Which means no songs about roamin in the gloamin, with or without your shamrock, , and no add ons about the elimination of any religious groups.
We are about to have a period of much rejoicing…so let's not spoil it.
Last time out we considered this….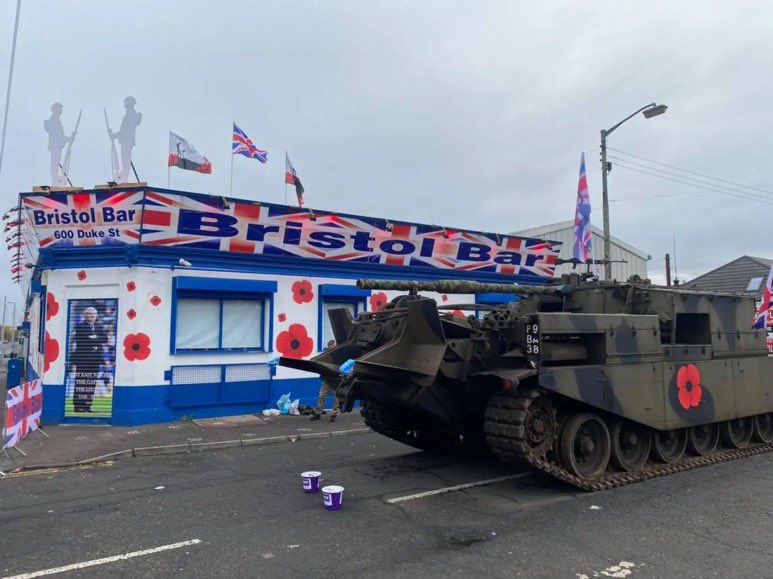 Dave sim 
 Naw, I said we'd get a tankin on sunday
Today..