Police Scotland have issued an appeal for anyone who may have seen whoever it was that chucked a bottle onto the Ibrox pitch on Sunday.
This replaced an earlier appeal asking if anyone knew why the home side didn't get their penalty. They didn't find that out either, but Bobby Madden has been given next weekends cup semi final between the two sides, so one can conclude steps have been taken to prevent a re-occurrence.
As expected, no one came forward, largely down to the fact that being labelled a grass is a massive character slur in their environment,
What's not so surprising is that the cctv, stewards and police on duty have failed to identify the perpetrator.
Which kind of makes it pointless trying to find out who caused the Celtic physio to have stitches with another missile, and as ever, Celtic don't seem, publicly at least, to be too bothered about the safety of their staff or players.
With the cup game set to take place after the Ibrox sides matches with Braga in the Europa League, the potential for trouble before, during and after the game is massive, especially if they were to be facing the prospect of a season ending defeat.
Hampden does have better stewarding and security, you'd have to be Tessa Sanderson to reach the pitch with any objects thrown from the stand, but their support has been known to invade that pitch recently, which they said was to protect their players after Hibernian had won the Scottish Cup.
An act which was preceded by ..you've guessed it..bottles thrown onto the pitch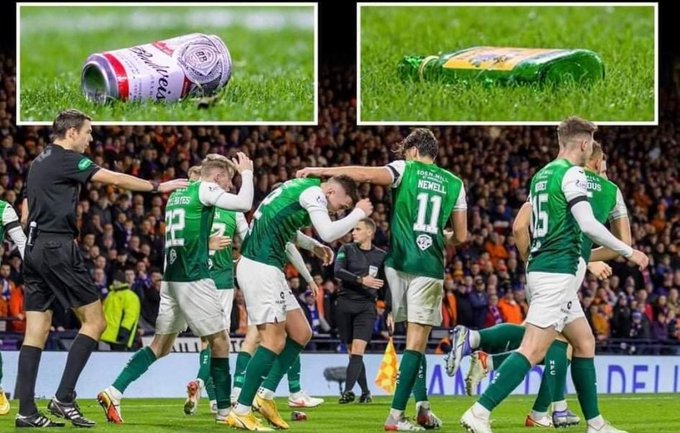 Sadly, the media backed them on their claims they were protecting their players, even fabricating stories about Hibs fans spitting at Ibrox players, , rather than condemn another outrageous act of public disorder.
Thus giving them licence to behave badly.
Whether the media will mention it or not, the problem isn't one of public disorder, nor one of drunken behavior, it's one of bad behavior from the supporters of one team.
sure, there are minor incidents connected with isolated incidents with other clubs, and Celtic fans are not exempt from this, but by and large, the public disorder from Ibrox fans is not only predictable but on a scale far beyond the support of anyone else.
And as long as politicians and the games governing bodies ignore that simple fact, then things are going to get worse.
Does someone have to die before something is done about it ?
How long before a player is attacked, possibly with a weapon. As this video shows, it could have happened on sunday….
https://twitter.com/i/status/1510909235919470593
the possibility of strict liability has raised it's head, where a club is held responsible for the behavior of their support. It's practised within UEFA matches, and has seen Ibrox closed and the club fined.
Was that the example Neil Doncaster referring to when he dismissed the idea ?
"Strict liability simply does not work, as the repeated fines for specific clubs in Uefa competitions season after season demonstrate very clearly,"
Is he saying that "rangers " fans have been punished for that in Europe, and they still don't behave ?
Or is his argument based on financial reality ?  "rangers " can't afford the fines and certainly can't afford to have their ground shut.
Doncaster has his own ideas….
The answer must be far harsher and targeted punishments for the individuals who perpetrate the crime, including a more regular use of football banning orders and, where necessary, custodial sentences. 
As this weekend has shown, however, you need to catch them first. and even when they are caught, as in the attack on Neil Lennon, prsecution cannot be guaranteed, and Doncaster seems to be setting himself up as judge, jury and executioner here, and although our court system is knackered, it's still against it's basic principles to guarantee a conviction.
"There are two main forms of strict liability which have been proposed and neither of them will work. 
Notice the subtle combination of facts and opinion here, blended in such a way as to join seamlessly
"The first is to punish the home club for any transgressions in their ground, whether it's by the away fans or home fans. 
Which isn't the strict liability needed. Clubs should be rsponsible for their own fans, home, away or in George Square.
Unfortunately, this will act as an incentive for some away fans to misbehave, knowing the home clubs will suffer the punishment for their actions. It will inevitably result in clubs refusing to sell tickets to away fans, with the obvious detrimental impact on our game.  
What he's saying is that some fans will go out of their way to earn a fine for their opponents. A completely ridiculous idea with absolutely no precedent that even hints that it would be a problem.
As Doncaster speaks for the clubs, and only the clubs, it's perfectly clear which one is behind this speech.
"The second is to make clubs strictly liable for the behaviour of their fans at away matches and this will simply lead to clubs refusing to sell their fans tickets for other grounds, for fear of being punished if they misbehave. 
Aahh….and which club would that be ? No other club has a problem with fan behaviour, and since the blue pound is needed by other clubs we're probably on the point of spotting why Domcaster doesn't want strict liability.
"The significant investment by clubs in CCTV technology means it's far easier to spot and act on incidents caused by the tiny minority of fans who misbehave. Clubs, footballing authorities and the overwhelming majority of decent fans abhor the actions of those who engage in criminal acts at games.  
Two major incidents on Sunday, both have gone unpunished because no one has been identified and prosecuted.
"It's only by targeting these individuals directly and punishing them to the full extent of the law that we will provide a meaningful and effective deterrent." 
If they can be caught, which they haven't been.
The only solution , as far as I can see, is to punish the clubs for the bahviour of their fans. Despite what Doncaster says, it does work and UEFA would have dropped it if it didn't.
It's no coincidence that "rangers " have been punished more than others by this rule, and let's be honest, Celtic have had the odd fine or two as well.
And I'm sure if we were faced with ground closure we'd tidy up our act a bit.
Mind you, when a fan can get into the game undetected, (names removed in case they make an example of him ) by getting a job at an Ibrox kiosk, hiding his uniform in the toilet and going in with the Celtic fans, it' clear that security isn't their strongpoint over there.
As usual, the Celtic board have not commented on any of the incidents, and they will no doubt claim that they have done their complaining using back channels.
That's not good enough.
The appeasement , or perception of appeasement, will lead our own support to take matters into their own hands.
One of the staff was hurt, and yet the club, or the authorities, have done nothing to identlfy the culprit or demand assurances that it won;t happen again.
And there's only one way to assure it won;t happen again.
Remove their allocation for the Cup semi final, and when those in authority say it will lead to trouble on the streets instead, then you have all the proof you need that they are living in fear of the Ibrox support and they have absolutely no intention of curtailing their bad behaviour.
What they seem to want is to provoke Celtic supporters into retaliation , lending credibility to the two cheeks of one arse theory.
The next financial collapse at Ibrox can;t come quickly enough for me.
Let's hope it's permanent this time.