Despite some of the worst behaviour seen off the pitch at a football match in many years, the media are strangely silent when it comes to condemnation of those involved.
In the past, we've seen headlines such as "shame game " which have led to political interference with football, and all sorts of articles suggesting ways to punish perpetrators, and speculating as to the causes.
Unfortuantely, since the guilt lies entirely within the remit of the "rangers " football club, no one can suggest that closing catholic schools is the answer, and therefore the media is completely out of ideas to solve the problem.
The injury to a Celtic physio was the result of several missiles thrown towards the Celtic players.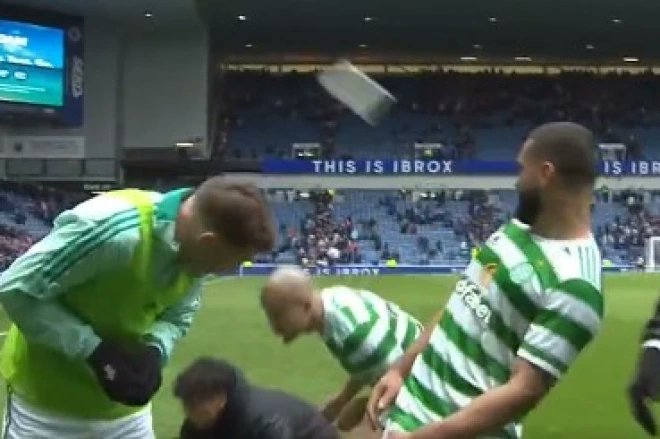 You'll notice from this picture others trying to avoid what can only be described as a shower of objects thrown towards them. It's surprising only one person was injured.
At half time, broken glass found it's way into the goalmouth that would be occupied by Joe Hart, who would have been well within his rights to refuse to continue the game, but hey..it's the old firm..it's a special atmosphere and makes for great tv….
Some are claiming that a fan stood on a bottle and threw the broken bits onto the park.
I'm having trouble with this theory. Try standing on a bottle to break it, especially a brown beer bottle…though it could have been buckfast.
Even if you succeed the glass will not crumple underfoot, it will end up anywhere in a fifty foot radius, which means that whoever was nearby would certainly have not only noticed it but had a bit of a moan about glass flying around.
As for throwing the bits what is a considerable distance ….try that as well. You won't cover the distance that seems to have been covered by these fragments.
It's more likely that a bottle was thrown and crashed off the crossbar, shattering over a fairly large area, which would explain why so many bits were found by so many people.
Unless , of course, one of the groundstaff put it there at half time. An unlikely theory, but almost certainly the one that the SMSM would consider had the incident happened in front of the Lisbon Lions stand, for instance.
Missiles were also launched towards Portuguese winger Jota when he tried to take a corner kick. Again , no one is highlighting this.
No one is demanding an investigation into the levels of security at Ibrox that allowed those who cleane the place up after a game to collect a number of glass bottles that didn't find their way onto the pitch…
The Herald covered it, even mentioning that the bottles were found in the "Rangers End ", which is a bizarre way to describe all but 700 seats out of nearly 50,000, and interestingly, no one on their staff would put their name to the story…
Several glass bottles found in Rangers end in aftermath of Celtic clash
Still a little nervous, the reporter went on….
SEVERAL glass bottles were recovered following yesterday's Old Firm derby at Ibrox between Rangers and Celtic. 
It's believed that the shocking number of drinks bottles were spotted in a Rangers home section of the stadium.
It's believed ?
or further on….
A mixture of Buckfast and Vodka half-bottles could be seen lined up on a an advertising wall, as it appears fans situated in the Rangers section managed to sneak in the alcohol.  
It appears ?
Reminiscent of Chris MacLaughlin ( BBC Scotland ) reporting that "Celtic say " a staff member has been hurt.
Although the Herald covered it, they were carteful not to actually state the facts, only to admit , seemingly reluctantly, that incidents had taken place.
Of course, the media did hold their breath for a moment when fat funster Ally McCoist gave ange Postecoglou a hug, dreaming up all sorts of headlines that could further attach blame to Neil Lennon for starting a ruckus in a previous and well documented shame game…….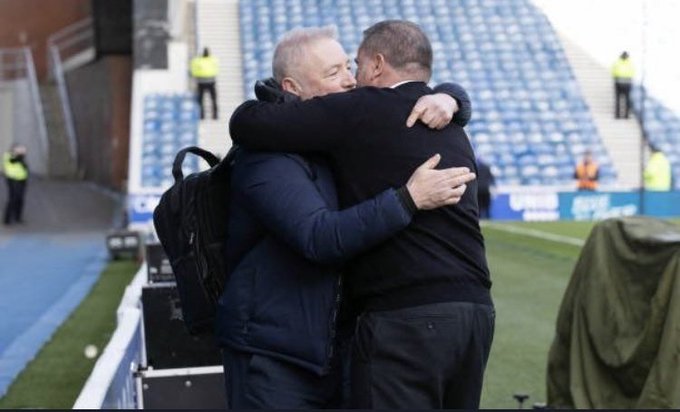 but no one has mentioned this as chubs behaved himself on this occasion, although he sort of let himself down post match….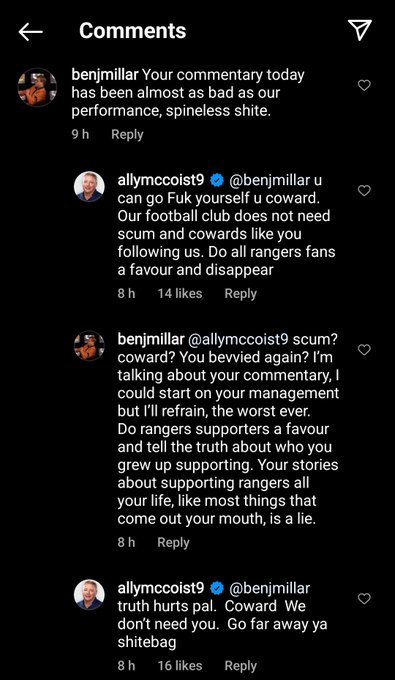 But you won't see this reported anywhere else either.
Far and away the most serious incident took place in Rutherglen, where a busload of Rangers supporters attacked the Vogue public house, and left a Celtic supporter needing medical attention for a bleed on the brain.
No one, to my knowledge has been arrested, and the front pages, the radio and the television seem to have decided not to use their considerable influence to seek out the guilty parties with the attention such a serious incident demands.
The police haven't made any appeals for information, although I may have missed that, though even if they have and I've missed it, it's not a particularly enthusiastic appeal, is it ?
What we saw on Sunday was yet another instance of supporters of one football club behaving in such a way that demands severe punishment, something that will demonstrate to them that their long history of bad behaviour will no longer be appeased.
Talk of strict liability, that is , holding the club, company or both responsible for the actions of their support, has been pushed to one side, and presumably that's because the stricken Glasgow giants haven;t got the money to ride out any major loss of income due to fines or stand closures, and having done so much to keep an entity in business over there, the establishment is unlikely to do anything that might undo all their good work….
UEFA, on the other hand, have closed stands at Ibrox, often for far less than events like those on Sunday, which were witnessed by representatives of Sporting Braga, who will play at Ibrox in the Europa League fairly soon, and must surely be considering demanding assurances on the safety of their players, staff and support.
Indeed, with the game being shown around the world, it's surprising that the media haven't moved en masse to try to highlight these problems in order to preserve the image of our game, even if it;s just for advertisers and sponsors.
Which were noticeably absent at ibrox, by the way….
In fact, the archway used at the beginning of the game as an entrance has been disposed of….. (Record )
Rangers 'Old Firm' archway used during the derby clash with Celtic has been snapped in the Ibrox bins.
Both teams walked out from the tunnel and under the blue 'Old Firm' branded arch before kick-off between the bitter foes. 
The Old Firm brand took it's place on the advertising boards around the ground, and no one wants to know why ?
The loss of revenue alone runs into tens of thousands, perhaps hundreds of thousands, and it's hard to believe that boards this game weren't booked up weeks in advance.
At what point did the club/company decide to go with the old firm brand , and why ?
It makes no sense to spurn thousands of pounds to put something on a board that doesn't even solely belong to them.
Unless they knew that there would be trouble, and they wanted the world to associate it with the old firm, and not with " rangers ".
A clever piece of branding that shares the blame between two clubs rather than just one.
With the Champions league money now almost certainly out of reach for them next season, they need to have something to sell, something to at least partially make up for the loss of that income stream.
The old Firm it is then.
And our board will do the square root of fuck all, yet again, to remove themselves from this association with a club/company that once again, in the eyes of the world, have disgraced themselves with behaviour that is fast becoming the norm for them.
And allowing those outside the Glasgow bubble to believe that Celtic and "rangers " are two sides of the same coin.
We're being painted as a part of something that thrives on hatred , bigotry and violence.
And still, our board remains silent.
Then again, would anyone report it if they did say something ?
Somehow I get the feeling they'd be accused of stirring up trouble.
But that doesn't matter.
what needs to be said must be said, and what needs to be done, must be done.
Celtic need to publicly state that they want no part of this old firm nonsense, and follow that up with outright condemnation of the security at Ibrox on Sunday.
Appeasement hasn't worked, so now it's time for a different way of thinking.