The children who were allegedly assaulted during their time at Celtic Boys club have been granted permission to bring a class action against Celtic PLC.
The BBC reports;
A judge has given the go-ahead for sex abuse survivors to launch a multi-million pound claim against Celtic FC.
Advocate Ian Mackay QC, representing the men who were abused while at the youth team, said Celtic FC and the boys club were "intimately connected".
Celtic FC denied the claim and said the organisations were separate entities.
During a virtual hearing of the Court of Session on Tuesday, Lord Arthurson said the legal criteria for allowing the action to proceed had been met.
The 22 former players came forward seeking compensation after being sexually assaulted while playing for Celtic Boys Club.
They brought "group proceedings" against Celtic FC PLC – a procedure similar to US class action style litigations.
Group proceedings were brought in to Scots law in 2020. They allow groups of two or more people with the same, or similar, claims to raise a single action in the Court of Session. 
On Monday, Mr Mackay had told the court that lawyers for the men uncovered evidence which showed apparent close links between Celtic Boys Club and Celtic FC.
Mr Mackay said: "Celtic Boys Club was intimately connected to Celtic Football Club – it was branded as being closely connected to Celtic Football Club.
"Players played in Celtic strips and wore blazers which were virtually identical to those worn by Celtic FC players.
"Football kit, holdalls and training gear were provided by Celtic Football Club. The pursuers' understanding was that they were playing for the boys club of Celtic Football Club. 
He added: "Celtic Football Club exercised control over who played for Celtic Boys Club because scouts recruited players who they considered were good enough to play for Celtic Football Club.
"The Boys Club was a nursery for senior team players. Celtic Boys Club was in effect what could be now known as the academy of Celtic Football Club.
"Celtic is vicariously liable for assaults."
Roddy Dunlop QC, for Celtic FC, had told Lord Arthurson that the action should not be allowed to proceed.
He said his clients believed they would not get a "fair trial" because documents which would be key to their case – that the boys club and Celtic FC were different entities were missing.
Lord Arthurson said the issues being faced by Celtic were not so great as to force the action to stop.
He also passed a court order prohibiting the identification of the people who had brought the legal action.
Lord Arthurson said: "The common issue in the proceedings is the question of the vicarious liability of the defenders for the actions of these individuals. The court accordingly grants the permission application."  
Good.
But what the club should be doing here is dealing with the situation in a caring and compassionate way towards the victims. Pretending it never happened or blaming it on others is unacceptable.
Equally unpalatable is dragging the victims through the courts, forcing them to relive a traumatic period of their lives.
However, there is another side to it.
The question of responsibility, directly and indirectly for the crimes that were undoubtedly committed.
Celtic Boys Club was a separate legal entity, and no matter how hard a lawyer can argue, or even how morally correct that argument may appear to be, that it wasn't, liability will be difficult to prove.
The crimes were those of individuals, many of whom have been punished in law.
Corporate responsibility is an entirely different and complex matter.
Where does that line of culpability end, for instance ?
Is it with who hired the perpetrator, or who hired the guy who hired the perpetrator ?
Did someone forget to do the necessary checks ? Or did some forget to remind him ?
Effectively, the case culd drag on for years, and the only winners will be the legal teams, and lawyers have a habit of telling their clients they have a good case.
Until it looks like they are going to lose. Then it will be someone elses fault, they say, as they type out the bill…
There is no easy solution, but there is perhaps a better solution.
The club should, if they have not already, undergo extensive interviewing of all those who played at the boys club at the time, and find out who has been abused.
All done in secrecy, all done in the presence of trained professionals who are given the task of looking after the welfare of these kids while they are being interviewed.
Apart from anything esle, it may lead to exposing and convicting others who abused who may have escaped thus far unpunished.
Then, when the evidence has been amassed, and remember, it;s not the kids who are on trial, then suitable payments, or other compensation, decided and agreed with each victim, should be paid.
No amount of money can replace in some cases what were lost childhoods, and Celtic, whether they like it or not, are in some way responsible.
It's time to do the right thing and at least try to make up for what happened to these kids.
The moral dimension is more important than any financial issues.
But it must be done compassionately and fairly.
Elsewhere, it's back to action tomorrow with a home game against St mirren and a trip to Livingston at the weekend.
When we looked at the current form table yesterday, it was pointed out that the second and third best sides are our next two opponents.
Thats because they haven't played Celtic for a while !
Or it could be that they're playing well.
No, it didn't make me feel more confident either, given the lollygagging of late from the team.
A return to form is essential, and for that to happen the pace and urgency needs to increase.
Whilst we've had a couple of players missing, players who made a huge impact in the first half of the season, by and large we've coped with it,  it just so happens that on the other side of the river, it seems the new club/company are having similar issues.
Except that when they lose the support of their most influential players, in this case the middle of the field trio of Madden Beaton and Dallas, it hurts them more.
They're not getting those crucial breaks in the box any more, provided by the creative imagination of the trio, and thats worried those down Ibrox way.
So much so that Gio van Bronckhurst has asked his bosses for the introduction of VAR to make up the shortfall, completely missing the point that with VAr the title race would have been long since settled.
Perhaps it was the club/company criticism of referees, which included demanding and getting meetings with the SFA, or perhaps it was ..or is…the intense social media pressure which relentlessly pointed out the frequency of these assists, the amplification of the perception of bias.
Whatever it is, they're not getting the help they used to, and at a time they need it the most…
Perhaps their friends at Hampden are sick if this incarnation of their favourites, and have decided to accelerate their demise.
After all, they've already put the procedure in place to replace them with another version of the rangers.
And so to the lighter stuff…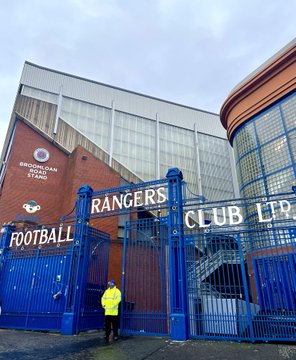 R. St. Parsley 
 Another disappointing turnout at the Sell Morales auction   
Today