Celtic managers, if you were to believe social or mainstream media, come in two types.
Shite, or Not Shite.
This can vary on a week to week basis, depending on results or if they do as we, the support, think they should when it comes to selections, formations and tactics.
Despite still being three points clear at the top of the table with just ten games left..it might be eleven…Ange Postecoglou is now a shite manager because Celtic didn't beat Hibernian at Easter Road.
Fortunately, the bubble at Ibrox has well and truly burst, as they failed to hold on to a two goal lead against Motherwell, choosing instead to self destruct and throw away a chance to close the gap at the top.
Thats the way it goes sometimes.
However, that's not to say Ange is exempt from criticism, he maybe could have made a few changes earlier when , as he put it, the ball wasn't bounding for his players, a polite way of saying a few of them were having an off day, and although his style of play is exhilirating to watch, sometimes those quick passes don't come off, sometimes the ball goes the wrong side of the post and sometimes the opposition will play above themselves.
Sean Maloney had his team organised yesterday, just as the Bodo glimt coach had a plan for his.
The problem, as far as i can see it, is that having a set style where a manager refuses to deviate is easier for the opposition to try to counter.
The plan is to play at such a tempo that the opposition can;t cope with it, either falling to an early blitz or being worn down over an hour and a half of pressure.
Sometimes, though, you get the feeling that when it doesn't work early on, and things don't go to plan, the players start to lose a little bit of faith in the system, which is natural, and we've seen them return to the sidieways football of old, where patient probing for an opening slows the game down, instead of consistently forcing the play, which will force errors and eventually lead to goals.
We don't so much need a plan b as someone , on the pitch, to force plan a through when those doubts creep in.
Calum MacGregor is a little too cerebral for this role, but may yet grow into it.
But it's true that you don't know what you have until you lose it.
The last couple of games have been crying out for Scott Brown to strut up and down the pitch, injecting that enthusiasm not by cajoling or persuading, but by example.
Like MacGregor did against "rangers ", in fact.
As the season moves into it's final phase, players who have been over the course, proven winners, such as MacGregor, Forrest , even Biton and Rogic, need to step up a bit more.
The new players will need a hand in getting used to the circus of Scottish football and it's accompanying hysteria.
Speaking of Rogic, who got into his head when he was over in Australia on international duty ?
He has come back a different player, and that may be that his trip abroad made him a little homesick. Before the arrival of Postecoglou, he wanted away, to be closer to home could have been a factor, and maybe he's starting to think that way again.
Or maybe he's just tired. He has put in some tremendous shifts this term, and for much longer than we're used to.
Nir biton might be a liability sometimes, but his steadiness in midfield, combined with his, er, pragmatism when it comes to stopping opponents is also valuable when protecting a lead.
Forrest has been over the course as well, and can pop up with vital goals at vital times, as he isn;t affected by a fear of making a mistake in perhaps the way a less experienced player is. He may be suffering the effects of being booted up and down the park for a decade, but he's certainly one to call on when a defence is proving too stubborn to break down.
And MacGregor ?
He should stop trying to be all things to all men, and play his natural game. Whatever that is.
Social media has seen an awful lot of wet pants flung at the screen from hoops fans, and you would be forgiven for thinking it was Celtic who were three points adrift and struggling to get a result.
Have a look at this, the current form table….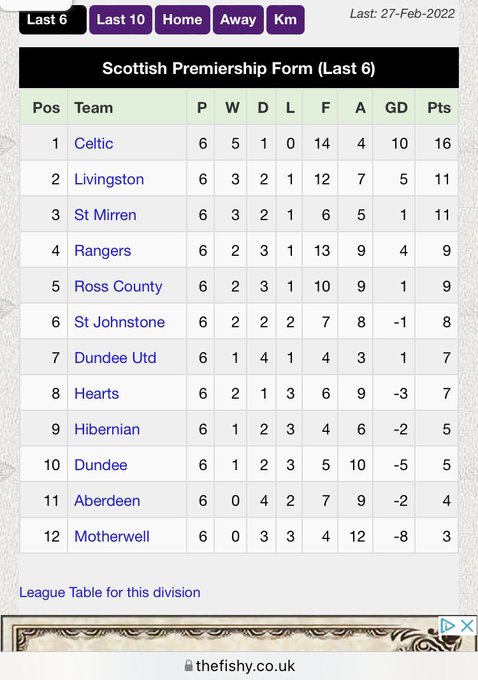 We've won more, scored more and conceded less than anyone else.
If you don't count Dundee united's goals against, that is, so I won't.
Maybe we thought that the style of football we play would have meant we would storm to the title this season, and maybe we still will.
But as far as i'm concerned, I'd take stumbling across the line and winning it on the toss of a coin, as long as we win it.
You might feel a little bit down this morning , despite the league table, and perhaps a feeling of impending doom is beginning to settle in.
Don;t worry. Here's a video of alan MacGregor in action to cheer you up…..
Allan McGregor:

Fails to make 4 of the easiest saves/punches/catches he has faced in his entire career. All 4 of these chances lead to the opposition leaving with a draw. That's 6 points dropped in total.

If Allan McGregor had made these easy saves, we would be 3 points clear. pic.twitter.com/8VHfaPGrCv

— Carson Ritchie (@carsonritchie__) February 27, 2022
If you think we've got something to moan about, then you should look at how they see things from over the river…
Or, indeed, at the BBC….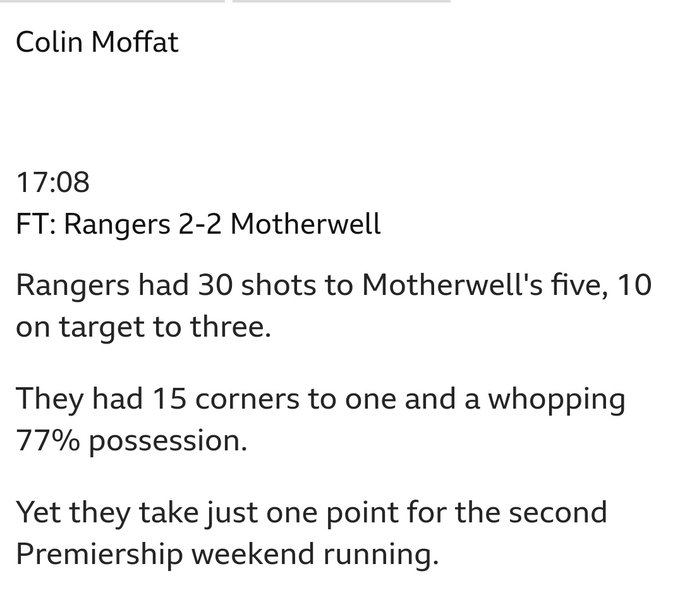 Or in the stands…. after Celtic drew…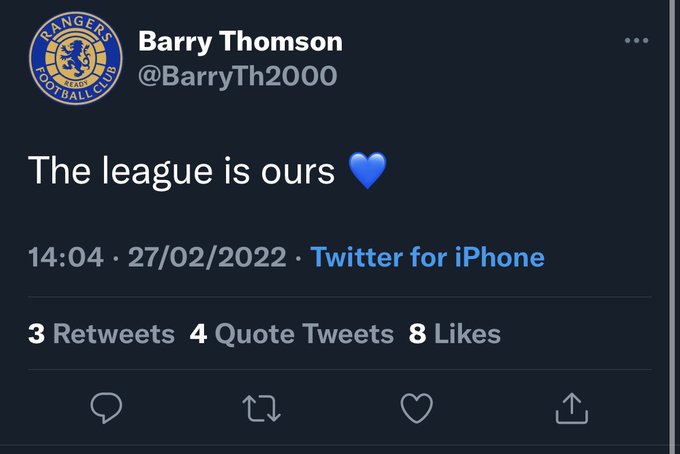 Then after they chucked away their lead….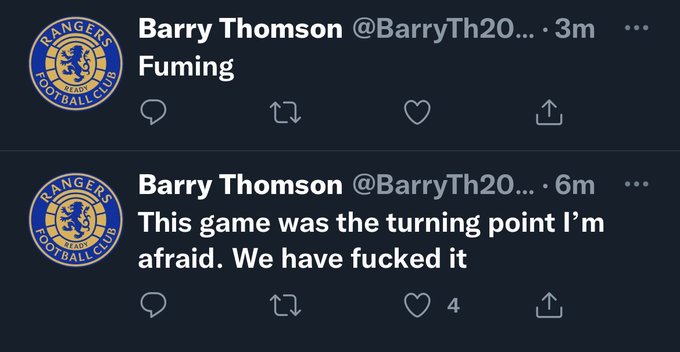 So remember this, the season is three quarters done, one trophy is in the bag and we sit on top of the league.
Without sounding like a happy clapper, maybe we should, er start to sound like happy clappers and do a wee bit of supporting. It's not as bad as some would have you believe.
Yes, there's room for improvement, but we're not in a bad place.
In fact, let's cheer ourselves up with this image, and ponder what it might mean…