Sometimes when you write this nonsense, you get the feeling that certain people are reading it, if not fully understanding it.
Last week, we asked Ange, if it wasn't too much trouble, to ensure a spirited and enthusiastic performance in the second half of games to match the whirlwind start in the first.
What we should have clarified is we meant that attitude should be in both halves of the same game.
Yesterday, in dispatching Raith Rovers from the Cup, the team did have a spirited second half, but didn't bother with the first.
But hey, baby steps.
The side eventually ran out 4-0 winners, but there was a lethargy in the opening forty five, although credit does have to go to Raith for making a fist of it.
Not as much credit as certain BBC sportsound reporters gave them, one actually telling the Raith boss that it "wasn't a 4-0 game " , when most outlets printed that exact score, as a way of trying to make the game sound much more even than it actually was,
Wind , rain and the high cost of living all contributed to a smaller crowd, and no doubt the absence of the Green Brigade made for a flatter atmosphere…all they have to do is stop setting things on fire and they'll be allowed out to play again…. but a 4-0 is a 4-0 win, and as it's a cup game one can safely say job done.
As usual, social media needed a whipping bhoy or two, and James Forrest and Mikey johnston would be better advised not reading some of the comments, the former being told he's done and the latter being reminded he's never really started, bith of which claims are ludicrous, and both claims won;t help the situation.
Forrest has been booted up and down the park for a decade now, and that kind of wear and tear will have an effect, whereas Johnston will try even harder to silence the critics, which means he'll take more risks and make more mistakes.
The reaction to both has highlighted the difference between fans and supporters….
Anyway, I'll bet Greg Taylor was glad of the respi
Last week, in a you Tube interview, Matt Smith, who was the captain at Brisbane Roar under Ange Postecoglou, talked about what made the boss angry….
"Yeah, he gets angry. He gets angry when you don't follow the principles.
"He doesn't care about making mistakes. If you make mistakes trying to do the right thing he'll praise you and support you, he'll back you one million per cent. If you start not being brave, not working hard enough, if you're cheating or cutting corners he'll be angry.
He punched the whiteboard when we played away at Perth. We scored with the last kick of the half to make it 2-2. I remember him at half-time, all of a sudden he erupted about not moving, not showing, not adjusting, not being brave enough and hiding. Not doing what we had been doing week in week out.
"That's what makes Ange so passionate about his beliefs. If you stop doing that, the system breaks down. All the time you are doing that, it's like a wave, you keep riding.
"He's very determined about how he wants his teams to play and his ethics culturally within that group. If you step outside of that, he's there to educate. It's all about the why? He had a very good way of articulating his beliefs."  
If you put the sound up in this video, from yesterday, you'll see that Nir biton found out that the manager has a
very good way of articulating his beliefs."  
That kind of passion , in a game against lower league opposition, is indicative of the high standards he demands.
And you could tell, on the whole, he thinks there's still a ways to go before the players meet them.
One reporter asked him..
Has this squad surpassed your expectations?"
"They're nowhere near my expectations"
One suspects until Celtic are crowned intergalactic champions against the top side from Mars, he'll always be looking to the next level.
The cup now moves on to the quarter final stage, with most of the wee teams knocked out, which is a shame.
For their supporters, the Cup is the stuff of memories, and i'm desperately trying not to sound patronising here, but I've personally never really minded losing to a team from the lower leagues.
BBC Scotland's Adam Miller has put together a three part history of the cup, each episode ten minutes long, and I watched the first two the other night.
Thats so you don't have to.
He couldn't help patronising the part time players and full time supporters of clubs that look forward to the cup games, which I found distasteful, and even managed to take away credit for possibly the most enthusiastic performance I ever witnessed, when Clyde knocked Celtic out a few years ago, by focusing entirely on Roy Keane.  A ten minute programme managed about two minutes on this.
My own memory of that game was the charge forward at kick off from every Clyde player to hunt the ball, and it was both brilliant and terrifying as they managed to keep it up throughout the game.
It was their big day, and no one can begrudge them that.
Interestingly, that episode featured cup shocks, but forgot all about Berwick dumping a high flying Rangers, who made a European final that year, but i'm not suggesting an editorial agenda….
And Queens Park, who have won a cup or two, never got a mention.
A pity, there's a great programme to be made on the Cup, just not by Adam Miller and BBC Scotland.
On Saturday, we had this…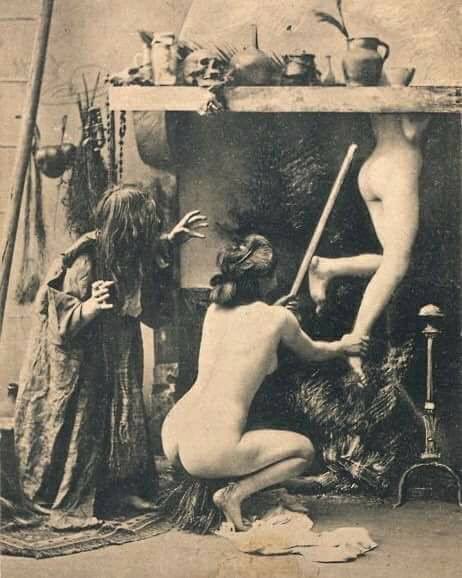 R.St. Parsley 
 Kin ye see whit's blocking ma passage, Senga ?   
Today…