Not from me.
But from the media.
A convincing 3-0 win away from home and an all round excellent performance was largely put down by the media as coming about because Dundee United were poor.  They allowed Celtic to play football, no one even suggested that the intensity and pace of Celtic's play meant that dundee united couldn't even manage to kick people.
Although to their credit one of their subs, Calum The Butcher,  managed a potential leg breaker on David Turnbull , leaving Kris Boyd to sum up Scottish football in an unconscious but entirely accurate way..
"It's a red card all day long. There's no doubt about it. He's high, it's at speed and he's in endangering the safety of his opponent.
"David Turnbull was lucky to get away with it. It's a red card all day. I know I said it the other night but the sooner we get VAR in Scottish football the better because that's a red card.
"David Turnbull is very lucky that he didn't get a really, really sore one."   
Couldn't even bring himself to mention the name of the offender, but twice said that the victim was "lucky " …..
Lucky to get away with it…..presumably next time he's hoping that luck runs out.
What he , and everyone else should have said, was that there was no place for this kind of assault in football.
Is it any wonder that Scottish football fails to raise significant broadcast income when the game is sold as blood and snotters wen the teams who try to lift the standard are decribed as "lucky " when they don't end up on a stretcher ?
On BBC Radio Scotland when Tom Rogic scored a classic goal, beating four men before curling one into the cormer, one pundit asked why no one stopped him.
I'm not suggesting they should have let him carry on, but should they not have been praising the entertaining play rather than criticising those who didn't beat him to a pulp as he swept by ?
If I want to see people getting planted, I'll join a taxi queue when the nightclubs are closing.
sky sports couldn;t hide their admiration for a fantastic display of football, and some "magic from the wizard of Aus "
Calm doon chief pic.twitter.com/xBMvoig68L

— Tam sellic son (@TamsellicsonIII) December 5, 2021
Having said that, if Celtic ever decide to copy the celebrations of Chesterfield yesterday, I'm out….
According to the scoreline, this must have been for winning a throw in.
We have to strike a happy medium.
Celtic are getting stronger on the pitch, that's undeniable, and when the window opens it seems certain the rebuild will continue.
That kind of worries an establishment that needs a strong Rangers, in any form, to flourish.
It's no secret they are skint, and no secret that the recent share issues are being used to keep them afloat.
Even Dave King knows they are in trouble, and has made comments about the club/comapny that appear to be in direct contrast to the official company line.
So, given that it's happened before and they got away with it, except for the formation of a Lazarus club which the gullibillies have welcomed as if its their own, then there is a reasonable suspicion it will happen again.
Cheating, that is. The bending of the rules to assure them of the title and the funds that come with champins league group stage qualification, all but certain for Scotland's champions.
To distract football fans from asking questions about this..the media are already on board…incidents such as the Kyogo offside are played up to encourage supporters to argue with each other, and this one seems to be the strangest of all, and the hype surrounding it suggests that it will be referred to later when a major decision goes in favour of "rangers ".
This isn't a an anti Celtic agenda, it's a pro Rangers one.
It's just that Celtic have the largest and most vocal support, and anyway, given the league standings, it suited the "rangers " for Hearts to get beat as they are also breathing down their necks.
So Kyogo, who wasn't offside gets the reputation of being a cheat and a diver now gets personal abuse on to of the racist videos.
All encouraged by the media who have yet to have anyone explain that the goal was onside because he was behind the ball when it was played, regardless of anything else.
He timed his run to perfection, and even if there was any doubt, the rules state that the forward should get the benefit of it.
This was offside…..
Anyone seen that Head of Refs?
Rangers v Motherwell this season. pic.twitter.com/XXqQjuqa3u

— Lint (@Zeshankenzo) December 4, 2021
On Saturday, the head of referees Crawfor Allen was on BBC sportsound to discuss Kyogo's goal….
"I've said all along since I've been in this role that I'll support referees when I can and I'll come out and say when there is an error.
"On this one it's absolutely understandable, from my point of view, at real speed that, as the ball comes across.
"Kyogo, is he in front of the defender? Yeah, he probably is.
"You've then got to look at the angle of the ball and the speed of it at real time.
"At real time, at real speed – it's very, very tight. It's an understandable decision, it's one that if we had virtual offside lines, that VAR can put on, could help with.
"It's something in the big picture that we are looking at.  
He carefully didn;t say he was offside, he said he was probably in front of the defender. Which if he was behind the ball is irrelevant, but it keeps the narrative going.
He didn't mention the Sakala goal, either then or at the time. In fact, hardly anyone did….
And the perfectly legal disallowed goal at Tynecastle from Abede ?
Nope.
Airbrushed into oblivion.
So whats the problem ?
At Ibrox they are running scared of the new look Celtic
The problem is the Japanese forward terrifies them. He is more than capable of running riot against them, and even if they crowd him out that frees up space for others. And they're pretty good as well.
They want to avoid a pasting at Celtic Park above all else, as if that happens the gullibillies will have three weeks to work out why they've not bought any players, why they can't sell the ones they've got and why Celtic are spending millions…
But they should be happy, and the media will try to blow smoke up their dirty little bottoms at any opportunity.
Keith Jackson, for instance, now claims that their previous boss jumping ship at the first opportunity that came his way in the middle of a title defence is actually a good thing.
It may not have felt like it at the time but, more and more, it's starting to feel like Steven Gerrard did Rangers a favour when he bolted back over the border in a rush to up sticks for Aston Villa.
Had he hung around for much longer then the momentum swelling behind Ange Postecoglou and Celtic might have swept them a whole lot closer to the top of the table than they found themselves yesterday after dismantling Dundee United at Tannadice.
That they were only 2-0 up at half time was almost inconceivable given the extent of their domination. Had it been four, five or even six then United could have had no complaints. In fact, a relieved Thomas Courts may have felt as if his players escaped with some of their dignity intact given that they managed to limit the damage to just a three goal beating in the final analysis.
But the fact of the matter is, Celtic played them off their own pitch and had it not been for a combination of sloppy finishing and fine goalkeeping then the margin of this defeat would have reached embarrassing levels long before sub Liam Scales slammed home the third deep in the second half.
Now that all the early season posturing from the other end of the M8 has subsided the race for the top flight title has become what we always suspected it would be – a straight shootout between Glasgow's feuding neighbours – which is precisely why the arrival on the scene of Giovanni van Bronckhorst may have come in the nick of time where the hopes of the blue half of the city are concerned.   
Effectively, Jackson is referring to the "dead cat bounce " common when a new manager arrives.
He's also set the scene for a give Gio time narrative for when it stops bouncing….
Now, it's time for another round of
Only one of the following tackles was deemed a red …which one, and why ?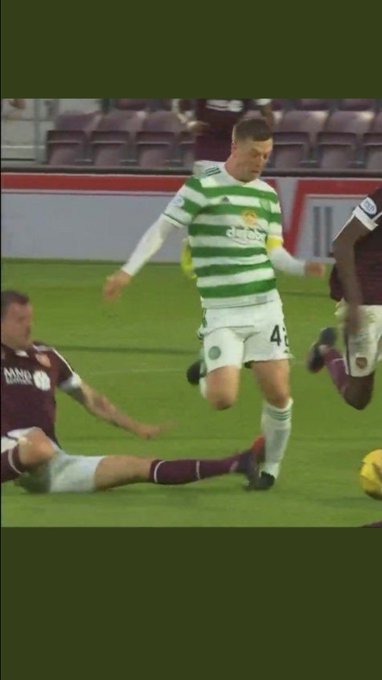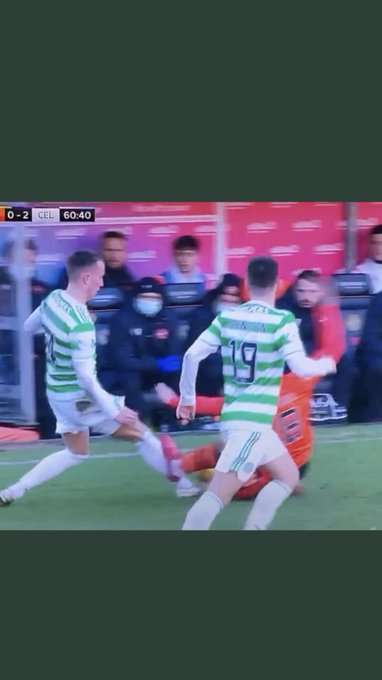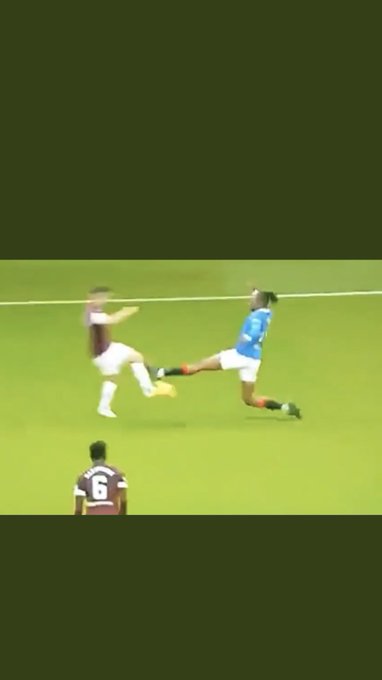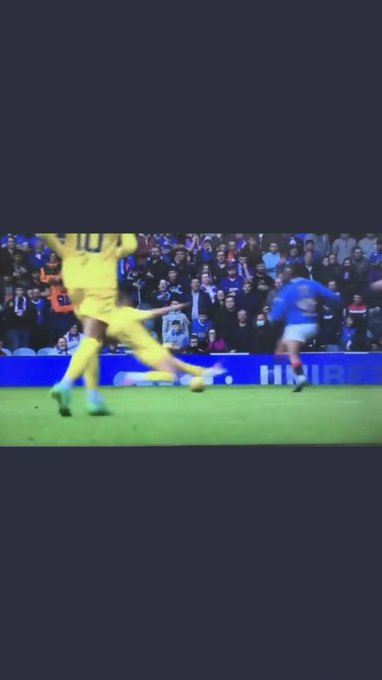 Finally, a big well done to former Celtic manager Ronny Deila, who became the first ex Celtic manager ever to actually win anything anywhere else…..
His New York City side beat Philadelphia to win the Eatern conference league, which aso means he gets a crack at the Superbowl, or the World Series or something.
Well done Ronny…..