Fitba's back.
Well, we're playing FC Cloggers of Motherwell , but there is still optimism that some football might break out.
Ange Postecoglou is certainly optimistic, but then again, he's never been to Fir Park,
"We'll be in good shape."  
His declaration followed news that Greek striker Giorgios Giakoumakis is now fit and ready to show us what he's made of, and he'd better be good.
With an assortment of thickies on the sky sports pundit panel, the tv company has decided not to show many Celtic games for fear of embarrassing the likes of Kris Boyd and others as they struggle to pronounce the names of any player that contains more than one syllable.
As a result, you'll either have to go to the game or pick up an illegal stream somewhere, although illegal is perhaps the wrong word as whichever company is streaming the game will have paid for it.
It's just that you're not allowed to watch it for commercial reasons, and thats not the same as legal ones.
You'll have to go to the game. Though on the way, if you could maybe stop at the co-op….
We need your help to help others. Please contribute to our food bank collection at Motherwell v Celtic on Saturday.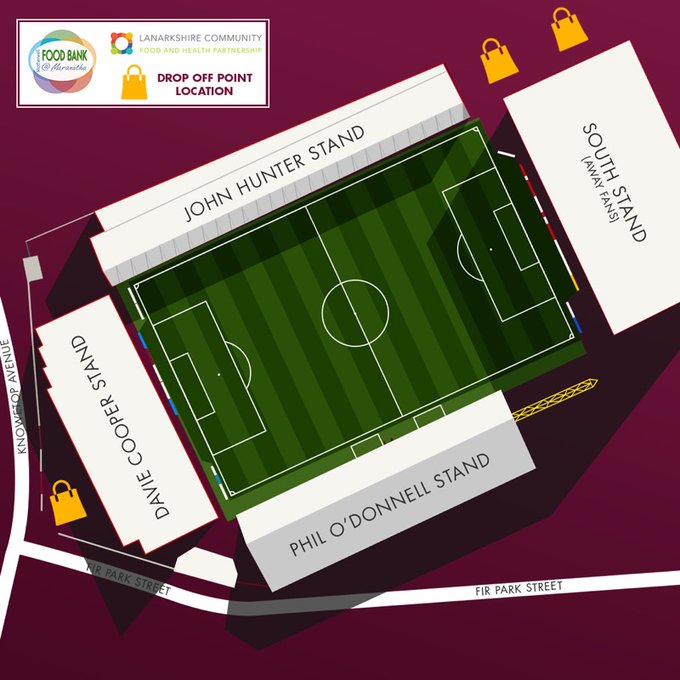 Motherwell have done a tremendous amount to help those who are going through a bad time, including free season books. thats what a football club is all about, so help out where you can.
Also on his way back from injury is forgotten French defender Chris Jullien, who is winning his race to be fit in time for the transfer window.
Mikey Johnston will be available as well, although you'd have to question the wisdom of including him against a robust and enthusiastic side such as Cloggers.
Looking at the bigger picture, it's not hard to see why the manager is happy with the way his front line is shaping up….
"Giakoumakis is the one who benefited the most from the international break. He missed pre-season and the start of the season. Then he had 10 days quarantine so he was really under-done.
"We were kind of holding our breaths to get him through to this break and he feels a lot better now.
"He feels ready to make an impact. That's great for us. We have him, Albian Ajeti, obviously Kyogo, Jota, Liel Abada, there's Mikey Johnston now available and James is on the way.
"We have good attacking options to start and on the bench.  
Midfield and defence need a bit of work, but we should have enough to see us through what is now the pivotal part of the season.
First up are Motherwell, and then, over the next few weeks,  there's the double header against Ferencvaros, which will determine a shot at the new Diddies Cup, a sort of continental Petrofac, or, indeed the possibility of securing further Europa participation as the 4-3 defeat to Betis will be perhaps crucial should Celtic win the home game and be level with the Spaniards on points for second place.
Perhaps the most important of all , though, as the rebuild gathers momentum, will be the League cup semi final with St Johnstone, a victory over whom would mean a shot at a trophy.
Winning the League cup could well kick start the season, and of all the other games before christmas, this hilds more significance than the others.
We also face the Perth side next week at Celtic Park in the league, followed by the visit of bogey team Livingston, which may yet be my first game for nearly two years.
It might not be, though, because of the need for a vaccine passport, to be handed to stewards to prove you aren;t one of those who haven't had the jab in order to protect those who have, a logic that defies analysis.
Being of a naturally athletic build over a steel frame, I have no need for an extended warranty, so I've politely declined all offers to join the test programme, and therefore will be refused admission to the ground should they randonly test me.
Although i have heard about a fake pass that will surely get past even the most vigilant of stewards….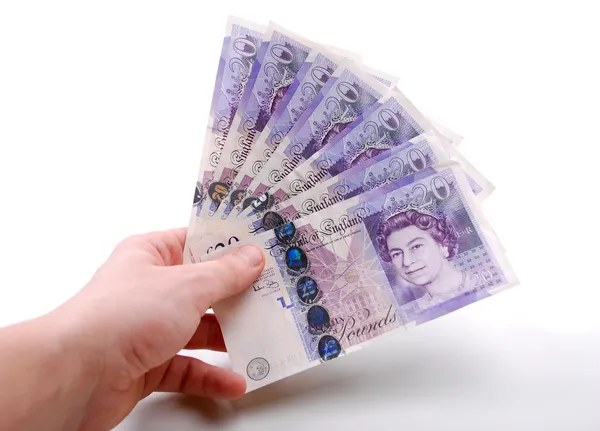 Only trouble is, they're twenty quid each and I'm not sure how many I'll need.
I'm not sure what the punishments are if you either attempt to get in, or are found in the ground without one, but it means that it's unlikely to be worth the risk, and when you factor in that i might infect someone who is ,er, vaccinated, a degree of responsibility has to be attached.
The vaccine rules apply from the Ferencvaros game onwards,….. as the club explains
As Celtic prepare for UEFA Europa League Matchday 3 on Tuesday, October 19, supporters attending the match versus Ferencvarosi TC at Celtic Park are advised that updated Government legislation is now in place.
This new legislation means that any supporter attending matches at Celtic Park (and other stadia with crowds of 10,000 or more) should be fully vaccinated and be prepared to provide visual proof of this to gain entry to the stadium, unless exempt.
Celtic FC are obliged to follow Scottish Government legislation and would like to thank our supporters in advance for their patience, co-operation and understanding.
PROOF OF VACCINATION
Supporters are asked to arrive with one of the following ready to show to stewards on approach to Celtic Park:
EXEMPTIONS
Supporters who are exempt from a vaccination must be prepared to provide evidence of this. Exemptions are applicable to those:
Under the age of 18
Not able to get the vaccine for medical reasons
Taking part in vaccine trials
Matchday employees and volunteers
CERTIFICATE/EXEMPTION CHECKS
Random spot checks will be carried out by stewards on approach to Celtic Park, in line with this Scottish Government guidance and all supporters attending must be prepared to provide proof of vaccination or exemption.
Please ensure you arrive as early as possible on matchday to avoid any delays in entering the stadium while these checks take place.
FAQS
You can find a list of answers to frequently asked questions about the vaccine status certificates and exemptions when attending a match at Celtic Park here
FURTHER INFORMATION
Visit nhsinform.scot/nhs-Scotland-covid-status for further details.
For detailed information regarding the implementation of vaccine passports, proof of vaccination status and rules around exemption, click HERE
We truly appreciate your patience and ask that fans regularly visit www.celticfc.com for all the latest news and updates on attending matches at Celtic Park.
They've come in for a bit of abuse from a section of the support, but this time we can't blame the board…if they don't follow the rules they'll close the ground.
Elsewhere, Brendan Rodgers , that likeable ex Celtic manager has ruled himself out of the running for the job at New Newcastle, claiming he;s happy at Leicester and fully focused and pretty much all the bullshit he came out with before jumping ship at Celtic wher ehe was happy and fully focused before joining Leicester.
I've no idea what the odds are on him joining Newcastle but I'll wager the bookies have stopped taking wagers.
New Rangers have come in for a bit of criticism after re writing the lyrics to the Famine Song, their racist ditty of choice these days.
The new words praise the four founding fathers of their club, Green, Ahmed, Murray and Stockbridge, and rightly so, as they performed a miracle in bringing the club back from the dead over a decade ago, and it hasn;t sunk completely yet, despite being owned and run by some ,er, dodgy chaps.
In fact, they've also added a new strip to commemorate the pioneers, though it;s felt this one is mostly a nod to Dave King, who assumed an almost puppeteering role behind the scenes.
In fairness, it's quite apt.
The four lads who had a dream, of course, refers to the original club, and since you won;t find any information about them anywhere else, here's an extract from "Tangled up in Blue " , the rather more accurate book on their history by Stephen O'Donnell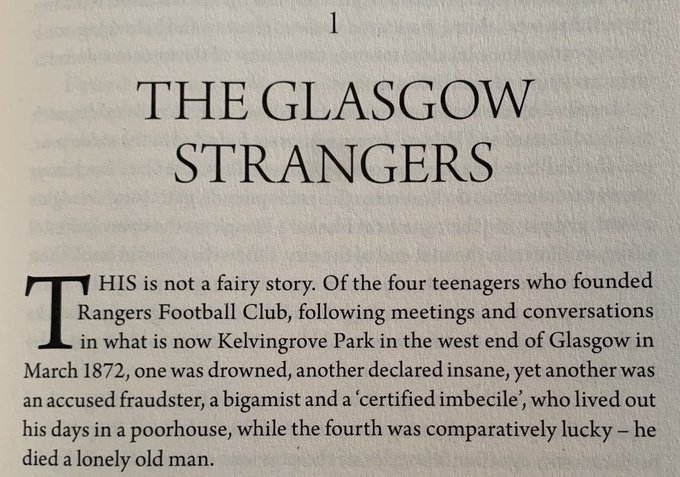 However, there is perhaps a better song for them, as suggested by this chap on twitter
Come with me and you'll be, in a world of pure denied Liquidation.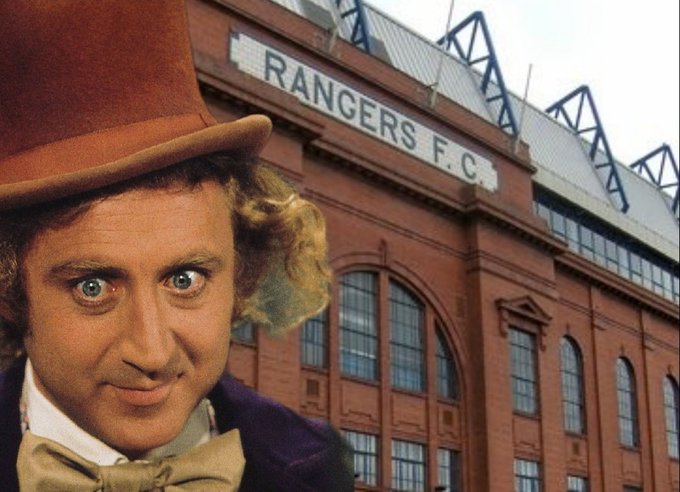 Of course, they'll have to change the name of the singer….perhaps Billy Bonkas ?
 They're at home to Hearts, and I'm sure they'll all be singing about those four lads who had a dream but created a nightmare.
 Shall we have a caption competition ?
Well, okay….