Celtic face Dundee United today, hopefully with a little more confidence than in the last couple of outings.
Injuries mean manager Ange Postecoglou will be forced to make do and mend again, and there are signs he's getting a little frustrated with the run of bad luck that has hampered his first few months in charge…
Three months? It feels a lot longer, I can tell you! It is a hectic period but, particularly after Thursday's win, we are looking forward to playing another game at home.  
"Our home form has been really good and we are playing good football.  
Don't tell the SPFL, they'll ring the council and ask them to close the ground.
There does seem to be a few things going against us, the opening three away fixtures couldn't have been more difficult, and the timely return to form of key Ibrox stars such as Bobby Madden, evident yesterday when he failed to send off the "rangers " keeper for a last man foul, might well have dimmed any initial enthusiasm the Aussie had for the Celtic job.
We have an opportunity against Dundee United to make sure we start getting some results in the league on a consistent basis.
"We have had a disrupted start, an inconsistent start, so I see this as a chance hopefully to start a bit of a run."  
The results haven't been great overall, but there are signs that things will get better. I guess we'll have to be patient.
We hear a few names are on the radar, such as the promising defender Jordan Brown at Derby, who had been attracting the attention of Arsenal before deciding to stay at Derby for promised game time, which never materialised.
He does fit the model of getting them in and developing them, and i'm fairly certain there's someone who used to scout for Arsenal now doing that job at Celtic.
The new captain . Calum MacGregor has signed a new five year deal, which means the core of the new look Celtic should be together for a while, which hints at a long term plan running alongside the immediate concerns.
MacGregor seemed pleased to put his, and everyone else's , mind at rest.
"The club's very close to my heart. I've been here for a number of years now, I'm happy here, I love my football and representing this club, and I want to stay here for as long as I can."   
This deal seems to put to bed a few concerns had by some that the board had put a stop to any more spending on the squad. new contracts cost fair bit of money, and MacGregor will have been looked after.
Those concerns sprung after the financials were published last week, which seemed initially to back up reports that Dominic McKay and his supposedly one man crusade to rebuild the team quickly had annoyed the board and crucially the owner Dermot Desmond.
I'm still not sure though.
The financials point to a board doing it's job, and doing it well, which would have made any change in policy high risk, and whilst the support see a return to the biscuit tin days of the Kellys, it's hard to criticise those charged with keeping the club in the black for doing just that.
There was talk of significant change behind the scenes, but it's hard to see who would be ousted and why, based entirely on their results and their remit.
Though there is talk of a new CEO, and everyone from Ramon Vega to golfer Paul McGinley has been mentioned somewhere, Michael Nicholson still looks the best bet not to upset the apple cart.
Frustrating, but probably the right move.
Desmond isn't likely to throw caution to the wind and appoint someone he doesn't trust, and with the ghost of Peter Lawwell still haunting the corridors, then the practices of the last few years will likely be the way forward as well.
Does the ghost of Lawwell  float through the building, watching over all and sundry ?
We did hear that there's a straw man who sits in on meetings wearing a Lawwell face mask, and this story gained credence when some board members were heard to discuss how quiet the boss had been of late.
For todays game, it'll be a case of the manager making the best of whats available, and without Kyogo the problem of scoring goals raises it's head again.
Ajeti seems disinterested, largely because he is disinterested, the Greek fellow injured himself putting his socks on, which might well be why the big Dutch clubs ignored him, and Leigh Griffiths is at Dundee.
Pending trial.
He kicked a flare into the crowd and now faces police charges, which could see his loan cut short.
Thats how the law works in Scotland, whereas Ryan Christie did the same at Bournemouth the other day, but English law means they will have to wait for the flare to land before assessing the situation.
We have to hope that results get back on track very quickly, or the league will begin to slip away from us.
There is an air of suspicion that the Ibrox side will be given all the assistance they need to make the promised land of the champions league group stages next season, with some even hinting they couldn't pay last months wage bill, largely due to the cash flow problems of not making it this year.
One or two honest mistakes have added to this feeling, and frankly, the sooner we get the show back on the road the better.
During the last week, and in the wake of the financials, one or two little snippets about the start to the season began to emerge, keep an eye on this, as there seems to be the beginnings of an anti Ange campaign.
Comparisons appeared with the starts made by such luminaries as John Barnes and Tony Mowbray , and one even appeared on Celtic Quick News, which in the past was the unofficial official source.
Although he enjoys the support of the support, there are some on the media who don;t like his forthright and honest approach, and they would like to see him fail.
Over the next week or so, we'll highlight these as they happen.
These little digs at ange could just be to take the spotlight away from the impending train crash at Ibrox.
In court last week, it was revealed that the club/company were talking with Cinch about renaming the stadium, even though it;s unclear if they actually own it, and when Cinch didn't take them up on their offer, for whatever reason, and signed up with the SPFL, out went the toys from the pram and despite a spectacular losing run in the courtrooms of the land, they decided to make another appearance, where the judge told them that heavily redacted offerings don;t count as evidence.
They're going to lose again, which makes you wonder why they bother, unless it;s just to foster their siege mentality, which has strengthened after the marching season and various outbreaks of racism and violence among their support.
The media are well aware of the problems among their support, but as usual, blame catholic schools, with a series of articles pointing out that being a catholic of Irish descent is the reason that catholics of Irish descent are being abused in the streets.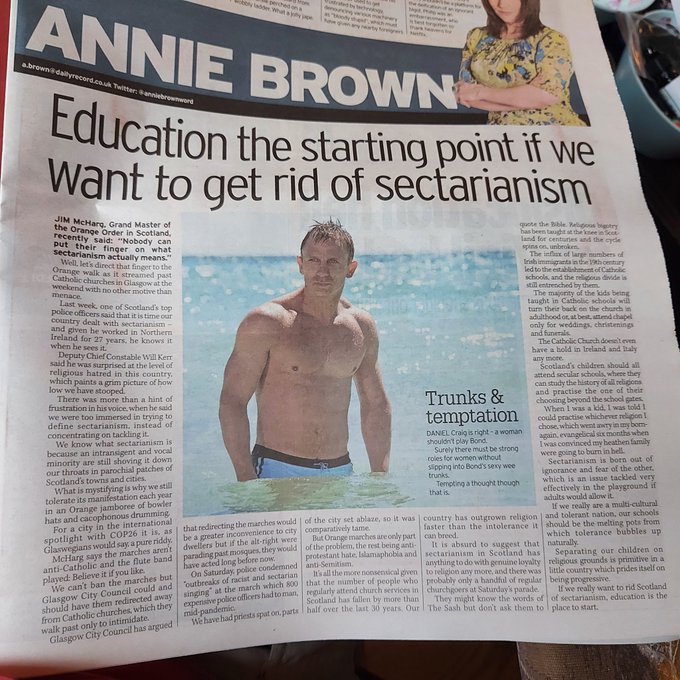 By the way, I'm objecting to the gratuitous use of a partially clothed man here. We're not just lumps of meat for her pleasure, you know.
Her antiquated views have no place in a modern Scotland, but then again, every now and again something comes along that makes you wonder if Scotland is modern at all.
Kris Boyd, writing in crayon in the Sun, astonishingly escaped any kind of censure for this blatant call for abuse of a professional footballer….
KARMA has a way of catching up with people.
Leigh Griffiths is about to find that out the hard way at Dens Park.  
He was laughing when he tied that Celtic scarf to one of the goalposts at Ibrox a few seasons back.
Grinning from ear to ear during an Old Firm game the day he waved his Irish tricolour from the Broomloan Road Stand.
When he wiped his nose on a Rangers corner flag he thought he was being clever.
Well, let's see how smart he is when Rangers supporters tell him what they think of him.
Griffiths is about to get bombarded with 90 minutes of relentless abuse and if he's got a brain in that head of his he better be prepared to take it.
Listen, I'm not going to go into the reasons why supporters all over the country are going to give him a hard time this season. Frankly, I want nothing to do with it.
Apart from reminding the hordes that he doesn't like them, and implying that anything they did during yesterdays game was perfectly fine as Griffiths deserved all he would get.
See also Neil Lennon…
Boyd is well aware of what he's doing. He fronts a mental health charity in memory of his brother, who tragically took his own life.
At the very least, he will be aware of the consequences of causing distress to those with mental illness.
When he says Karma has a way of catching up with people, one wonders how long it will be before both Sky and the Sun realise that apart from not being the most insightful of commentators, he is also the most irresponsible ?
Back to tuesday for the last caption competition, which proves what a fat lazy bastard I am….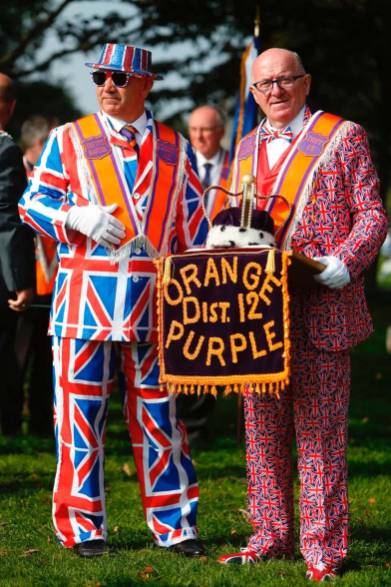 Caption
"Good evening. I'm Kenny McIntyre and your listening to Sportsound on BBC Radio Scotland. Joining me tonight……."
Today….