For the second home game in a row, despite the manager's instructions never to stop, or even ease off, Celtic recorded a 6-0 home win. As it takes just a moment to score a goal, questions must be asked why the players spent the other 84 minutes footering around admiring the scenery.
This unacceptable level of lollygagging has to stop, and more effort is needed this week, or I'm off to the car park.
Already there have been whispers of season books being returned and scarves thrown away.
Actually, the only whispers have been from thise who say that Celtic haven't actually played anyone yet. The opponents to date have been weak, or the team have just got lucky.
Funny that, the more we keep the ball and move it towards goal, the luckier we seem to get.
Even the defence has stopped leaking goals now that we've settled on a regular back four and put a proper goalkeeper behind them.
As for the rest of them, you can't help but notice that the quantity of goals has not diminished the quality.
Or the variety.
Everything we had hoped for under a new manager has so far materialised, and maybe that is down to an outsider coming in with his own ideas, although he has to take credit for the speed with which he has managed to put those ideas across to the players.
He sort of explained it, and the simplicity of his style is wonderful.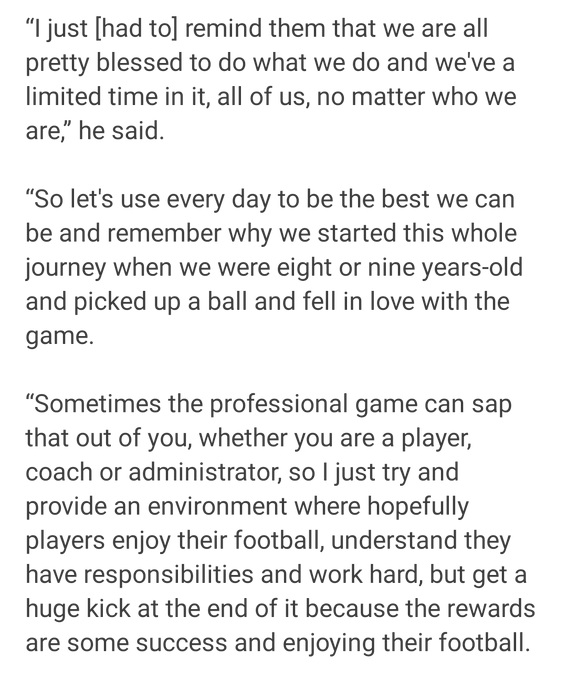 Optimism for this season is evolving into confidence, and nowhere is that more evident than in the players.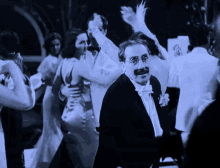 Yup…everybody's happy….aren't they ?
Former manager Neil Lennon, who had a lot more to deal with than most , has re-appeared in the media to offer his opinion on the revitalised side, and he really shouldn't have.
He made some interesting comments on players who wanted to leave, such as Edouard, who will be the subject of a take it or leave it bid from England this week, which Celtic and Edoaurd will either take or leave, and Kris Ajer, who has already gone.
Ryan Christie was also mentioned, and he , too, will have a decision to make this week. But don;t worry, someone called Lovric is apparently lined up to replace him.
Oh, and a couple of loannees and maybe even two more incomings we haven'tt heard about yet.
In one sense, Lennon was up against it, he was never going going to get the investment Ange is being trusted with, and when you add one or two players with extreme personal circumstances and issues, you can see why he looked a little rough in some interviews.
However, it was his job to sort them, and he didn't.
Whereas with Ange, all of those in fan media who claim he would walk away if the board didn't back him are right, but one has to realise the board are probably already aware of that.
Still, get those clickers clicking…
In his recent media appearance, the press predictably ignored the more rational things he said, and went with the sensationalist
"I always believed the return of fans would bring the buzz back," 
"Not only to the club but the players. I think that's what's evident now."  
Which has been spun as the reason for the Celtic collapse, prompting fans to vent their fury on him.
It's maybe better for him to stay out of the limelight, because no matter what he says or does, short of fully opening up on internal issues, this is how he will be remembered.
Peter Lawwell has destroyed his own legacy, for Lennon to do likewise would be a tragedy.
Elsewhere, and the Daily Record has put out a story that Everton, presumably terrified that they might have to field John Jo Kenny at right back, have bid £5m for Nathan Patterson, the next big thing to come out of Ibrox.
Of course, there are no quotes from the English club, only the usual "understands " line, but the narrative predictably spins out of control, as the story centres on the size of the bid, rather than if there actually was one.
Steven Gerrard, who says he hasn't been told of any offer, which may well be because there wasn't one, said that £5m was..
"You carry on with the jokes – £5m, wow.
"Look, I've only just been told about this.
"It hasn't been brought to my attention by anyone above me at the club.
"I'll ask the question when I go back on the bus but if you're going to talk about Nathan Patterson you need to get real. 
£5m is, I don't know, that's definitely come out of a joke book surely.
"I don't make the decisions in terms of when the right numbers are hit.
"All the players have got a price, we've said this so many times.
"We want to keep all our best players, especially our homegrown and local ones.
"There's a big future here for Nathan. He's got to be patient and he'll get game time and minutes.
"We're delighted with him, he's not someone we're looking to move on but every single person has got a number. But let me tell you now, £5m is so far away it's unreal."
Fair play to him, admitting that £5m for a player with only a handful of senior appearances under his belt is indeed laughable, but should  he actually be inferring that the player is worth more than that, then he can expect a phone call from Patterson's agent demanding a significant wage hike….
Oh , by the way, when he says he's going to get on the bus and ask the question, he wasn't referring to the video that emerged of "rangers " fans "doing the Kyogo ", an explicitly racist gesture , on a supporters bus .
No, he, and the media, would rather no one referred to that bus at all.
Thats the one that runs from the Crown Bar in Bellshill, an establishment we've seen make the headlines on a previous occasion…
The John Beaton named here is a professional Scottish referee, who has been known to frequent that particular establishment…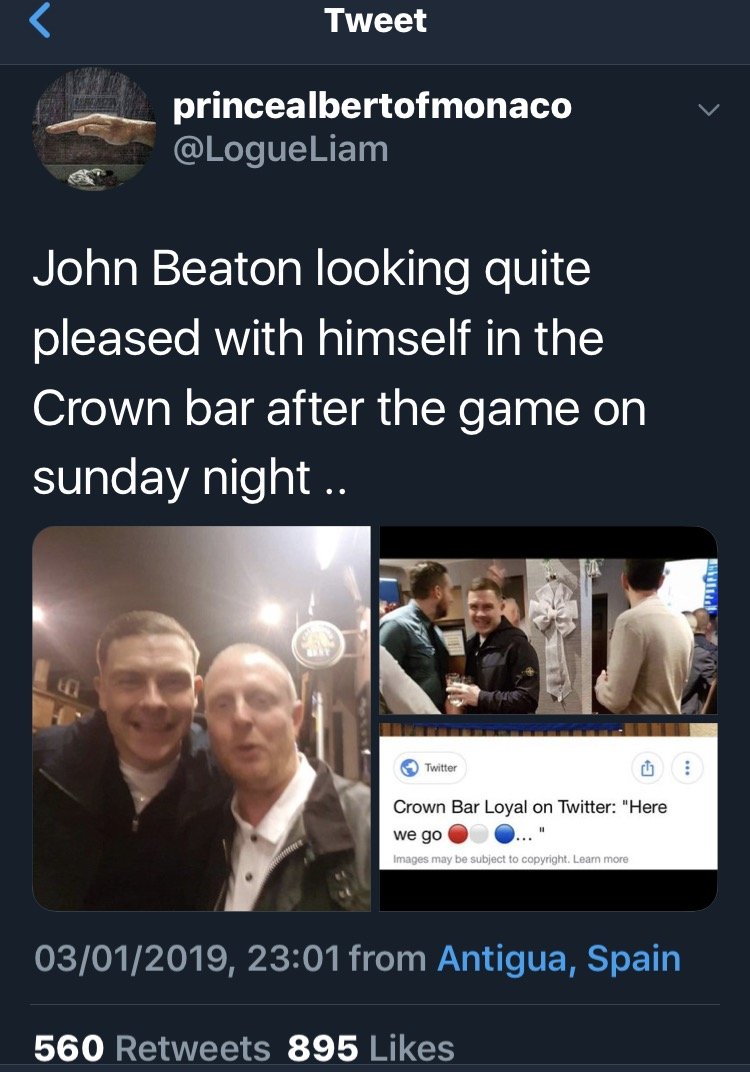 Now, it's not my place to call into question the integrity and honesty of Beaton, but if I ventured into a bar that , as it seems perfectly reasonable to assume, was frequented by the sort of chaps that publicly parade anti Japanese racism, sing songs pertaining to anti Irish racism and have had several public displays of no tolerance towards other black and ethnic minorities, then I'd probably just get some cans and go home.
Actually, fuck it, it is my place to call into question the integrity of a man who is entrusted with a position of influence who is open to the perception that his views may..or may not …be tainted by his own opinions.
I asked my dog about this, you'll have heard her opinion every time Peter Lawwell was mentioned on podcasts, and she said simply
"If you lie down with fleas "
Well, she just barked, but I figured thats what she meant.
Interestingly, St Mirren had a player sent off against Celtic for a violent challenge…and if you watch his reaction, it's one of surprise and bewilderment.
Not because he thought his challenge didn;t warrant exclusion, but becuase he thought that sort of thing was allowed where Celtic players are concerned.
Does that mean that Dominic McKay has quietly moved onto stage three of his vision for the future ?
Has he had quiet words about the perception of bias among the refereeing fraternity ?
We'll know this time next week….
On Saturday, we had this assault on our optic nerve…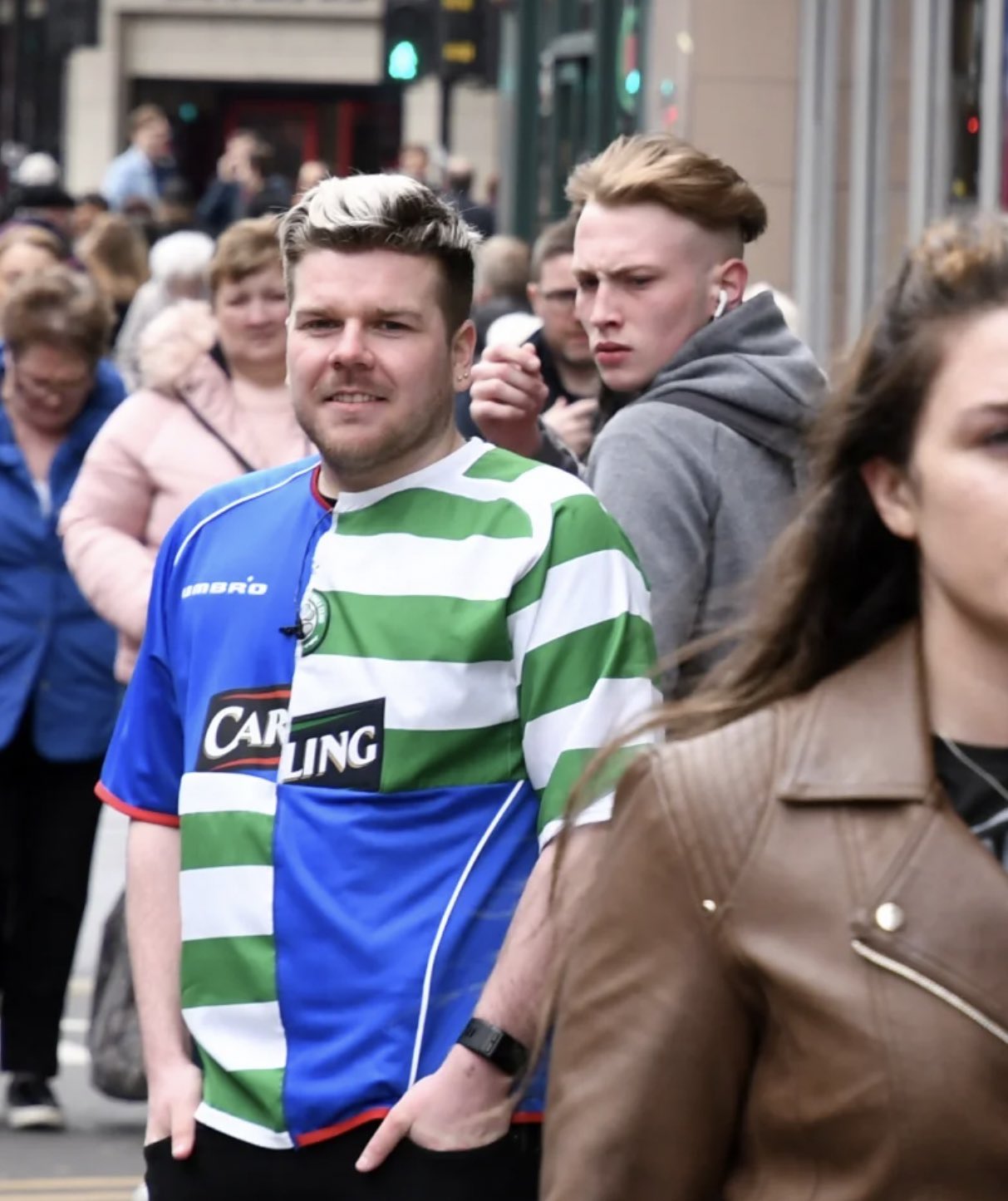 Today….