With the exception of those who were involved in the Euros, Celtic returned to training last week , and not before time.
The new manager began to put his mark on proceedings, and when the club released a video of him talking the players through a session, it was greeted with enthusiasm.
Certainly Ange was trying to be enthusiastic about things, and although it may be a few days or even weeks before the players get used to his ways, the early signs were encouraging.
Ange intstructed his players to move, to pass, to think and above all, not to give the opposition a minutes peace.
We get a break at half time and at full time when we celebrate , he informed his charges.
Sure, he was letting them know that there was no place for lollygaggers in his all action Celtic, but it does make you wonder what was going through the players minds as they listened to such revolutionary ideas as getting the ball back when you lose it, or passing quickly to a team mate….
Because based on last season, these ideas would have seemed revolutionary, and it beggars belief that a manager should have to point out the basics to them.
Then again, I suppose its easier to assume you've a classroom full of diddies when you start trying to teach anything,
One or two eyebrows were raised when leading lollygagger Leigh Groffiths was handed a contract extension, but with strikers at Celtic thin on the ground if not thin in the trousers, he didn;t really have a choice.
In fact, it was rather canny of the Australian to hand out the extension.
If Griffiths succeeds and becomes the player he used to be with an attitude to match, Ange has scored an early victory, and if he fails, Ange can use him as an example of the standards required by getting rid of him.
There are one or two additions to the squad that mean he will have at least a couple of dozen players to work with before the UCL qualifiers begin, and reallistically, thats about as much as we can hope for.
Quarantine rules mean that any coming in from overseas..unless its on a dinghy up the Clyde at four in the morning, mean that even if we signed Lionel Messi he wouldn't be ready to face Midjytlland, so we'd better face reality soon.
One encouraging sign is that Celtic supporters know that this mess is not of Ange's making, and so despite stories in the press designed to stoke up division and resentment, he will get time.
As long as we can see things are moving in the right direction, he'll get all the time he needs….
Which is why the North Curve Celts were a little disappointing when they published their latest moan.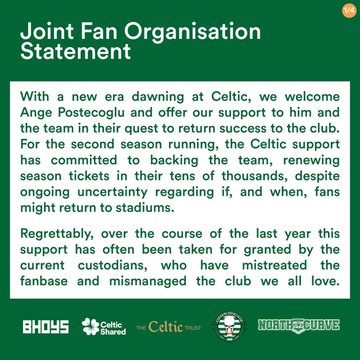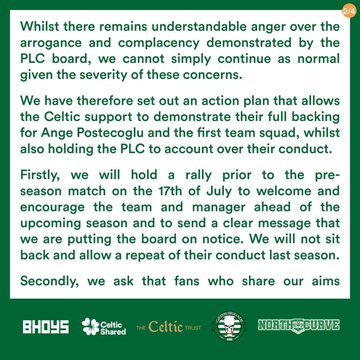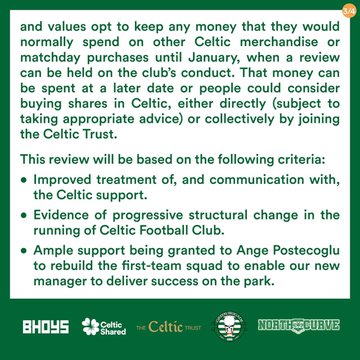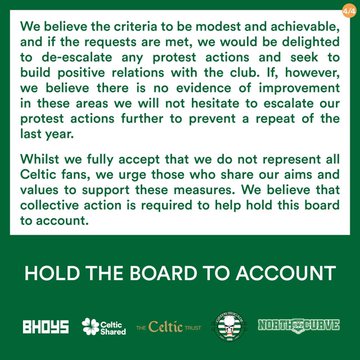 The least they could have done is checked the spelling of Postecoglou.
All this talk of the board not doing their job needs further and deeper investigation. The club is still afloat, it hasn't had to borrow during a global pandemic, or even sell off any of its assets….and significantly they have managed to sell 50,000 of us a product they couldn't provide is with last season again this season, and again with no guarantees.
Whether we are fans of the board or not, thats a hell of an achievement in any business in any industry.
Of course there are issues that we need to take up with them, and of course they need to be reminded that they are only looking after our club for us.
But it's hard to argue that from a purely business point of view, that they are failing in their duties.
There is one thing that I'm a little suspicious of, however, and thats the introduction of the arrangement with fan media, which would be a good thing if we could trust the board to act transparently and honestly.
Judging by the response from the mainstream media there's a little bit of bitterness from those fine fellows, and a cynic-alright, me- might be temoted to think that the club are merely playing new media against old, and because there is a wonderful seduction about being linked to the high hedi yins at the club, fan media may yet turn out to be even more supine than the mainstream.
Football, especially Scottish football, can often be a microcosm of the real world, and in this we may be seeing the beginnings of an attempt to restrict and censor information to fans, as lets face it any board that clings onto the ide of the Old Firm brand won;t give a tin shit in a high wind about misleading its own fans if it thought there was a shiny sixpence in it for them.
#
And if you think thats an ugly thought, how about this ?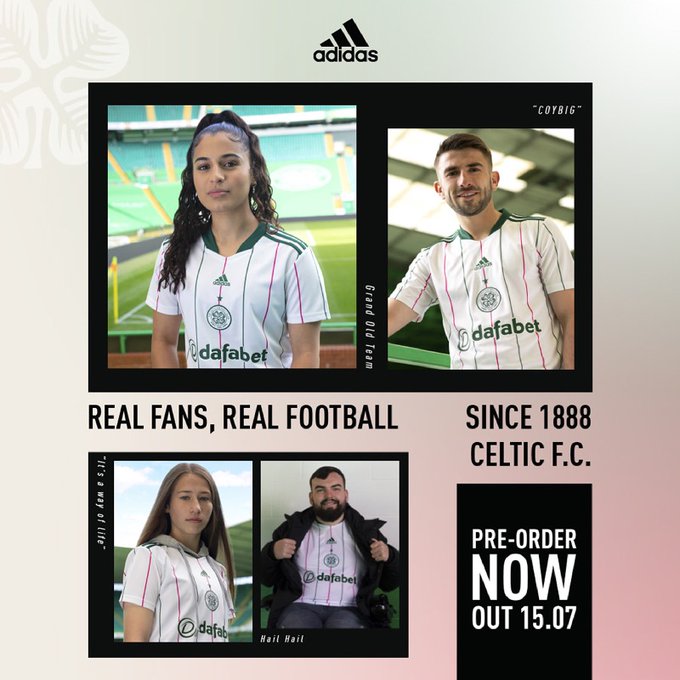 Real fans, real football and a real departure from taste and credibility with the third strip this season.
I can help here.
Celtic's colours are green and white.
Not yellow, black or pink.
when designing a kit, bear that in kind, and use the simple phrase "less is more ".
When you do, I'll accept a mere 5% gross of sales.
And so to the last caption competition, which appeared over a week ago.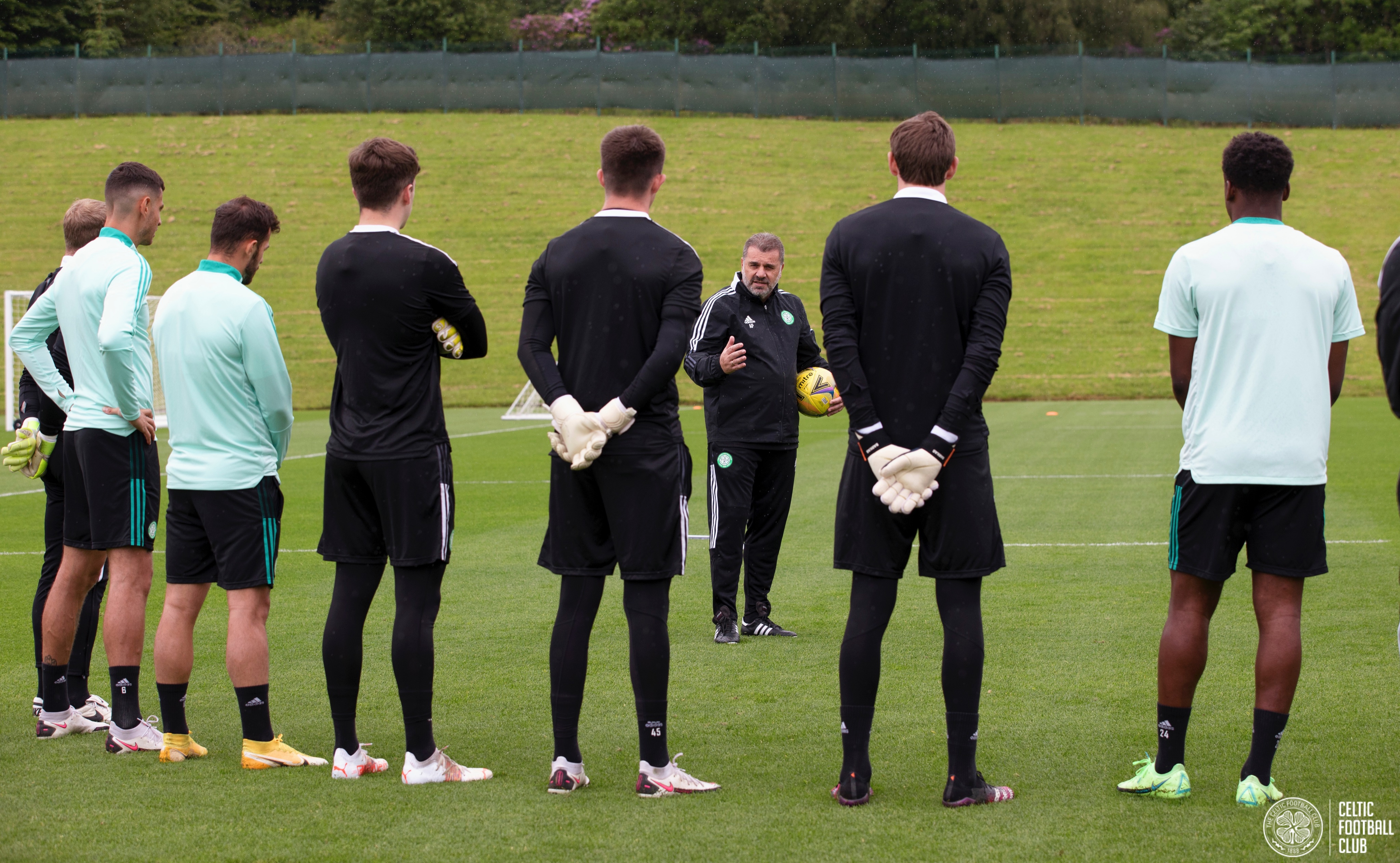 Whitearra 
 No, we're not finished yet, and no, we're not going to the pub after  
That reminds me, there was a bit of a to do when ange told everyone to get a drink after the training session finished on that video. Apparently the club edited out the new man pouring several of what he called "fucking tinnies "  into the Lennoxtown drains….
And so to todays thought provoker….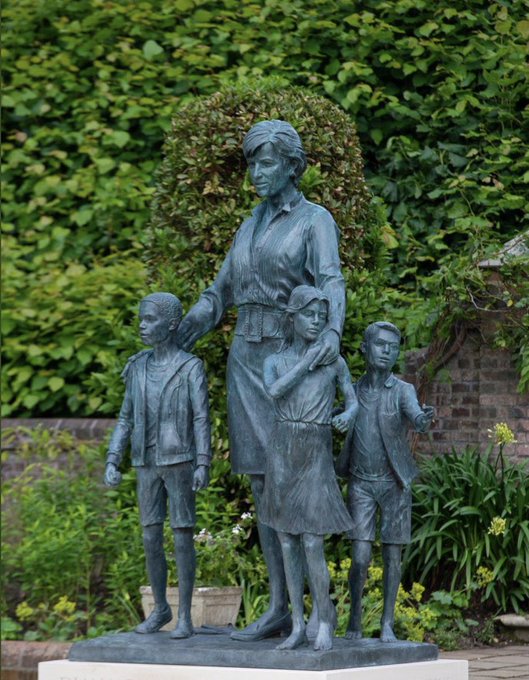 I'd like to offer my apologies for the non appearance of the Diary last week, and there are many, many reasons for that, but none more poignant than the fact the author is a lazy fat bastard who struggles to stand up when he can sit down, or sit down when he can lie down.