"rangers", the parenthesis locked club/company who still haven't earned a capital letter, issued a statement last night which read more like a threat to anyone who wouldn't stop talking about the now several online videos taken at their post title party.
We are aware of a video circulating on social media. It is evident that this video was shared with an adjoining narrative which attempts to discredit our players and the reputation of Rangers Football Club.
This highlights the dangers of 'trial by social media.' 
It is deeply concerning that this video has been taken as genuine and has been shared widely including by some political representatives who should be mindful of their influence and legal processes.
Our squad is richly diverse. Sectarianism is unacceptable and has no place in our club which is underlined by our Everyone Anyone campaign.
We are confident that no criminality took place, we have sought legal advice and look forward to cooperating with Police Scotland. 
And Police Scotland are no doubt looking forward to working with you….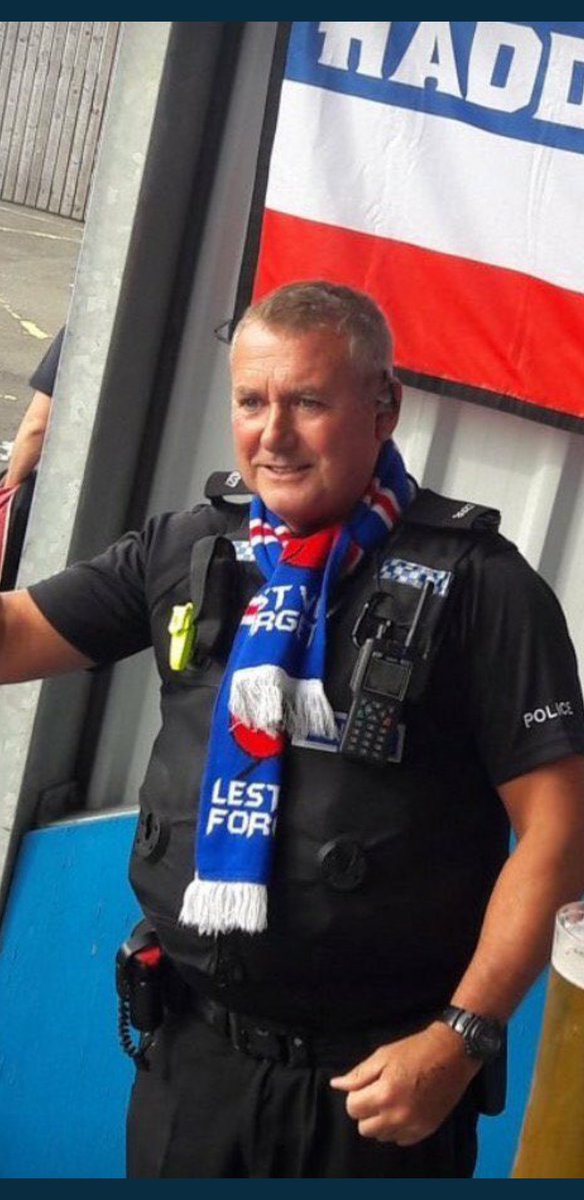 The wording of the statement is interesting, as at no point does it say its fake, merely expressing surprise that its been accepted as genuine.
As though such an outrageous slur on their good name is unthinkable.
And the sinister undertones of this line cannot be ignored….
has been shared widely including by some political representatives who should be mindful of their influence and legal processes.  
Even though no one in the media has actually commented, they've rather dutifully gone with the line that its the fans who have the unacceptable mindset, even though its clear they are only following the example set by the club/company and its employees.
In fairness, though, where the Ibrox support are concerned, print media has performed a somewhat sharper u turn on its narrative than any of us could have expected.
Although its not the first time….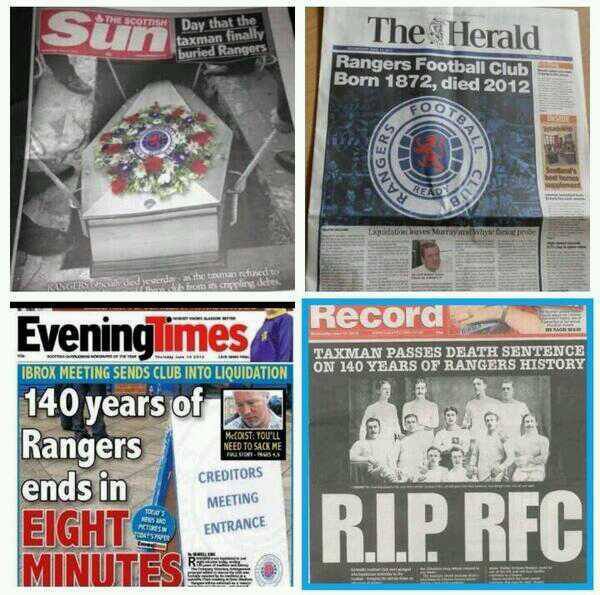 to a narrative such as this. from the MailOnline
RANGERS ARE CHAMPIONS: Champagne flows for players and fans swarm to Ibrox for wild celebrations as Steven Gerrard's side end a decade of hurt after Celtic draw at Dundee United hands them 55th title
Rangers have won their first Scottish Premiership title in a decade 
Having beaten St Mirren 3-0 on Saturday, Steven Gerrard's side were on brink
And their 55th league title has been confirmed after Celtic dropped points
Steven Gerrard, his players and staff celebrated wildly at Ibrox on Saturday
And the party can now get into full swing after Celtic drew 0-0 at Tannadice    
The 55 myth is part of the same club myth, a basic denial of the truth that led their support to believe they were above the law, that the rules didn't apply to them encouraged at every point by newspapers desperate not to lose the blue pound.
The two sides of the same coin argument, which involves Celtic fans as being of the same ilk, but with green and white regalia, was torn apart by a couple of hacks yesterday, presumably because they'd like to rewrite history again, and absolve themselves from the blame for this empowerment they handed to an element of society that doesn't abide by its rules.
Andrew Smith in the Scotsman drew first blood from the Ibrox entity, with probably the bravest print article since the legendary words of Ian Archer…
Rangers, the 'superiority syndrome' and anti-Catholic bigotry: Why it cannot go unchallenged any more
There ought to be no debate whatsoever about what was at the core of the grotesque scenes witnessed in and around Glasgow's George Square on Saturday night.
It contains some powerful stuff, and is an important and welcome  break from the usual narrative, including this bit…
There is a faction of Rangers' fanbase – Protestant and unionist in hue – that is motivated by hate, pure and simple. Hatred of a closest rival, Celtic, because that club has roots and a culture firmly Irish Catholic, and republican. Ahead of Rangers' admirable on-field renaissance, that rival had been lording it for so long in the game. Moreover, these fans have the ultimate slag for their Rangers counterparts with the new club/old club teasing, a consequence of malfeasance by previous owners of the Ibrox institution that has created desperate insecurities over sense of history. All of these elements underpinned what has exploded into the public domain in recent times. As so often happens in such situations, these insecurities allowed for the fomenting of a bogus sense of victimhood, Rangers falsely presenting themselves as the oppressed. In these situations, so often the believed oppressed actually become the oppressors. 
Rangers falsely presenting themselves as the oppressed 
Hang on, part of the problem, if not the basis of the problem, is not that Rangers  ( are ) falsely presenting themselves as the oppressed, its that they are falsely presenting themselves as Rangers, and they have been encouraged to do so by the media, in line with the SFA policy to keep the brand alive at all costs.
Although in fairness, the Glasgow Times did manage to find one guy we should feel sorry for…. showing that they are capable of digging out whatever story they want to find….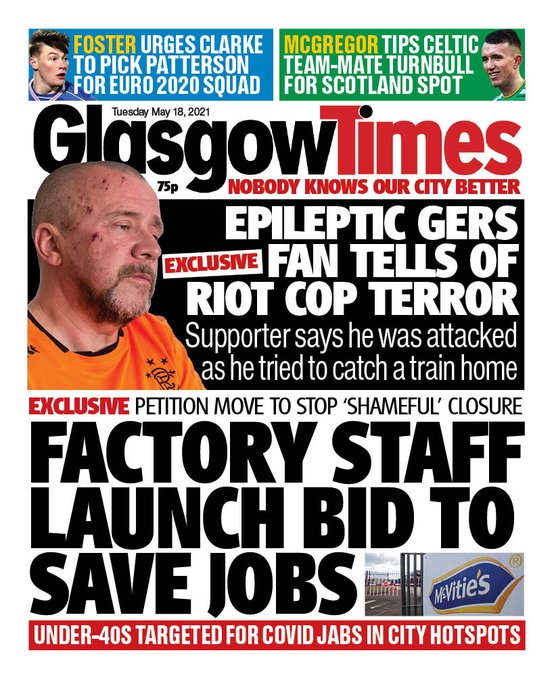 Surprisingly, or maybe not surprisingly, the Glasgow times didn't compare and contrast the image of Glasgow last week, when a community came together to prevent the arrest and possible deportation of a refugee after a Home Office , with the harsh reality of what the city has in its underbelly, and maybe its the steepness of the fall that has prompted journalists out of their comfort zones to maybe think that decent people have had enough.
Other media, such as the radio, and Radio Scotland in particular haven;t quite made the breakthrough into balanced, evudence based comment yet.
They wheeled out Richard Foster-or Forster, i can;t be arsed trying to even remember his name- whp claimed that ..
"these people don't care about Rangers , they just happen to be wearing Rangers tops "
And waving "rangers " flags, singing "rangers " songs…..
Oh, I'd better clarify he was talking about the fans, and not the players in the video.
Well, I think he was.
Tom English, the Irishman at BBC Scotland blamed the drink. apparently Scotland has a problem with alcohol, and had these people not been drinking they wouldn't be rancid bigots at all, and would npo doubt be pursuing a life of religious fulfilment in between picking flowers and helping old ladies across the road.
It's all very predictable.
The media are falling over themselves now to pin the blame on the fans in the hope no one will notice that the players have been infected by the Ibrox illness….
Except Graeme Spiers, of the Times, who has called it what it is…..
Everywhere I've looked tonight – radio, TV, media debate – Rangers FC is being trashed. It's quite something when a club's own support turns what should have been a joyous event into a widely-condemned embarrassment. "The Rangers problem" is deep rooted, I'm afraid. No easy fix.
Well, the problem actually would have gone away in 2012 if they had let it.
Instead, it was given a new lease of life…