A man who had recently lost his job went out and got hammered.
Someone videoed it, and called him a name.
It's all over the internet, which tells you a lot about what we've become. Or, at least, what the chap who recorded it has become.
Then again, one suspects he's always been like that.
If Neil Lennon wants to go out and get drunk, thats his business.
As Jesus himself once said
" Let he or she who is without sin, cast the first stone "
Whats not widely reported is that a stone then bounced off his head and he was heard to say
"Ooowww, fucking hell, mother".
The media, and indeed , a section of the support and its own media are getting a bit restless as time drags on and there is no sign of a new manager or any sign that the club are preparing for next season.
The team itself seems to have got the hang of the basics and are starting to play like they know we can, which given that there's still a Cup to be won is encouraging if not entirely satisfying.
But behind the scenes, the lack of information is starting to make a lot of us nervous.
Not me.
What we all seem to have overlooked is that the man who will be running the club on a day to day basis for the next few years, Dominic McKay, hasn't actually started yet.
And even if he has made the decisions behind closed doors, he sure as hell won't let anyone announce anything until he's parked his arse firmly in his chair.
Which, of course, means that the papers have to fill pages with speculation, and they've done all the sensible stuff and it looks like they have moved onto the nonsense, which if you consider the guff they usually print, then we may have reached peak nonsense.
So, forgive me if I largely ignore the sound of empty vessels desperately trying to find some sort of cargo they can sell.
Some are worried that it will mean European football won;t happen this season, but with the extra tournament the rules now mean that anyone with their own boots will be playing group stage football until Christams at least, and since Celtic will be rebuilding its probably better that we are in the new Conference Cup or whatever its called, where matches are played on a Sunday morning , kick off when everyone gets there.
There are, however, one or two little tales that are troubling, to an extent.
Eddie Howe wants to bring his own people in. Thats been fairly obvious from the start, but the club appear a little reluctant to indulge him, and so he's talking to Crystal Palace.
Thats a sulk and a half if true.
No one should feel they have to talk to Crystal Palace, ever, and if Howe is doing that then there's clearly some sort of problem with him, and he should be passed over in favour of whoever is next on the list.
But its all tittle tattle, and since none of it is new tittle tattle, I'll largely ignore it until someone from the club says something, which will probably happen as soon as they hire someone who can say something, with at least a wee bit of authority.
Speculation abounds also around the future of a few key players, thats if anyone could be described as key after the catastrophic season we're still enduring.
West Ham think they're favourites to land Oddsone Edoaurd, which came from website Football Insider, so its probably bollocks.
Brendan Rodgers has hired a minibus to take to Glasgow in the summer, and doesn't expect to be the only one in it for the return trip.
But we can buy Mo Elyannoussi on a permanent deal, as Southampton don't want him. In fact, when he popped down to the southern coastal town recently, just to visit a friend or two, Southampton officials got wind of it, and literally carried him back to the airport.
With an armed escort.
The Scottish cup tie with "rangers " has been moved to Sunday to avoid clashing with the funeral of Phil the Greek, who remians dead after nearly a week now.
Ibrox fans have already complained, as the royals didn't show them the same respect when they died, and tensions are high on the other side of the river.
Steven Gerrard reckons its not fair that his players should be punished for …well, anything really, and john Kennedy says they should.
What we really need is someone who will tell it like it is, and someone who will make the world's media turn their attention to Scottish football…. a manager who when he says something that is controversial will get real reporters interested…
At the moment, the real reporters are concerned with much higher levels of corruption in the game, and considering the scandals around tax payments , dodgy player ownership and the Qatari World Cup death toll, it's not surprising that Scotland barely merits a mention.
So we're stuck with the Stenography Section, and they aren't really much use, are they ?
Even though evidence has come to light that some at Celtic almost certainly misled the supporter and shareholders where 5 ways and new clubs are concerned….
Even though there are now approximately ten shares in " rangers " to every single person on the planet as they continue to embark on their novel and refreshing outlook on financial fair play.
And even though it seems the rule book is just something for other clubs….
There's a lot riding on the next few weeks, the new CEO and manager, whoever it turns out to be, must quickly set down a marker and let the rest of the game know they are not there to be walked over.
All we are asking is that the same rules apply to every single club, with no exceptions.
An indicator of that would be for the club to issue a statement congratulating "rangers " on their first ever title.
When they receive the trophy , that is.
There is, however, still some talking to be done on the pitch, and the tie on sunday is a golden opportunity to make a couple of points.
Obviously, a resounding win is the priority, but there should also be plenty of noise made about the inclusion of those Ibrox players who should not be allowed to play due to their breaches of Covid regs, as the club have now appealed purely so they have a right back available.
Not only has it taken weeks for them to be charged, they have appealed…and they know there are no grounds for an appeal, such as fresh evidence or a technical legal argument….and this should not have been allowed either.
The SFA are clearly too weak to stand up to the club, and so yet again the club are getting away with with yet another misdemeanour.
There were suggestions that a sweetener had been offered to some at the SFA to make sure the appeal was granted, but that argument falls down when you remember that no sweetener would be required to help officials follow their heart…
Dominic McKay must be wondering what he's gotten himself into…but as those who stood in his way in the rugby world found out, he relishes a challenge.
We can take heart from their reaction on social media last week to a  tweet which featured a "partner "….

It was removed after complaints and a promise was given the firm would not be a partner any more….so maybe someone is listening, and that has to be encouraging, as from small things big things grow….
Anyway, I need to go.
Mate of mine just rang…they found a womans body in the boot of his car and he's been charged with impersonating a police officer..
But before I go….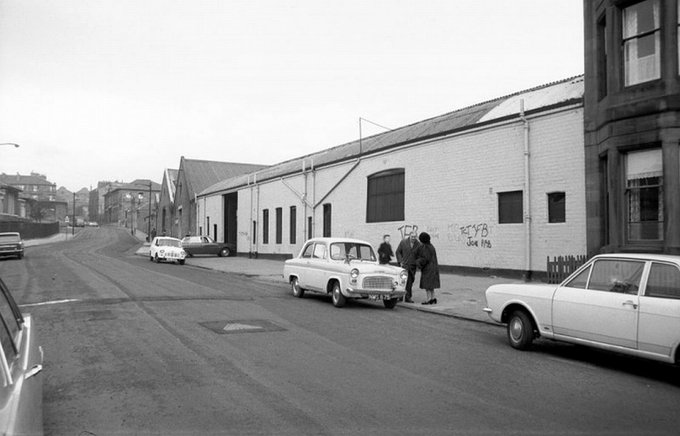 Caption: "And now madam before we begin the test proper I would like you to read the number plate on that car over there."
Eh whit? Is that wan eh them kafflik driving tests, can I no' jist footer wi yer knuckles and we call it a pass?  
Today…