The talk of the steamie intensified yesterday as Eddie Howe's agent decided to earn his crust and attract a bit of attention to his client. He wouldn;t be doing his job if he didn't, and it may even be that there is a sticking point in negotiations which means that he's still on the look out for a job for his client.
"Talks of any deal being close are extremely premature," 
"His plan remains to not return to management until the summer at the earliest."  
If, as is thought, Howe wants Richard Hughes as his director of football, and the club would prefer Fergal Harkin, then it could simply be gamesmanship, though quite why the club wouldn't let a manager choose someone he trusts is baffling.
Then again, a lot about Celtic and how they operate is baffling on a world class level.
The only argument against this seems to be that if he has his own man in then they will leave together and that means we'll have to start all over, which is sort of ridiculous because it's a little premature to worry about someone leaving when he hasn't even got the job yet.
A manager needs people around him he knows and trusts, its that simple. We've seen what happens when the board tries to keep their eye on management by placing their own people in there, and thats one of the things that has to change.
The media, of course, will jump on anything that casts doubt on the brave new world being assembled at Celtic. Thats what they do.
The simple reason for that is fear.
Dominic McKay starts work in just eleven days time, having left the SRU to begin his new job a bit earlier than planned, and he comes with a record of taking on the establishment and winning. In his time at the helm of Scottish Rugby, the game went from a middle class ( at least ) sport with clubs that had FP at the end of their name to a sport which was accessible to all in the country.
Ticket prices for matches were out of reach for the average punter, for instance, until he introduced a scheme which kept the corporates highly priced, but the man in the street could also attend, with lower priced entry available, and it changed rugby, and now Glasgow and Edinburgh both have thriving teams, supports and the result has even impacted on the national team.
Now he will be taking on an establishment that has FTP somewhere in its description if not name, and the change could be just as earth shattering.
The cosy little arrangement between our compliant media and corrupt authorities is about to undergo a serious challenge from someone who is used to getting his way.
Should Celtic get one of the better coaches available in Howe, the current narrative to ignore the novel and refreshing reportage on liquidation and financial misconduct is under threat, and the Ibrox gravy train will come shuddering to a halt.
Should McKay promote change that benefits all clubs, and reduces their need for the blue pound in the way that he changed rugby's dependence on the elitist pound then we may yet see football dragged into the 21st century, and it's perhaps the most exciting prospect for a long time.
But does it all depend on whether or not Howe is appointed ?
And is Howe right to demand his own people around him ?
One of the problems with previous CEO Peter Lawwell was that he tended to tolerate new ideas of he agreed with them, which meant that no manager really had full control of the playing side of things, and that is always going to lead to problems.
Of course, there will always be financial constraints, but if a manager is to work within them, he needs to have those around him he feels can maximise those constraints.
There may be a little worry that the Cup game against "rangers " is season defining, and the pressure to salvage something from the clusterfuck that was 2020-21, but looking at the big picture , perhaps it is wise to take a step back from the urgency and take two steps forward to make sure we never have a season like this again.
The same goes for the UCL qualifiers. The current squad isn;t good enough to make any impression on the more difficult non champions route, but the introduction of a third European tournament means that it is almost unthinkable that group stage football of some kind is beyond the club.
Putting in foundations for the next few years is more important than a couple of hollow wins this season.
If it takes a while to make everyone happy then we should allow that.
The new manager must be in control of his own environment, and McKay should be free to take on the SFA/SPFL.
Thats the priority right now, to get everyone into position and make sure they're comfortable with it.
There is one thing that is bugging me a little though, and thats that I can;t seem to find clarification that Peter Lawwell is retiring from Celtic altogether, and not just the CEO position.
He will still be involved with his other posts, both at home and in Europe, and I'm not entirely certain that he can do that if he's not involved with a club.
His influence elsewhere will be valuable, but only if he is toeing company line, and that may be a little difficult for him after so long as top dog…..
Caption competition from Tuesday….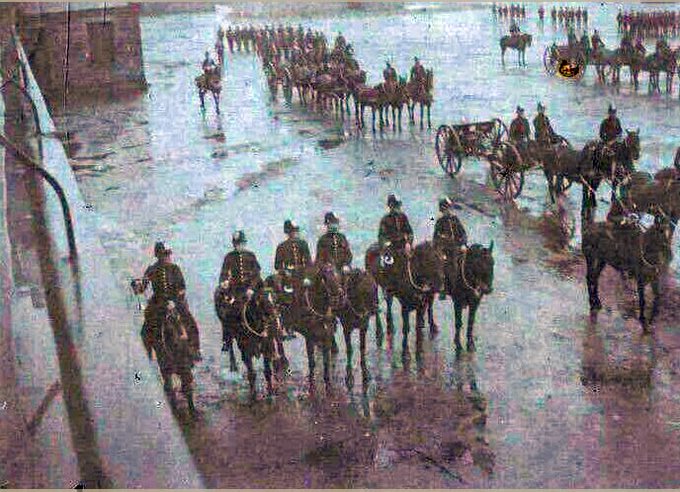 Caption…
Glasgow's finest in preparation for the next Glesga derby.
Chief InspectorT Kettle, the Match Coordinator,stated that despite fans still to be admitted to games, a provisional list of Celtic supporters to be charged with breach of the peace has already been drawn up.  
Today…