The diary didn't appear yesterday as I had bits and bobs to attend to, and thankfully it seems the mainstream media took over the basic remit so it wasn't missed.
BBC Radio Scotland took over the job of maligning the Fat controller, James traynor who doggedly defend all matter "rangers ", as he works on his retirement bookabout the dodgy goings on at Ibrox, Sky TV did the bit about making things up for which this site has become reknowned, and Celtic issued a statement defending the club, in what was perhaps the most bizarre event of the day.
But first, there's a big game tonight, as Celtic travel down the motorway to Lanarkshire to face Motherwell, who haven't been doing too badly of late, installing themselves in third place ready to pounce as the "rangers " collapse continues ahead of whatever insolvency event is coming down the line.
It looks like both January signings will be in the squad, and although the Record lists Bolingoli Boli, it would be a surprise if he even makes the bench as his evening at rugby Park the other week was cut short when he threw a wobbly and got a taxi home after he wasn't in the side, as the manager decided to go with Greg Taylor having noticed him at training and asked John Kennedy who he was.
Boli took the huff and this snippet was more or less confirmed when Lennon said publicly that the erratic wing back wasn't injured, wasn't in the squad and wasn't on his christmas card list.
It's up to him to work his way back,but Lennon likes to feel like he has some sort of input every now and again and it looks like Boli is on the receiving end.
Addto that the change in fortunes brought about by the introduction of the ever dependable Johnny Hayes when things looked a bit ropey against Hamilton,and Boli gets further away from selection even without his tantrums.
Mohammed Elyanoussi is back in contention, and he will want to show what he did earlier in the season was no fluke, especially with the revelation that this winters one who got away was some bloke called Atsu, another winger, from Newcastle.
Lennon does like his wingers, if you don;t count Maryan shved, who he claims doesn't speak English, doesn;t like Glasgow and isn't fit enough anyway, which,along with similar stories about Vakoun Bayo ,makes one wonder exactly what Brendan rodgers and his crew were up to with their signing policy.
Jozo Simunovic is also back on the list, but don't worry, it'll be dark by kick off and he'll probably fall over something and rejoin Nir Biton in the treatment room.
Stephen Welsh will probably keep his place after a more than decent debut at the weekend alongside Kris ajer and Chris Julien, and we hear that he's so keen to make an impression that he's offered to change his name to chris as well to make things easier for Fraser Forster to keep his concentration.
James Forrest, who seems to benefit from the occasional break in the relentless fixture programme will take one wing back position, with Johnny Hayes on the other side.
That leaves Brown, MacGregor and Christie behind Edoaurd and Griffiths, with the bench no doubt playing its part later in the game.
A lot depends on whether or not the Celtic of the first half against St johnstone can merge with the one of the last fifteen minutes against Hamilton and do it for a full game.
With a one hundred per cent start since the break, if this side clicks then the league and cup will be merely a formality, with the excitement coming from a possible good run in Europe.
Now that things are settling down a wee bit, we might just see one of the better teams of the last few seasons…and quite possibly a few memorable moments along the way.
As for Motherwell and tonights game, if I were a betting man, the money would be on a seven goal thriller, a real one with goals for each team…
Speaking of betting, Hamilton boss Brian Rice came out and confessed he liked a flutter, but there can certainly be an end to tittle tattle that he had a few quid on Leigh Griffiths being sent off on Sunday,and his complaint about the stamp that Griffiths is accused of and "got away " with is in no way linked.
And anyway, it's obvious to anyone who looks at it that Griffiths tried to avoid landing on the Hamilton player, as he puts all of his weight onto his other foot.
Watch carefully.

Griffiths' jumps on his left leg to move his weight off his right leg, thus avoiding a stamp. You can see him stopping his right leg going down.

There is no stamp nor any attempt at a stamp.

Move along 🤙 pic.twitter.com/QrtVZwPZ9F

— Fitzy (@Fitzy_072) February 3, 2020
Of course, the facts don't get in the way of the paranoia across the city…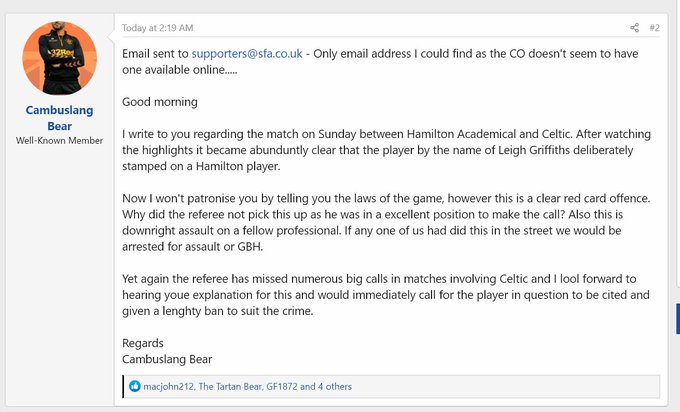 All of this is music to the ears of Sky Tv, who love anything that increases tension between Celtic and "rangers 2 supporters, as it means they can plug the only game they are interested in on a week to week basis, using it as part of their build upto the next "Old firm " game.
They went as far as to show a complete disregard for the truth when they allowed an interview with troubled Ibrox forward Alfredo Morelos to be aired, in spanish , with what could best be described as a loose translation attached.
Those who do speak spanish beyond "Dos Hotdogs , nae sauce " were quick to point out that morelos didn;t actually accuse Celtic supporters of racism in the interview, which made a mockery of the headlines that were created.
One can only wonder who ,apart from the Fat Controller ,was behind it all, but a couple of since deleted tweets gave us a bit of a clue… note the date..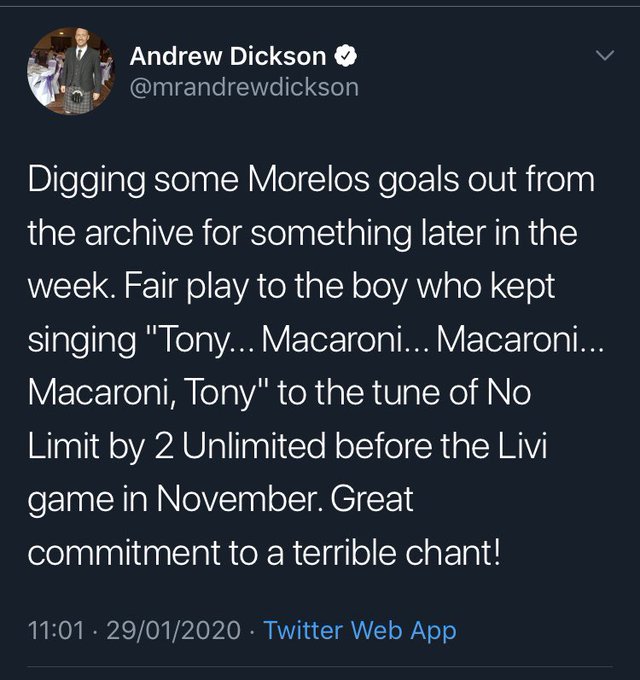 then he gave his thoughts on the interview…
However, one has to question whether or not one is in the right job when your work is called out by the Daily record and The Sun as , well, bollocks…
What Rangers star Alfredo Morelos really said as Sky interview is slammed over translation
The Colombian striker's rare interview made headlines but it appears the translation broadcast was far from perfect.
Again, the "rare " interview in itself was a surprise, as the Colombian is notoriously camera shy, and as he is currently having a bit of a problem in his personal life, it all seems a little bit odd that his PR gurus have chosen now to put him in the limelight.
In fact, I'd go as far as to say someone , somewhere needed a big squirrel to deflect away from something else, although quite what isn't clear.
Sky News have since removed the interview, and no doubt someone is having his ear bent, his balls chewed and his arse kicked over it.
It even had the almost unheard of effect of Celtic releasing a statement condemning the narrative that the support  are all racists again, a view that was almost exclusively that of chairman Iain Bankier…
CELTIC Football Club has today asked Sky Sports to conduct an investigation into an interview broadcast yesterday, which accused Celtic supporters of racist behaviour.
Translations provided to Celtic Football Club have shown inconsistencies between the words spoken during the interview broadcast and the subtitles used by Sky Sports.
In particular, and most concerning, while the broadcaster used the following subtitle on screen: "Afterwards it was very frustrating to hear the crowd screaming at me. They were saying offensive and racist words."
Mr Morelos does not use these words anywhere within the extended interview which has been broadcast across Sky's platforms.   
Celtic FC has asked Sky Sports to clarify their position on this matter.
Celtic, a club open to all since its inception, abhors racism. Our consistent stance is that wherever racism exists it should be tackled head on. Celtic will always investigate any report of racist behaviour and take appropriate action. This is a standard which all clubs should meet. 
Celtic needs no encouragement to pursue racism, particularly as players and management at the club have suffered abuse persistently over the years. The seriousness of such cases has been confirmed with the prosecution and criminal convictions of some of the perpetrators.
Celtic is proud of the wonderful reputation earned by its supporters over many years in many countries and at home. The club owes it to them to act in a responsible, dignified and professional manner and to treat racism with the seriousness it deserves.
The last paragraph is a cracker, which shows they are responding to fan pressure, and we hear that the last line was subject to editing, as it originally said…
The club owes it to them to finally get up off our arses and act in a responsible, dignified and professional manner and to treat racism with the seriousness it deserves. 
Better late than never, but let's see what happens when Sky respond, although no doubt it will be in private.
Apart from anything else, how about just ditching the TV company full stop ?
They take our money and give it to English clubs to buy our players with, which in itself was why i dropped them some time ago, and now they are happy to allow a PR man a voice to condemn not only us, but all Scottish fans ?
There's plenty of streams out there if you look for them.
There's also Radio Scotland, which covers the games live that we could listen to. Fair enough, the commentating team wander off the subject a bot more often than not, but if you ignore them and listen to the background crowd noise you can get a fair idea of whats going on.
And Neil McCann, who sees himself as some sort  intellectual analyst, is always good for a laugh.
Radio Scotland also has a phone in show of an evening, and given the BBC's strict rules on impartality, it was a bit of a aurorise the other night to hear Michael Stewart condemning James Traynoe live on air for his involvement in the Morelos interview, which appears to have been one load of shite too many.
Stewart has been vilified on social media after the Morelos brake tampering scandal,another story which turned out to be lacking in veracity, and was almost about to take the place of Neil Lennon in the affections of some of those who , er, aren't that keen on anyone saying anything bad about their club, company or players.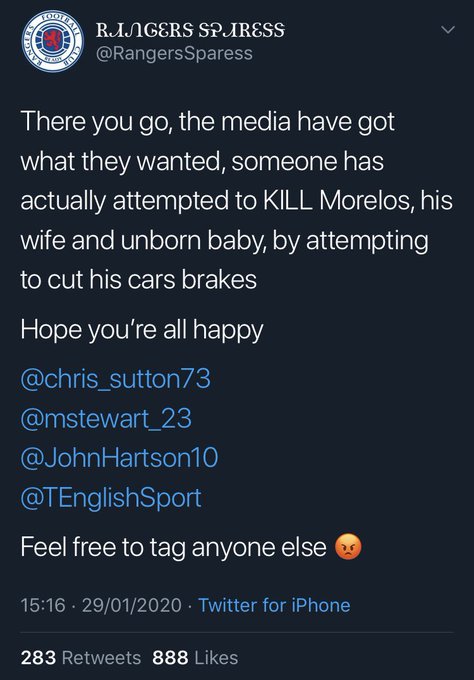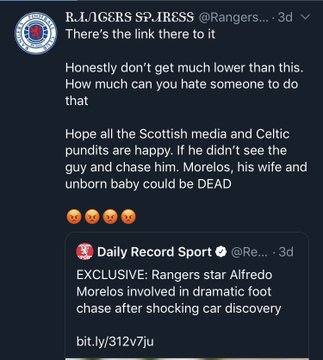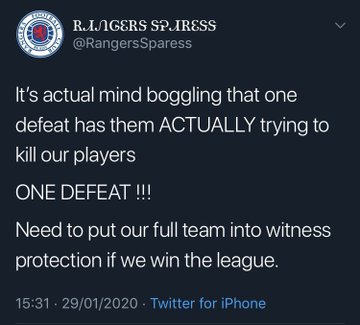 Whipping up hysteria amongst those who have more than a bit of form for taking matters into their own hands against those they see as the enemy is a serious and dangerous matter, and Stewart called traynor to account for it, causing an awful lot of sudden bowel movement amongst others in the studio.
Presenter Kenny McIntyre was quick to point out, whilst texting his wife to bring him some clean underwear to his work, that the views of Stewart were not the views of the BBC, presumably in case Traynor shouted at him.
Apart from the worrying implications that someone with an agenda such as that of Traynor can have so much influence with a national broadcaster, the attempt to defend him was little more than shameful, and Stewart himself deserves an awful lot of praise for standing upto and calling out the sinister machinasations of the Level 5 man, which in all seriousness could get someone hurt.
The Record went after him, no doubt at the behest of their portly chum…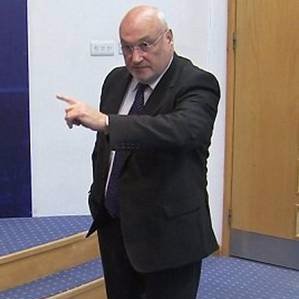 Michael Stewart unrepentant over inaccurate claims as he delivers defiant message in Spanish
The BBC were forced to apologise for comments made by the pundit on last night's Sportsound programme. 
Defiant Michael Stewart sent a message in Spanish after the beleagured BBC were forced into an apology for inaccurate comments by the pundit.
The former Hearts and Hibs midfielder inaccurately claimed on Sportsound that the Daily Record had published a story claiming that Alfredo Morelos' brakes had been tampered with.
Those claims were published by another newspaper, after we told our readers police were investigating claims by Morelos that the striker had found a man trying to access the underside of his car. This was confirmed by police.
Stewart also went on to criticise Rangers PR chief Jim Traynor on the programme, with presenter Kenny McIntyre forced to issue an apology for the comments.
However the former midfielder remains defiant and took to Twitter with a missive in both English and Spanish.
Er, we can see that.
"I'll keep saying it as I see it."
The second message repeated those words in Spanish, in reference to a mistranslated Sky Sports interview with Morelos. 
Er, we can see that as well…
The broadcaster pulled the interview from their website and social media channels after Record Sport pointed out a number of glaring inaccuracies. 
That bit we can't see.
The Record was not the reason the Sky interview was pulled, it was the general uproar that did it.
One has to wonder if Stewart will keep his gig at the BBC.
I hope so, it's refreshing to hear someone else tell it like it is.
On Monday we had this…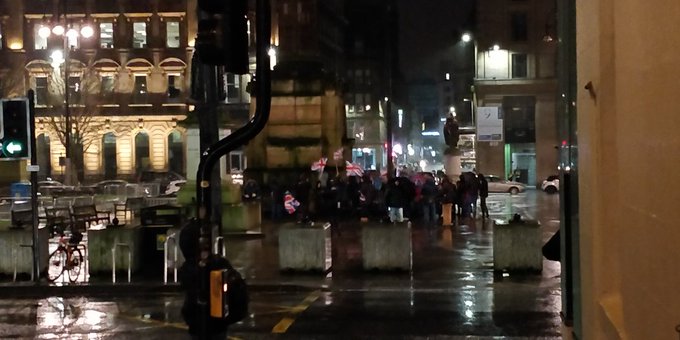 Today…
And I leave you with this, which should strike fear into your heart as we look for another treble and possibly a quadruple….