Well, would you look at that…who's rattled his cage ?
Dear Sir/Madam
On behalf of Celtic Football Club, I wish to lodge an official complaint in respect of an interview with the footballer, Alfredo Morelos, which was broadcast on all Sky platforms on Monday 3 February.
Mr Morelos spoke in Spanish and sub-titles were provided. It is our contention that the presentation of this interview was grossly and irresponsibly misleading due to the wildly inaccurate and tendentious translation which was provided in the sub-titles.
The effect and, we believe, purpose of this misrepresentation was to broadcast offensive and incendiary allegations against Celtic Football Club and its supporters, by attempting to attribute these – quite unfairly – to Mr Morelos. It is difficult to think of a more irresponsible piece of "sporting journalism".
Celtic Football Club has issued a statement on the subject which is attached for your convenience.  We understand that the interview is no longer available through Sky Television which is, in itself, recognition of its deficiencies. On the basis of the inaccurate translation, highly damaging and wholly inaccurate stories were briefed to the press.
I am therefore asking Ofcom to conduct an investigation in order to answer the following questions:
1     Who was responsible for the inaccurate translation?
2     What steps were taken by Sky Television to ascertain the accuracy, or otherwise, of the translation provided?
3     What part did Sky Television play in briefing the story, based on the inaccurate translation, to the wider media?
We believe this is a matter of substantial public interest for the following reasons:
1.   Issues of racism and sectarianism are far too important to be manipulated in this way by any broadcaster or third party.
2.   The use of mis-translation to convey false meaning is a dangerous form of "fake news" which must be condemned and sanctioned.
3.   Mr Morelos has been seriously misrepresented and is deserving of apology and explanation. 
I look forward to your early response.
Yours faithfully
Peter Lawwell  
Chief Executive
Celtic plc
Celtic PLC….maybe there's a clue right there.
We hear that we may have new owners in about eighteen months time…sooner if the SFA get their way and cancel ten in a row.
Some time ago in a diary probably best forgotten we mentioned the Glazers, who had apparently expressed an interest in knackering our carefully crafted financial model by buying the place,probably with our money, so this latest development is more than interesting.
If we hear anything else, we'll let you know, but don't lose any sleep over it because it's probably bollocks.
But then again, given the splendid inertia practised by the Celtic board over such issues as Resolution 12, new clubs pretending they're old clubs, refereeing mistakes, supporter arrests and anything else you care to mention, the sudden swipe at Sky TV is as weird as it is welcome.
So when Lawwell has a pop at them for allegations of racism towards supporters when our own chairman is on record as doing exactly the same, there has to be a reason.
We can't have the brand being disrespected, now, can we ?
Whilst supporters , in the main, were glad to see Lawwell challenge the image of Celtic fans portrayed by Sky TV some of us were looking behind the headlines, and frankly it's the boards own fault for losing our trust in the first place.
As for Skygate itself, we have heard that all is not what it seems when it comes to responsibility for the botched broadcast and translation of the Alfredo Morelos interview, and there may be something to come on that matter soon.
Poor Alfredo.
He hasn't scored for months on the field, and any attempts to do so off the field are being monitored by a guy allegedly employed by his wife to see exactly where the balls are ending up, and then his clubs PR department use him to attack Celtic fans.
To the point where Celtic's CEO is demanding an apology from a television company on his behalf while his own club appear to have abandoned him.
Surely he hasn't upset them by refusing to move to Hull or Watford or London's outer ring when they've told him it was a straight fight between Liverpool, Barcelona and Turin…?
Anyway, we all wish him all the best…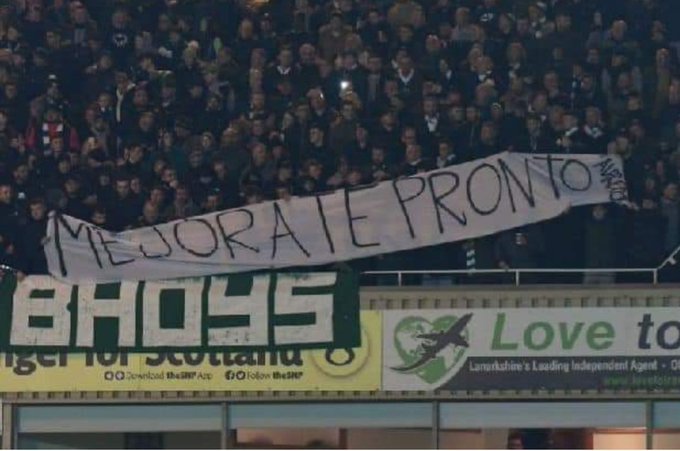 In the meantime, those of you who still subscribe to Sky Tv can ring this number… 03300 413 019…and tell them you no longer wish to subscribe, and tell them exactly why.
The more that do so the more they will look into what appears to be an undue influence on their Scottish football output.
And if we're really lucky, they will decide we're not worth it and drop Scottish football altogether, leaving the way open for BT Sport to make a comeback, which at least will provide employment for Michael Stewart,himself the victim of undue influence in the media.
Stewart pointed out a few home truths about James Traynor, the oversized overinfluence in Scottish sports media, and as a result has been suspended by Radio Scotland, who have bravely bent over backwards to the Fat Controller, who has clearly had a moan about being portrayed as a "dangerous " man on a recent phone in.
The BBC presenter, the rather lily livered Kenny McIntyre, claimed that as Traynor wasn't there to defend himself, such a statement was out of order.
As the phone in is largely about opinions, one can only wonder at the size of the studio for upcoming shows as if anyone says anything about anyone they will have to be on hand to say their piece as well.
Of course, there is no sign of the Fat Controller appearing anywhere to debate or deny any allegations against him, in which case we must consider that he has no defence, and it's difficult to see why the BBC didn't simply point that out to their audience and staunchly defend their man's right to his opinion.
It's especially odd as they're usually so staunch and loyal about everything else.
Speaking of staunch and loyal defences, why haven't "rangers " come out and had a go at Sky as well ? He's their player,and one would have thought they'd have been furious about how he's been done up like a kipper, for want of a better phrase.
They're usually handy with the crayon when it comes to statements…and with Morelos their most signifcant asset, it's odd that they haven't come out swinging on his behalf.
Surely they didn't sanction it ?
Standing on the outside looking in, however, one cannot help but get the feeling there's something big in the pipeline, and in all honesty it's giving me the fear.
And I'll tell you for why….on the field, it looks like "rangers " are not going to be able to stop Celtic winning nine successive titles, becoming the first team to do it twice.
The main opposition, or at least it is this season, have shot their bolt financially and will be in no position to mount a challenge to stop Celtic winning the tenth, which will wipe out the achievements of the now defunct original Rangers.
My guess is that there will be an attempt to suspend Scottish football next season, probably because of financial malpractice, or even the SFA falling on their swords before, during or after some kind of UEFA investigation, probably surrounding the Resolution 12 issue.
Sound paranoid ?
It probably is, but then again ,history has proved we were not paranoid enough at one time.
Away from that cheering thought, there has to be a word of praise for the performance at Motherwell the other night.
Lazio apart, that was the best game of the season for me, and credit has to go to Motherwell as well for that. It could have been a seven goal thriller, but Fraser Forster wouldn't let them score any.
They also got into the Tifo spirit at Fir Park, with an amusing effort of their own, and in a sense that kind of added to the occasion..
One Motherwell fan deserves praise for his own efforts to help create an atmosphere
https://twitter.com/i/status/1225166121575374849
We had a couple of great goals, a number of great performances and a team effort that sets us up quite nicely for the rest of the season, both at home and in Europe.
There's a buzz about the place,as Paul McStay used to say, and perhaps we can relax a wee bit now and enjoy what promises to be the season it promised to be.
We take a break from league action this weekend, as it's Scottish cup weekend.
Celtic will play Clyde at Broadwood, which gives me an excuse to quote from a match report from the last time the Hoops were in action there, and of course,we all know what happened that day.
January 2006..from Kerrydale Street.co.uk, when I used to document our trips to the football… this is an excerpt from my thoughts and actions that day…we had stopped at Edinburgh for breaksfast, as our navigator was convinced it was a short cut between Stoke and Cumbernauld…
12noon A quick run down the M8, and we are in Cumbernauld. The ground is easy to find, and we park in the school playground, being charged two pounds for the privilige. Incredibly, when i ask for ten bob each, no-one has any change.
The ground is still hard from the overnight frost, which at least is better than walking through the boggy wasteland that surrounds the ground. (The field, that is. Not cumbernauld.) There is a crowd outside the main entrance, and like children we await the arrival of the teams. Teeboo, (our navigator and CSC president )  in particular, is gutted when we are told they are already in.
We make our way to the stand behind the goal, with the low winter sunshine dazzling us so much that it is difficult to see our way.
I'd like to record that I said I hoped we weren't playing into that in the first half, but I didn't, so I won't. 
Outside the ground, a BBC man is interviewing fans.
"Go on," urges Teeboo,"You like that sort of thing"
We hear the interviewer ask for a song, and the guys being interviewed give a quick "Hail, Hail."
"What'll we sing?" asks Teeboo
I pause.
"You can stick your decomission up your…"
We collapse giggling, and the interviewer, rightly, ignores us. 
Into the ground, and as the team warms up, its fun to watch the cameramen running after new signing Roy Keane, who is realising his boyhood ambition of playing for a big club, as opposed to a big marketing operation.
1pm 
The game starts, and every time a Celtic player has possession, all the Clyde players run toward him and take it off him. In possession, Clyde just run at us until they score. however, the first couple of times they do this, the referee, obviously blinded by the sun, didn't see it, and ruled the goals out. 
Despite these early scares, Clyde score two good goals, and also miss a penalty. 
Teeboo, who had sang-to the pink panther tune- doo wee, doo wee do wee do wee do do weee, changes to
do wee diddy diddy dum diddy do. ( I remember now-Du Wei made his debut ) 
2pm The second half begins, and Celtic make a major change to their style by shooting toward the other goal. Well, trying to. Its getting desperate, and the worst thing was that you couldn't see how we would score. We did eventually, but it did no good. i spent the last few minutes staring at my shoes, easily the highlight of the game.
3pm The treble, so much almost expected,is gone. Dashed on the frozen sun kissed field by a team of players who really wanted to beat us. Simple as that. we couldn't cope with their youthful enthusiasm.
Back to the car and home. My sisters husband, (they live nearby) aphones and asks if we would like sunday dinner. As he is of the realms of mordor, and won't stop laughing, we decline.
It was quiet all the way back, with no real need for an inquest. Or talk.
One guy  says that we missed Balde.
In fact we missed everything we aimed at. Worst game i ever saw.  
I mention this because the Sun will be low in the sky again, it will be frosty again, and that really was an aid to Clyde that day.
We need to bear that in mind this weekend.
And yes, I really did sing "You can stick your decommission up yer arse "  to a Sky reporter asking for a song.
Caption competition from Wednesday…
Caption… FFS look what ye made me do….
I said… find the biting point of the clutch…
NOT THE FUCKING CROTCH…
today…