You'd have thought people would, on the whole, be a little bit happier this time of year.
It is nearly christmas, after all.
But it seems like everybody is moaning about everybody else.
Loic Damour, who lined up for Hearts against Celtic on Wednesday certainly won't be sending Scott Brown a christmas card, for instance. Indeed he gave the Celtic captain the rough edge of his tongue.
From the Record..
Loic Damour slams Celtic skipper Scott Brown and mocks 'king of the league'
Hearts midfielder reckons Brown has too much influence over refereeing decisions. 
He might have a point, as Brown clearly forced Bobby Madden into booking him after just 18 minutes of the game, for his first meaty tackle.
Hearts midfielder Loic Damour has hit out at Celtic captain Scott Brown – claiming he runs roughshod over referees and has licence to do what he wants.
The Frenchman, who arrived in Scotland from Cardiff City in August, has not been impressed with Brown as he accused him of dominating match officials.
Damour even went as far to claim he is the driving influence in how games are officiated. 
"I was very happy to get the 90 minutes against Celtic because that was my first 90 minutes since January.
"I was f***** at the end but I continued to work for the team. I enjoyed the battle, especially with Brown, I think his name is.
"Apparently he is like the king of the league because he can do whatever he wants on the pitch and the referee never says anything.
"He is the referee on the pitch and that is seemingly normal here. I was very frustrated about that so I wanted to let him know we have a referee on the pitch and he is not the referee. 
"He plays his game but he also plays like the referee so it is like we have no referee on the pitch.
"I'm starting to know this league now and I can see that when we play Celtic, okay, Brown is the referee.
"It's easy for them just now because they are top of the league and apparently they always win against Hearts at the moment but hopefully we will be in better condition next time we play them and then we'll see what happens." 
He hasn't been picked to start for nearly a year, but he is getting to know the league.
This particular rant, which may earn him a disrepute charge is timed nicely to coincide with the beginning of the transfer window, and aimed at a target that will attract attention and admiration from the dark side of Glasgow, and perhaps when we hear of an interest from Ibrox, the hordes will overlook the fact that he isn't very good and applaud him for telling it like it is.
We'll keep an eye on him, as it cannot be long before he tells the world he told Celtic no, and then opens a pub in Glasgow for the to watch the games in.
Fans like this one, perhaps , who has expressed an admiration for Alfredo Morelos with a bit of badly spelt ink..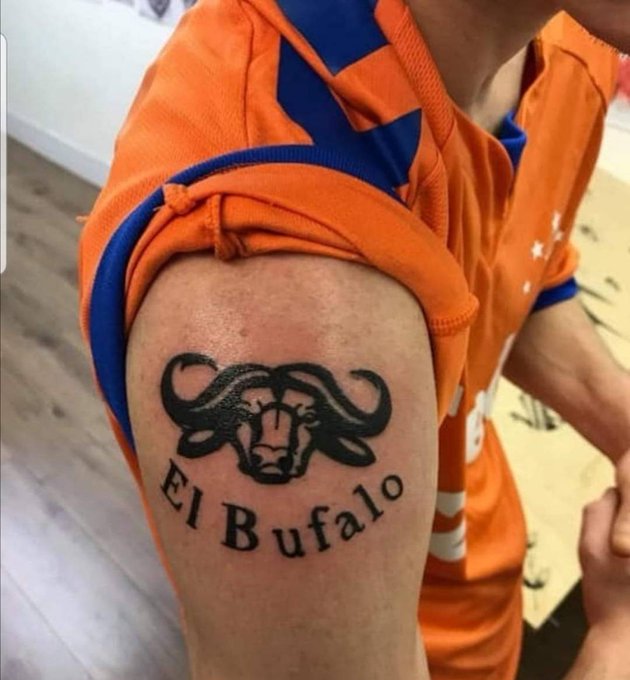 Barry Ferguson, who used to play for the original Rangers, has also been moaning, as with the Kilmarnock boss being fired for not letting the players have a bag of chips at half time, he felt there would be comparisons with the time he had a moan at Paul le Guen when he tried to introduce sports science to Murray Park, which ended in his suspension, and then the sacking of Le Guen.
Again, it's from the Record..
'This is f*****g Rangers!' Barry Ferguson finally lifts lid on his foul-mouthed Paul Le Guen rant
Angelo Alessio's Kilmarnock sacking has stirred up some memories for the Rangers legend and he's keen to set the record straight. 
The main memory it would have stirred is the fact that back then you could say "This is fucking Rangers," because, of course, it was.
Anyway, enough of those negative vibes it's nearly christmas, we're five points clear and it's no' New Year.
There is a story out there that Celtic have put in an offer/ shown an interest in/never heard of a chap called Andraz Sporar of Slovan Bratislava, and the story gained a little bit of credibility when their genaral director, Ivan Kmotric, said;
It is true, that Celtic FC sent us an offer and showed a huge interest in Andraž Šporar.
We are in touch not only with Celtic. There is an interest from another big clubs from France, Spain, Italy, Portugal or Belgium.
There is already a huge interest and we expect, that even more clubs will address offers during transfer period," 
"Andraz's value is higher than €5.5million. I can't imagine selling him for lower than €7m to €8m.
"We already received big offers last summer, but he stayed at the club.
"If he had gone then it would have been the biggest transfer in the history of Slovakia.
"Now clubs are addressing even better offers than last summer.
Neil Lennon has denied any knowledge of this, which perhaps gives it even more credibility, given Peter Lawwells urge to pretend he knows better than anyone when it comes to getting in new faces-to add to the two he uses in public, presumably.
But if you read between the lines, it's my guess that Slovan are looking to sell, and may have embellished any interest from Celtic, in order to attract interest from, well, anywhere. This makes more sense when you consider that Celtic have made an awful lot of money from their buy low sell high tactic, and gained a reputation for being able to spot these little golden nuggets, and the thinking behind Kmotrics words could be that he reckons of Celtic are interested, then other clubs might also take a look.
Which is exactly why any story about any player that appears in the media should be taken with a pinch of salt.
Owen, posting on twitter, using something called Tiermaker, gave us an easy on the eye way of looking at how the manager may be thinking,
Of course , everyone has their own idea of which players should stay, and which should go, but I like the way this is presented….

The thing about this window is that there's not much required, bar a central defender and hopefully a forward of the standard that could step up should the offers received for Oddsone Edoaurd be too much to refuse when they drop on Peter's desk.
Celtic face Aberdeen tomorrow, and the referee is a chap called Euan Anderson.
He doesn't do many Premiership games, 8 so far this season, and around  eleven for the last few years.
Could he be less , er career minded tham others ?
Back in 2013, he told the Clydebank Post;
"I think working as a teacher is the perfect place for a referee to enhance his people skills.
"You are dealing with a lot of different people and characters and it is the exact same on the park. You have to build relationships with kids and parents just in the same way you do with managers and players.
"I was a referee before I was a teacher but it seems to have worked together quite well and some of the skills I have learned in the classroom I have used in the park and vice versa.
"The kids love seeing me in the papers and on the TV but they aren't slow in telling me when I have got something wrong in their opinion.
"I love being in the background. If I am coming away from a game and my performance isn't mentioned then I am happy because then I think I have got most things right." 
He is noted for handing out a lot of bookings, however, as he hasn't quite got the people skills required to control adults, and resorts to the equivalent of detention by showing the yellow as much as oif not more than anyone else-Back in March of this year the Scotsman did a piece on what they called the most card happy referee, which at the time was Anderson, and that was enough to for my paranoia gene to kick in.
With what could be the most pivotal game in the League title race just two games away, could we see a card happy referee ensure a player or two of ours are suspended for that one.
A sneaky fiver on Scott Brown getting sent off ?
Or another of our core players ?
It's Friday, and that means we would like to propose to you who we feel has earned the coveted Etims
Knob of the Week 
award.
It was quite a week for Knobbery, but we goback to the top of the page, and a first award for Loic Damour, and we have a sneaky feeling that his first one won't be his last one..
Caption time, and this was yesterdays..
It's Christmas, so we can bend the rules a bit and have two winners.. this one…
And this one…
Zombie the snowman
Was as pished as pished could be
With his orange tap and his big blue nose
And his dodgy EBT.
Zombie the snowman
Is a miracle I hear
For they say that the snow they make him from
Is the same snow every year
It must have been Warburton's magic hat they found
For when they placed it on his head
All the press came hurrying round
Zombie the snowman
Soon began to melt away
But the zombie nation denies liquidation
He'll be back again some day.
And so to todays…