I didn't, at the time.
I was far more encouraged to see a lively Leigh Griffiths pounce on a back pass and almost create a chance late on in the 2-0 win over Hearts last night.
And I'm fairly sure the media haven't mentioned it…
When Griffiths stormed toward the ball, the linesman flagged him offside.
Which raises some serious questions, none of which will be asked in the media.
I wouldn't have noticed it had I not seen this tweet….
From a FIFA official, FIFA meaning that Daniel McFarlane is classed as one of the top Assistant Referees in Scotland. Not surprising at all as this official had to stand beside a post box for over 2 hours to wait on the postman – so he could put a stamp on his team lines 
followed by…
Given the time in the match Daniel is more focused on what he is spending his £425 on than the task in hand! It's a ridiculously poor decision and lucky Madden was tuned in and blanked him
#waveddoon   
My technical skills do not allow mme to post the video, which is on Derek's twitter timeline, but as MacFarlane is a FIFA official, one has to question his reasoning on this one.
Or, was it just his enthusiasm and training….and I don;t mean a lack f knowledge of the rules…
Keep an eye out for this guy, he's a stick on for a Cup game one day.
Apart from that, the Tynecastle clash was one of the most entertaining games this season. Blood and thunder aplenty, and until Ryan Christie scored the opener, an enthusiastic Hearts took the game to their visitors.
The second, a tap in-sort of-from Olivier Ntcham should have put the result beyond doubt, but this is a Hearts team that takes their mentality from their manager, and perhaps under Craig "Happy Jack " Levein, they would have folded.
Their new gaffer didn't allow that,'and more power to his elbow.
And speaking of elbows…not only did Johnny Hayes get away with one, he got a handshake from the Hearts boss as well.
 The Lennon CSC watched the game in the pub, and our own analyst had bemoaned Christie out of position, who duly scored. Ntcham was next in his firing line, who promptly responded with a goal of his own, and when the anger turned towards Calum MacGregor, we knew it was time to put money on him scoring.
He did, but the linesman, clearly having advance knowledge of tidays Diary that questions his ability or attitude, ruled him offside.
However, it all tunred out nice again as the hoops went five points clear at the top, leaving their rivals "rangers " staring at their fingers to realise how many that is, and how hard it will be to claw back.
Incidentally, BT Sport had tow ex Hearts players doing the summary, which was, er, interesting. Not the summary, i mean the choice of summarisers.
The summary I couldn't hear, as I had turned my ears off.
Something else noticeable last night was the condition of the Tynecastle pitch, which looked as though their first signing in January should be a groundsmen, with or without his own shovel, as it was dreadful, and perhaps contributed to some of the meatier challenges on view.
But, as its either that or plastic, maybe we should be grateful for small mercies.
We've three games to go, and if we win all three, then there may be no reason to even take the chmpions trophy out of the cupboard.
Ryan Christie Again, the man played out of position according to some, spoke about the run to the break…
"We knew that Hearts would come at us with a lot of energy and enthusiasm, and we knew we'd have to ride that storm in the opening stages, especially at a ground like Tynecastle," said Christie. "I think we did that well. It took us about 15 minutes or so to get going, before we started being a bit more direct, but it paid off.
"The second-half wasn't exactly a spectacle but we got the job done and got over the line, and we're happy with that. Our aim going into the game was to win and to go five points clear at the top. We know how big these games are in the lead up to the break.
"The manager has drilled it into us, to have that winning mentality going into every game, and we were really happy to do it against Hearts at a tough venue, before going into another huge game at the weekend."  
"Between now and the break we've got three massive games, which we're hoping translates to three big wins. That'll put us in a good place.
"I was happy to score against Hearts, I'm always happy to score in any game. I think it started with me tackling Jamesy – he's not too happy about that. I'm always happy to score, but I felt Olly's goal was a little bit more important. It gave us that cushion and he took it very well.  
"It's my job as an attacking player to score and create goals. Especially when I'm playing in this team, with the players I have around me, and the way that we're playing – I know that I'm likely to get one or two chances. It falls to me to take the chances that I'm given. Luckily, I've been able to score them lately."
Christie now has 17 goals for the season, a strike rate most forwards would be proud of, yet some how he doesn;t get the accolades in the media he deserves.
For us, however, it's why he's called Ryan Christie Again, as that is normally the response given to someone who didn't see who scored.
Elsewhere, and Traynor's typist Neil Cameron at the Herald has come out with an article that defends Alfredo Morelos, the free scoring but disturbed forward at plucky newcomers but still sort of tied to the establishment, "rangers "  .
Well, not entirely free scoring…
Morelas is unavailable for Fridays visit to Easter Road, a ground where they haven;t won for two years.
And we know they buckle under pressure…
Anyway, following what seems like a direct order from the Fat Controller, Neil Cameron produced one of those spectacular articles that makes one yearn for grown up journalism…
THERE is a wonderful sequence in the book, and subsequent film, Fight Club in which those who are members of the never-to-be-named association attempt to get into fights with ordinary and unbruised members of the public.
Turns out, that's not so easy to do. The vast majority of folk have no interest in physical violence, even when hugely provoked. As the author Chuck Palahniuk explained many years after his book was published, while humans are capable of almost anything, it is our base nature to keep out of trouble.
This is why most of us have never been in a proper fight. How many times have you been physically threatened? How often is abuse screamed in your face? 
I have walked the streets of Glasgow after closing time, which some claim is as dangerous as popping out for a pint of milk in war-time Dresden, and perhaps once, at the most twice, did I come across trouble.
We know how to behave, you see. Well, most of the time. And then we get into a football ground and, well, anything that happened at Fir Park stays at Fir Park.
Except there were no secrets about what happened on Sunday. The television cameras clearly caught the hand signal, the sneering, and the lack of control. This, of course, was the Motherwell supporters, at least the section that houses their 'ultras'.
They targeted Alfredo Morelos with personal abuse. This is fair(ish) enough. It's football after all. Fans get to shout and swear. That's the culture. Always has been. Except, these days, the shouty supporters can't seem to take it when anything is said back to them.
Should Morelos have told the Motherwell support to "get it right up them" complete with rude gesture? No, but I didn't have a problem with it and I'll bet you said ultras, who were to throw all manner of objects at the Rangers player, weren't traumatised in the slightest.
And yet Morelos is the one punished for reacting to constant abuse.
This is a serial victim. At different ground this season he's been racially abused, coins have hit off him and Aberdeen supporters even wrote a banner in Spanish about his mother. Oh, the Scottish banter.
If I were going about my business and a group of strangers shouted obscenities at me regarding my family and ethnicity, followed up by a bottle of Buckfast aimed at my head, I would react. 
If Palahniuk had wanted all of his characters to get into a fight, he should have sent them to a football match.
Morelos was shown a second red card because he did break the rules. He was sent off, and will now miss a big game against Hibernian, for being a human being. The Colombian didn't hit an opponent, dive, spit or go in late on a defender. After scoring, he gave some back to those who had spent a lot of their Sunday afternoon acting like louts. 
Steven Gerrard said he didn't disagree with the second caution. I simply don't believe that. The Rangers manager was playing the PR game. He would be 100 per cent on the side of his player, as he should be.
I don't see why it's "acceptable" to shout all sorts of stuff at a football player but, when they react, out come the "he could have caused a riot" mob. If you look up the history of rioting, there aren't any examples of people taking to the street because of a 50/50 penalty decision.
Same with Scott Brown after the Celtic Park Old Firm game towards the end of last season. Arms stretched in front of the Rangers fans with a broad smile on his face. 
I feel sorry for Morelos. He was brilliant at Motherwell. He's been brilliant all season. If the votes were taken now I'd have him as my player of the year.
He's cleaned up his act, scored goals for fun – apart from in one fixture – and his all-round play has been raised several levels. Plus, he's got a personality that is hard to dislike. Morelos isn't perfect, but nobody is.
I'm guessing that he gets it when he walks about Glasgow and he chooses not to respond, which is what happens in a book with the word "fight" in it. Could you put up with that on a daily basis?
If I were in charge of Scottish football, which sadly is not the case, I would rescind the red card and force those Motherwell supporters so brave with their actions at the weekend to face up to Morelos.
My guess is they wouldn't fancy it and hide away like the weans they are. 
Morelos has 27 goals to his name this season. That's impressive enough but, given he takes more flack on and off the pitch than anyone else in the Scottish game, his feats become all the more impressive.
I would be astonished if Rangers aren't forced to fend off bids for their main man in January. Morelos, still only 23, would be cheap in relative terms. I'm not saying Liverpool would be after him but surely the scouts in England now realise that to dismiss talent north of the border is plain stupid.
It would be good if Morelos stayed at least until the end of the season. We need as many good players in the Premiership as we can get.
But I wouldn't blame the lad if he once again turned to the Scottish public to
"get it right up us" and go somewhere else. 
Interestingly, this first shot fired in the battle to justify Morelos leaving "rangers " due to racism narrative, as Traynor is now working on, more or less confirms he's away, and for a lit less than they want, points out the shicking abuse that Morelos's mum got from fansm from the pen of Neil Cameron…
thats right, this Neil Cameron…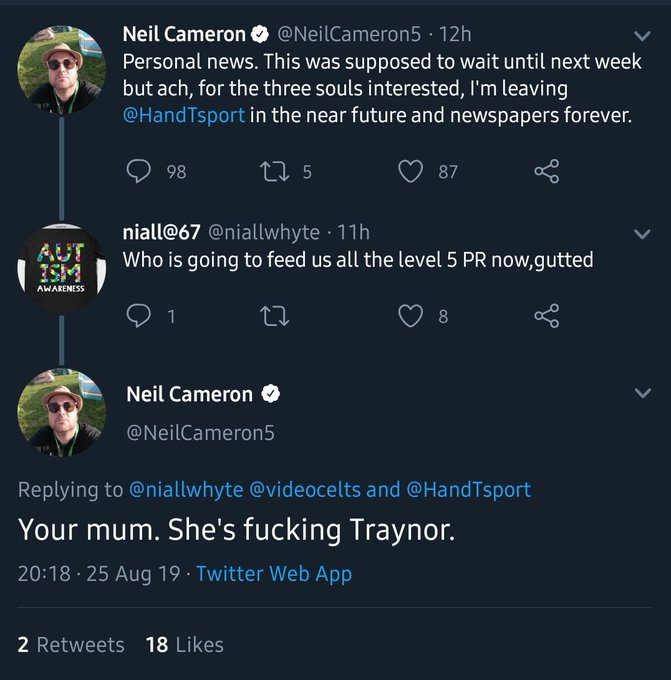 More to be pitied than scorned..
And as for his paper, The Herald…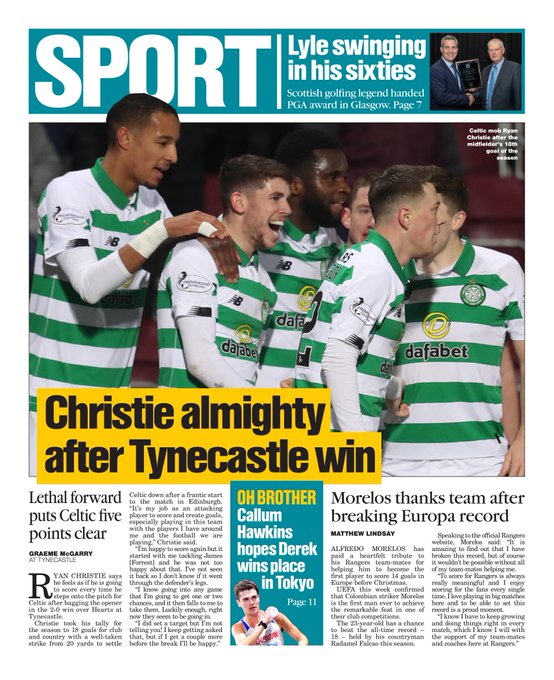 He hasn't broken any records, as we pointed out yesterday.
Caption competition, and before we go to the winning line, I must confess that when the mysoginistic "Maggie May " came on the radio yesterday, I did turn it off and offer the opinion that
You can fuck off as well  
It's probably better if our Strepsil addicted wrinkly crooner doesn't read the results..
CAPTION
Look! They've got a banner about me. They must really like my new Albu… oh! Wait a minute. 
To be fair to Rod the Clod, he's not the only hypocrite in the music industry.
I've had an email from the police department in California explaing that all Mariah Carey wants for christmas is not  me after all, and any further contact may result in a prison sentence,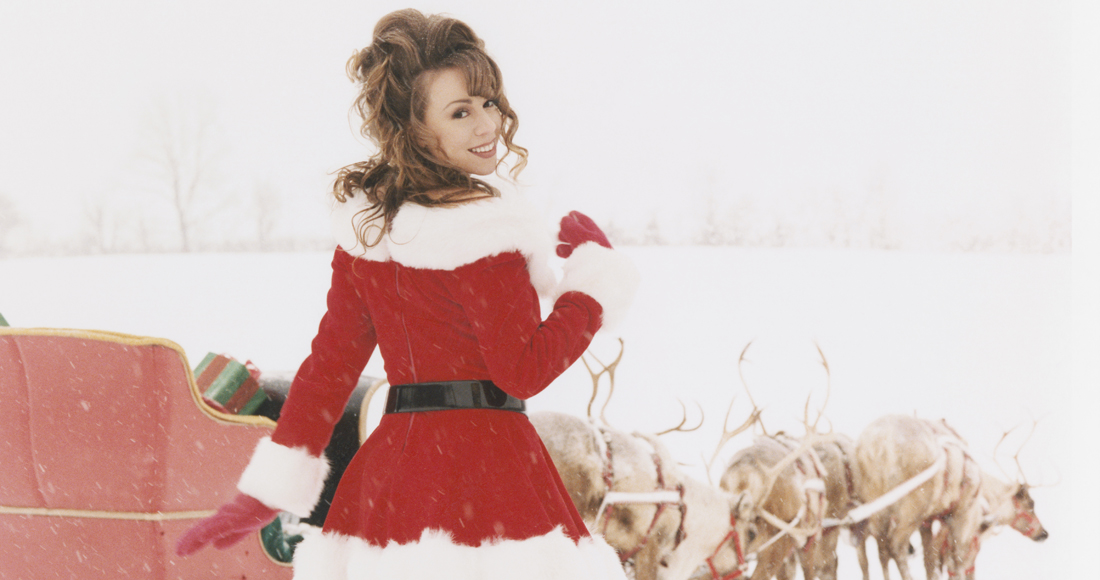 ach, it's hard to be angry with her.
Oh, and speaking of wonderful women, and this one has yet to take a restraining order out on me, which elevates her above Ms Carey in my eyes…
So I've taken all leave of my senses and I'm raising money for Running for my bestie. Some of you know me through doing what I can to help others. Can ye help me help her? Click to Donate
help someone who has helped others
And so to todays badly spelled caption competiton…