Thats the hands stopped shaking now , which means I can type something legible if not exactly coherent.
Just when we thought we'd thrown it all away in a fit of complacency, there came of those moments where we'll all remember what we were doing when it happened.
Mostly swearing, to be fair.
Celtic had huffed and puffed their way to a 1-0 lead over Hamilton Academical, and as the game wore on it started to look like fear was setting in, and on ninety minutes, the unthinkable happened, Hamilton equalised, which meant Celtic would not take advantage of "rangers " dropping two points at Aberdeen.
For those watching on twitter, the story unfolded…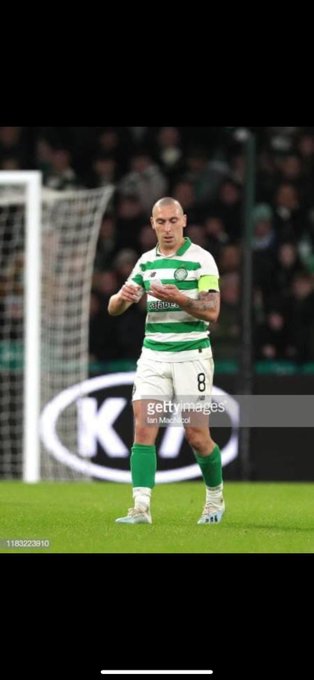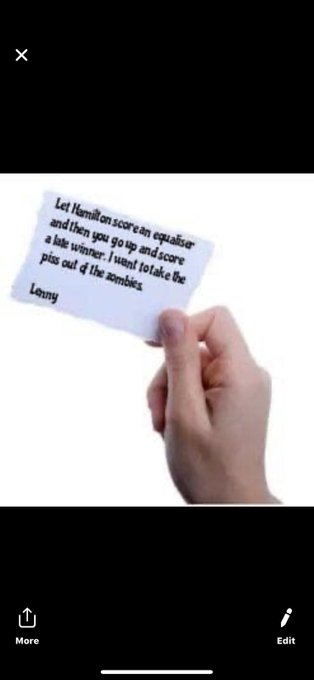 90′ – Goal for
: Ogkmpoe levels the scoring.
There then followed a tweet from a "rangers " fan, since deleted,  along the lines of
YESSS! Timplosion Imminent ! 
Which in turn, around a minute later had this reply…
Scott Brown had grabbed the bull by the horns and forced a winner.
That's why we're champions.
Post match analysis was hilarious, as tears fell down their bitter cheeks…
First to cop some flack was potential matchwinner John Beaton, who wasn't on message during the game, and failed to give the dark side their obligatory penalty, even though this time he probably should have…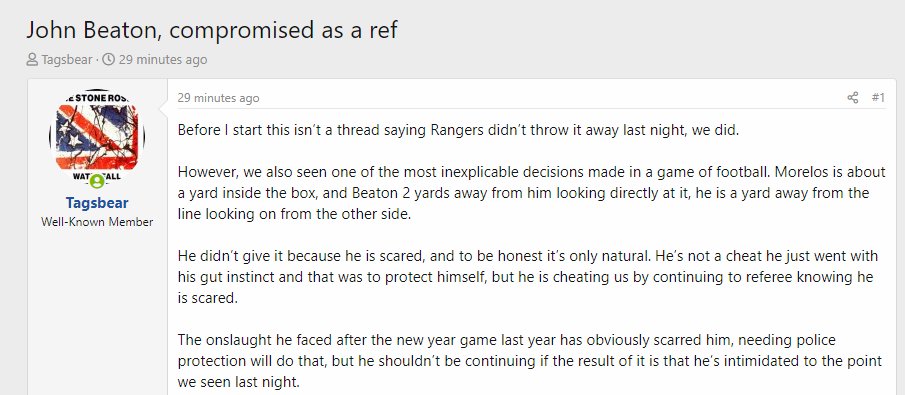 The papers had it on for him…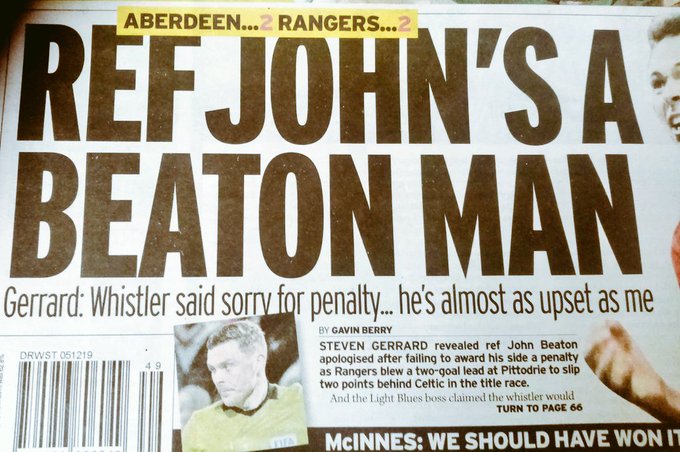 Almost upset as Gerrard ?
Yeah, I suppose he probably was.
 Then again, he probably went home and put up his Christmas decorations to cheer himself up.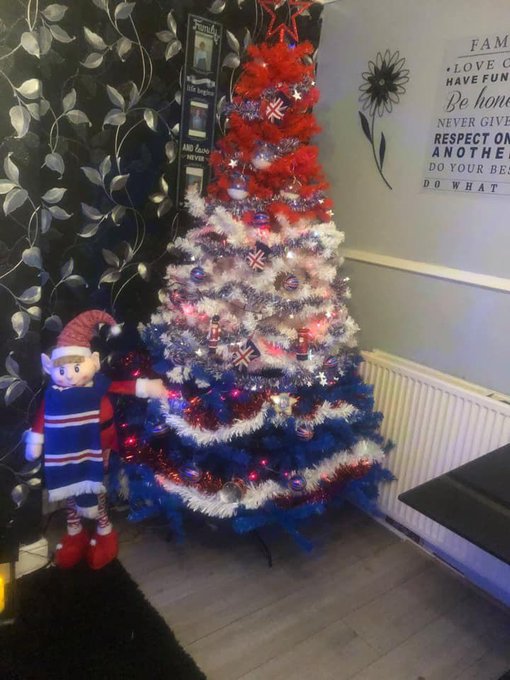 Then the team got it..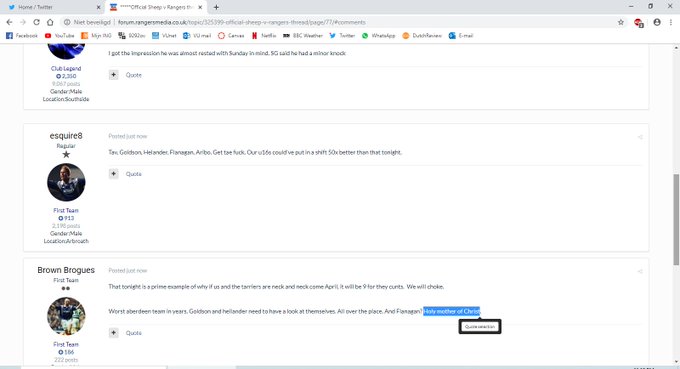 It seems they are less confident about Sunday than perhaps they were before this game…
To add insult to injury, James Tevernier Pen, their captain who has yet to lift a major trophy in four years, was hit by a pie, which quickly morphed into a banana, turning an assault into a race hate crime… Keith Jackson of the Record wrote afterwards that every "rangers " player was hit with a banana  on their way to the tunnel, but even the fat controller thought that was pushing the boundaries of credibility a bit..
James Tavernier being hit by a banana thrown at Pittodrie tonight is nothing short of moronic in itself but at a time where decent people are condemning rightly, abuse British players are facing abroad, it makes it all the more despicable. Edouard monkey noises in Rome, shameful
 To be fair, they also think that the club they follow looks like Rangers…
So, with the sound of bottles crashing in the far north, we can look ahead to the League Cup final on sunday.
Desi Mond has written an excellent preview elsewhere on the site, and there's little I can add to that.
Except the mood in the camp…our camp that is…can be described as bouyant, and it failry bounced out of control when it was revealed today that all of our doubts for the game, Edoaurd, Elyanoussi, Hayes and Bolingoli are all available for selection, having recovered from their injuries.
Though Edoaurd probably needs to spend less time with the more republican elements of our support, otherwise the media will find something else to moan about..
Even Jozo simunovic recovered, but he was that shocked he fell over and sprained his ankle, so he's out again.
The manager sounded like a proud father when he said;
"There's a relentlessness about them," 
"They refuse to lose, they don't know when they're beaten so it's going to take a big performance some day – hopefully not Sunday – to end this run of trophies.
"We're motoring on. The core group that have been here for the last three or four years have won these nine trophies.
"There are a few new guys playing in their first final but the experienced boys will prepare them for that, as will the coaching staff.
"It would be a great fillip to win it. We're on brilliant form. It's 11 wins in all competitions.
"We're looking forward to the game but we're not taking anything for granted. We know Rangers are playing very well at the minute as well.
"It's got all the ingredients of a cracking game." 
He was in such a gracious mood, he even added on a wee bit of praise for our opponents, even though one feels that deep down he'd rather be playing in a game where his players will be tested, as again the problem might be complacency.
I'm surprised he didn't mention the outstanding contribution from perhaps a surprising source…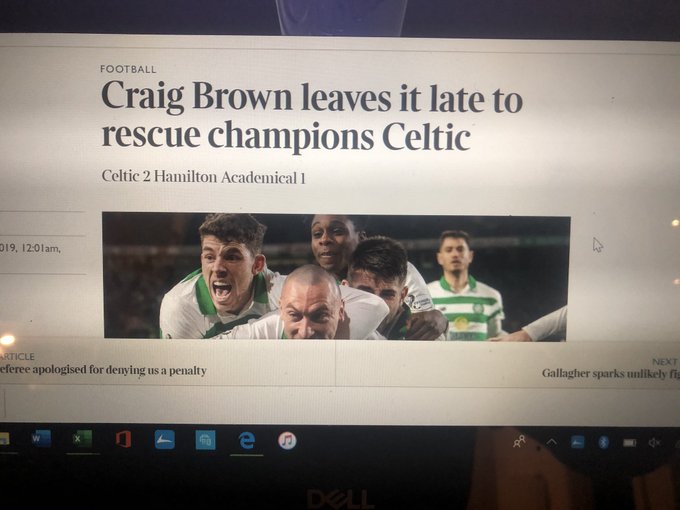 As it stands, the media are upset that the cracks are appearing in the so called title challenge from Ibrox-oddly enough they sort of ran out of steam around this time last year as well, and only a surprise win over Celtic gave them brief hope.
With the league slipping away, pressure is now on the Ibrox side to deliver a trophy on Sunday.
All we need to fear here are the honest mistakes from the officials.
Don't kid yourself, the Ibrox season and possibly the survival of their club deoends on them getting a result on Sunday.
The psychological blow of losing will be too much for them to recover from.
Peter Lawwell has let the support and shareholders down badly already this season, and I can;t help shake the feeling that he's in on all of the skullduggery that the SFA have put into the game to protect the Ibrox brand.
For me, there is a real fear that we will be cheated out of a trophy on Sunday for the very reason that the "Old Firm " is the most important aspect of Scottish football, and if one side is perpetually ahead of the other, it will diminsih tv revenues and other monies coming into the game.
Of course, Peter can dispell this fear by simply calling out the standard of refereeing ahead of the game, but no doubt he feels, like Resolution 12, that its not in the clubs best interests…
Yeah, for that reason, I'm expecting a more controversial game that we'd fancy, and perhaps a sending off or two for Celtic, a dodgy penalty for "rangers " and some bizarre refereeing decisions throughout…
All to keep the old firm myth alive,
But we'll worry about that on Sunday.
On Wednesday, we had this…
Caption:
"Keep pumpin' the gas till it straightens out."
Today…