The short, sharp format of the League Cup provides the best chance of silverware for any club during the season, and its great to see plucky , cash strapped "rangers " given a chance to win their first ever major domestic honour.
They seem to be happy about it, having offered Steven "Pep " Gerrard a new contract that will tie him down to the club/company until 2022, or until someone offers the hastily added get out clause fee, thought to be a ridiculously high £7m, which, in short, means he'll be around at Ibrox for a while yet.
As usual, the hype around the fixture perpetuates the myth that its the old Rangers who are in action today, and not the basket of assets bought by Charles Green, the venture capitalist who made a few quid out of a support that even now is still in denial.
It would be easy to get caught up in all of this nonsense, but the fact is it's not an Old Firm game as such, although it's almost certain the two clubs nodded wisely to each other over a five way agreement some years ago, and perhaps in the boardrooms there is a feeling that the two clubs need each other, and Scottish football needs them even more.
If Celtic play the team in front of them today, and not the hype surrounding them, we can expect a comfortable afternoon, unless, of course, you happen to be on the same train as some of their support after they've been beaten.
Only Hatem El Ahmed and Jozo Simunovic are unavailable, and that leaves Neil Lennon with an embarrassment of riches to choose from. Despite this rumour from last night..
Expect a line up of Forster, Frimpong, Julien, Ajer, Bolingoli, Brown , MacGregor, Forrest, Christie, Elyanoussi and Edoaurd.
Whatever line up "rangers " put out, you can rest assured that none of them would get into a Celtic side, although Morelos would make decent back up for Edoaurd and a fit again Griffiths.
But that is irrelevant in a one off cup game.
There is one person who could put in a match winning performance for the new club, and you all know who that is..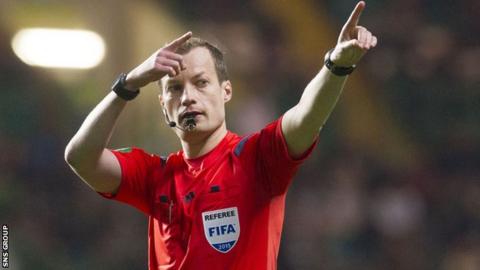 However, there is something that just might swing the fifty fifty decisions our way, as collum is the type of guy who looks like he can hold a grudge.
Willie Collum hasn't refereed a single Rangers fixture in the four months following the club's scathing attack on him.
The official's decision to send off Daniel Candeias during the Ibrox side's win over St Mirren in November 3 was slaughtered in a lengthy statement days later.
Rangers' attack on Collum garnered no fewer than five SFA charges and eventually resulted in a fine after a two-day Hampden hearing.
But in the ensuing 124 days since he flashed red at Candeias, a call that was later upheld on appeal, the senior whistler has not once been put in charge of a game involving Rangers. 
Collum is an arrogant sort of fellow, and he might be out for revenge on the new club for questioning his decision back last November, but what is worrying is that the SFA have chosen this game to give him a chance to make it up to the SFA's chosen club.
Peter Lawwell was never going to point this out to the powers that be, having decided to sit quietly at the back of the bus until it's time for him to get off to pastures new, but ,manager Neil Lennon is fully aware of it.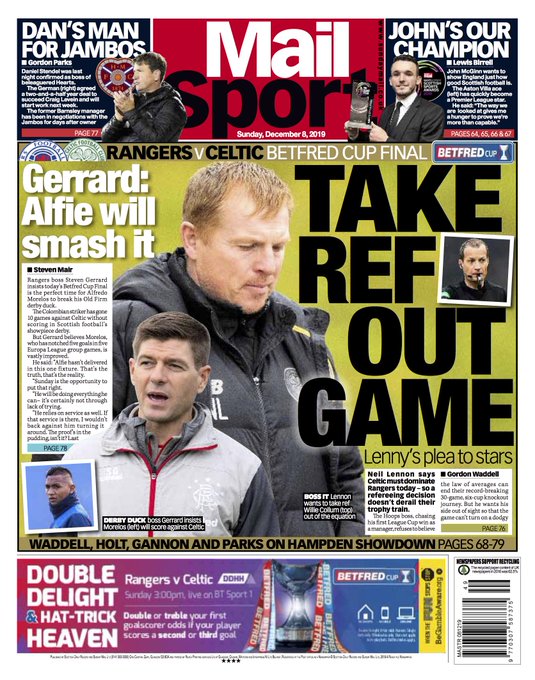 On referees , and their honest mistakes, Lennon said;
"It is important to try to take that out of it," 
"Try to be the dominant team in all aspects of the game, then you don't have to look at wrong decisions.
"You've got to take the referee out of it. You've got to keep your discipline and play as strongly as you can.
There is scope for plenty of incidents, especially slips and falls that may be determined to be a penalty as the Hampden pitch has poor drainage and its been raining heavily in Glasgow for what feels like a fortnight.
However, with tv money at stake, there was never really any chance of the game being called off, so the announcement this morning it was on should come as no real surprise..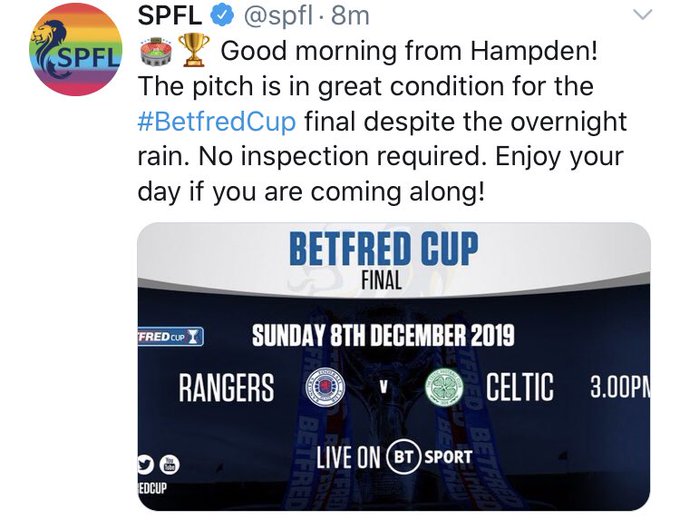 no ispection required, that means they were taking no chances as to whether or not it was safe to play on.
And lets face it, the SPFL couldn't give a toss if the fans get a bit wet.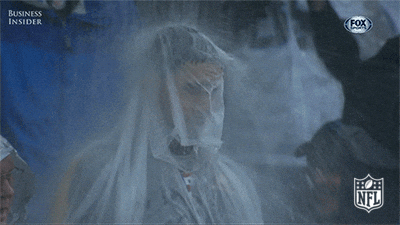 The last game between the two sides started with Oddsone Edoaurd kicking the ball into touch as close to the "rangers " bye line as he could, immediately putting pressure on their back line, which is not the best back line in the country.
Whereas that particular move may not be replicated, we can still perhaps expect Celtic to start at pace and keep it going all the way through until the end.
With the Ibrox side slipping behind in the league, and a trip to Celtic Park at the end of the month ahead of them, they will be a little nervous as their entire season could fall apart in the next couple of weeks.
A convincing win and an outstanding performance today will destroy their morale, and leave them wishing they hadn't believed all the hype about how good they are.
Speaking of hype, or rather the lack of it, there's been little mention of the fact that Lazio, beaten home and away by Celtic, beat Juventus last night, 3-1, to move into third in Serie A.
In their last eleven games they have lost two, both to Celtic, and Celtic remain the only side to beat them on their home turf this season.
We knew Lazio were a good side, and we know exactly how much of an achievement it was to win those games.
Put that into the context of todays match, against a team of journeymen players at a club still to win a major honour, and you kind of start to think complacency could be the real problem.
But the players are fired up for this one.
An unheard of tenth successive trophy is up for grabs, a run which will come to an end, but not today.
Although there will be a determination in the Ibrox camp to give their support something to cheer about, as they were devastated the last -and only time -they played in a cup final…
Prediction for today ?
If Celtic want to, they'll win quite convincingly..three or four goals is not beyond them.
If Willie collum wants to have his priviliges re-instated down at the lodge, or the SFA feel that they owe "rangers " one after John Beaton was below the standards expected at Pittodrie last week, then we could see extra time and penalties.
In fact, I wouldn't be surprised if Gerrard sets out to aim for penalties, like all wee clubs do when there's little chance of them outplaying their opponents.
But for me, I'd say that 7-1 record was in danger today, and there'll be an awful lot of u happy bears out there tonight.
Gerrard is due to sign his new contract tomorrow. He'd do well to sign it before todays game, as if things go badly the hordes will be wanting his head on a spike.
Anyhoo, back to the caption competition… from Friday/Saturdays diary..
Caption……..
Workers rights take a battering post Brexit. Seats, desks,office phones need not be supplied by the employer and toilet breaks will be a thing of the past..
Though on the plus side, adult nappy sales have given a surprise boost to the ailing economy. 
Today..whats going on here ?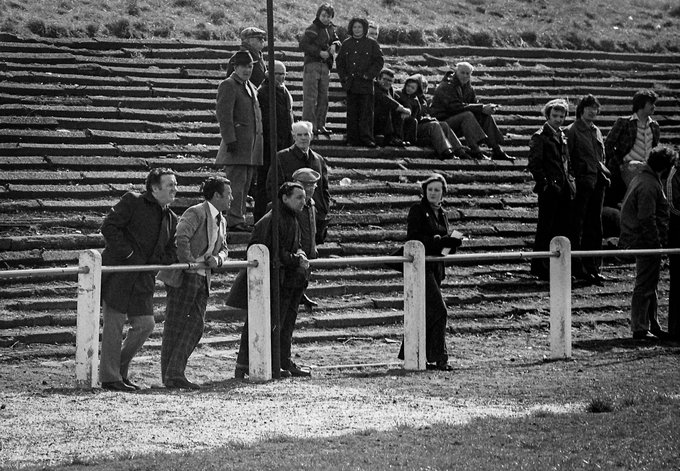 If you are at the game today, stay safe.
You know what they're like when they get beat…