Here was me all happy and jovial yesterday, and then someone called me out on Davie Moyes, once of the bhoys…
Makes me think of that MP, Lucy Allen, the lass who adds death threats to her incoming email so she can feel important. Today she will be talking about a letter sent to her home address demanding money. We know its the electric bill, but she doesn't see it that way.
And I know, courtesy of a friend in Jersey, that Davie Moyes was the first choice to replace Neil Lennon. He said no, presumably so he could write a book about it later.
Here's how it came about, for those who can't be arsed trolling through old diaries, or listening to old podcasts.
In the same vein, by the way, the first person to moan about us getting three new strips next year should just go and stand in a bucket of water whilst prodding the socket with a copper strip.
Hang on, did someone say Prod?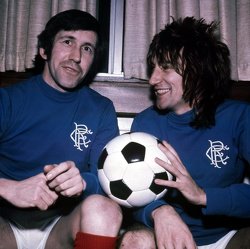 Lifelong Tim and uberfan Rod Stewart, I meant, not Prod Stewart, the seventies tribute singer pictured here.  If you read his book, you'll find out he became a Tim after Stein looked at his shoes, more or less questioned his sexuality, and as Prod says, scared the bejesus out of him.
And the crackly voiced crooner wants Moyes in….. Moys who has sung the sash with the best of them, and lets be honest, we know that there is a breed of humanity-maybe the wrong word-not noted for it's aesthetic beauty from that part of Glasgow.
Still, that doesn't apply to perennial under achiever Moyes, does it ?
Everton fans still remember his legendary tactical talks, where he used to ask the players to fill in the tricky bits about movement and positioning
Anyhoo, there I was in Jersey, at a wedding, shortly after Lennon was sacked.
A chap from Monaco, related to the bride, made some small talk. The family are Everton fans. Hence I got to sit at the Bobby Collins table, as he was the only table with a Celtic link. Despite eleven years at Everton, there was no Davie Moyes table. Oddly enough, despite his lengthy tenure at Goodison, he was largely supported simply because he wasn't Walter Smith.
Wee bit if small talk, and I was asked what I though of Neil Lennon being sacked by yer man from Monaco, who incidentally, also told me about a certain Craig Whyte and his company over there, who shared an office block with his own company,  right up until they were asked not to as they were seen as "dodgy ".
And , as he said, they were dodgy.
But we know that, don't we ?
Neil Lennon wasn't sacked, I replied, which got me the kind of smile you get from an old fellow when you point out that the trenches might have been a bit damp, but it wasn't that bad.
Lennon was embarassing the board, claimed yer man, his sectarian baggage, although not his fault, was not what they wanted to be the clubs image. There is no suggestion the board didn't fully support him when he was under, shall we say, duress, but it was having an effect within the walls of Celtic Park.
Ask Anthony Stokes about the time big Johann remonstrated with him about his, er, Irish folk singing in Belfast.
Something along the lines of "After the shit he's been through, you go and fucking do that ". Meaning , of course, the attcks and threats toward Lennon.
What I was told was that the board were looking for an excuse to mutually decide that Neil was out of here. His demands for money to spend on more duds, and I believe Jimmy Bullard may have been the straw that broke the camels back, led to a stand off, then a sit down, then a handshake, and a quick call to Desmond.
Who in turn made a quick call to Moyes.
At the time, Moyes was still being paid by Manchester united. This is quite common in football circles. Celtic were still paying Martin O'Neill long after he left, though not with an EBT, which is less common in football circles.
If he had taken another job, he would have lost that money.
So, Moyes told Desmond no. A move which fits in with his complete lack of ambition, drive and personality. Eleven years at one club, no trophies suggest also that nobody else wanted him.
But hey, never mind that.
Until Man U came calling, found out he was shite, and fucked him off. On full pay.
Thn we rang him, Larsson and Keane.
They all said no.
Deila didn't. He was proud to be offered the job, and flattered. And he has become Celtic minded. As anyone who has spoken to him for any length of time will tell you, he knows his stuff.
And he also knows it will take some time to get his systems in place, as he told me, he is sticking to one system until he feels the players can handle other ways. Perhaps we have seen a wee bit of that coming in in the last few games.
He's not a one trick pony, he just has a long term plan.
Back to Moyes, and at the time, I paid the usual polite ear to yer man and his , what I thought, warblings. Until I mentioned his source to Hector Bandido, my Etims colleague.
He told me who the source was, and believe me, its , if true, very credible.
Very credible indeed.
so , during the Monaco Grand Prix that year, I got his number and checked what he'd told me wasn't down to the drink or anything else.
It was kind of weird watching the race on tv and talking to a guy sitting on his balcony watching it at the same time.
He was adamant he was right.
And he night well be, as we can only take everything we hear for what it is, something we hear.
And this is Etims, where we make stuff up, apart from the stuf we don't.
You now have to decide whether or not I'm making this up, or the chap in Jersey was.
And frankly , I don't give a toss whether you believe me or not.
But I do know I don't want Davie The Donkey anywhere near Celtic.
Even to watch us.
Right, on with the show.
Former players are often in the press earning a few bob for their thoughts. You see, having played the game, they are really quite clever and know how to run a team.
Alright, maybe not all of them.
Anyhoo, can you guess from which former Celtic man these words come ?
"The one position where you really need to be playing all of the time is striker because you need that fitness and sharpness," he said.
"If you are not playing it's hard to be at your best and that has clearly been the case with Ciftci.
"Sometimes it takes a player to get injured to give you the opportunity but it's tough, especially with so many managers playing with one up." 
"Celtic should be playing with two up front against the majority of teams in the Scottish Premiership," he claimed.
"They are the strongest side and there should surely be room to go in that direction, even now and again, which would let Griffiths and Ciftci play,
Go on . Guess .
It's fun.
Tony Cascarino.
Yep. The Tony Cascarino who thought Celtic played too much football for him to succeed.
Cascarino, of course is fondly remembered by Celtic fans for one thing.
And heres another one;
"Nadir came in for stick after the Fenerbahce game last week. It must have been tough for him as he got some criticism for his performance and fans were on his back,I read various people saying Nadir isn't Celtic class but I believe he is, so it was great to see him score twice against St Johnstone."
"I played with Nadir at Tannadice, I felt he would be a good signing for Celtic, and I still believe he will be. I hope he does kick on now. We said it a few months ago after he scored the winner against Motherwell, but it never really happened for him. But getting two goals must have been a real confidence boost for Nadir because he will be so eager to take his chances when they come along,"
In fairness, theres nothing wrong woth any of that, but the speaker, Mark Wilson, can't say anything bad about Celtic.
Just in case someones listening….
Then theres this, again, see if you can guess who is talking shite, on er, talkdhite radio;
 "We are going to walk the Premiership – of course we are! I don't know Ronny, but going on what I've seen so far, you just look at attendances and something has got to give at Parkhead. I would love David [Moyes] to take it, but, although he played for Celtic, he was a Rangers fan as a kid. I think he is looking for something big in the Premier League. I think Neil Lennon would have a chance back in the Celtic job. I would be more comfortable with Neil as Celtic manager than Ronny."  
And I'd be more comfortable if you shut your mouth.
Thats right, we'd all be more comfortable if he did.
It's Alan Brazil.
Yet another armchair manager with a remarkable ability to be able to talk about someone he doesn't know doing a job he's never done .
So, lets ask someone who doesn't know him who has never been a radio talkshow host what she thinks about his comments.
Maybe you don't always need to have expert knowledge…
Away from all that, and theres more disappointment for an Ibrox fan when one of his arguments falls apart;
And Dave King has neatly avoided buying any of his kids and grand kids anything for Christmas after he wangled a favour from one of his ardent supporters.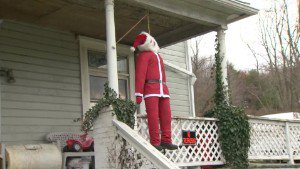 Down at the Louden, they celebrated their chairman not going to prison.
And over at Hampden, Stewart Regan and Neil Doncaster are pondering how to raise more money in Scottish football after they made a collective arse of everything they've done so far.
Heres a wee bit of a hint for them.
At , say £3 a can, and we'd all buy them, thats a fair bit of untapped income right there. You don't need a bar. Just sell plastic bottles of the stuff.
Yesterdays picture was taken before the infamous Jeremy Kyle episode, "Your father is also your brother and your sister is your wife "
I particularly remember the bit when one of them was asked to take the lie detector test.
" Dave, you'll need to wear this when we strap you up to it , in case it reacts. "
And it did.
Anyway, I'm off. Need to get the wife something for Christmas. She said she doesn't want anything big, so that rules out underwear.
I'm here all week, etc.
Thanks to Thommybhoy on twitter for the pic.