As you get older, as I'm sure most of you will testify, the surprise around christmas morning begins to disappear, and whole idea of receiving a nice surprise becomes almost non existant.
However, when you CSC secretary rings you on a Thursday afternoon and tells you he has four tickets for Hamilton away, that feeling of joy associated with Santa Claus coming down the chimney returns.
Its ages since I went to an away game, for one reason or another. In fact, its so long I think the club I went to see us play have since gone out of business. With talk of a possible postponement due to the weather, its worth remembering what it used to be like when football was a mans game;
Where the  football is concerned, I tend to go with my instincts and I'm looking forward to this one because I think it will be a cracker. Although Hamilton have just lost their manager, the impressive Alex O'Neil, they still gave Dundee Utd a good game last week, losing only by the odd goal in five, and they will fancy their chances on their artificial pitch against the champions. But then again, having oted our much improved performance against Kilmarnock, also on an artificial pitch, in an artificial town populated by artificial people, the stage is set for what could turn out to be the game of the season.
Will the break have done the players some good ?
Will they have got their appetite for destruction back ?
Did they have special training on the purpose of the big white sticks at each end of the pitch ?
And will that wee guy who sells the £1 bag of sweeties still be at the ground. Last time I was there I ended up sharing a bag of boiled sweeties with Tom Boyd, who promised to get the next bag, but strangely disappeared into the crowd when it was his turn. The ten stopping captain was often seen at away grounds, but now does the commentary for Celtic tv, so it just shows the lengths some people will go to avoid paying their way.
Development coach Ronny Deila has blasted back at the press, showing , possibly, he has finally had enough of their shite.
  "I'm a winner. I'm not just a development coach, I'm both. 
Oops. Wheres the delete button ?
Its not surprising he's getting a little sick of it. He gets no praise for anything he ever does, because he's expected to deliver. This, of course, midway through a season when Aberdeen are four points ahead of Celtic, despite the hoops beating them twice in the league. and theres another few teams breathing down our neck as well. No-one has even considered whether or not Neil Lennon would have handled the new challenge, which had to happen sooner or later, any better or any worse.
However, it means that tomorrows game takes on that extra edge, and in my mind at least, is the most important game of the season so far, all things considered.
Can you tell I'm looking forward to it ?
I've even got my clothes all ready lined up by the bed so I don't waste any time looking for them at whatever obscene hour we set off at.
Deila continued to attack the hacks;
"You can't do one thing and not the other. It's hard because if you don't develop you don't get better. It goes hand in hand. Short and long term.
"I've won things before and I'm here to win. That's the most important thing.
"But it's also about other things. It's about playing good football and we do that. We go out every game to control it and to develop the young players.
"A lot of the youngsters, like Nir Bitton, Jason Denayer, Leigh Griffiths and Virgil van Dijk, are improving and this all goes hand in hand.
"But without winning there's no development either. That's something I've learned here, that you're quite vulnerable when you lose and you need to get back on track very quickly." 
 Tell you what , Ronny. Keep me a seat over by you. Anyone gives you any nonsense and they'll get the rough edge of my tongue.
 So, will Ronnys Rockets be up for the game ?
"Aberdeen are making the job easier for us as everybody knows the most important thing is the league.
"That is No.1 and the cups are after that. We are hungry. I see the hunger in training.
"It was a good move for us to go away for a week and we are in a better position than we were one week ago in terms of injuries and freshness so I am very happy." 
 "It is important to see behind the results and sometimes opponents deserve credit as well.
"We have had some good points and results in the last two or three months but opponents have followed us and you have to also give them credit.
"Aberdeen have been consistent. They played well in the Europa League against Real Sociedad and kept on going with what they were doing.
"I would expect Aberdeen to keep pushing us and we have to keep up. If we can keep up the improvement in the next matches then hopefully we will get more points than we have so far and see if they can cope with that.
"There are more teams competing for the title and that is good for the league.
"We need to be on top of every game to get the title because Aberdeen are doing well and there are teams behind them who could also come into it.
"We have to take one game at a time and now it is Hamilton and that will be tough. We have a good chance there if we can keep the level we showed at Kilmarnock." 
So, does the boss think Aberdeen will take it to the wire ?
 "I would expect that. Of course.
"Again we must concentrate on ourselves and we will see what they do but so far they have looked strong and it's going to be a tough race."
 Thats fighting talk. Perhaps the complacency of the ;last couple of seasons has finally been washed away.
 Lets see if the players can rise to the challenge, now that it appears they have realised there is one.
 Starting tomorrow.
There was more good news for Ronny as the IFFHS announced the world club rankings yesterday, with Celtic appearing at number 31 in the list. They have their own complex system for working this sort of thing, and I'm happy with it. Largely because it has us ahead of the likes of the likes of Manchester City , Everton and Liverpool. Also below us are Europa League opponents Inter Milan, though its a little disconcerting to see that Maribor and Legia Warsaw are also ranked lower, so presumably the judges missed those games.
 The full list is here, on Talkshite Radios site, and it appears to have annoyed them. so its not all bad.
 On the transfer front theres been little activity, other than more talk about Gary Mackay Steven, and more talk from Virgil "I'm a World Class Defender Get Me Out Of Here"  van Dijk.
 Craig Swan in the Record claims :
Arsenal linked with move for Virgil van Dijk but defender
says: I've been priced out of a move from Celtic
Except in the text, of course, he says no such thing…as usual.
Perhaps it was Mystic Meg who did the original interview.
I went to see a one of those fortune tellers once, and she seemed quite pleased with the tip i gave her after the reading. I delivered a swift right hook to her jaw, which initially confused her, but as I explained, I do like to strike a happy medium.
I'm here all week. Try the veal, etc.
Speaking of the Record, todays back page deals with the latest problem to occur at the home of Scotlands newest club , Ibrox.
Well, as it appears they have taken out, or are about to take out a secured loan on the place, it might not be their home for much longer.
We did say a while ago the SFA had been approached about renting Hampden to another branch of the Rangers franchise….
Anyhoo, those clever wordsmiths at the paper came up with this headline;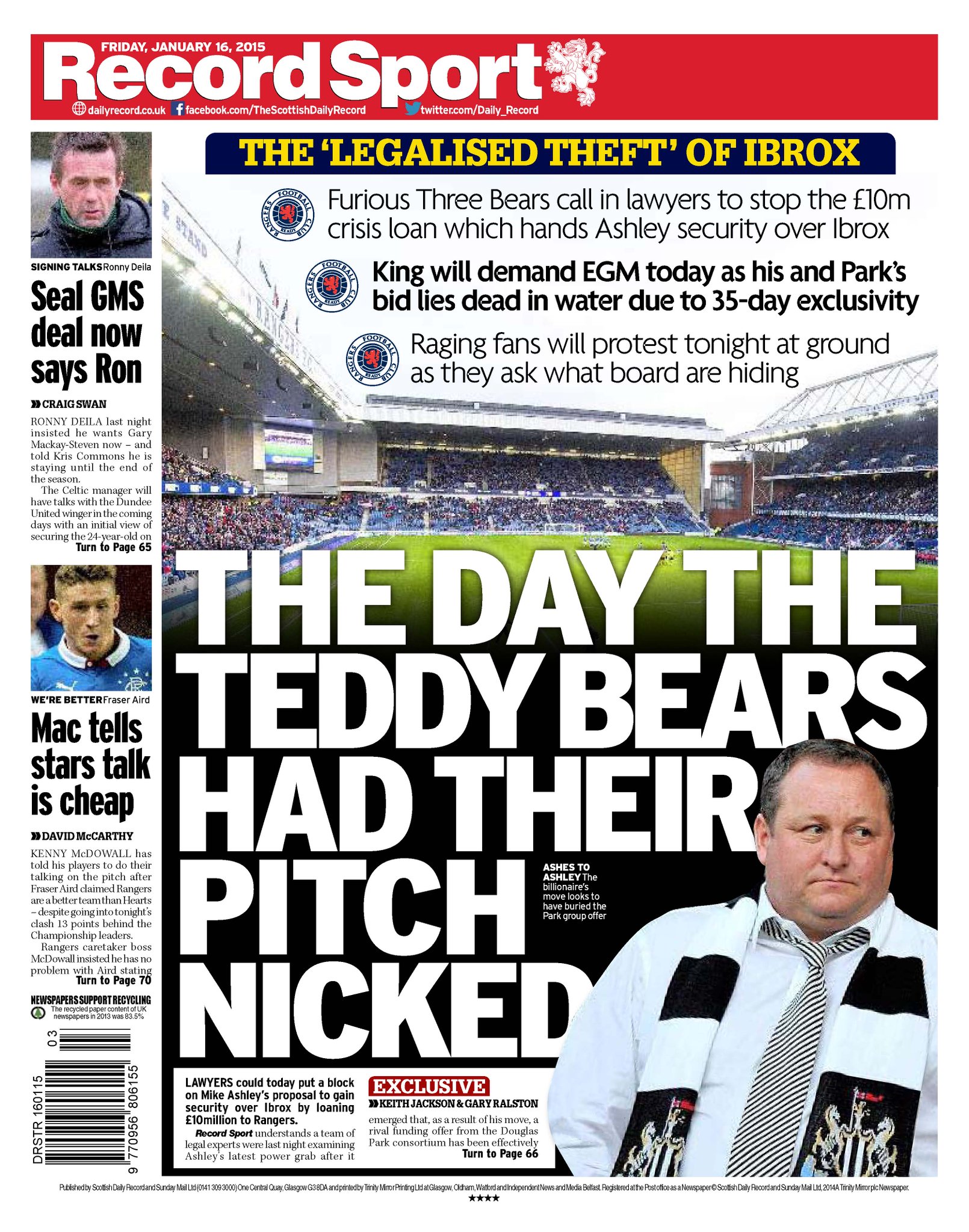 Well done. They even got there just hours after the catchy phrase had been all over twitter and virtually every Celtic forum.
Still, its not like Keith Jackson to borrow anyone elses work.
By the way, for updates on the current crisis at Ibrox, you could do worse than follow Phil MacGhiollabhans website. He's right more often than not, and it will save you buying the Record, which usually prints it the following day.
You'd certainly learn more than if you followed , say , Matt Lindsay of the Evening Times, to find out whats going on. With Mike Ashley now putting the end game into place for the stricken Ibrox club, he went with  the Monty Python option of always looking on the bright side of life.
@aberlourbear @AngeBlue55 Hugely successful businessman. Vast personal fortune. Experience in football. What's not to like? 
 Put them down, Matt. Its over.
But hang on, those passionate and committed supporters over on the south side are swinging into action….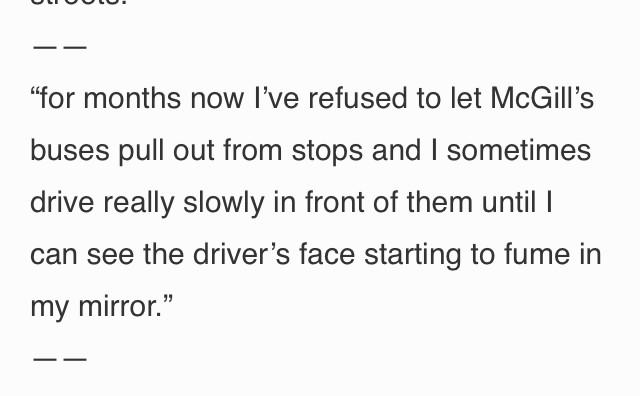 The fightback has begun!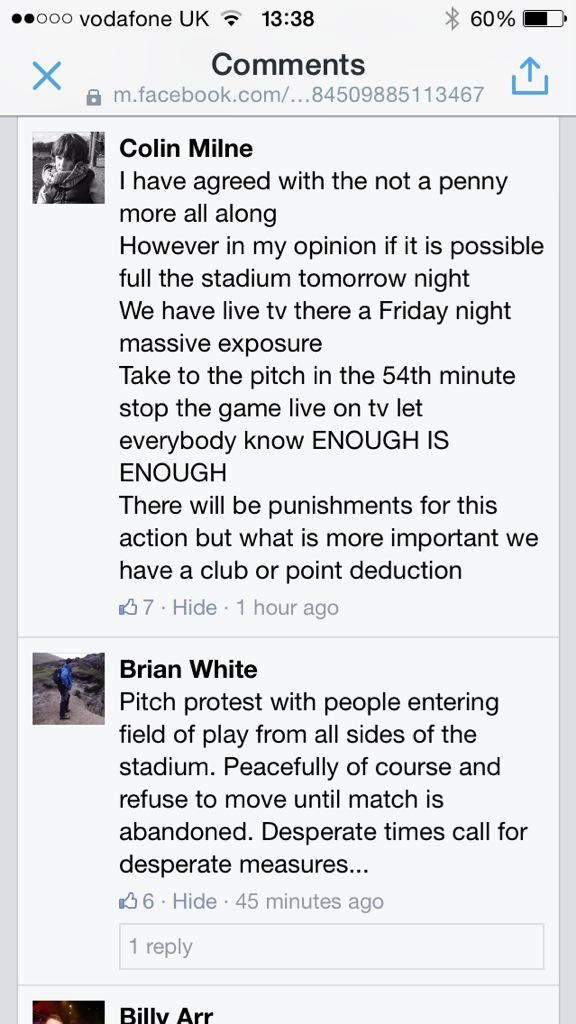 Charles Green RFC wants to take it even further…
Protest – walk out on minutes 18 & 72 – give your clothes to a mate – he walks back in on 20 & 12 trying to say he's the same guy   
Some however, have given up….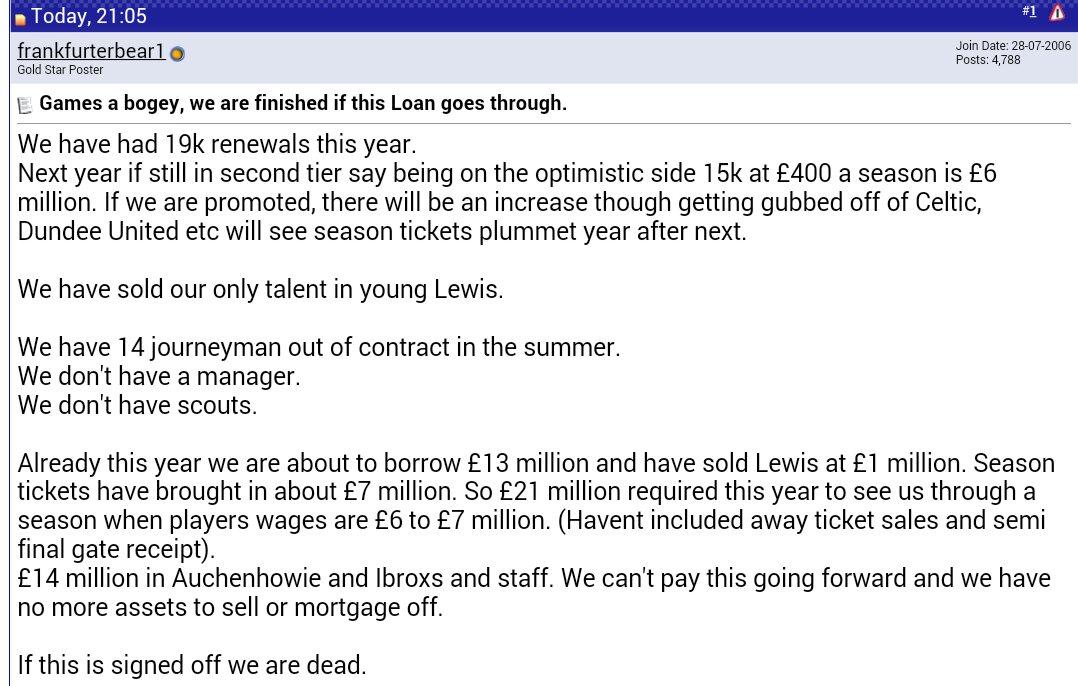 Although the call has gone out for the brothers to stand together…
Some of them still don't get it.
They're on their own. They ran out of friends a long, long time ago.
 Despite talk of legal action, the word is the three bears have walked away.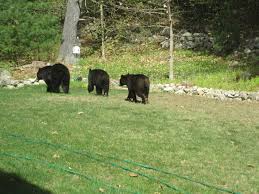 Paul Elliot was the almost forgotten man in the picture yesterday, and between billy McNeill and Alan Stubbs/Marc Reiper he was far and away the best central defender we had.
 This guy won't be forgotten, but why wouldn't he be allowed to do this today ?
 Later today on the site, we've an exclusive extract from  Tom Campbells new book, so keep your eyes open for that one.