Celtic supporters got a glimpse of the new strip yesterday, its now official that you can buy a Celtic shirt deigned entirely by someone who visited his Grannies Heilan Hame and liked the look of the blanket that her dog was lying on.
More worryingly is the clobber expected to be worn by the people in the dugout…
Mind you, the way the ground looks just now, that attire might also be for the players..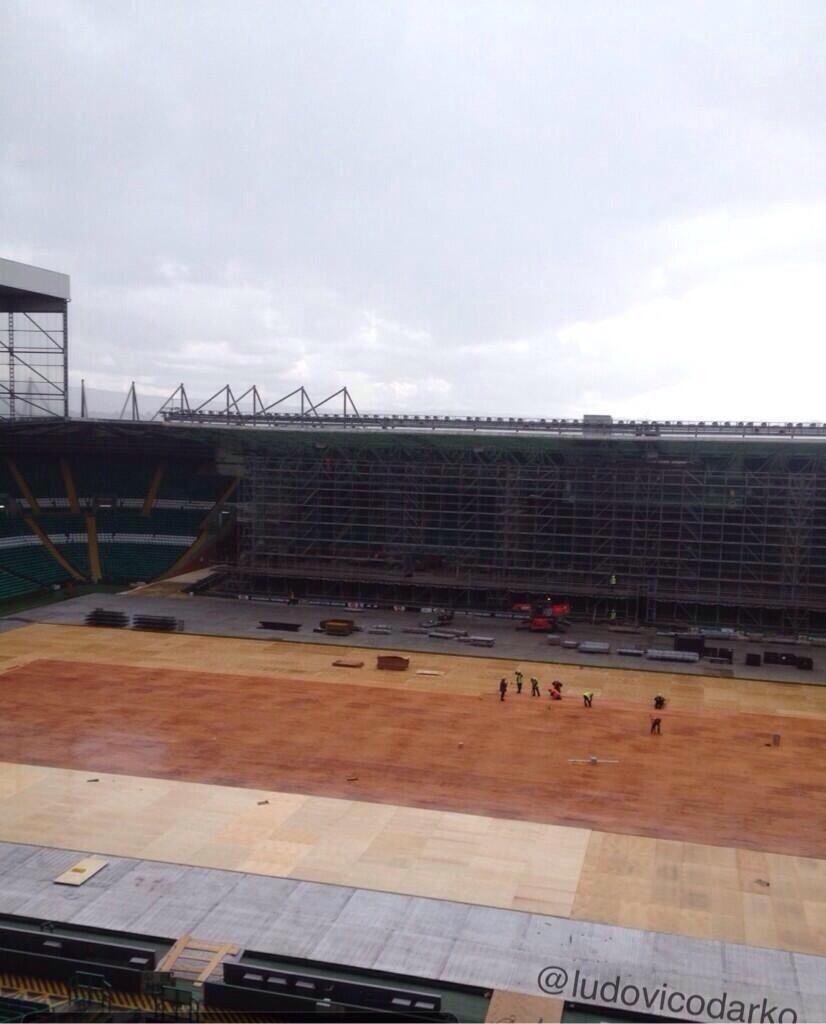 Anyone else remember the Scottish country Dancing at school ?
This sudden urge to cultivate the shortbread tin image has been explained in a number of ways, mainly that it incorporates  the clubs Scots / Irish roots, and is seen as a statement of its acceptance in society-after a couple of hundred years of trying, and by some as a "getitupye " to the fans of the now extinct establishment club Rangers.
Others would simply describe it as an absolute shocker of a shirt.
Not the official website , though. They seem rather pleased with it;
On the front of the new away shirt is an enlarged graphic of the Celtic tartan to reflect the club's Scottish heritage, while gold-infused horizontal and vertical lines from the tartan run through the club crest to replicate the Celtic cross. The shirt features gold trim at the neck and sleeves.
Inside the back of the neck is a green and white pennant tab reflecting Celtic's famous hoops from their home shirt with the proud statement: 'A club like no other.'
The new away shorts are green with a thin darker green stripe along each side, while the socks are green with a darker green band at the top, and a wide tonal stripe of chevrons on the back.
While this new kit features Nike's signature design details, it also offers players the very latest in performance innovation, kit technology and environmental sustainability.
And its made from fully recycled empty juice bottles;
The kits are made from recycled plastic water bottles. The shorts are 100 per cent recycled polyester; the shirts are 96 percent recycled polyester, while the socks are 78 percent.
Each kit is made using an average of 18 recycled plastic bottles, and over the last four years Nike has diverted almost two billion of these bottles from landfills to produce their kits.
By using recycled polyester Nike is also reducing the energy consumed in the entire process by up to 30 percent. 
Go on, admit it, thats making you think about buying one….heres me thought that they just used wee boys out in china to sew them together for about thruppence ha'penny a month, and in fact its a hugely environmentally friendly operation where everybody benefits and no doubt by buying one we'll in fact be saving the planet.
Mind you, the club deosn't even pay its own staff a living wage, so its hardly likely to have any morals about getting into bed with the owners of Asian sweatshops.
But is the top for me , I wonder ?
Nike took 3D body scans of many of the world's leading footballers to create a kit with an updated and perfect new fit. The new fit allows the body to move more naturally within the kit, and so effortlessly improves players' comfort and performance. 
They do know I'll only be wearing it when I'm sitting in a bar or in the stand, don't they ? For us fat, flatulent fifty year olds all we really need to know is if beer stains come out and your fag won't melt it away on contact. I suppose the kids worry about the same thing these days, as well.
Some see the whole away kit thing as a ruthless money making operation by both Celtic and Nike, but what they do forget was Nikes first ever hoops top, the "economy ", of which there are no pictures available on google. Not really surprising, because after a few washes it turned into the green away top of the time.
We do hear, however, that Nike and Celtic are looking into developing a stab proof version should Second Rangers ever make it to the top league.
Many years ago, in the front row at Rugby Park, Celtic wore the black away kit with the gold trim, and any player hugging the opposing touchline became almost invisible as he blended into the crowd. Now,  surely the whole point of a football strip is to make your own players easily identifiable where a split second decision is needed  ? At around the same time I took the kids to Alton Towers, a fantastic day out for people who like to stand in queues and study the behaviour of wasps, and they were all wearing the hoops. The benefits of which soon became apparent every time they wandered off, because the green and white tops could be seen amongst the crowds almost instantly.
So , while the new top offers  the very latest in performance innovation, kit technology and environmental sustainability, don't be surprised if no-one spots it in a stramash.
No doubt people will buy it, and of course thats up to them. Not for me , though. I used to sort of collect away tops, but they've just become too removed from being instantly recognisable as Celtic tops, so I'm moving more towards tradition as I get older, and sticking with the hoops.
In a changing world, I like the comfort  of  the familiar. Its sort of why I'm a Celtic fan in the first place.
Theres nothing familiar about our new manager, as the club decide to go down the untrodden path of putting someone in charge who didn't so much as have a Subbuteo Celtic team, and if he is to make his mark , then Ronnie Deila must stamp his authority on the club from the word go. As a new manager the next few weeks are the only time he will have any real influence on the board, and therefore any real hope of getting his own way where transfers are concerned. By the end of this window, we will know whether he is his own man, or if he's just Peters pal.
One of his former players, the fifteen year old sensation Martin Odegaard, took time out of lessons yesterday to tell the Daily Record he would love a move to Celtic, because he fancies the lass in his Geography class, and he reckons it will impress her.
"It is unbelievable that a manager would put his faith in someone my age but he always trusts the young guys and give them opportunities.
"He is always fair, he treats you right and he doesn't care about age if he thinks you are ready to play first-team football.
"He spent a lot of time one on one with me. We spent a lot of time together, he was always giving me advice and has been so important to my development as a footballer.
"If I could work with Ronny again that would be great. Maybe it's possible. This is football, everything is possible.
"Obviously I've seen Celtic in the Champions League a lot and I was really impressed.
"They're a great club with great fans."
According to his boss, the lively David Neilsen, it won't be possible..
"If Ronny wants to come and take players to Celtic he has to go through me first!
"He has to get lots of that sterling out!
"I don't think Celtic can buy a player of that price calibre, honestly.
"Some of our players may be available but our gem Martin is out of his league financially.
"With Martin the price would be way out of reach.
"He's going to be a Barcelona player, we're preparing him for Barcelona because he's that good.", he said
We hear that all the phone numbers have been changed at the Camp Nou, and security have been warned to keep an eye out for a scatty Scandinavian who shouts a lot.
Has Deila got his eye on anyone in particular ? Well, it doesn't appear so, not yet anyway.
The Craig Gordon story has died a death, the keeper passed a medical, and wants to join, and to be honest, despite the reservations of many, if Stevie Woods, the goalkeeping coach reckons he's fit, then thats good enough for me.
Gordon was a great keeper, and might well be worth a gamble .
Alfred Finnboagasson, long seen as the new Messiah by the support, has interested Augsberg in Germany, and if he is available, and Celtic want to push those season book sales, then they could do worse…
Meanwhile, with the lease on Hampden about to expire-2020-the SFA have engaged a focus group to help them decide whether or not they will renew it. They have six years to make up their mind, and have to ask someone else to do it for them.
Stewart Regan has told the press that its " early days yet ", which is remarkably optimistic for an organisation which at best is under scrutiny for incompetence and at worst rotten to the core.
Maybe they are just trying to deflect the eyes of the nation…
The powers that be at Ibrox have decided that a closed share issue will raise enough money to save the new club, which is in fact the last throw of the dice for the once optimistic entity. The well of cash has run dry, and it looks like they need not be asking for whom the bell tolls, for indeed it bells for them.
As usual, when they are in a period of austerity , they are still looking to increase the players wage bill, which isn't surprising considering their hero makes speeches about austerity in a million pound hat.
Well, they've kept us laughing for a couple of years now, and its sort of a relief they will keep doing so over the summer. Theres never anything good on telly this time of year.
…still, I'll bet Dave King is on the phone to his brokers even as I type this, eager to save the club he loves with his own money…isn't he…Dave ?
Etims colleague Desi Mond found this wee snippet whilst he was browsing the web the other day;
From F365 Mediawatch 

Hanging On A String 
Never mind the fact that he missed two sitters, The Sun's Ian Wright is keen to credit Daniel Sturridge with keeping his cool in the face of provocation against Honduras. 

'If you're laying on the ground and someone tries a nasty trick like that,' 'writes' Wright of the ball aimed at Sturridge's stomach, 'many would have got straight up and banjoed Izaguirre.' 

Mediawatch was unfamiliar with 'banjo' being used as a verb until we consulted Urban Dictionary… 

'Banjo: A blowjob under the table at a Nando's restaurant.' 

It would certainly have been an unusual reaction.  
We are,  at this point,  unaware of what he was actually googling.
Which reminds me, comic actor Rik Mayall has passed away, aged just 56. If you don't remember him from the eighties, google " The Young Ones " and  " Bottom ", two of the shows that made his name.
Er, on second thoughts, perhaps you shouldn't.
Zinedine Zidane holds the dubious record of picking up the most red and yellow cards in World Cup finals tournaments, he has four bookings and two sendings off.
Two players have appeared in five tournaments, who are they ?