Who would have thought that the young footballer in the photo above would be mixing in such illustrious company just a few years later ?
The elite managers of European football got together again this week, and Neil Lennon was amongst their number,which  included: Arsène Wenger (Arsenal FC), Neil Lennon (Celtic FC), Antonio Conte (Juventus), Manuel Pellegrini (Manchester City FC), Paulo Fonseca (FC Porto), Carlo Ancelotti (Real Madrid CF), Laurent Blanc (Paris Saint-Germain FC), Jens Keller (FC Schalke 04), Mircea Lucescu (FC Shakhtar Donetsk), Miroslav Djukić (Valencia CF), Murat Yakin (FC Basel 1893), Jorge Jesus (SL Benfica), Rafael Benítez (SSC Napoli), Vladimir Petković (SS Lazio), Kurban Berdyev (FC Rubin Kazan) and André Villas-Boas (Tottenham Hotspur FC).
Not sure about the cardigan though. Cardigans are notoriously bad indicators of someones managerial ability, although formal wear can be equally misleading.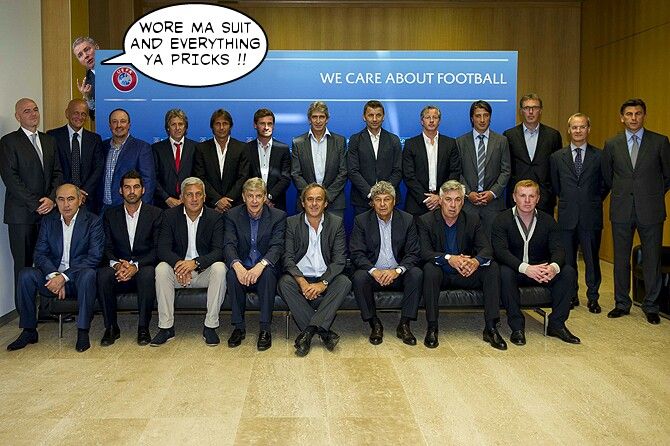 Credit to the huddleboards skidbhoy for that, which is superb.
As ever, in international week, its a bit of a slow news day, which gives us the chance to compare how news is reported in the big world with how it is done in Scotland, which is applying to join it next year.
Same story, two sources;
From the Insurance Times;
" Celtic footballer Emilio Izaguirre has been called to court in Edinburgh on charges of letting fellow footballer Jorge Carlos drive his car without insurance.
Izaguirre had been ordered to appear in court on Wednesday but his solicitor told the court the Honduran was currently on international football duty in Mexico. He confirmed that the Crown had approved his absence.
The 27-year-old left-back is maintaining his not-guilty plea and the trial will begin on October 3. "
And on STVs website, where Izzaguerre has already been tried and convicted, at least according to the headline;
Celtic's Emilio Izaguirre 'let uninsured Jorge Claros  drive his car'
STV continue;
Celtic defender Emilio Izaguirre has appeared in court accused of allowing fellow Honduran footballer Jorge Claros drive his car without insurance. 
Er, no he hasn't,  the article then goes on to contradict itself ;
" The 27-year-old had been ordered to personally appear at court on Wednesday when the case called for an intermediate diet.
However, when the case  called, his solicitor Martin Black said Izaguirre was in Mexico at present with his national football team. The Crown had approved his absence, Mr Black told the court.
Izaguirre, he said, was maintaining his not guilty plea and they were prepared for trial on October 3. Mr Black said a Latin American Spanish interpreter would be required. "
And presumably someone who can understand English to help the STV reporter.
Nothing should surprise us in Scotland anymore, as the press, still apparently afraid of the huge story of corruption , tax dodging, cheating and general all round naughtiness at Ibrox continues to be ignored.
Over in the land that time is trying to forget, John McLelland and Paul Murray, both former directors of  First Rangers,  ( the one that died ) , have been asked to join the board of Second Rangers ( the one that is dying ) in order to bring peace and tranquility between the warring factions already on the board.
This despite both having being involved in an insolvency event, which according to SFA rules, should debar them. But hey, everything is at the discretion of the SFA, so there should be no problems there.
Things are a little tense over at Ibrox just now, as the accounts are almost due, which means an awful lot of people will be declaring just how much they have siphoned off the fans since they set the new club up.
Thats , of course if Second Rangers doesn't become Third Rangers to avoid this annoying and distracting little legal obligation.
These days, one has to be careful when discussing the various entities to have emerged from the mess when the original club went into liquidation, which is the tunnel with no exit, despite what various experts have said about how they " came out of liquidation " , which is a first in world economic and financial  history. Another one of their "firsts " which doesn't actually stand up to any real scrutiny. Largely because no-one wants to look to closely.
Who can blame them, really, when any sort of close attention, leading to statements of fact, lead to all sorts of abuse and threats from those poor, deluded souls who believe the nonsense in the press about First Rangers and Second Rangers being the same club ?
Take the case of the BBCs Jim Spence. According to Chris Graham on twitter he said "John McClelland, former Chairman of the old club that died."
On Chris Grahams twitter, there are literally dozens of  people, presumably supporters of the current entity , who have filed complaints about the "lies " Spence has "spouted ". They want Spence sacked, or at the very least hung, drawn quartered and his body buried in the four corners of Scotland.
They are indeed a strange lot. Someone simply points out that they are , in fact , a new club formed using the assets stripped from the old one, to avoid paying any of their bills, and make a few bob for some dodgy investors, and all hell breaks loose. Shooting the messenger, as it were.
Which is not a new thing for them. According to a chap call Irvine Smith QC anyway.
Chapter 18 of his biography is called "The Ibrox Disaster " , which he describes as ;
" the most important and onerous case that came my way as a sheriff "
He sat on a case for damages brought by Mrs Margaret Dougan, who lost her husband in the tragedy. He focussed on the history of the stairwell that was the scene of the disaster, and concluded;
" if the stairwell was generally used without incident, it cannot be said, at least between 1961 and 1971, that it was ever used with safety and comfort. "
He then gives examples of  a number of accidents that happened on the stairwell in that period;
The first of these accidents was on 16 Setember 1961….persons on the stairway stumbled and fell….as a result of this accident some seventy persons were injured and two died. "
Rangers then employed a consulting engineer, to survey and superintend work, and to certify the contractors account for payment. His job was to make sure improvements to safety were carried out.
Smith says ;
" The defenders ( Rangers FC ) did not at that stage ask him, or any other civil engineers, or such expert, to advise them on any danger from crowd pressure there might be, on this , or any other of the stairways at Ibrox. "
16 September 1967 there was another accident, eleven were injured, and ;
" like 1961, following that accident, the defenders did not consult any architect or engineer on any question of crowd safety on that particular stair. "
2 January  1969, and 29 were hurt on Stairway 13, most again with "crushing " injuries.
After this trio of accidents, the chief of Glasgow police arranged a meeting at Ibrox to discuss his concerns. David Hope, a Rangers director , said he would bring the matter to the attention of the board.
Smith;
" At no time did the board discuss the particular question of safety on this stairway following the 1969 accident. A repeat of the earlier inertia. "
Effectively, he is saying that the club did nothing to prevent the disaster, despite several warnings. Then he called into question the character of those representing the club;
" I found the whole evidence in support of the Rangers version ( of events ) unimpressive in the extreme ".
On the 1971 disaster, he concluded;
" had the defenders taken one or more or all of the said precautions the stairway would have been reasonably safe and the accident to the deceased would have been avoided, or in any event the risk of such an accident as occurred would have materially reduced. "
So, he upheld the claim of negligence.
The point here not about the negligence, or about bringing the disaster back to mind to score points , or any other trivialty, thats just nonsense. What I find interesting, nay disturbing, is what he said about some of the  the supporters;
" I became aware, however , on many occasions , not only at the time the judgement was issued, but over the years since, there were occasions thirty and nearly forty years after the accident, that some Rangers supporters I met were dissatisfied with the result and expressed their disapproval of it to me. they apparently could not accept that Rangers could have been at any fault. "
To use the Ibrox disaster as a comparison to the attitude of Rangers supporters today may seem a little crass to some, but it is an example of overwhelming evidence being ignored because it does not suit the mindset that still prevails over Ibrox way. It may be as the press didn't criticise as much as they should have, when three accidents had taken place. Perhaps warning signs were ignored. There is a parallel between this and the last couple of years of the original clubs existence..
It doesn't look like its going to change any time soon, either.
Irvine Smiths book is called Law , Life and Laughter, and its worth a read.
The big picture of the grizzly was not Broxi Bear, searching for new and gainful employment, nor was it the bear without baws Ally McCoist.
It was, in fact, an attempt to stir memories of Peter Latchford, who when displaced by Pat Bonnar spent the rest of his career growing facial hair, and standing at one end of a field watching the action at the other end, whilst growing an exceptional faceful of hair. His bulk, Peter was no small fellow, led to comaprisons with the fearsome animal in the picture.
So, that was one youse never goat !